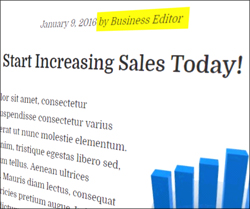 During the course of managing your website or blog, there are situations where you may need to reassign WordPress post authors.
These include:
have published posts that either you or someone else has written, where the assigned name is  "admin", or "guest author", etc.
Attributing posts published under one user to another,
You import posts written by ghost writers and have to reassign posts either to your name or another author's account,
Deleting authors from your site and assigning content authorship to other members,
etc.
Complete the tutorials below to learn how to change a WordPress post author.
Reassigning Posts To Different Authors – Tutorial
Typically, authors get added to WordPress in the Users screen …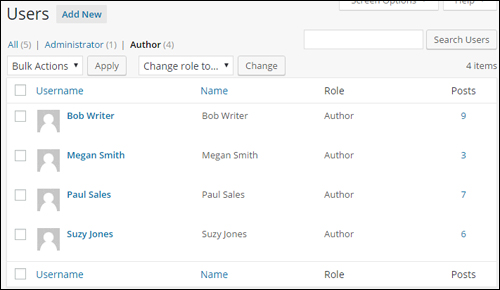 (Add user to WordPress)
When the user logs into the site and creates a post, the user is then attributed authorship of the post …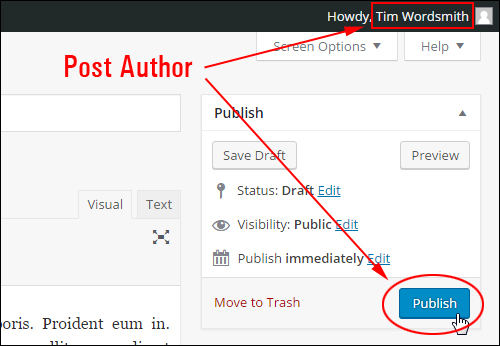 (WordPress posts are normally assigned authorship to the user that created it)!
We explain how to add new authors and other types of users and how to create posts in WordPress in separate tutorials.
In this step-by-step tutorial, we explain how to change authors in WordPress posts using the following methods:
Changing the display name of a post author,
Assign posts to other authors using the Post Editor feature (individual post),
Reassign posts to other authors using the Quick Editor (single post changes),
Assign multiple posts to different authors using the Bulk Editor
Transferring posts to another user (user deletion).
Let's go through each of these methods.
Method #1 – Same Author, Different Name
Let's say that you decide to change the name displaying on all posts you've created to a different name.
There may be various reasons for doing this. It could be because:
You were set up as "admin" and you would like to publish posts using your real name,
You would like to publish posts under an alias,
etc.
So, for example, let's say that your posts look like this …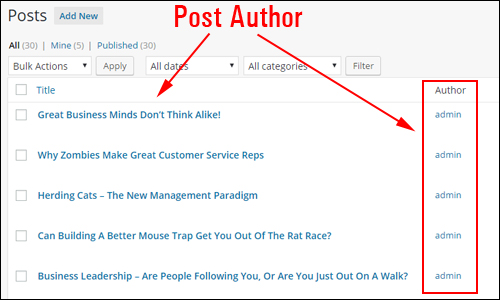 (Posts section – Post Author)
But you would like to change your name to this …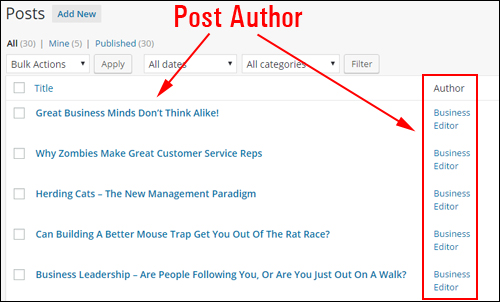 (WP Posts screen – Post Author)
Or perhaps even this …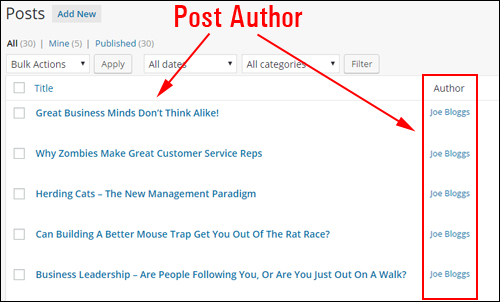 (Posts – Post Author)
To change the author name displayed on all your posts to something else, all you have to do is change your nickname (public display name) in your User Profile section. (Note: this changes the name on all your posts)
You can access the Profile screen a number of ways:
#1 – You can log into the Admin area and click on Users > All Users …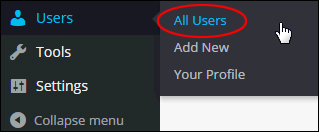 (WP Users Menu – All Users)
Place your mouse over your username and click the 'Edit' link …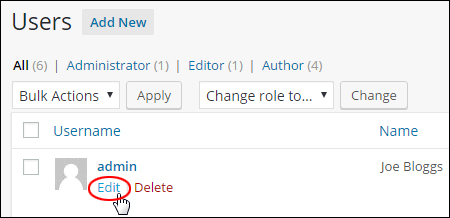 (Users – Edit)
#2 – Log into the Admin and click on Users > Your Profile …

(Users – Your Profile)
#3 – You can also click on the 'Howdy, Your Site Name' tab at the very top right-hand corner of your WordPress admin screen and select Edit My Profile …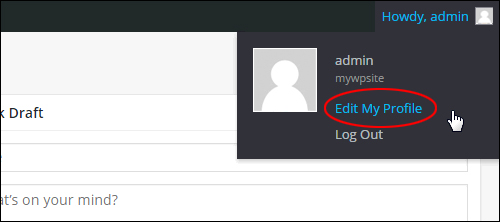 (Howdy, Your Site Name – Edit My Profile)
All of the methods shown above will bring up the User Profile panel …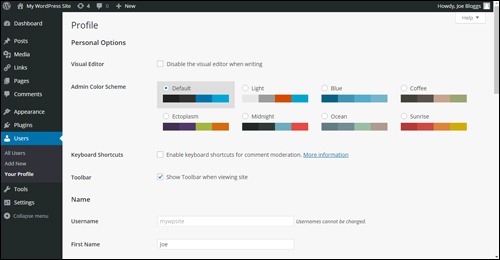 (WordPress User Profile area)
Enter a new Nickname (1) and (2) select the new nickname from the drop-down menu in the 'Display name publicly as' field …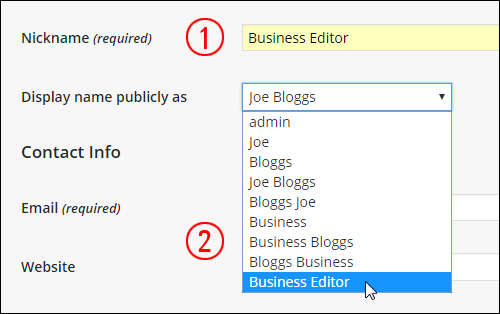 (Profile area – Name section)
Save your settings …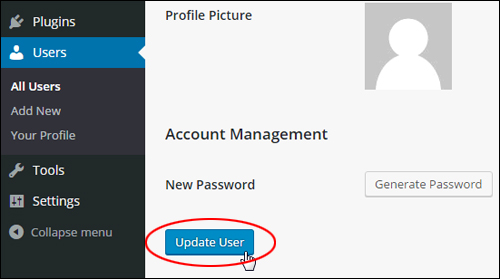 (WordPress Profile panel – Update User)
Your profile will be updated with your new nickname …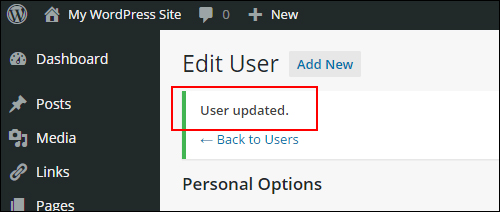 (WP Profile area – User updated)
Go back to the Table of Posts and you will see that all of your posts are now displayed under your new nickname …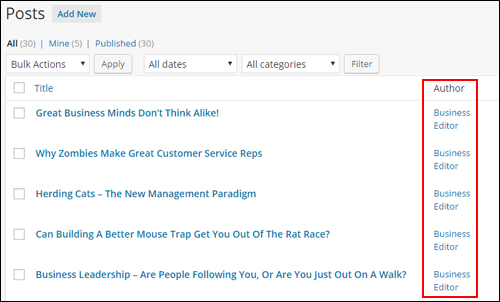 (WP Posts screen – Post Author)

Use this method to change the name displayed on your posts if you were assigned the username "admin" when your WordPress site was installed …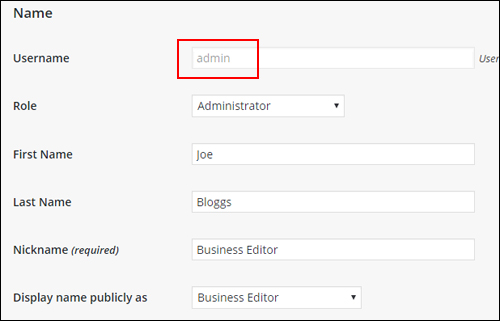 (Profile area – Name section – Username)
We have written a detailed tutorial on how to update your user profile here: How To Change Your User Profile And Personal Settings
Method #2 – Assigning WordPress Posts To Other Users
If you allow multiple users to publish content on your site, then you can assign posts to users as follows:
First, make sure that whoever you intend to assign post authorships to:
Is a registered user,
Has a User Profile already set up, and
Has been assigned any role other than "Subscriber" (e.g. "Author", "Contributor", etc).

(WordPress User Roles)
How To Change Post Authorship On Multiple Items
In your Posts screen,  click on the author name of the posts you plan to make changes to …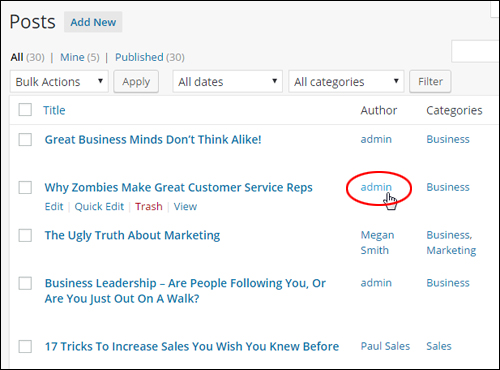 (Posts – Author column)
This displays a list of all posts they have written …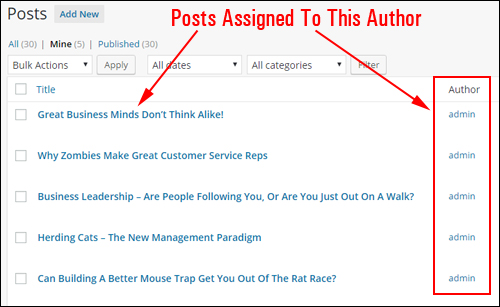 (List of posts filtered by Author)
Select the posts you would like to be assigned to another author from the Table of Posts, either by ticking the checkbox next to individual items or by clicking the checkbox on the column header to select all items at once …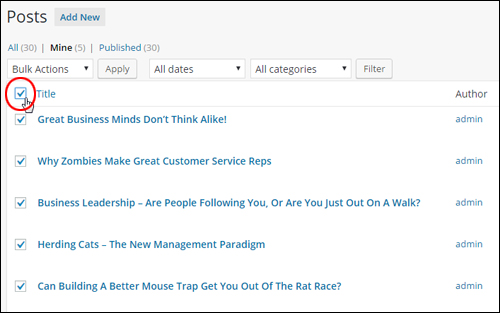 (Posts panel: Table of Posts – Selecting Posts)
Select 'Edit' from the Bulk Actions drop-down menu (1) and click the 'Apply' button (2) …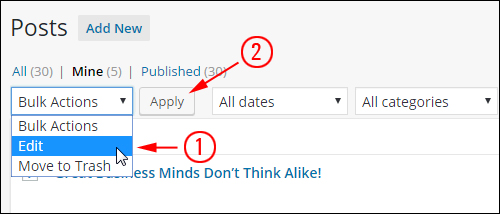 (Posts panel – 'Bulk Actions' menu)
This brings up the inline Bulk editor screen. Find the Author drop-down menu …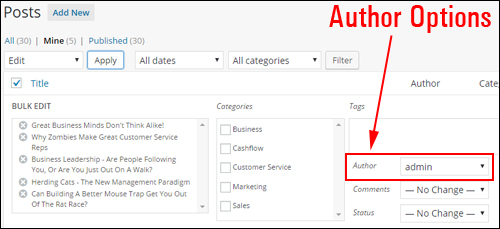 (Table Of Posts: Bulk Edit feature – Author menu)
Next, (1) Select the author you would like to assign the posts to from the Author section dropdown menu, and (2) click Update to save your changes …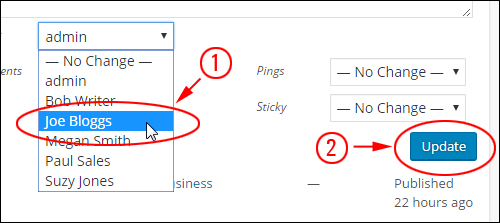 (Making bulk changes to post authors)

Users assigned the role of 'subscriber' do not display in the 'author' menu. If you can't see the user that you want to assign the posts to in the drop menu, then check to make sure that you have assigned a role for that user that is not subscriber.
All the posts you have edited should now display the new post author name …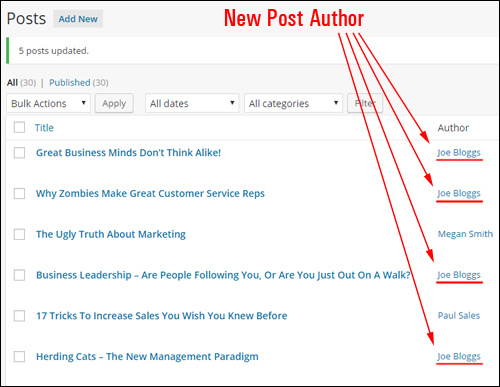 (New post author)
Change Authors On Individual WordPress Posts
To change the post author for a single post item, select the post from the Table of Posts and click on Quick Edit …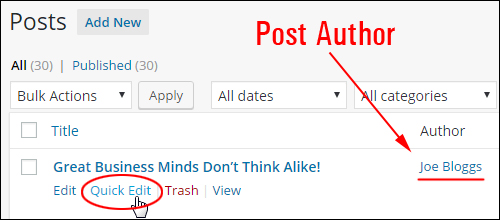 ('Quick Edit' feature)
In the Quick Edit screen, choose a new author from the Author options and click the 'Update' button to update your new changes …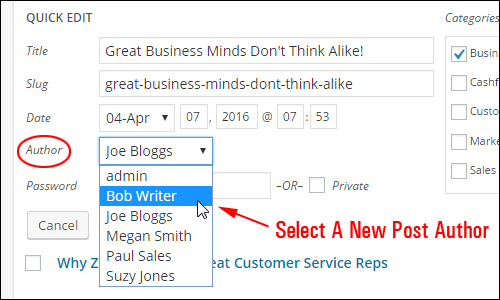 (Quick Edit: Editing options – Author drop-down menu)
Your post should now display with the new author …

(Post author changed)
You can also change post authors when creating or editing posts by scrolling down to the bottom of your Post editor screen and selecting a different author from the Author drop-down menu …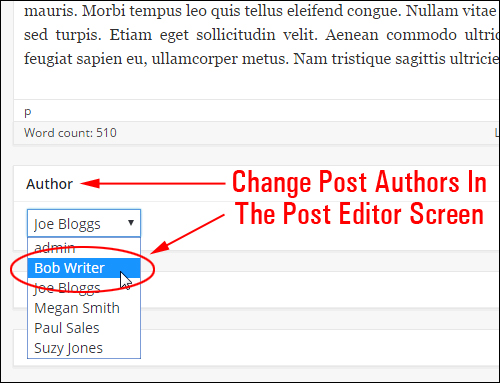 (You can change post authors in the Post editor area)

Tip: If you don't see the Author section below your post editor, then click on 'Screen Options' at the top of your "Edit Post" screen …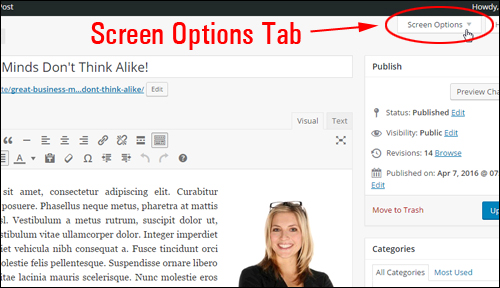 ('Screen Options' tab)
Check the Boxes > Author option ….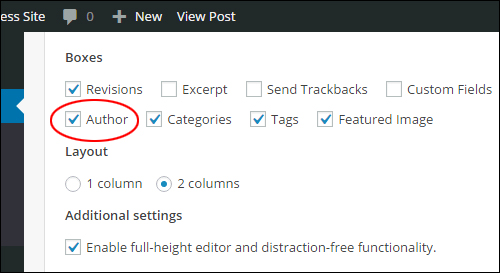 (Author – Screen Options)
You should now be able to see the Author section below the Post editor area …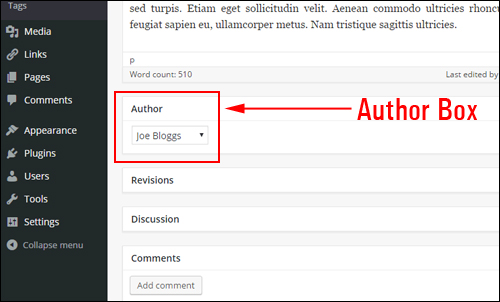 ('Author' box)
Method #3 – Assigning Posts To Another Author (User Deletion)
If a user is deleted from your site, you will be asked what to do with their content.
To assign content from removed users to different users, tick the radio button next to  'Attribute all content to:', choose a new user from the dropdown menu …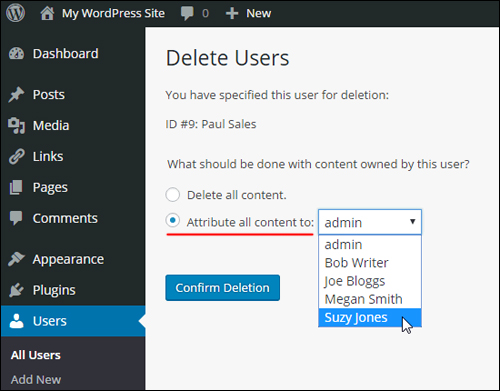 (Users – Delete Users section)
Click Confirm Deletion …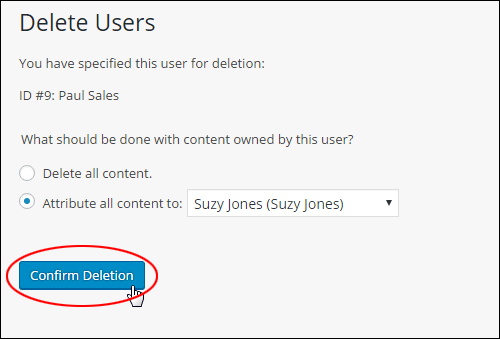 (WordPress Users: Delete Users – Confirm Deletion button)
Post content from the removed user will be rerouted to your new author …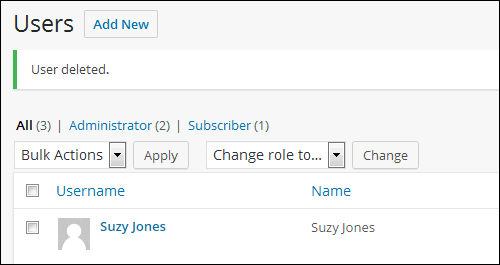 (Users panel)
Congratulations! Now you know how to change WordPress post authors.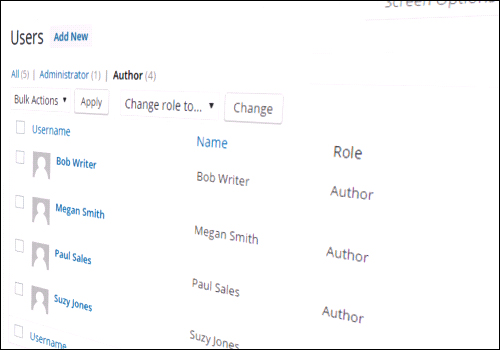 ***
"This is AMAZING! I had learnt about how to use WordPress previously, but this covers absolutely everything and more!! Incredible value! Thank you!" - Monique, Warrior Forum
Disclaimer: WordPress and its related trademarks are registered trademarks of Automattic, Inc. This site is not affiliated with nor sponsored by Automattic, Inc. or the WordPress Open Source project. This site and the products and services offered on this site are not affiliated, associated, endorsed, or sponsored by WordPress, nor have they been certified, reviewed, or tested by WordPress. The owner, contributors and/or advertisers may derive financial benefit from sales of items advertised, reviewed, or linked from this site.
***
Did you enjoy this tutorial? If so, please use the social buttons below and share this post with other online users.