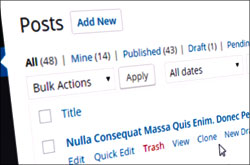 There are times when you may want to copy a page or post in WordPress.
For example, let's say you post regular announcements on your site about different events or promotions with similar content. Instead of creating a new post for every new event or announcement, writing content, selecting the same categories, etc., you could just clone an existing post, make a few small changes to the content, publish, and you're done!
If you run a web-based shop, most of your store pages will probably have the same layout and similar information. For this reason, many great WordPress e-commerce themes let you easily duplicate your site's product pages …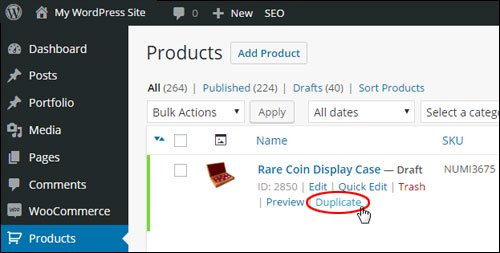 (Many WordPress e-commerce themes let you easily copy your product pages)
By default, however, WordPress doesn't provide a simple way to clone a post or page …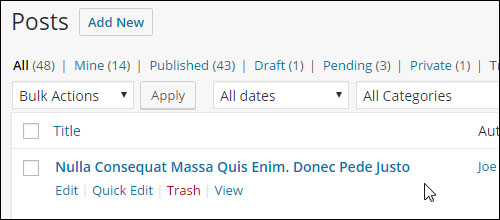 (WordPress doesn't provide a simple way to copy a page or post)
In this tutorial, we explain how to clone a WordPress post or page.
How To Easily Duplicate A WordPress Post Or Page
The easiest way to copy WordPress pages and posts without technical skills is to use plugins.
In WordPress, there are various plugins you can use to copy posts and pages posts and pages. Many of these plugins are free and some offer free versions with options to upgrade to paid versions, which give you access to additional features.

With WordPress, cloning is not just restricted to pages and posts. You can also clone custom post types (e.g. a gallery page), create web page templates for others, and even clone your entire web site.
Let's take a look at how to use one of many great available page/post cloning plugins.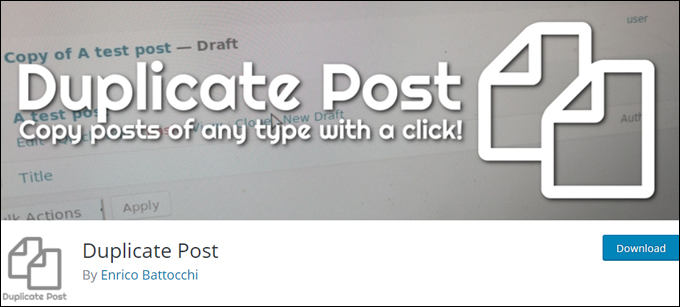 (Duplicate Post Plugin)
This plugin lets you clone a post or page or edit it as a new draft. Clicking 'Clone' will duplicate your post/page without opening it. Clicking 'New Draft' will copy your post/page and also open it in the editor for you.
The plugin copies not only your post or page content, it also copies the post/page settings and fields.
For more details, go here}:
How To Install Duplicate Post
You can install this plugin manually, or directly from your dashboard.
To install the plugin from your dashboard, do the following:
Log into your WordPress site, then go to the admin navigation menu and click on Plugins > Add New …

(WordPress Plugins Menu – Add New)
This brings you to the WordPress Plugins panel …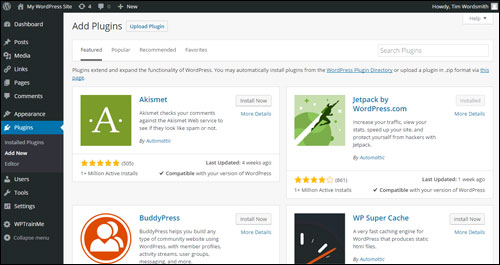 (Plugins page)
Here you can search for, upload, and install plugins. Type in a search term into the 'keyword' field (e.g. "clone", "clone pages", etc.) …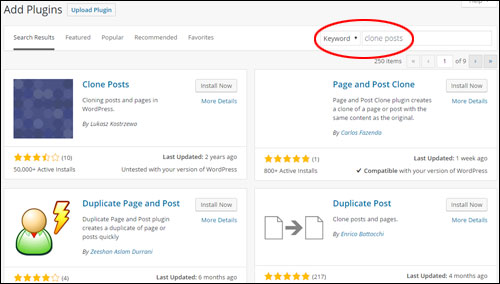 (Plugins panel – Search plugins feature)
Find the plugin on the results panel and click the 'Install Now' button …

(Plugin installation)
Next, activate your plugin …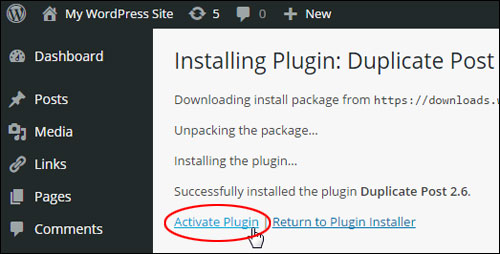 (Plugin installation screen)
Once the plugin is activated, the next step is to configure its settings …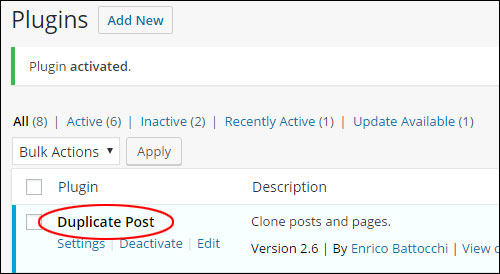 (Duplicate Post plugin activated)
You can configure the settings from the Plugins screen by clicking on 'Settings' below the plugin name …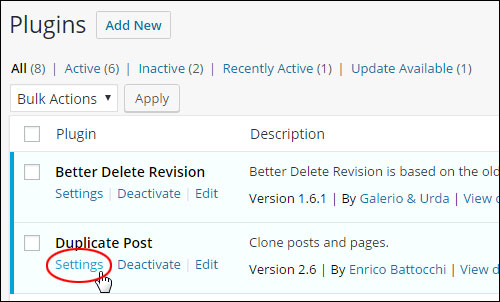 (Duplicate Post – Settings)
You can also get to the plugin's settings by logging into your WordPress dashboard, then going to the navigation menu and choosing Settings > Duplicate Post …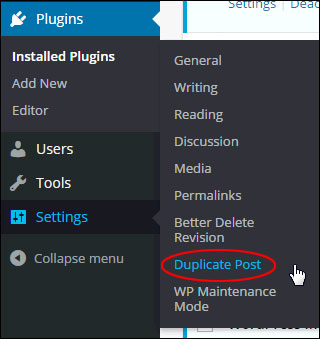 (Settings > Duplicate Post)
Configure your plugin settings and click 'Save Changes' to update your settings …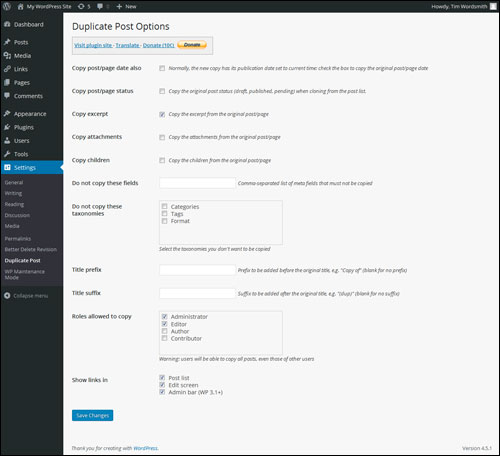 (Duplicate Post Options screen)
For more details, go here}:
Next time you go into your Posts or Pages screen, you should see a link allowing you to clone your post/page …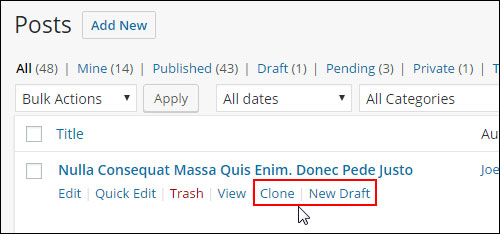 (Posts – 'Clone'/'New Draft' links)
When you click the 'Clone' link, your page/post will be cloned, but it won't be published. Instead, it will be saved as a draft. Clicking the 'New Draft' link will also duplicate your page/post and open it in the Page/Post editor …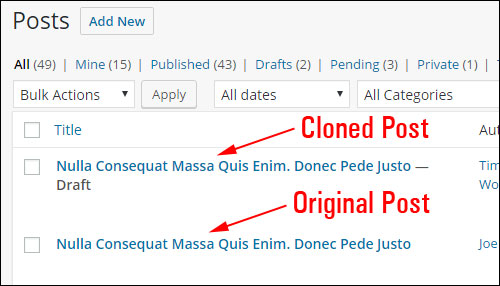 (Cloned post)

Typically, when pages or posts are cloned, a "2" is added to the end of the page/post URL …

(Cloning affects the URL of your page/post)
Unless you intend to split the content into parts, you should consider editing the title of your page and the page URL.
If you need help editing posts/pages and understanding how permalinks work, see the "Related Tutorials And Articles section below.
Congratulations, now you know how to easily duplicate a page or post in WordPress.
Related WordPress Tutorials And Articles
For a better understanding about using posts in WordPress, see the tutorials and articles listed below: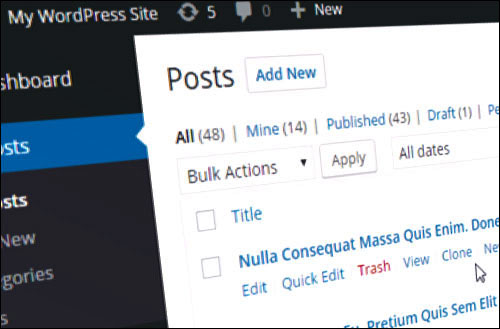 ***
"I have used the tutorials to teach all of my clients and it has probably never been so easy for everyone to learn WordPress ... Now I don't need to buy all these very expensive video courses that often don't deliver what they promise." - Stefan Wendt, Internet Marketing Success Group