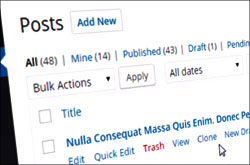 There are times when you may need to copy a page or post in WordPress.
For example:
Duplicating a page containing a specific layout to new pages.
Duplicating posts or pages containing similar content. You can then save time by making small changes, instead of recreating the posts/pages.
A combination of the above (i.e. you may want to duplicate both the layout and the content of a page).
If you run a web-based store, most of your store pages will probably have the same layout and similar content. For this reason, many great WordPress e-commerce themes are designed to let you easily copy your shop's product pages …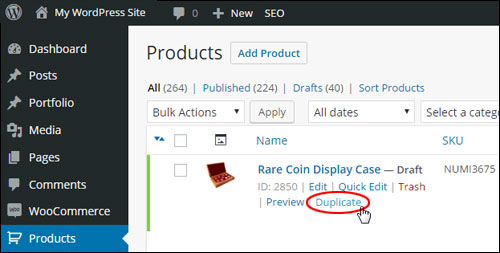 (Many e-commerce themes let you easily clone store product pages)
An "out of the box" WordPress installation doesn't provide a simple way to clone a page or post …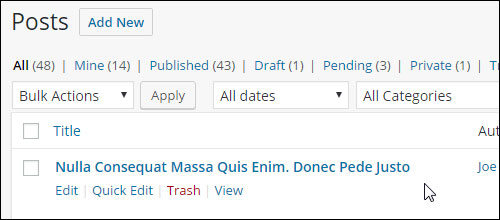 (WordPress doesn't provide a simple way to copy a page or post)
This step-by-step tutorial explains how to clone a WordPress page or post.
How To Easily Copy Posts On Your WordPress Site
If you lack coding skills, the easiest way to duplicate a WordPress page or post is to use a post or page cloning plugin.
There are several plugins available in WordPress for replicating posts and pages pages and posts. Many of these plugins are free and some offer free editions with paid upgrades, giving you access to additional features.

With WordPress, cloning is not just restricted to pages and posts. You can also clone custom post types, create web page templates for other users, and even clone your entire site.
Let's take a look at how to use one of many great WordPress page/post cloning plugins.
(Duplicate Post – WordPress Plugin)
This plugin allows you to clone posts and pages, or edit these as a new draft. Clicking 'Clone' duplicates your posts/pages without opening them. Clicking 'New Draft' will copy your pages/posts and also open these for you in the 'Post/Page Edit' screen.
The plugin copies not only creates a clone of a page or post with the same content as the original, it also copies the page or post fields and settings.
Go here for more information about this WordPress plugin:
How To Install Duplicate Post
You can install this WordPress plugin manually, or install it directly from your dashboard.
To install the plugin directly from your WordPress dashboard, do the following:
In the main menu section of your Dashboard, select Plugins > Add New …

(WordPress Plugins Menu – Add New)
This brings you to the Plugins screen …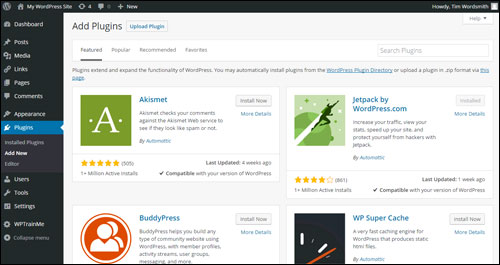 (WordPress Plugins screen)
In this panel, you can search for, upload, and install plugins. Type in a search word into the 'keyword' field (e.g. "clone", "clone post", etc.) …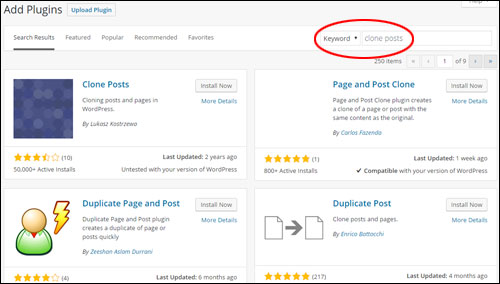 (Add Plugins screen – Search feature)
Locate the plugin in the results screen and click the 'Install Now' button …

(Plugins screen – Plugin installation)
Next, activate your plugin …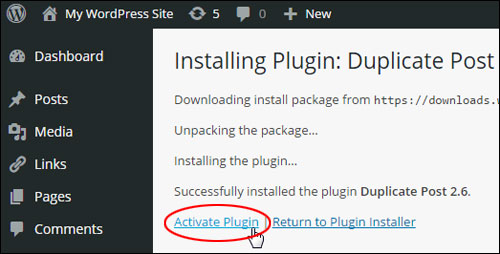 (Plugin installation screen)
Once the plugin has been activated, the next step is to configure plugin settings …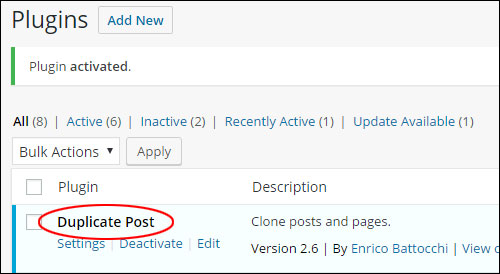 (Duplicate Post plugin activated)
You can configure the settings from the Plugins screen by clicking on 'Settings' below the plugin title …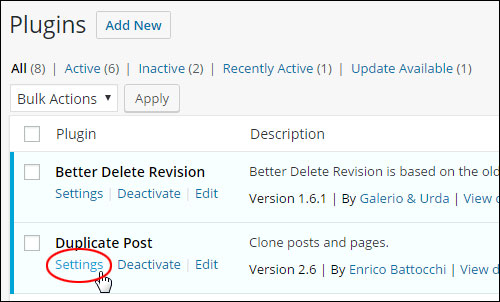 (Duplicate Post – Settings)
You can also get to the plugin's settings by going to your Dashboard menu and choosing Settings > Duplicate Post …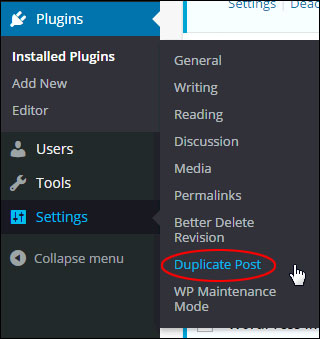 (Settings > Duplicate Post)
Go through these options and configure your settings, then click 'Save Changes' to update your settings …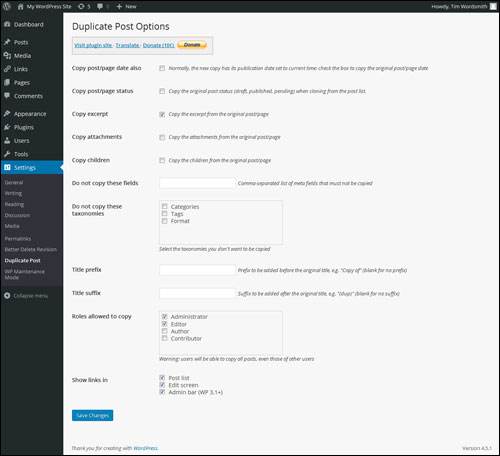 (Duplicate Post Options – plugin settings panel)
Visit this website to learn more about using this WordPress plugin:
Next time you go into your Posts or Pages screen, you will see a link allowing you to duplicate your page/post …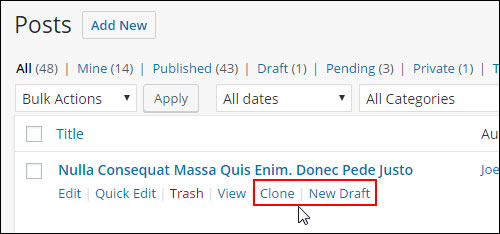 (Duplicate Post WP plugin – 'Clone'/'New Draft' links)
If you click 'Clone', the post/page will be cloned, but it won't be published. Instead, it will be saved as a draft. Clicking the 'New Draft' link will also duplicate your post/page and open it in the Page/Post editor …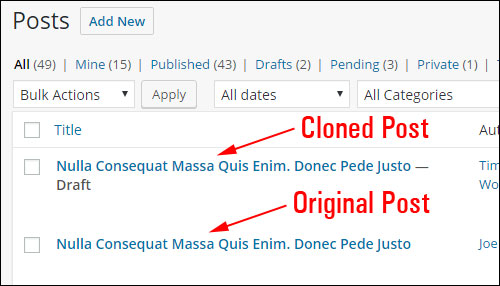 (Easily clone your posts/pages)

Typically, when posts or pages are duplicated, the number "2" is added to the end of the slug …

(Cloning affects the URL of your post/page)
Unless your intention is to split the content into parts, you should consider editing the title of your post and your post URL.
If you need help editing posts/pages and understanding how permalinks work, see the "Related Articles And Tutorials section below.
Congratulations! Now you know how to duplicate a WordPress post or page.
Related Articles And Tutorials
For a better understanding about using posts in WordPress, refer to the tutorials and articles listed below: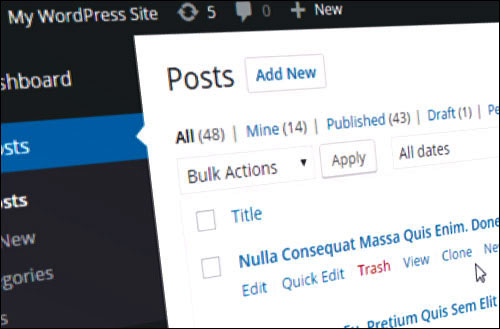 ***
"Learning WordPress has been a huge stumbling block for me. I've been looking for something that covers absolutely everything but doesn't cost an arm and a leg. Thank you so much ... you have just provided me with what I have been looking for! Truly appreciated!" - Tanya
Disclaimer: WordPress and its related trademarks are registered trademarks of Automattic, Inc. This site and the services and products offered on this site are not affiliated, associated, endorsed, or sponsored by WordPress, nor have they been certified, tested, or reviewed by WordPress. The owner, contributors and/or advertisers may derive financial benefit from sales of items linked to, reviewed, or advertised on this site.
***
Did you enjoy this tutorial? If so, please take a moment to share this article with others who could benefit from learning about WordPress using the social buttons below.