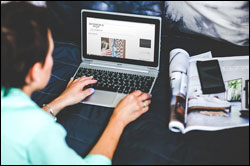 WordPress provides an easy-to-use, powerful and flexible tool to manage your content online.
Publishing content regularly can help grow your business online. Getting your content published online with WordPress is as easy as 1-2-3:
Think …
Write …
Publish!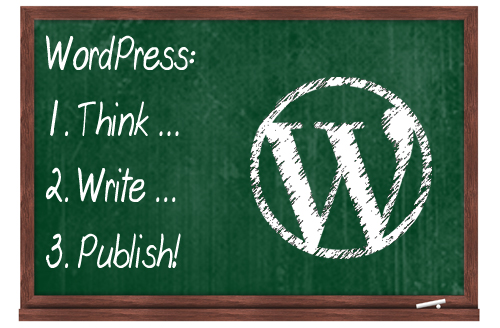 After deciding on a topic to write about, the next step is to simply write it, and then get it published. WordPress makes this easy.
In this two-part detailed tutorial you are going to learn how to create a new WordPress post.
The following sections are covered:
Types Of Content You Can Publish In WordPress
Sections Of A WordPress Post
Guidelines For Adding Content To WordPress Posts
Options For Saving WordPress Posts
Creating A New Wp Post – Recap

This tutorial covers the basic steps you need to know to create a post on your WordPress-powered site.
In order to get the maximum benefit of using WordPress posts, however, we recommend going through all of the articles and tutorials we publish about WordPress, as these are designed to guide you through the process of growing your business presence online using WordPress.
As you can see in the diagram below, WordPress is an extremely powerful marketing tool with many parts that need to work together in order to deliver great results for your business online …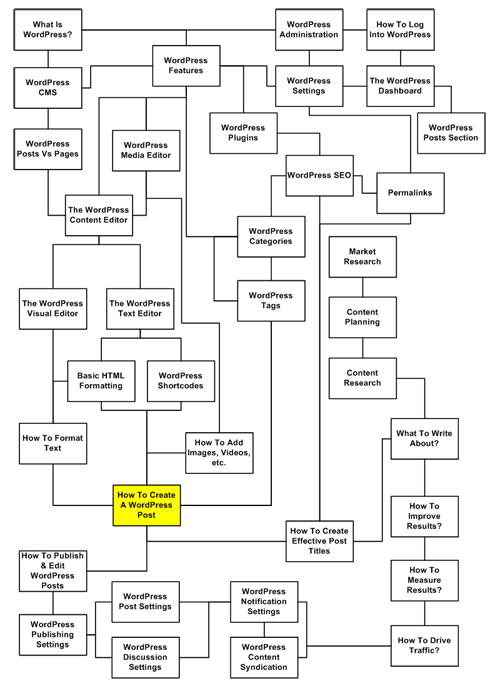 (click image to enlarge)
Posts
WordPress provides website owners with two main content publishing types: Pages and Posts.
To learn about the differences between using WordPress Posts and WordPress Pages to publish content online, see the tutorial below:
WordPress Posts are the content type that you will mostly use when writing and publishing new content in WordPress …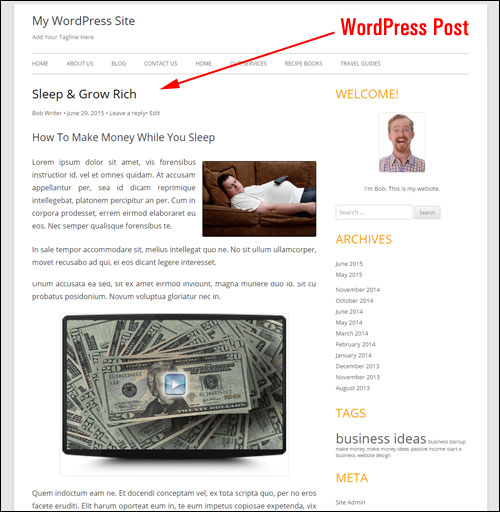 (Post)
The Ultimate Step-By-Step Guide To Creating A Post In WordPress
To create a new WordPress post, do the following:
Log into your WordPress site, then go to the admin navigation menu and choose Posts > Add New…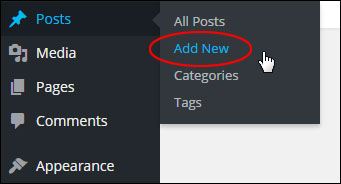 A new, blank Post is created …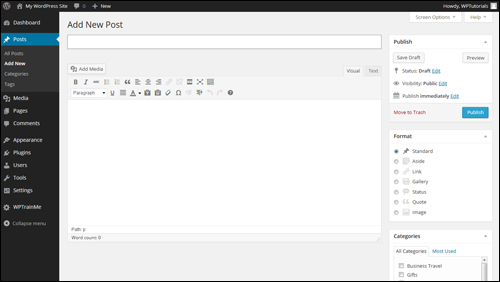 The next step is to begin to add your title of the post and content by either typing or pasting your content in …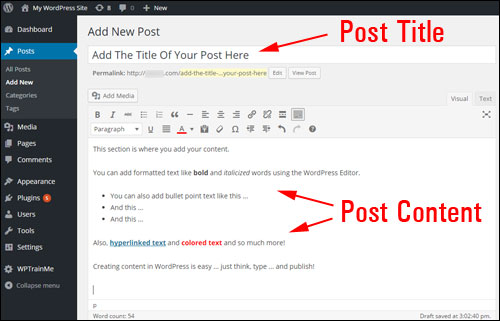 WordPress offers both a Visual Editor and an HTML Editor for adding text.
To learn how to use the WordPress editor, go here:
Let's take a look now at the main kinds of content that can be added to posts.
WordPress Post Content Types
WordPress lets you go well beyond creating content with just simple text and images. You can also add videos, audios, downloadable files, etc. to your posts, and just about anything else that you can imagine.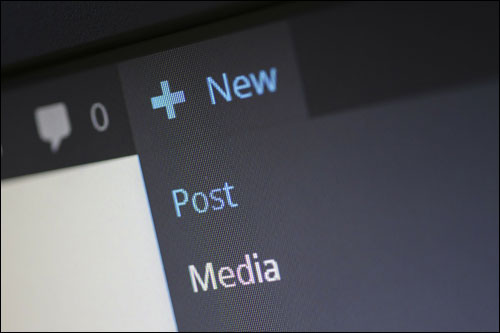 With WordPress you can add and edit the following kinds of content in your Posts:
Text-Based Content
You can insert plain, formatted and/or hyperlinked text in a variety of fonts and styles into your content …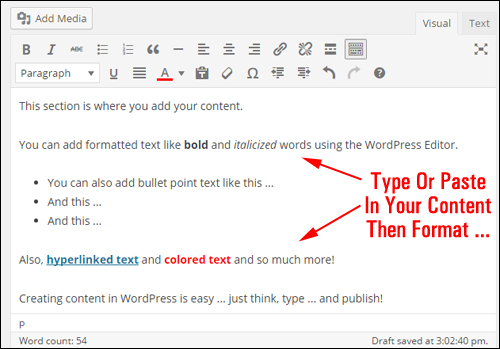 (WordPress Visual Content Editor)
The WordPress Editor lets you format and style your text as you go …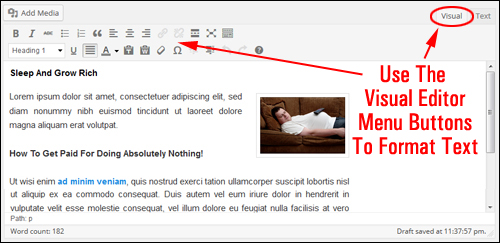 (WordPress Visual Content Editor Tab And Menu Buttons)
Depending on the configuration of your site's plugins and settings, you can also insert "meta" text into pages and posts (e.g. the titles, keywords and post descriptions that display in search listings), post excerpts, etc.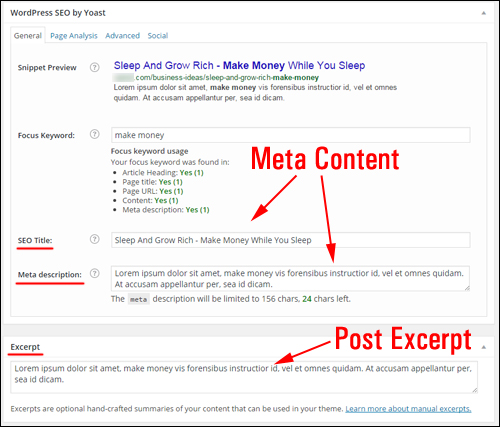 (SEO Plugin And Excerpt)
Media-Based Content
You can also easily add or embed media content in WordPress, such as video embeds, audio files, downloadable content (e.g. PDF documents), flowcharts, and more …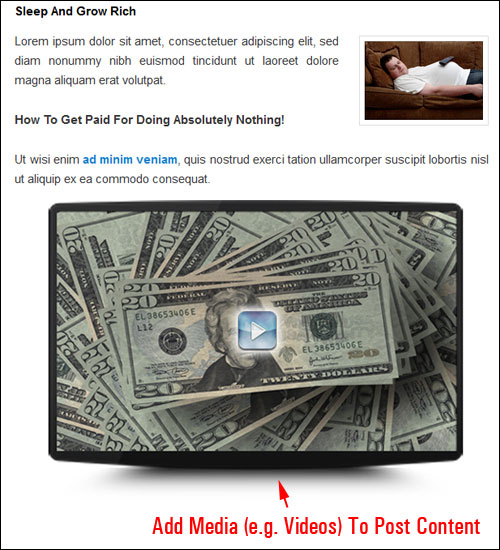 To learn how to use the WordPress media editor, go here:
Scripts
With WordPress you can also add dynamic content elements (e.g. tables) directly into posts and pages using scripts like Javascript, shortcodes, and plugins …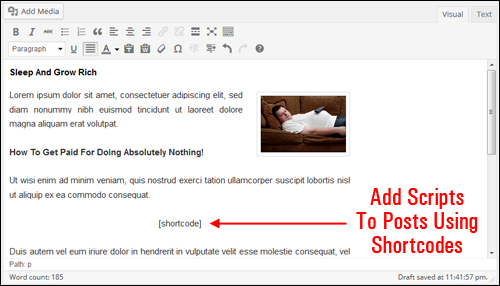 (Use Shortcodes To Insert Content Into WordPress Posts)
Many scripts allow you to manage the content that displays on your site from an external location (e.g. manage opt-in forms).
You can also add content to WordPress posts by inserting the code directly into the file templates, which requires knowing how to edit code.
To learn more about adding content via plugins in WordPress Posts, see these tutorials:
Next Step …
Now that you know what type of content you can add to posts, the next step is to learn more about the WordPress Post screen options.
Post Editor Features
In this section, we explore the WordPress Post screen and the function of each post option.
Post Features
The Post Screen includes various section modules that allow you to modify the parameters of your post …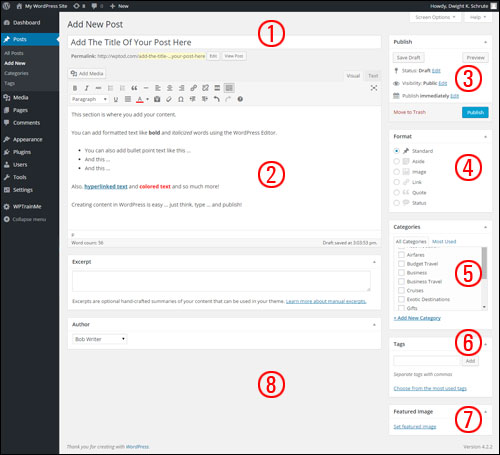 (WordPress Post Section Options)
Let's take a look at these modules:
1 – Post Title Section
This section contains a field where you can enter your post title …

(WP Post Title)

Please note:
You can enter sentences, numbers and a combination of words, number and other characters (e.g. a comma) for your post title.
Choose a unique title for every post you create. Using identical post titles can cause problems.
WordPress will automatically remove common symbols like commas, apostrophes, quotes and hyphens from the "post slug" to create a valid URL for your posts. Your Post title will still display these symbols, they just won't appear in the post URL.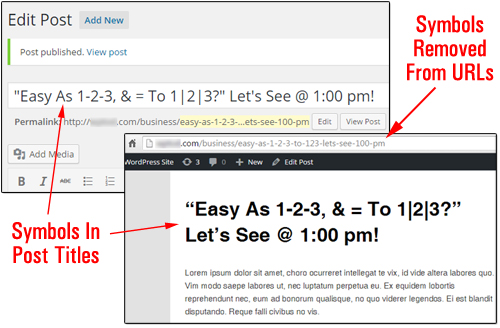 (Using Symbols In Post Titles)
2 – Content Editor
This is the large, blank area of the WordPress editor where your content gets inserted into …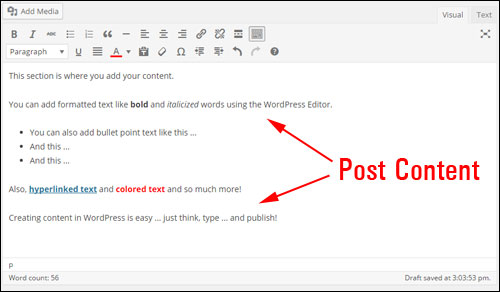 (Post Editing Area)
3 – Post Publishing Module
This section is where you manage your post publishing status …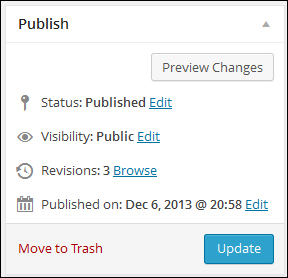 (WP Post Publisher Section)
Post Status
Published – A published post will display on your site to all visitors unless you've set it as a Private post (see "Visibility Settings" section below).
Draft – A draft post can only be viewed by a user with 'Administrator' permissions.
Pending Review – A post marked as pending review is similar to a draft post, but needs to be reviewed and approved by a user with Editor privileges.
To learn how to assign user roles in WordPress, see this tutorial:
Preview
The Publish section also includes a Preview button that lets you view your post before making your post live …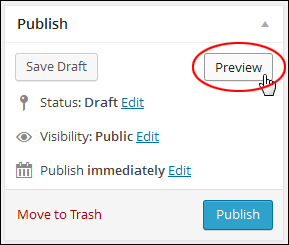 (WordPress Post Preview)
Post Visibility
You can specify a number of visibility settings for your posts …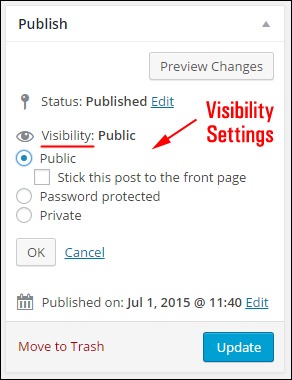 (Post Visibility Settings)
Public – Setting a post to Public makes it visible to all website visitors after the post has been published.
Password protected – Making a post Password protected allows you to protect your posts with a password.
Private – a Private post is only visible to you (if you're the site administrator) and/or logged-in users who have been assigned editor or administrative permissions. You must be logged in to view a private post.
Additional publish settings allow you to change publish dates (even schedule a post to be published at a later date), copy a post to a new draft, or delete your post by moving it to the trash.
Save Posts Statuses
WordPress will autosave your post as you go to ensure that your work is not lost (see "Saving Posts" section of this tutorial), but you can also save your post manually without publishing.

Note: If your post has not been published yet, then either …
A Save Draft button will display in the Publish section if the post status is set to Draft …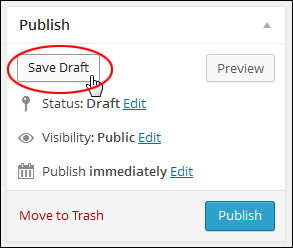 Or Save as Pending, if the post status is set to Pending Review …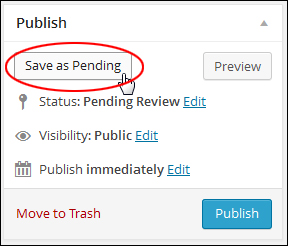 Click the button to save without publishing.
Publish Status
Click Publish to publish the post on your website or blog …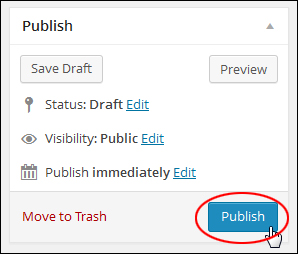 You can also edit the time when your post gets published by clicking the Edit link above the "Publish" button and specifying the date and time to publish your post …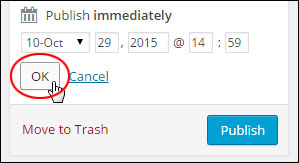 To learn how to schedule posts in WordPress for publishing at a later date, see this tutorial:
4 – WordPress Post Formats
Many WordPress Themes let you customize how your posts are displayed using Post Formats …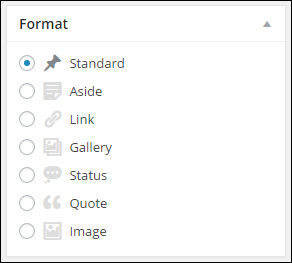 (Post Format)
To learn more about using WordPress post formats, go here:
5 – Post Categories
Categories help you classify your site's post into topics and keep content organized for site visitors …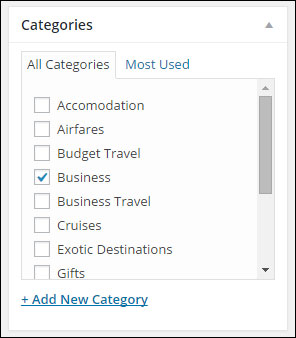 (Post Categories)
By assigning your posts to categories, your visitors can then narrow their search by specific categories to see all posts saved under that category.
To add new categories as you are entering a new post, click the + Add New Category link in this section …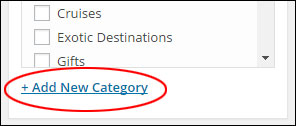 To manage post categories, select Posts > Categories from your dashboard menu …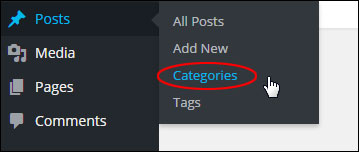 To learn more about using WordPress post categories, go here:
6 – Post Tags Module
Post Tags allow you to organize your posts in more granular detail …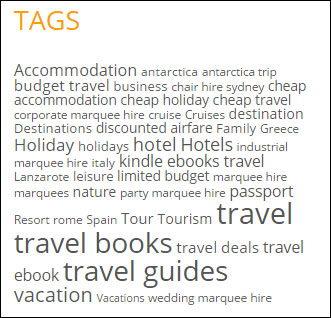 (Post Tags)
WordPress links posts with identical tags.
Note: The way post tags display on your site is controlled by your theme. Depending on the WordPress theme you are using, tags may or may not show up in your post …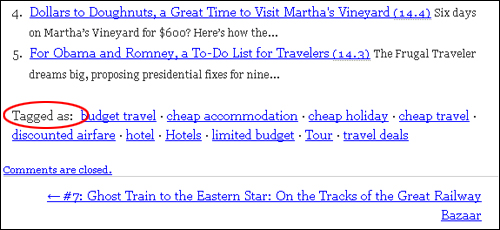 (Post Tags)
Or they may display differently … even in different areas of your page, again, depending on which theme you are using …

(Tags)
You can add new tags to your blog posts by typing in tags separated by commas into the "Tags" section and clicking the Add button …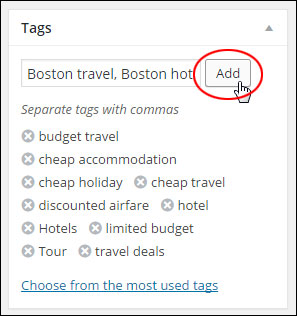 (Post Tags)
To learn how to use WordPress post tags, go here:
7 – Featured Post Image
Featured images are controlled by the active theme you have installed on your site.
If your theme lets you display Post Thumbnails, then the "Featured Image" module should be visible in the "Edit Post" screen …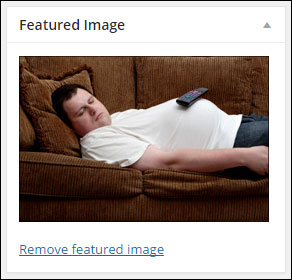 (Featured Image Section)
If you can't see the Featured Image section in your sidebar, check to see that this option has been selected in the Screen Options area (if the checkbox is not there, then your theme may not support Featured Images) …

(Post Editor – Screen Options Area)
To learn how to add featured images to WordPress, go here:
8 – Hidden Post Features
By default, a number of functions are hidden in the Post editing area, and will only display in the admin area if you select them the Screen Options area …

(Additional Post Modules)
Below are some of the settings that you can activate for posts in the Screen Options area.
Post Excerpt Section
The Excerpt section lets you add post excerpts that will display in selected areas of your site, such as the blog page, category page, archives page, and search post pages …

(WordPress Post Excerpt Field)
Go here to learn more about using post excerpts in WordPress:
Send Trackbacks
Trackbacks let you notify legacy blog systems that you have linked to them in your post …

(Post – Send Trackbacks Box)
If you link to other WordPress blogs, they'll be notified automatically using a feature called pingbacks.
For blogs that don't recognize pingbacks, you can send a trackback to the blog by entering their website address(es) in the trackbacks box, and separating each web URL with a space.
Learn more about WordPress trackbacks and pingbacks here:
Custom Fields
Custom Fields provide a way to add custom information to your site and/or modify the way your posts are displayed …

(Post – Custom Fields Box)
Custom Fields are normally used together with WordPress plugins. The Custom Fields function allows you to edit the information added by plugins in your post.
Discussion
This option lets you turn the discussion options on/off for any specific post …

(Post – Discussion Area)
This section is used to enable interactivity and notifications on individual blog posts.
Check all boxes to Allow Comments and Allow trackbacks and pingbacks on your posts.
If you uncheck Allow Comments, then no site visitors can post a comment on that post.
If you uncheck Allow trackbacks and pingbacks, then no one can post pingbacks or trackbacks for that post.
Notes:
If you are editing a post that has been previously published, the Discussion module will also show any comments that users may have posted.
Post discussion options are controlled by your site's Discussion Settings.
Learn how to configure WordPress discussion settings here:
Post Slug
The post slug is a user-friendly (and search engine friendly) URL that WordPress automatically creates from the post title …

(WordPress Post – Permalinks URL)
This feature allows you to change the post slug, which is also known as your Permalink URL …

(Post – Slug Section)
Quick Note About Your Permalink URL

(Post – Permalinks URL)
Permalink stands for "permanent link". It is also referred to as a user-friendly URL, SEO-friendly URL, or pretty URLs.
When you set a Permalink URL for your post, WordPress finds your post and changes all links on your website to point to the correct destination URL, even if you edit the post slug, change the category for your post, or move your post to a different parent page.
The permalink is automatically generated based on your post title.
Commas, quotes, apostrophes, and invalid URL symbols are removed and spaces are substituted with dashes to separate each word in your post URL.
Your permalink appears below the title field as soon as you save or publish your post.
You can manually change your permalink URL by editing the post-slug (see above).
Learn how to set up and use permalinks in WordPress here:
Post Author
This module displays a list of all your site's registered authors and allows you to change the post author by choosing a new post author from the drop-down menu …

(WP Post – Post Author Box)
Note: This module only displays on your post if you have multiple persons assigned the role of author on your site.
Learn more about assigning different post authors in WordPress here:
Next Step …
Now that you have a better understanding of the WordPress Post screen features do, the next step is to learn how to actually create an effective post for your business in WordPress.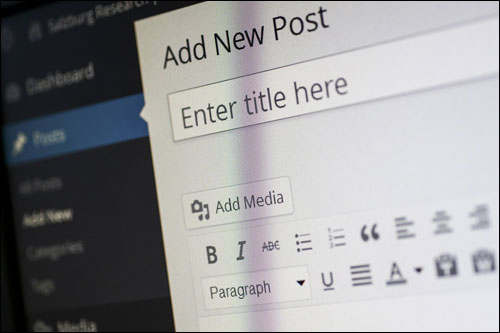 ***
This is the end of part 1 of this tutorial
Click below to access Part 2:
How To Create A Post In WordPress – Part Two
***
"If you're new to WordPress, this can stand on its own as a training course and will stay with you as you progress from beginner to advanced and even guru status." - Bruce (Columbus, Ohio)
Disclaimer: WordPress and its related trademarks are registered trademarks of Automattic, Inc. This site and the services and products offered on this site are not associated, affiliated, sponsored, or endorsed by WordPress, nor have they been tested, reviewed, or certified by WordPress. The owner, contributors and/or advertisers may derive financial benefit from sales of items reviewed, linked to, or advertised on this site.
***
Did you enjoy this post? If so, please consider sharing this page with others using the social links below.