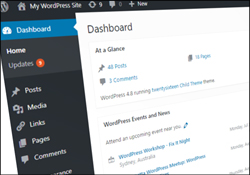 The WordPress admin section of your site is one of the most important areas of WordPress to master. In this tutorial you will learn how to navigate around administration screen of your WP website.
You will also learn about some of the "hidden" features of the WordPress admin section that will become more useful to you as you master using WordPress.

Please note: In this tutorial, we assume that you already have a WordPress site installed on your domain and that you know how to log into your site.
If you need help logging into WordPress, see this tutorial: How Do I Log Into My WordPress Admin?
If you don't know whether or not your website is built using WordPress, see this tutorial: Tell-Tale Signs It's A WordPress Blog And Free WP-Checking Tools
To learn more about WordPress and the advantages of using the WordPress Content Management System to power your website or blog, see this section: WordPress: Overview And Benefits
***
Your WP Control Page
Once you've logged into your WordPress site via the login page, you should be taken to your WordPress Dashboard, which is the main administration section of your website or blog.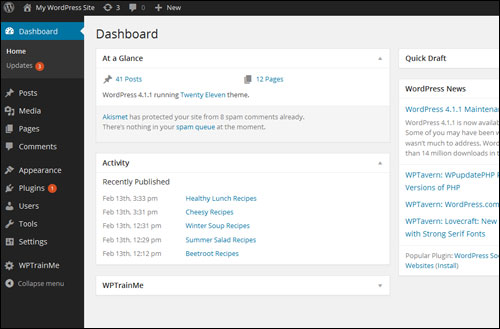 The Dashboard
The WP Dashboard is the place where all of your site's management and administration is carried out.
The Dashboard is divided into a number of useful sections that provide you with immediate access to things such as:
Useful data and information about the activities taking place on your website or blog. It also provides you with "at-a-glance" metrics and information about recent activity taking place on your site, system updates and notifications, and to be kept up-to-date on the latest news from the WordPress community and various WordPress-related resources, such as notifications and announcements from WordPress product vendors of plugins and themes that you have installed on your site.
Management and control of all site settings and options.
Features that enable you to modify, expand, update and enhance the design and functionality of your website, upgrade plugins and themes, plus add, modify and delete your content and content sections.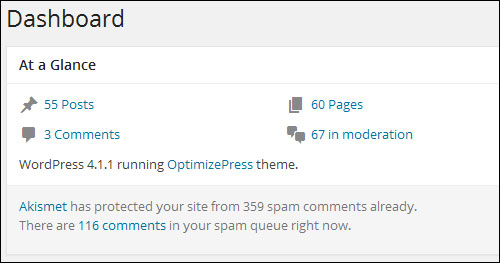 The Dashboard "At A Glance" Feature
Complete the step-by-step tutorial below, then, to learn more about your Dashboard and your site's main administration features.
Understanding The WP Control Area
In version 3.8, WordPress introduced a redesigned look to its Dashboard …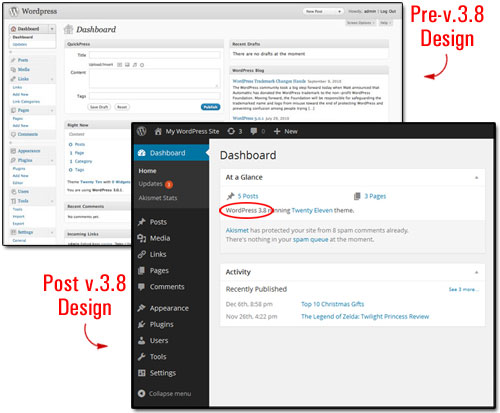 Although the new design was mostly cosmetic and introduced for the purpose of giving WordPress site administrators and developers cleaner typography for a more optimized mobile and desktop viewing experience and a more aesthetic experience, this has also affected much of the existing information about WordPress around the web, including thousands of tutorials and articles about WordPress online, in print and on video that are now outdated.
With the ability to create an individual look and feel of the dashboard, you can now expect to see other design changes to backend features as WordPress releases new versions.
If any newer versions of WordPress include changes to any of the functional aspects or features of the software, then you can be sure that we will post an update about it here.

Important: If your site runs on an older version of WordPress 3.8, then make sure you upgrade to the latest version immediately, as many bug and security fixes are made whenever WordPress releases a new version.
***
The Dashboard
Dashboard Notifications
Depending on who maintains your site updated, you may or may not see the messages below.
The first time you log into a new site powered by WordPress, you may see a "Welcome to WordPress" message displayed inside your Dashboard …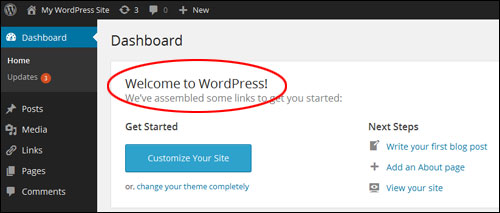 If you are a new user and want to spend a little time learning more about WordPress, you can click on the links in the "Get Started" or "Next Step" sections.
To hide the "Welcome" message or prevent it from displaying again inside your admin area the next time you log in, click on the Dismiss link near the top right-hand corner of the screen …

Note: You will also see "Welcome to WordPress" announcements in your dashboard whenever WordPress gets updated to a new version …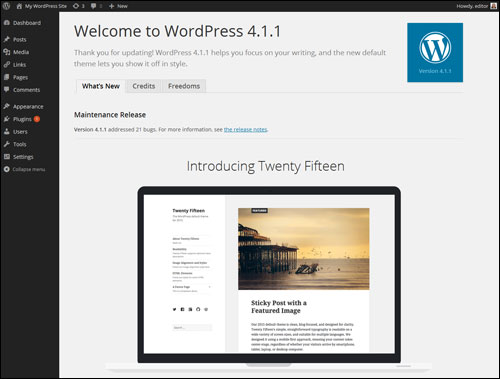 Feel free to explore the information displayed in the "welcome" message if you want to learn about new features and updates to the software.
To return to the dashboard, just select "Dashboard" (or click on Dashboard > Home) on the admin menu …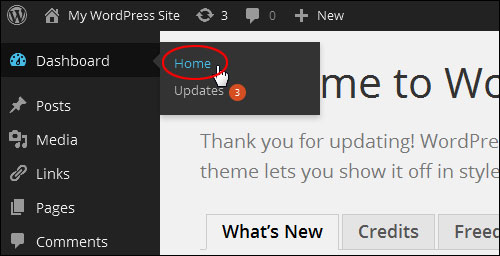 Or scroll to the bottom of the page and click on the link to dismiss the message and return to your Dashboard …

WP Dashboard Screen Sections
Your Dashboard gives you access to all of the main features and controls that you will need to manage your website …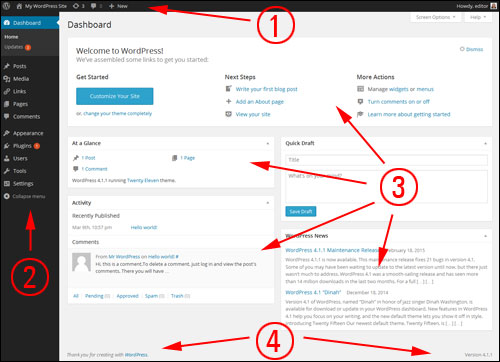 The Dashboard is divided into different areas
The main screen of your Dashboard is divided into a number of different sections:
Header And Toolbar Section (1)
Main Navigation Menu (2)
Work Area (3)
Footer Section (4)
WP Admin Area: Header Section
Header Section
The header section displays system updates, messages, warnings and notifications …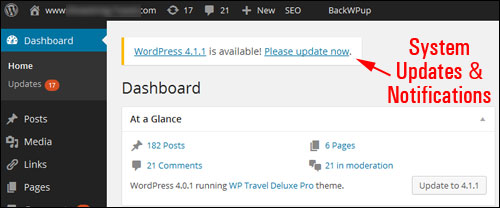 A whole range of updates, notifications and warnings can appear on your header section, depending on what admin section you are working on, what action has been performed, or which plugins you have installed on your site …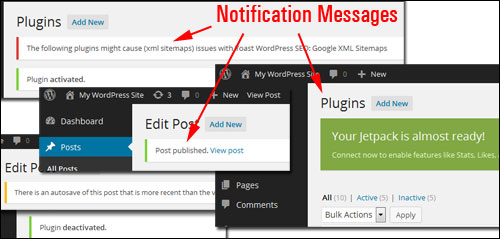 Screen Options Feature
The Screen Options tab is found in the top-right corner of your WordPress admin screen, in the header area …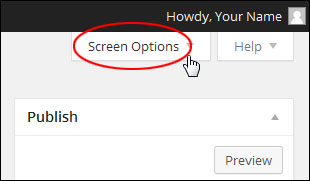 It displays different options and features on your screen, depending on which section of the admin backend you are currently on …

For example, if you are in the main Dashboard, clicking on the Screen Options tab lets you specify options such as which panels of your Dashboard work area you want to hide or display …

If you are in the Posts section, clicking on the Screen Options tab lets you configure entirely different options, such as displaying or hiding information in the listings section (e.g. tags, comments, etc…), specifying the number of posts to display per page, and other configurable options depending on which plugins you have installed on your website or blog …


Tip: Some developers or web designers may choose to prevent elements from displaying on your dashboard because they may decide that their clients won't be needing these features, or simply to give sections of your site a less "cluttered" look, or to prevent accidental errors from happening.
If you are looking for a specific functionality or information block in your control panel and can't find it, or don't know where to look for it, just try clicking on the Screen Options tab … you may just find what you are looking for!
Online Help Area
You can access the official WordPress documentation and user support forum sections by clicking on the Help tab located on the top right-hand corner of the screen …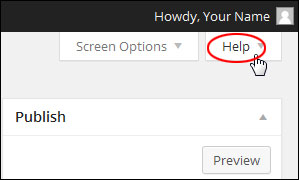 Like the Screen Options tab, the Help tab also displays context-specific information.
So, for example, if you are editing content in the Edit Post section, clicking on the Help tab will bring up help information and tutorials relevant to editing posts …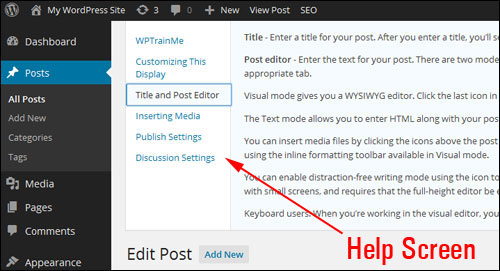 Tip: To learn more about any feature of WordPress when logged into the admin area, just click on the Help tab.
WP Admin Area: Toolbar
The WordPress Toolbar displays at the very top of your Administration screen and provides you and your logged in site users with access to various important administration functions, features, information and "quick links" to other areas of your site …

Most Toolbar items can expand to display more information when you hover over the icons with your mouse …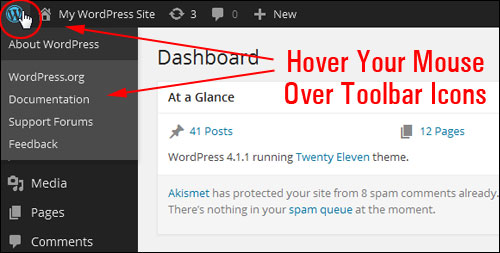 For example, you can quickly see what features of your site need updating …

You can also view how many comments are awaiting moderation, create new pages and posts, add new media or links into your content, add new users to your site and much more …

The Toolbar also allows you to view how any updates made to your posts, pages or settings will affect what visitors see on your site. Just hover your mouse over the website title displayed in the toolbar and click on Visit Site.
Tip: Open your "front end" in a new web browser window to continue working on your site …

As long as you remain logged into your admin area, the WordPress toolbar will continue displaying on your browser while you're viewing the "front end" of your website.
This is great, because it lets you easily return to your admin area and continue working on your content without having to log back in …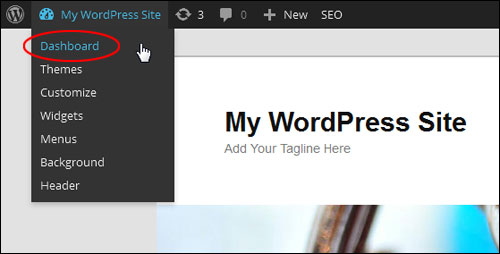 As you begin adding new plugins to your site, you may see that new items have been added to your admin toolbar …


Important: If you are logged in and the Toolbar is not showing when viewing your site, then make sure that the Toolbar has been set to display on your "Profile" settings.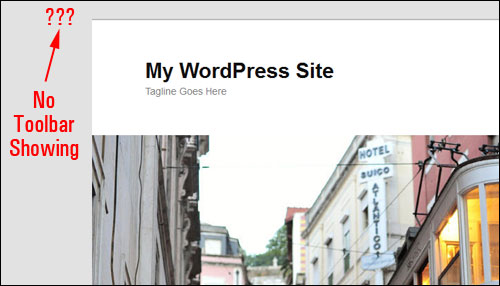 Here's how to do this …
The "Howdy, User" Section
On the far right-hand side in your admin area is the "Howdy, User" section with your Gravatar image.
Hover over this area with your mouse and it expands to display your name and username, with links pointing to your "Profile Screen" and a "Log Out" link …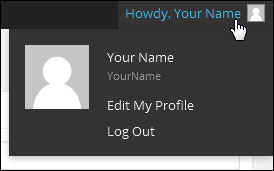 Enabling Your WP Toolbar
Click on the "Howdy, Your UserName" tab at the very top right hand corner of your dashboard and select Edit My Profile…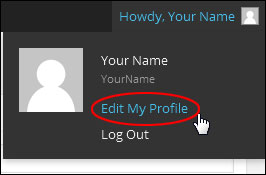 Make sure that Show Toolbar when viewing site is enabled inside the Toolbar information area of your Profile area …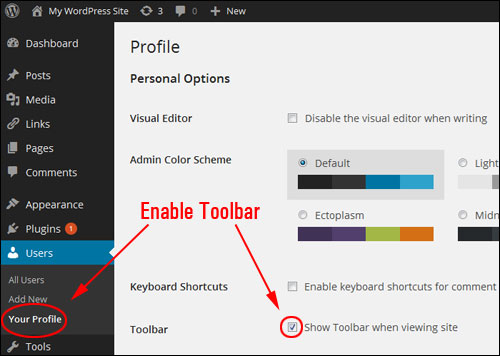 Don't forget to click the Update Profile button before leaving to save your changes …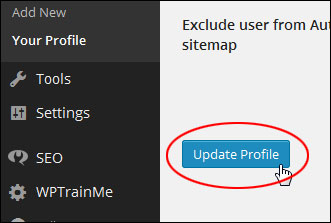 Now, you should be able to see the WordPress Toolbar displayed at the top of your screen when you visit your site …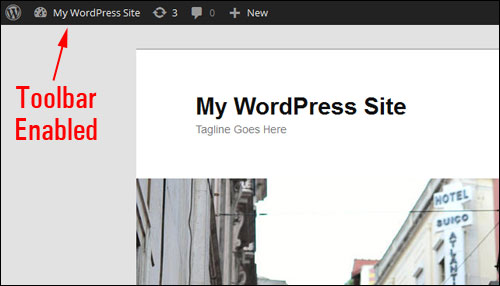 On the far left-hand side of the Dashboard is the main navigation menu linking to all your administrative functions …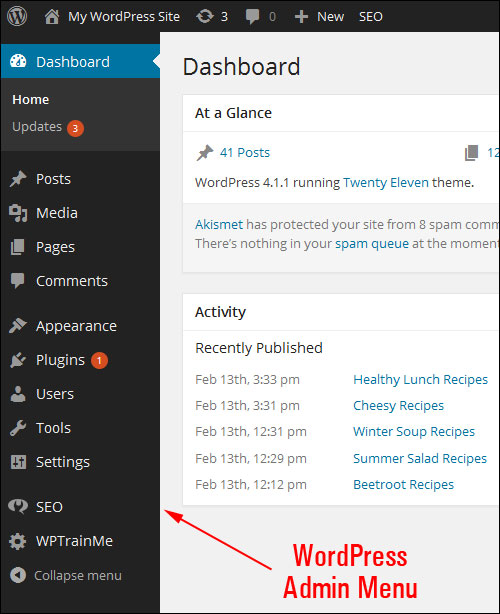 The WordPress Admin Menu

Keep in mind that what users see inside the Dashboard area when logged in depends on the role and capabilities assigned to them and how the site administrator has configured settings and options for different features.
In order to access all of the WP dashboard functions, you must be an administrator of the site. …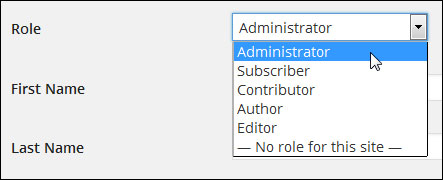 User Roles give users different capabilities and can limit access to management features
Users assigned roles other than that of an administrator (e.g. "Subscriber", "Author", etc.) get access to fewer menu options inside the dashboard …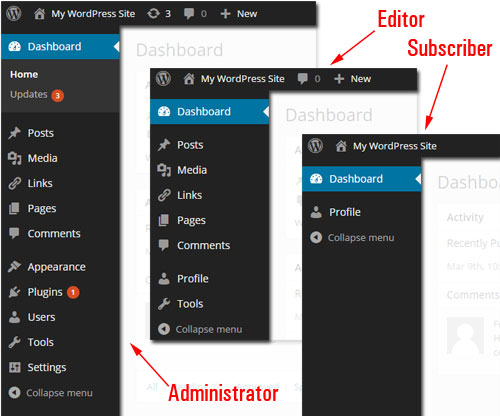 Different Roles Get Assigned Different Capabilities And Options Inside The WP Dashboard
Regardless of the role assigned to a user, some menu items like "Collapse menu" remain accessible to all.
Click the Collapse menu button at the bottom of the navigation menu bar …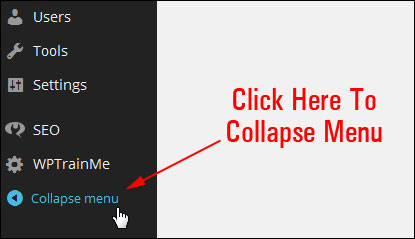 And your menu collapse into a narrow strip with only a list of icons showing …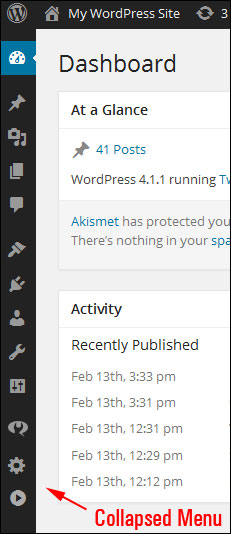 Use this function to create more to work in your admin area.
If you are working with the collapsed menu and are not sure what the icons mean, just click on the bottom icon to expand all items, or hover over an icon to display its submenus …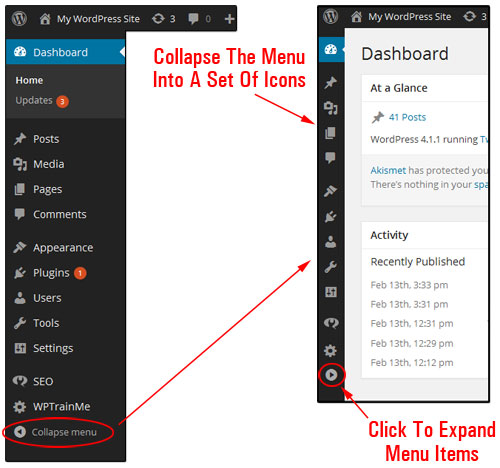 If you hover over a menu item, a submenu will fly out …

To stick" submenus into the admin menu column while you're working, click on a menu item …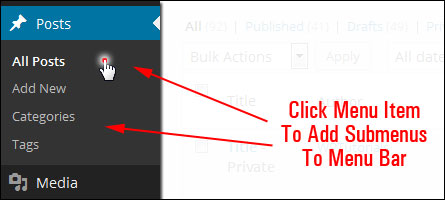 We plan to provide helpful tutorials about each of the navigation menu items in future blog posts.
WordPress Admin Section: Working Area
The large section in the middle of your admin page is the main working area. This is where you will get access to most of your site's information, configure most of your settings, create, modify and delete posts, pages and content inside these, upload images and media to your site, add, update and configure plugins and themes, change site options, and so on.
When you log into WordPress, your Dashboard will display a number of  panels containing information about various activities happening on your site, including updates and notices from several WordPress-related sources …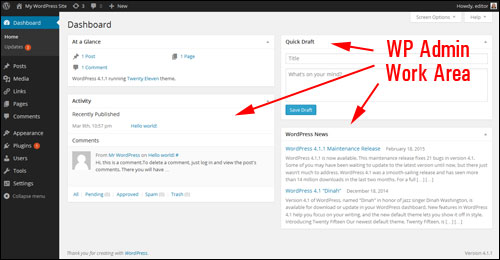 Occasionally, you may even find that new panels have been added to your WordPress dashboard.
For example, in version 4.8, WordPress added a new dashboard panel that displays nearby WordCamps and local WordPress Meetups in your area …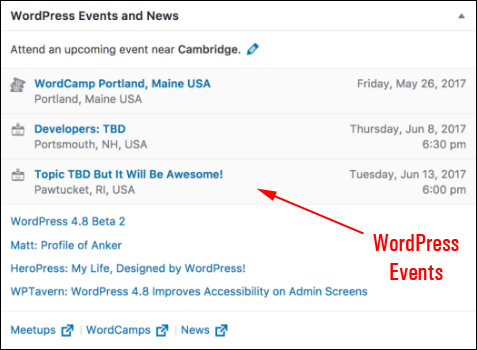 (WordPress Events and News)
You can learn more about it here: WordPress 4.8
As you get busier and start adding more content and functionality (e.g. adding e-commerce or a support helpdesk, etc.) and more users begin to interact online with your website or blog, this section will start looking very busy …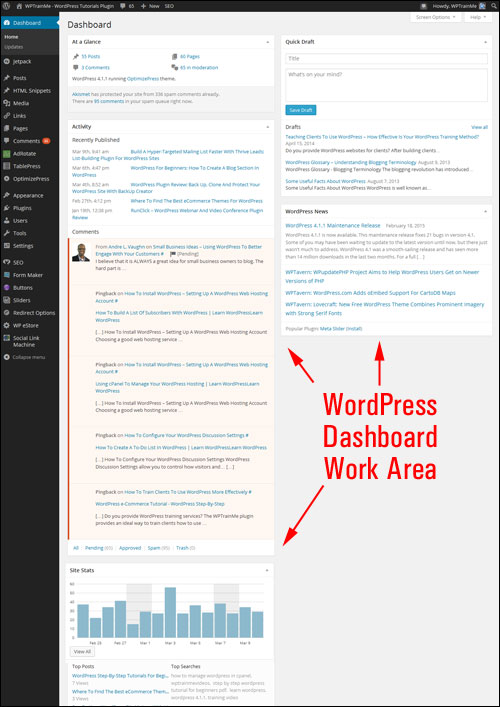 Fortunately, you can customize your admin area by hiding, minimizing and rearranging the layout and display of your Admin panels.
For a quick and easy tutorial on how to customize your WordPress Dashboard, go here: How To Customize Your WordPress Dashboard
The footer area is found at the bottom of your WordPress Administration screen and displays links to WordPress as well as your current WordPress version …

As you can see, having an understanding of your WordPress admin area is essential to the success of your web presence.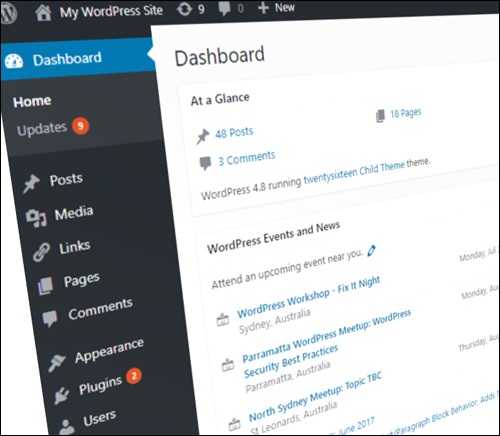 [adrotate group="6"]
***
[adrotate group="3"]
Disclaimer: We have no association with WordPress or any of the WordPress products promoted on this website. We may derive affiliate commissions from the sale of third-party products advertised, endorsed or linked from this site. All images and descriptions sourced from product websites remain the copyright of their respective owners and comply with all license terms and agreements of use to the best of our knowledge.
***
Did you enjoy this article? Please feel free to share this information with other WordPress users using the share buttons below.