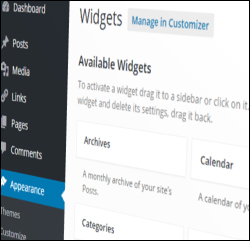 In Part 1 of this tutorial series, we explained how to use WordPress widgets and in Part 2, you learned how to configure text widgets.
In this tutorial we will continue configuring other frequently-used WordPress blog widgets.
Add Post Categories To Your Blog Sidebar
Now that you know how to configure a text widget containing a clickable support button, let's configure Post Categories.
By default, the Categories widget displays on your sidebar section. Place the widget wherever you want your categories to display by clicking and dragging it on the sidebar widget area …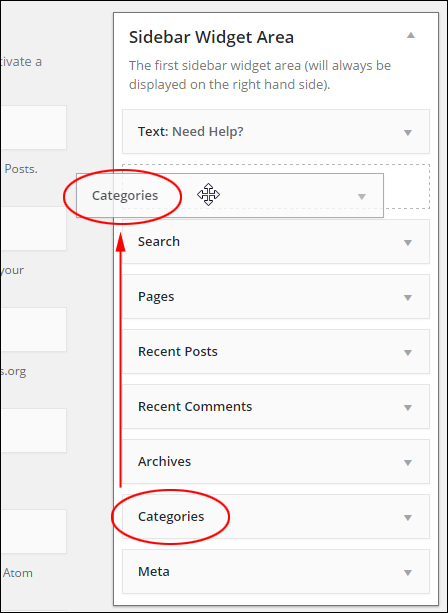 (Categories widget)

Before adding a Categories widget to your sidebar area, we recommend configuring your Categoriesfeature first …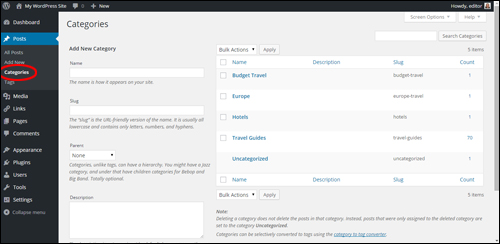 (WordPress Categories Panel)
Note: We are currently putting together tutorials on configuring categories in WordPress.
Let's configure your categories settings as described below:
In Title: type something that your visitors will understand, for example, "Choose A Topic…" (1)
Check Display as dropdown if you plan to use many categories (this significantly reduces the length of the widget content by displaying all categories inside a drop-down menu). Leave the box unchecked if you want a list of all categories to display on the sidebar. (2)
Leave the default settings for the remaining options, or see the additional notes on configuring the Categories widget below.
Click Save to update your settings …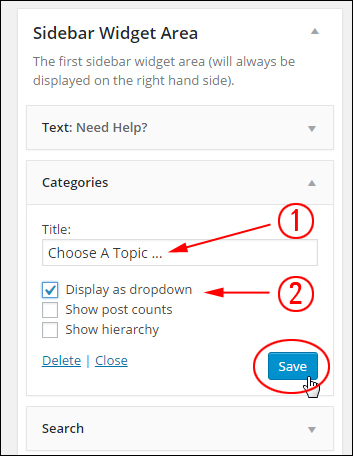 (WordPress Categories widget settings)
Load the site in your browser or refresh the page to see how your Categories widget will look to your site visitors …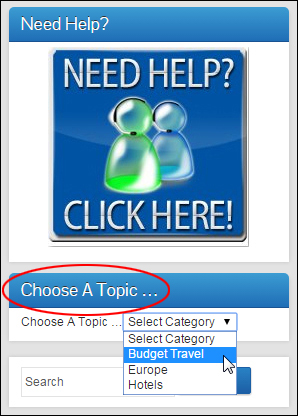 (WordPress Categories widget added to sidebar)

Tips:
Change the default Uncategorized post category to something more meaningful.
If you use nested categories on your site, you may want to check the Show hierarchy option, otherwise leave this box unticked.
To display the number of posts published in each category on your site, tick the Show post counts check box …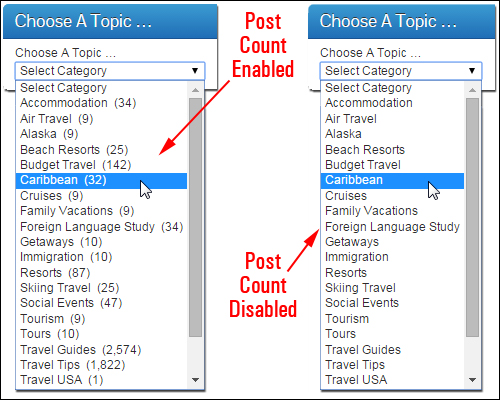 (Category widget options – Post Count Enabled vs Post Count Disabled)
Add A Recent Posts Widget To Your Sidebar
The Recent Posts widget is added to your sidebar navigation area by default. All you need to do is configure the widget.
Click on its title bar to configure its settings …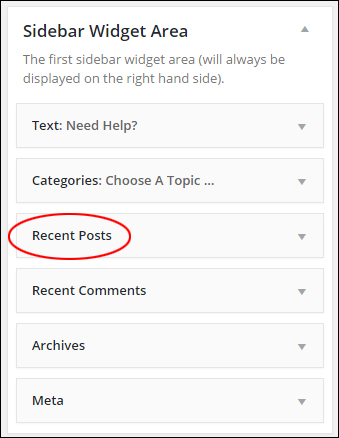 (Recent Posts widget)
There's very little to set up in this widget. You can add a widget title, select the number of posts to display and display post dates. If you want to use the default Number of posts to show setting, then just leave the widget as is, otherwise change the number of posts and click Save when done …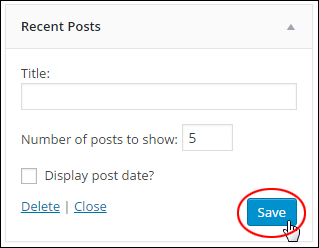 (Recent Posts WordPress widget settings)
Your most recent posts will appear on your sidebar …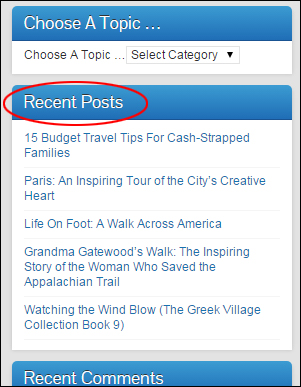 (Recent Posts widget on sidebar navigation section)
We provide a step-by-step tutorial about how to create a WordPress Post here: How To Create A New Post In WordPress
Add A Pages Widget
Next, let's add a widget to your sidebar for listing pages.
Find a Pages widget in the Available Widgets section …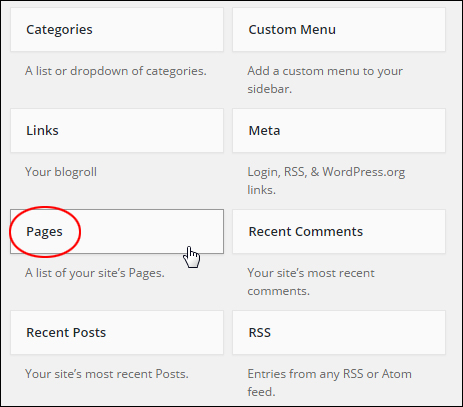 (WordPress Pages Widget)
Drag the Pages widget to your widget section …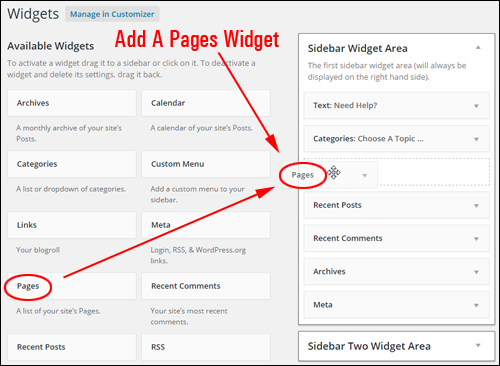 (Adding a Pages widget to your sidebar)
The Pages widget allows you to configure the following options:
Title: Add a title to the widget (e.g. "Site Info") (1)
Sort by: Sort how your pages display: by title (i.e. alphabetically), by page order, or by page ID. (2)
Exclude: Hide pages on the sidebar area (3) …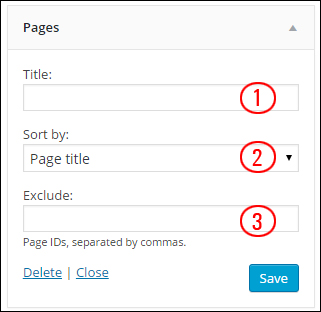 (Pages Widget settings)
By default, pages will be listed by title in alphabetical order. If you want to display pages using one of the other options, then select a different method from the Sort by: drop-down menu …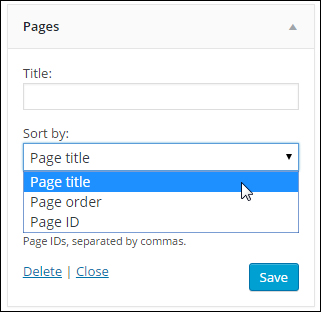 (WordPress Pages Widget settings – item sorting options)
To exclude pages from displaying on the sidebar, just type or paste in their Page Ids separated by commas into the Exclude field of the widget …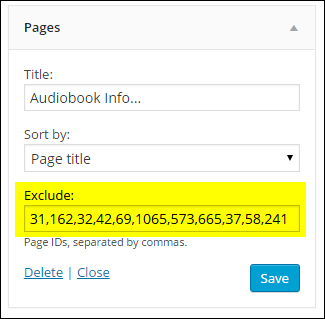 (Pages Widget settings – excluding pages)
To learn how to find a WordPress post or page ID, see this tutorial: How To Find The ID Of WordPress Posts And Pages
Click the Save button when finished and click Close at the bottom of the widget box to minimize your widget.
Links to the blog's main pages will now display on the sidebar …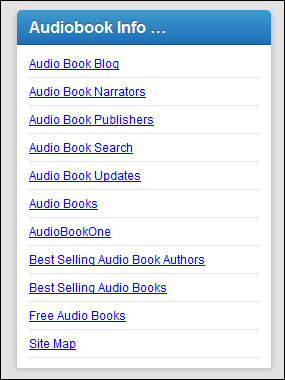 (WordPress Pages Widget on sidebar)

Tip: You can add multiple Pages widgets to the sidebar menu. This is handy if you want to display separate page groups on the sidebar (e.g. "Products", "Legal Pages" etc.)
Add A Links Widget To The WordPress Sidebar Area
Next, we'll add a Links widget to your sidebar area.
Before adding the Links widget to the sidebar, we first recommend configuring your Links section inside your WordPress dashboard …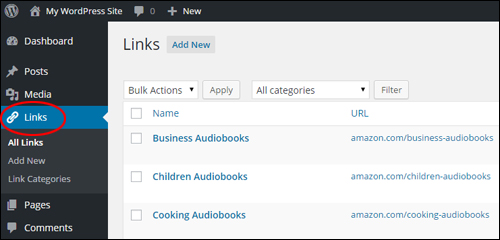 (WordPress Links screen)
Note: Configuring and using Links will be covered in separate tutorials.
To add the widget, find a Links widget in the Available Widgets section …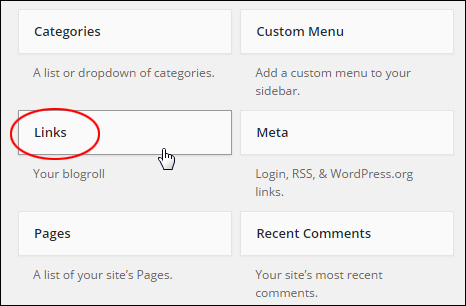 (Links Widget)
Drag the widget to your sidebar …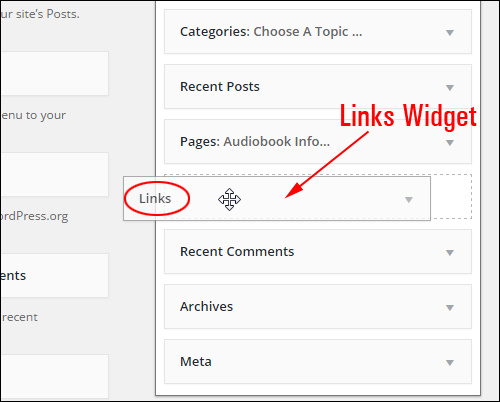 (Making Links Widget active)
The Links widget offers a number of configurable options, including the ability to specify what information to show about your links and how many links you want to display on your sidebar menu …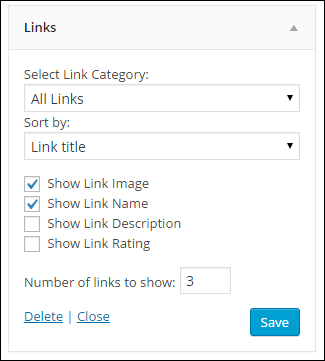 (Links Widget Settings)
You can add as many separate 'Link Widgets' to the sidebar navigation section as you want. As you will see in a moment, this lets you create and display specific lists of links on your site …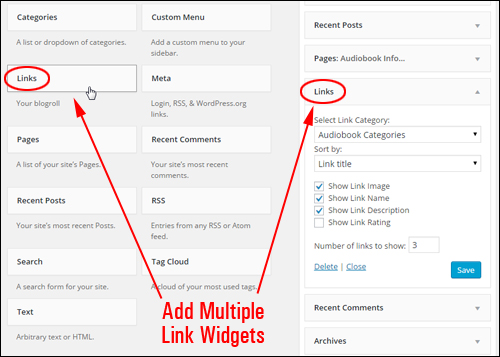 (Add Multiple Links Widgets To The Sidebar Section)
You can sort links by Link title, Link rating, Link ID, or display links in Random order …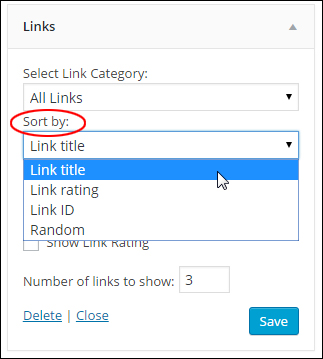 (WordPress Links widget: 'Sort by:' drop-down menu)
You can also create and display a list of items for a specific category, by selecting a link category from the 'Select Link Category' drop-down menu …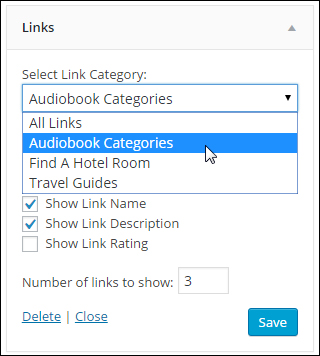 ( Links widget: 'Select Link Category' drop-down menu)
When you have finished configuring the Links Widget, click the Save button …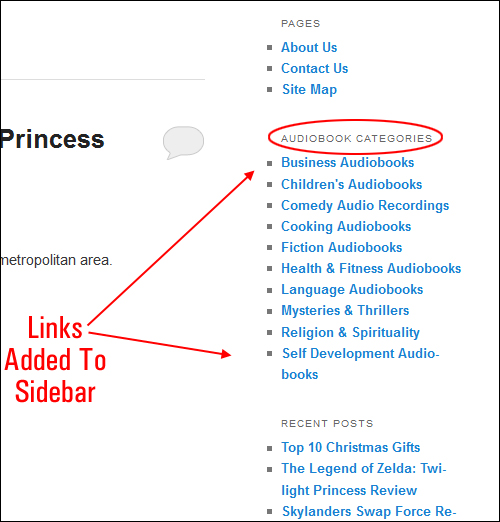 (Links added to WordPress sidebar area)
As the above example shows, you can display specific links to your site visitors (e.g. a list for a specific link category only), and add multiple link lists to your WordPress sidebar area.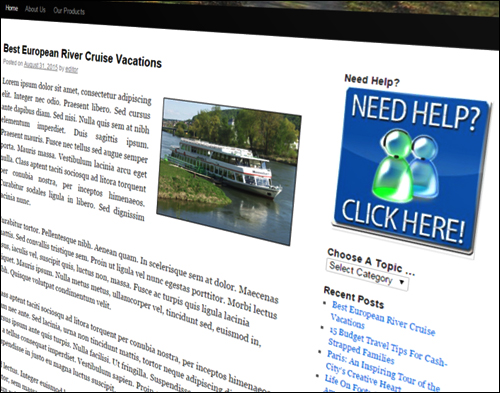 ***
This is the end of section three of this tutorial series.
Click on this link to view Part 4: Adding Widgets To Your WordPress Sidebar – Part 4
***
"Learning WordPress has been a huge stumbling block for me. I've been looking for something that covers absolutely everything but doesn't cost an arm and a leg. Thank you so much ... you have just provided me with what I have been looking for! Truly appreciated!" - Tanya
Disclaimer: This site has no direct association with WordPress, Automattic, or any products mentioned on this website. We may receive affiliate commissions from the sale of products advertised, reviewed or linked from our website. All product images are the copyright of their respective owners and have been used only for training and illustrative purposes.
***
Was this article useful? Please feel free to share this article with other website owners using the social links below.