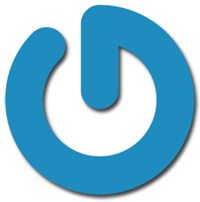 No doubt, you're familiar with avatars.
An avatar is an icon, or representation of a user in a shared virtual reality such as a forum, chat, website, or any other form of online community where the user(s) wish to distinguish themselves from other users.
(Source: WordPress Codex)
Avatars have now become mainstream on social web sites like Facebook, Twitter, LinkedIn, online directories and loads of other places …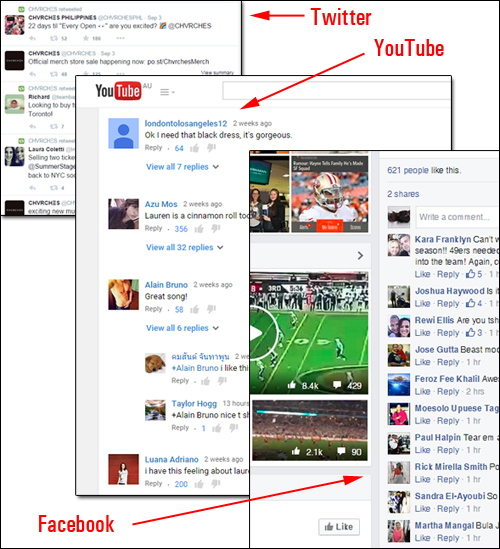 (Avatars are commonly used all over the web)
Using WordPress Gravatars
If you visit other WordPress sites, you will see that WordPress sometimes also displays avatar pics (e.g. when visitors post comments or engage in online discussions) …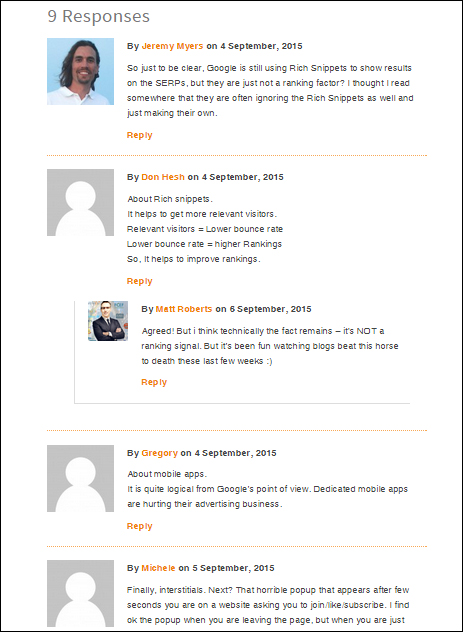 You may be wondering why some users display their pics with their blog posts and discussions, while with other users, all you see is a greyed out image or some weird icon with their profile, or perhaps you've contributed to an online discussion and wondered why your avatar appeared greyed out …

In this tutorial you are going to learn what Gravatars are, how they work and how to set up avatars in WordPress.
Gravatar – What Is It?
WordPress uses a specific kind of avatar called a Gravatar …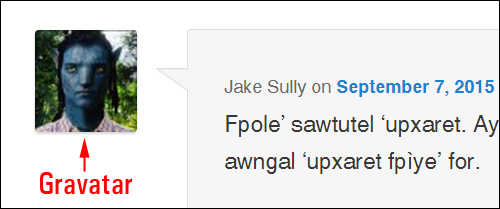 (A Gravatar is a special kind of avatar for use with WordPress)
Gravatar stands for Globally Recognized Avatar.
Gravatars allow you to have one avatar used across the web. Avatars are usually an image that the user will create themselves. Unlike standard avatars, Gravatars follow you around the web and automatically appear whenever you post a comment on a WordPress site.
Gravatar.com was acquired in 2007 by Automattic, the company behind WordPress.com. As a result, Gravatars are now integrated into WordPress and millions of avatar images are served billions of times per day across the web. Gravatars are also supported by many technologies.
How Does A Gravatar Work?
Once registered with Gravatar, the service matches your WordPress profile information to the email registered in your account and displays your custom gravatar image next to comments, articles and (optionally) elsewhere on the WordPress site …

If a visitor has not set up their Gravatar account, the default avatar set by the site admin will display next to their name (see further below).

(Default avatar set by WP site admin)
Typically, the default image most commonly used is called the "Mystery Man" …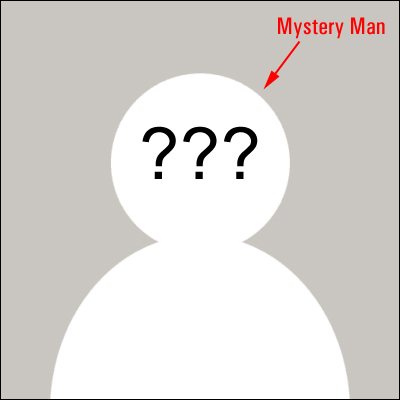 (Mystery Man Avatar)
If you don't want your entries to be associated with a default icon, then the easiest thing to do is set up a gravatar.
Why Use A Gravatar
A Gravatar is essentially the same thing as an avatar, but the images are hosted on a single server and are called up by encrypting the users' email address using a special algorithm.
Instead of creating different avatars for every new site you register an account with, gravatars allow you to have the same avatar display on all of the web properties that you visit.
Enabling gravatars on your WordPress site also simplifies the process for everyone involved:
Site Administrator Benefits
Adding user Gravatars requires very little effort.
There is no need to maintain additional plugins.
Gravatars are portable across the web. You don't have to manage user accounts or their images, to allow blog commenters to use Gravatars on your site.
User Benefits
You don't have to register an avatar on every site you join or service you register for.
Users can update their Gravatar across multiple sites from their account.
The tutorial below shows you how to set up and use Gravatars.
How To Add Gravatars To WordPress – Tutorial
To start using Gravatars, first first you will need to create an account (it's FREE): http://www.gravatar.com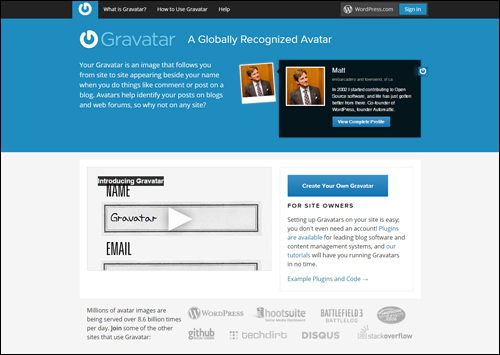 (Gravatar)
Log in with your WordPress.com account details …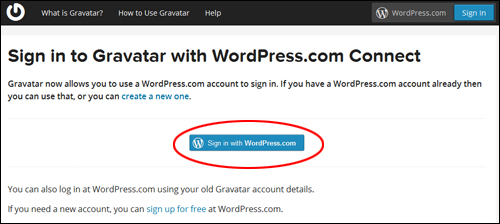 If you don't have a WordPress.com account, you can register for one on the site …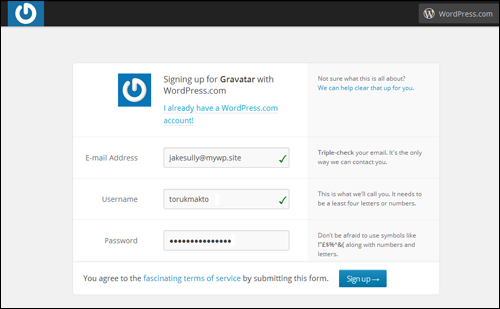 Once you have verified and set up your account, follow the instructions to complete your profile, and select the email address and image you want to associate with your Gravatar.
Upload your Gravatar image …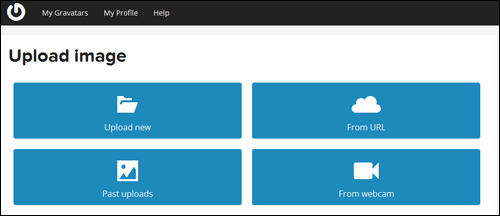 (Upload your Gravatar image)
Add your image, then crop and save it …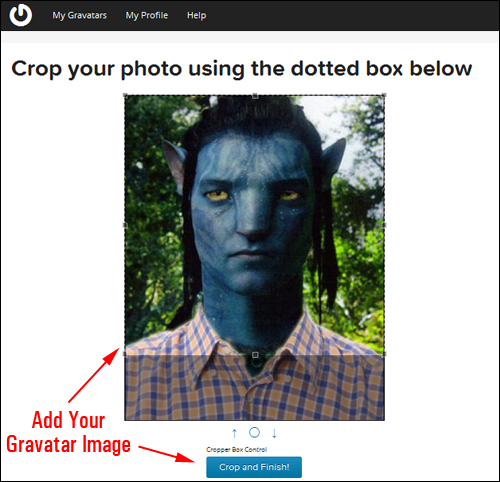 Select one of the available ratings for your Gravatar …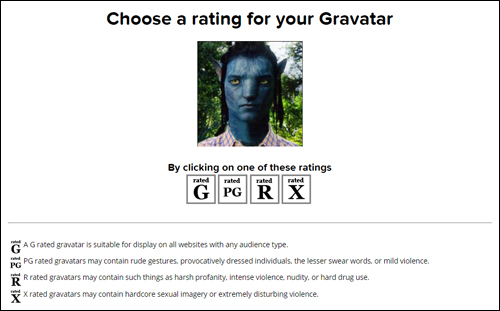 (Rate your Gravatar image)
You can access and change your own account anytime …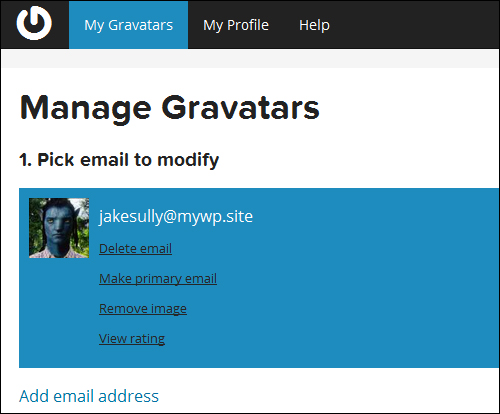 You can edit your profile further by associating your Gravatar with an email, website, location and a brief bio …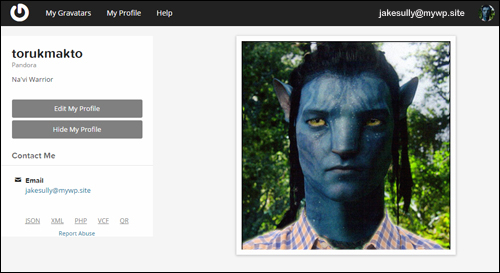 Once you are done setting up your account, your Gravatar will begin following you around the web.
It will be displayed in your post comments, forums, etc …

Your Gravatar will also appear inside your own WordPress dashboard, in your user profile …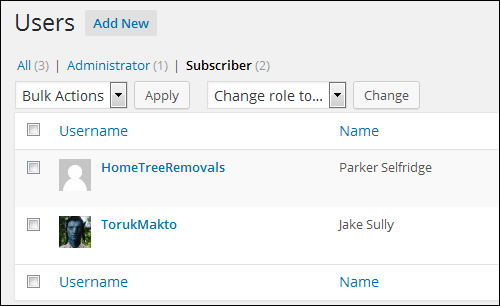 And every time you log back into your site …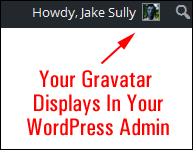 How To Manage Gravatars On Your WordPress Site
Although WordPress now automatically integrates with Gravatars, you can change the following settings:
Whether Avatars (aka, Gravatars) are displayed on your site or not.
Avatar ratings filter.
To manage how your Gravatar is used, log into your WP admin area and go to the Settings > Discussion screen …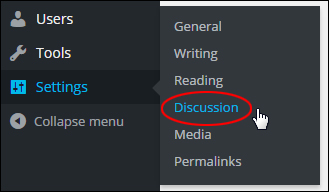 (WordPress Discussion Settings)
Scroll down the screen to the Avatars section …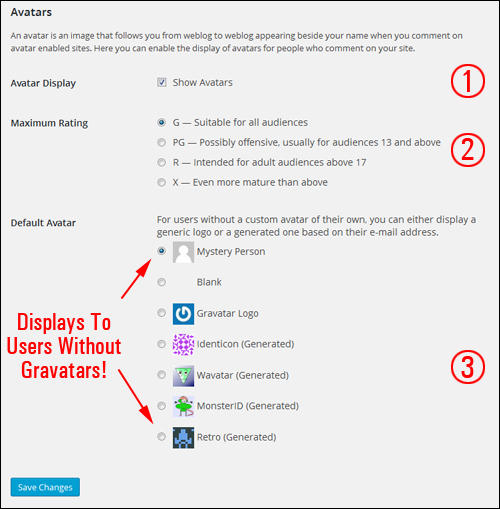 The Avatars section provides you with a number of options:
Avatar Display: Specify whether to show Avatars on your site or not.
Maximum Rating: When users create a profile on Gravatar, they are given the opportunity to give their Gravatar a rating (i.e. G, PG, R, X) based on appropriateness. Here you can choose the maximum rating you will allow on your site.
Default Avatar: WordPress allows you to select what type of image you would like to display when users do not have a Gravatar. Selecting one of the generated icons gives users a default avatar without requiring them to have a Gravatar account. Generated icons link the email of the user to an auto-generated image. Now, every time that person posts a comment on your site, the same image will display next to their name.
Remember to save your changes when finished …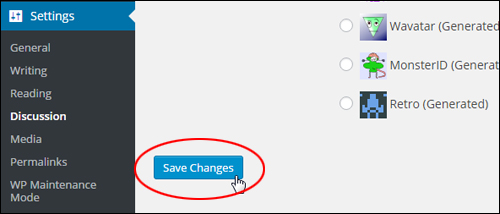 WordPress Gravatars – Tips
By default, WordPress displays Gravatars at a fixed size. To customize the default image size, you would need to edit code in your template files.
Also, several WordPress plugins have been developed to enhance the use of Gravatars. you can see which plugins are available inside your dashboard by typing in gravatar inside the plugin search field …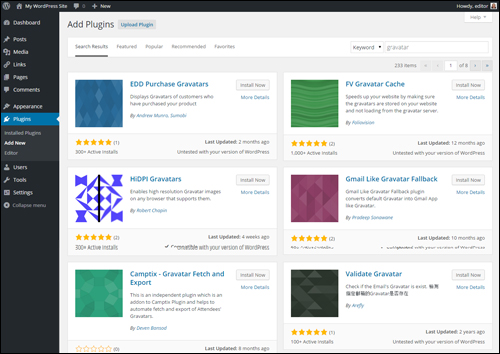 (Search for gravatar-enhancing plugins inside your WordPress plugin dashboard)
For example, you can a feature called a Gravatar Hovercard to your site using a plugin called Jetpack.
Gravatar Hovercards
Gravatar Hovercards allow your information to be made visible to others and makes it easier for people to find your blog or access your identity on services like Facebook, Twitter, or Linkedin.
Gravatar Hovercards are normally a feature of WordPress.com (the hosted version of WordPress). You can add a Gravatar Hovercard to your self-hosted website or blog, however, by installing the versatile Jetpack plugin …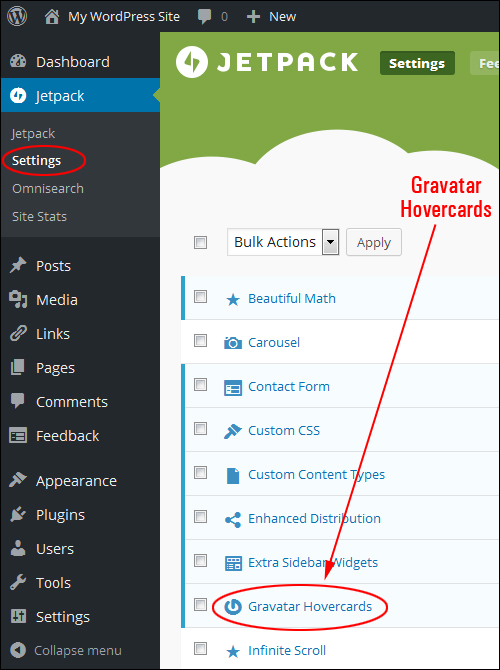 (Jetpack Plugin – Gravatar Hovercards)
Once Jetpack is installed on your site and the Gravatar Hovercards feature is activated, a new item will be added to your Discussion Settings > Avatars management screen. This lets you display visitor profiles when someone hovers over a Gravatar …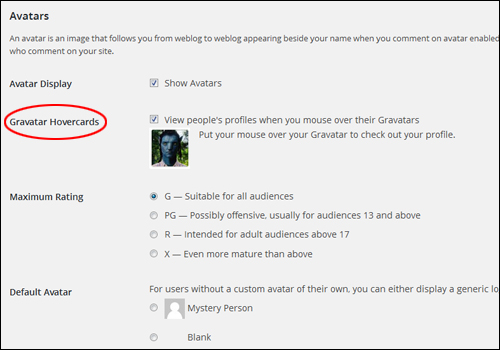 (WordPress Discussion Settings – Gravatar Hovercards)
If you activate this feature, then if visitors hover their mouse over your Gravatar …

(Hover your mouse over a Gravatar to display Gravatar Hovercards)
Your Gravatar Hovercard will pop up, allowing people to learn more about you …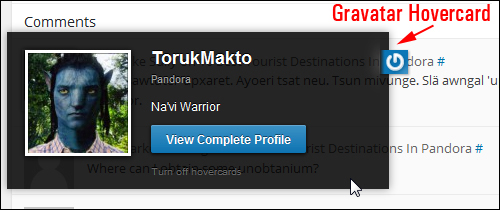 (Gravatar Hovercard)
Add A Custom Gravatar To WordPress
You can replace the default user gravatar on your site for users that don't have a gravatar set up. To learn how to add a custom gravatar to WordPress, see the tutorial below:
Hopefully this tutorial has helped you learn what Gravatars are and how to use them in WordPress.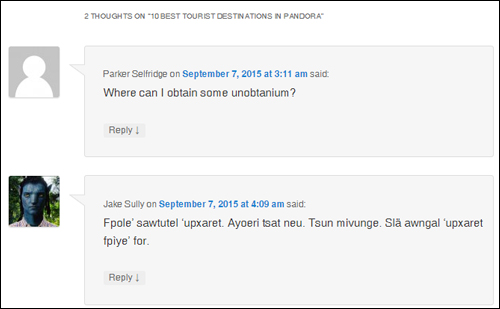 Gravatar logo source: simpleicons.org. Avatar movie references used for illustrative purposes only. All copyright belongs to their respective owners.
***
"Wow! I never knew there's so much to learn about WordPress! I bought one of the WordPress for Dummies three years ago, such authors need to be on this course!" - Rich Law, Create A Blog Now