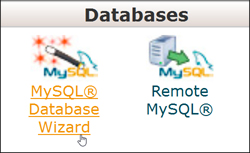 This tutorial is part of our WordPress Management tutorial series. In this tutorial, we show you how to create a MySQL database for WordPress using cPanel's MySQL Database Wizard.
***
How To Create A WordPress MySQL Database
If you are performing a manual WordPress installation or adding a new application to your website that requires data to be stored in its own MySQL database, then follow the tutorial below to learn how to create a new MySQL database using cPanel.
To learn more about using cPanel, go here:
How To Create A MySQL Database
Log into your cPanel administration area …
Scroll down to the 'Databases' section of your cPanel administration area and click on MySQL Database Wizard …

Create a database name and click 'Next Step' …
Note: In the above screenshot example, the prefix "wrdpress" is the domain username and "demo" is the database name. Your configuration will show a different domain username prefix.
Copy the entire 'prefix_databasename' string into a plain text file. You will need it later on during the installation process.
Next, create a username, and enter and verify a password (aim for a score of very strong – use the password generator if you need to), then click 'Create User' …
In the above screenshot example, the username is "demo1".
In the next screen, do the following:
Copy the 'User', 'Database', and 'Password' details to a plain text file and save it to your hard drive. You will need these later.
Select the 'ALL PRIVILEGES' checkbox
After completing the above tasks, click on Next Step to proceed …
Congratulations! You have successfully created a MySQL database …
 See Also …
To learn how to delete a MySQL Database, see the tutorial below: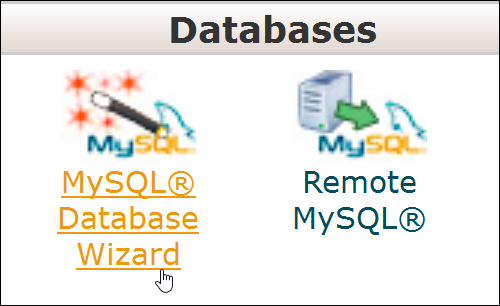 ***
"These tutorials have so much information and are easy to understand. If you use WordPress or plan to in the future these will help you with everything you need to know." - Valisa (Mesa, Arizona)
Disclaimer: This site has no direct association with WordPress or any WordPress products promoted on this site. We may receive an affiliate commission of financial benefit from the sale of services or products mentioned on this website. All images and descriptions sourced from product websites are the copyright of their respective owners, comply with all license terms and agreements of use are being used solely for illustrative or training purposes.
***
Did you enjoy this article? Please feel free to share this page with others who could benefit from learning about WordPress using the share buttons below.