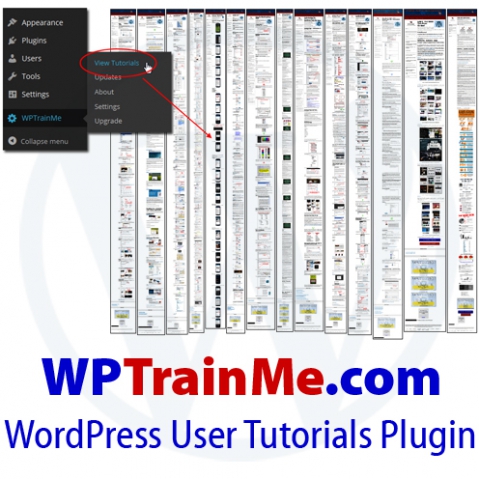 Round Corner, Australia – June 16, 2017 /NewsNetwork/ —
WordPress users can now get the most out of their site by following a series of tutorials that cover all areas of using WordPress. The tutorials are available through a new WordPress user tutorials plugin called WPTrainMe, which is available for free.
A new plugin has launched helping businesses and non-technical users to learn the best ways to use WordPress through a series of detailed tutorials that teach them how to get the most out of their site. Called WPTrainMe WordPress User Tutorials, the plugin offers access to training, advice and guidance and comes in two forms. One is free, and the other is a Pro edition that offers the full training library.
More information can be found at: http://wptrainme.com.
The free version of the plugin provides instant access to over 70 tutorials on how to use WordPress and the different ways users can power their online company through the tools and features WordPress makes available.
The Pro version gives users access to the entire WordPress training library, which includes links to hundreds of written step by step tutorials and a comprehensive video library, along with downloadable templates, checklists, and guides.
WPTrainMe was created to help people get the most out of their WordPress site, establish a strong online presence, boost their brand reputation and image, and succeed in an increasingly competitive online market.
The training modules are laid out in logical sequence and show users how to build, configure, automate, use, manage and grow their website in the best, most effective way. The tutorials place the user in complete control of their web presence and help them cut costs of hiring professional coders and website developers.
Once the plugin is installed, users have access to a comprehensive and well-organized WordPress step by step training system. They can access the tutorials and information at any time from their dashboard, allowing them to learn while working on their site.
WordPress offers users a number of benefits, including ease of use and the ability to manage a website from any computer anywhere in the world. It also allows people to create a site without any HTML or coding knowledge and has powerful search engine integration features.
Through using the tutorials on the above link, individuals and businesses can learn how to harness the power of WordPress, get the most out of their websites, and establish themselves well online. Further details can be found on the URL above.
Contact Info:
Name: Martin Aranovitch
Email: media@wpcompendium.com
Organization: WPCompendium.org
Address: PO Box 48, Round Corner, NSW 2158 Australia
Source: NewsNetwork
Release ID: 30980
Published by DistributionPress.com
***
"Learning WordPress has been a huge stumbling block for me. I've been looking for something that covers absolutely everything but doesn't cost an arm and a leg. Thank you so much ... you have just provided me with what I have been looking for! Truly appreciated!" - Tanya