"If you're new to WordPress, this can stand on its own as a training course and will stay with you as you progress from beginner to advanced and even guru status." - Bruce (Columbus, Ohio)
WordPress Traffic Automation Blueprint – Tutorial Series
Traffic is the foundation of a successful digital business presence. Without a constant stream of traffic, your business has no results … no new leads, customers, or sales!
WordPress has powerful features that allow you to automate the process of generating new traffic to your website or blog.
It does this by allowing you to integrate and automate various processes that will drive more traffic to your website, such as:
Distributing and syndicating content
Notifying and updating search engines
Posting content excerpts to social media
Pinging online directories and authority sites
And more …
The comprehensive tutorials in our WordPress Traffic Automation Blueprint series show you step-by-step how to configure WordPress settings with various plugins and external services to create an automated traffic generation machine for your business.
Additional tutorials on this site also show you how to automate management, lead generation and sales and marketing processes.
Automate Your Content Distribution, Web Traffic & Lead Generation With WordPress
The goal of having an expertly configured WordPress site is to automate as many digital management and marketing processes as you can in order to free up your time and allow you to focus on other areas that will help you grow your business.
Ideally, once your WordPress site has been fully configured, all you have to do is publish content and automation does the rest …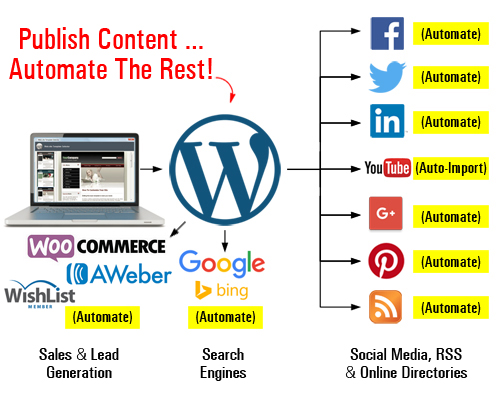 (Automate various management, marketing & sales processes with WordPress!)
The video below shows you how an expertly configured WordPress site can turn your website into an automated content distribution, web traffic & lead generation and sales & marketing machine for your business …
Click on the tutorials below to save money and learn how to configure your WordPress settings like an expert, or contact us if you would like to save time by having us expertly configure your WordPress site for you:
Access Hundreds Of WordPress Step-By-Step Tutorials And Videos From Your Own WordPress Dashboard
WPTrainMe gives you access to the complete library of WordPress step-by-step tutorials published here on WPCompendium.org, plus hundreds of WordPress 'how to' video tutorials and additional resources directly from your WordPress dashboard via the WPTrainMe plugin (PRO edition). These tutorials and videos will save you time and help you master WordPress quickly and easily.
To learn how to get access to WPTrainMe PRO for a low one-time fee, click here.
Disclaimer: This site has no association with WordPress, Automattic, or any WordPress products reviewed on this site. We may derive affiliate commissions or financial benefits from the sale of any products advertised on this website. All images and descriptions sourced from product websites are the copyright of their respective owners and have been used only for training and illustrative purposes.