Plugin Sniper – WordPress Plugin Detection Tool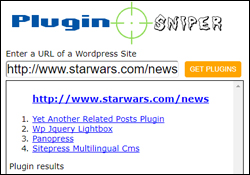 Have you ever come across a WordPress site and wondered what plugins they are using? Wouldn't it be great if you knew what WordPress plugins are being used by your competitors?
(To learn if a website is powered by WordPress, see this tutorial: Is It WordPress? How To Tell)
Here is a useful market research tool that can help you 'reverse engineer' what plugins other WordPress sites are using …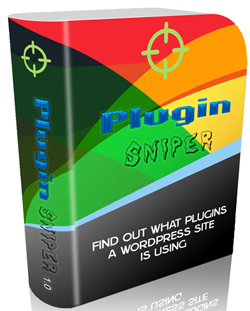 (Plugin Sniper – Find out what plugins a WordPress site is using)
Plugin Sniper lets you find out what plugins a WordPress site is using.
You can research sites and their plugins online by visiting the tool's website …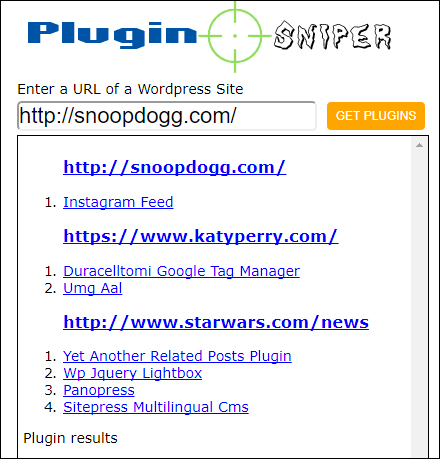 (Research what plugins WordPress sites are using online)
The PRO version of the plugin also lets you research what kinds of plugins businesses in certain niches are using …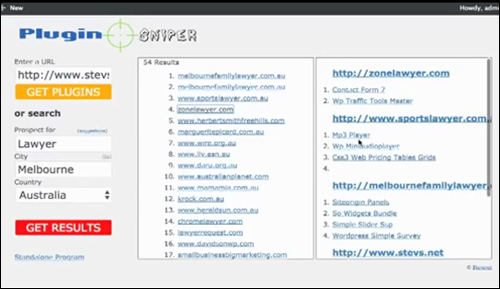 (Search WordPress sites by categories and location)
Depending on your services, knowing what plugins other businesses are using can help to improve your website's results, or give you valuable information on ways to approach them and offer ways to improve their results.
The video below shows how the plugin works:
For more information, go here: Plugin Sniper
***
"These tutorials have so much information and are easy to understand. If you use WordPress or plan to in the future these will help you with everything you need to know." - Valisa (Mesa, Arizona)
Disclaimer: We are not directly associated with WordPress or any of the WordPress products written about on this site. We may receive financial benefits or affiliate commissions from the sale of third-party products mentioned on our website. All images and details sourced from product websites remain the copyright of their respective owners and comply with all license terms and agreements of use.
***
Did you enjoy this article? If so, please share this article with other blog owners using the share buttons below.