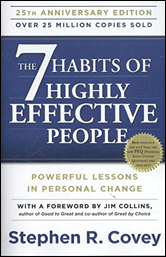 One of the most inspiring and impactful books ever written, The 7 Habits of Highly Effective People: Powerful Lessons in Personal Change has captivated readers for 25 years and transformed the lives of Presidents and CEOs, educators and parents— in short, millions of people of all ages and occupations.
The 7 Habits of Highly Effective People was a groundbreaker when it was first published in 1990, and it continues to be a business bestseller with more than 10 million copies sold. Stephen Covey, an internationally respected leadership authority, realizes that true success encompasses a balance of personal and professional effectiveness, so this book is a manual for performing better in both arenas.
More info: The 7 Habits Of Highly Effective People
***
"If you're new to WordPress, this can stand on its own as a training course and will stay with you as you progress from beginner to advanced and even guru status." - Bruce (Columbus, Ohio)
Disclaimer: This site has no direct association with WordPress or any WordPress-related products mentioned or reviewed on this website. We may receive an affiliate commission of financial benefit from the sale of third-party services and products mentioned on our website. All images remain the copyright of their respective owners and have been used solely for training or illustrative purposes.