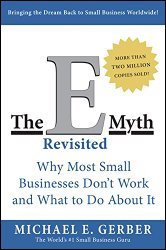 This best-selling book is essential reading for anyone who wants to understand the importance of using effective business systems.
In The E-Myth, Michael Gerber dispels the myths surrounding starting your own business and shows how commonplace assumptions can get in the way of running a business.
This classic, best-seller walks you through the steps in the life of a business from entrepreneurial infancy, through adolescent growing pains, to the mature entrepreneurial perspective, the guiding light of all businesses that succeed. He then shows how to apply the lessons of franchising to any business whether or not it is a franchise. Finally, Gerber draws the vital, often overlooked distinction between working on your business and working in your business.
The E-Myth explains how systems-driven businesses like franchises become successful and how to implement systems to grow a small business.
After reading The E-Myth Revisited, you will truly be able to grow your business in a predictable and productive way.
More info: The E-Myth
***
***
"Wow! I never knew there's so much to learn about WordPress! I bought one of the WordPress for Dummies three years ago, such authors need to be on this course!" - Rich Law, Create A Blog Now
Disclaimer: We are not associated with WordPress or any of the WordPress products discussed on this website. We may derive a financial benefit from purchases of third-party services and/or products advertised, reviewed or linked from our website. All images are the copyright of their respective owners and are used only for illustrative or training purposes.