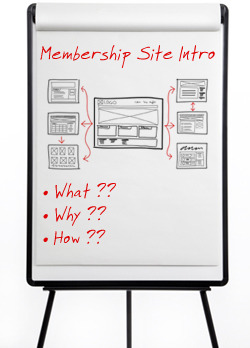 This is Part 1 of our tutorial series on building a membership site with WordPress.
In this tutorial, we provide an overview of what membership sites are and the benefits of starting your own membership site.
***
How To Build A Membership Site With WordPress – Introduction
What Is A Membership Site?
Membership sites are sites that restrict access to specific content from the public. This restricted content is then made available only to members, who are generally required to register or pay some type of fee to join the site. This fee could be $0 (i.e. FREE), or a monthly, annual, or one-off fee.
Like any business, to make a membership site successful requires sound strategic planning, hard work, and commitment. The biggest challenge of keeping a membership site going is to continually create and/or provide great content to your members, especially if you plan to set up a recurring membership site based on an exclusive offering.
Your content, product or service has to be something that appeals to a large number of people with similar needs or interests, and something that members will be willing to continue paying for on an ongoing monthly or yearly basis.
Some of the main components involved in setting up and managing a membership site successfully include things like:
Planning your membership site, doing market research, etc…
Deciding on your membership platform (i.e. your membership model)
Implementing important elements like automated membership sign-ups, automated membership cancellations, credit card processing and auto-responders
Fine-tuning your content delivery system
Engaging with members
Providing ongoing member support, training, etc.
Promoting your membership site and growing your membership base.
When it comes to building a membership site, you are only limited by the time you choose to devote to participating and growing your community. You can start off with smaller private or exclusive community groups, or focus on wide-scale promotion, where your membership access is unlimited and you keep the doors open to anyone who wishes to join.
You can also set different price ranges based on a combination of factors, including your overall website theme and topic, the exclusivity of the content and material featured on your site, and your ability to keep your site updated with new content on a regular basis, ensuring that your members and subscribers have a reason to keep coming back month after month.
Creating a membership website isn't all that difficult, especially when using WordPress, as you will see. Generating long-term, sustainable revenue from a membership site, however, requires a combination of sound strategic planning, delivering consumable and high-value products and services, and applying certain principles that have proven to lead to membership success for others.
Additionally, you can study other membership sites to see how successful webmasters have modeled their systems and launched their communities and learn the proven blueprints they have used, simply by becoming a member of a membership site yourself and observing what happens to you as a member.
Why Start A Membership Site?
There are many reasons for starting a membership site. Some of the main reasons include:
Restricting content on your site that you want to share only with members of an organization or a certain group from being viewed by members of the public.
Deliver exclusive content such as information products, software downloads, "how-to" training, video tutorials, e-books, media files, wholesale pricing lists, etc …
Build a community that can help you penetrate into new markets, pre-launch new products, test new marketing strategies, etc.
Build an interactive and loyal customer base, where you provide exclusive content, discounts, coupons, forums, etc.
With membership-based communities, you can generate recurring streams of revenue, grow a membership of loyal customers, build brand awareness, and profit from niche markets. There are as many different types of membership sites as there are areas of human interest.
For example …
You can start a membership site to provide educational material that can only be accessed by site members. You can create a membership site that allows some of the content to be viewed by non-members, but where only members are allowed to actively participate in your site's activities or communicate with other members on the site.
You could start a membership site that provides information on finding work-at-home jobs in your local area where non-members can see the job listings but cannot apply unless they are members. Or, you could start a membership site that provides instruction on how to play stringed instruments and make lessons accessible only to members of the site but allow non-members to view an outline of the course content and samples of what is included and taught in the lessons.
You can also start a membership site to provide your customers access to special information about your products, discounts, coupons, etc …, or, if you sell products to both retail and trade customers, you can create a members area on your website where customers can view and order products at wholesale prices, download special catalogs and price lists, etc.
Benefits Of Membership Sites
People are willing to pay for online content if the content is of high quality, or if it provides users with some form of exclusive or competitive advantage over others.
Running a membership site can make online users feel safer and more willing to buy your products or services
Running a membership site can provide you with a recurring income and increase the value of your business asset.
Creating a membership site can be fast to set up and involve minimal running costs.
You can take your hobby, specialized knowledge or profession and turn it into a profitable business online via a membership site.
You can start a membership site part time and develop it into a full-time business.
How To Build A Membership Site
The rest of this tutorial series focuses on how to build a membership site using WordPress. In the next tutorial, we look at planning your membership site.
To view the next tutorial in this series, go here:
To learn more about WordPress membership plugins, go here: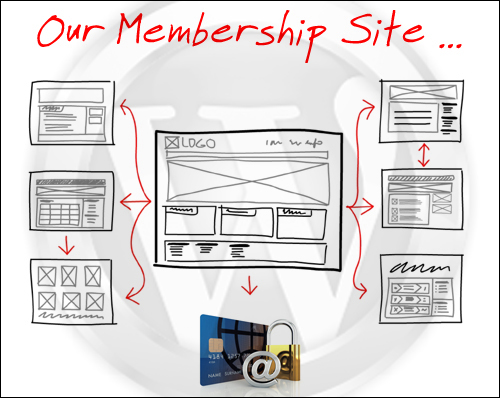 Back To Overview Of Membership Sites
***
"Learning WordPress has been a huge stumbling block for me. I've been looking for something that covers absolutely everything but doesn't cost an arm and a leg. Thank you so much ... you have just provided me with what I have been looking for! Truly appreciated!" - Tanya