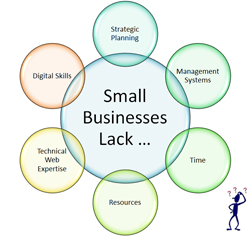 This is an excerpt from "The Small Business Digital Manager," which explains why small businesses struggle online and how a Digital Manager can help them get better results.
***
Why Small Businesses End Up With An Unmanageable Digital Presence
When small business owners decide to take their business online, most will find a website developer and get a website built …
Once their website is up and running, they will then start looking for ways to promote their site and attract visitors, like using social media …
Now that their website and social media accounts are all set up, this is where things begin to get unmanageable.
Getting results online requires work like adding content to the website on a regular basis and managing and promoting both the website and its web content …
The same needs to be done with social media, as social media accounts also need content, promotion, and management …
So far, we can see that even a simple web and social media presence requires doing a significant amount of work.
Achieving consistent results online, however, is not a one-time effort. It requires work to be done on a regular basis and in three key areas:
Digital Management
Digital Content
Digital Marketing
Digital Management
All businesses need to ensure that their digital assets are regularly managed and kept maintained, updated and secure.
This includes managing their website, web content, web server, hardware devices, software, other online properties and digital services, keeping track of account details (logins, service subscriptions, license renewals), performing regular backups, troubleshooting problems, handling support issues and user inquiries, and more …
(An effective digital presence requires ongoing digital management)
Digital Content
Websites, social media accounts, newsletters, etc. need content on a regular basis.
Creating quality content like articles or blog posts, videos, images and graphics, audios, downloadable reports, etc. is very time-consuming and involves a great deal of work in areas like planning, researching, collating/organizing information, writing, scripting, editing, reviewing, producing/formatting, uploading, publishing, updating and more.
Digital content also needs to be managed and updated.

(An effective digital presence requires ongoing digital content creation)
Digital Marketing
Businesses must continually promote themselves to stay relevant online, improve their search results, drive more traffic, increase conversions, generate new leads, more subscribers, and create more sales.
This involves coordinating various marketing activities, from understanding the market and target audience needs and doing competitive analysis, to finding new ways to create exposure for the business online, reach ad-weary audiences, and tap into profitable niches.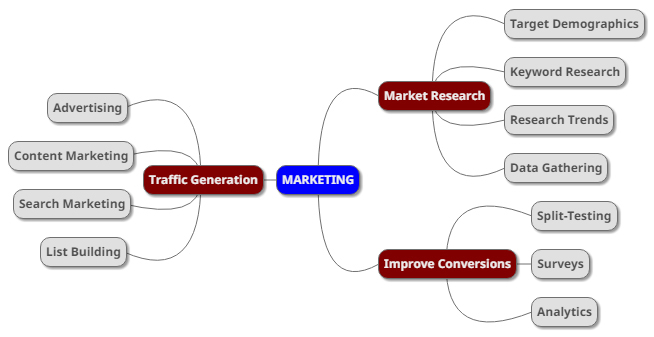 (An effective digital presence requires ongoing digital marketing)
 But it doesn't end here …
An effective digital presence requires more than just having a website and a social media presence. It also includes other presences (e.g. search, mobile, local) and developing and implementing strategic plans and systems for growing and managing each different area …
(An effective digital presence is more than a website and a social media presence)
Each of these areas not only requires work, planning, and management, but these also involve opportunity costs.
Which Opportunity Is Worth Pursuing?
Small businesses attend networking events or seminars where they learn about online marketing strategies and new methods to drive more business. Apart from being disorganized and lacking the time to implement many of the great things they have learned, the main challenge most small businesses face when it comes to marketing and promoting their business online is they lack systems to manage their marketing activities effectively and determine which opportunity is worth pursuing.
For example, many gurus, experts, courses, and seminars focus on social media marketing. Social media, however, consists of many different networks, methods, and channels, and each of these offers different opportunities for businesses to promote themselves.
How, then, can a small business evaluate which opportunity is worth investing time, effort and money into if they lack systems to manage their marketing activities and monitor, measure, review, analyze, and improve their processes and results?
Also, who is going to do and manage all of the time-consuming work involved is creating these results?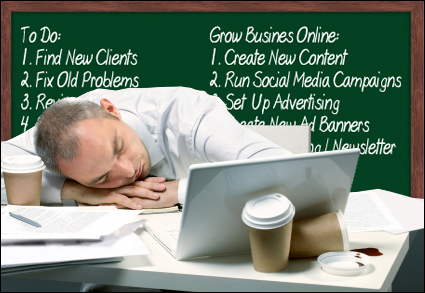 (Who is going to do all the time-consuming work to grow the business online?)
Small businesses with an unmanageable digital presence can end up giving away control of their digital processes and become a 'hostage' of their service providers.
Download "The Small Business Digital Manager"
(The Small Business Digital Manager)
***
"This is an awesome training series. I have a pretty good understanding of WordPress already, but this is helping me to move somewhere from intermediate to advanced user!" - Kim Lednum
Disclaimer: WordPress and its related trademarks are registered trademarks of Automattic, Inc. This site and the services and products offered on this site are not affiliated, associated, endorsed, or sponsored by WordPress, nor have they been certified, reviewed, or tested by WordPress. The owner, contributors and/or advertisers may derive financial benefit from sales of items linked to, reviewed, or advertised on this site.
***
Did you enjoy this article? If so, please consider sharing this article with other website owners using the share buttons below.