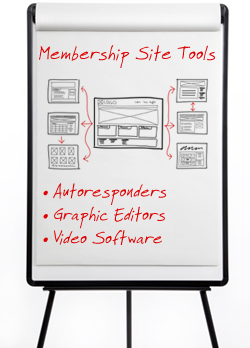 This is Part 8 of our tutorial series on building a membership site with WordPress. In Part 7, we provided many useful tips to ensure that your membership site can continue to grow and is able to service its member community. In this tutorial, we provide a list of useful membership site tools and resources.
***
How To Build A Membership Site With WordPress – Membership Tools & Resources
Like any other website, you will need webhosting and a domain name for your membership site.

If you need help choosing a webhosting provider, see the tutorial below:
Web Hosting

If you need help registering a domain name, see the tutorial below:
Domain Names
Here are some useful tips regarding choosing domain names and webhosting for your membership site:
When it comes to choosing a hosting provider for your membership site, select a company or hosting package that allows for easy account upgrades. This way, as your membership site grows you can expand your hosting account to accommodate additional space or bandwidth.
When registering a domain name for your membership site, pay attention to its brandable elements. Is it memorable? Does it represent your membership topic or theme appropriately? Is it easy to spell? Does it contain a keyword related to your niche?
When creating an autoresponder-based membership site, or to simply integrate a mailing list into your subscription process, you should consider choosing a remotely hosted option. This way, in the event that your membership site or hosting provider experiences problems, you will still have an easy way of contacting your members and notifying them of any potential problems.

To learn more about using autoresponders, see the tutorial below:
Using Autoresponders
Adding Graphic Images
Most likely, your membership site will require graphic images for your membership pages, and your content.
You can outsource the creation of all graphic images to professionals, or use image creation software.
Photoshop is the world's leading image editing application. Photoshop lets you enhance, retouch, and manipulate photographs and images.
You can learn Photoshop if you plan to use images extensively on your site, or outsource the work to others.

For more information about Photoshop, visit the site below:
Photoshop
GIMP is a FREE alternative image editing program to Photoshop.
GIMP is an acronym for GNU Image Manipulation Program. It is a freely distributed program for such tasks as photo retouching, image composition and image authoring.
GIMP can be used as a simple paint program, an expert-quality photo retouching program, an online batch processing system, a mass production image renderer, an image format converter, etc.

For more information about GIMP, visit the site below:
GIMP

For tutorials on learning how to use GIMP, visit the site below:
GIMP Tutorials
Graphic Icons
There are many sources of graphic images and icons available online where you can download collections of icons, and image packages for use in your membership pages and content.
To find FREE graphics and icons, just search online for "free icons","free icon sets", etc. For FREE images, see the next section below.
If you plan to use graphic images and icons extensively, you can also purchase graphic image bundles from various design companies.

For a great collection of graphic images with PSD source files, visit the site below:
Graphics Club Monthly
Stock Images / Royalty-Free Images
There are thousands of royalty-free images you can use to help grab your members' attention, convey your message more effectively, and make your site content stand out.

To learn more about finding Royalty-Free images, see the tutorial below:
Where To Find Royalty-Free Images For Your WordPress Site
Creating Video Based Products
When creating video clips, Camtasia is one of the easiest video creation tools to use and one of the most popular.
Camtasia lets you easily capture your entire screen, or sections of your screen, record powerpoint presentations, import media, and add live audio narrations, callouts, transitions, annotations, and zoom and pan features.
With Camtasia, you can easily create high quality, professional video presentations that can be produced in various video formats, and published to your website, or uploaded to a server or YouTube account.

To learn more about this application, visit the site below:
Camtasia
If you are on a Mac, Camtasia has yet to release a version exclusively for Mac users, so you might find the following resources useful.
iMovie for Mac comes built-in with most Mac Computers.
iMovie lets you organize your clips into video recordings, allowing you to create training videos use live footage.

To learn more about this application, visit the site below:
iMovie
Keynote lets you create stunning visual presentations and slideshows on your Mac with easy-to-use visual tools. You can easily drop in photos or video, add reflections, picture frames and interactive charts.
Keynote also lets you add cinema-quality transitions, preview your presentation live, and combine elements created using different.

To learn more about this application, visit the site below:
Keynote
With iShowU, you can record anything on your screen instantly – both audio and video. As soon as you stop recording, your video is instantly available.
iShowU is easy to use and comes with many built-in presets. You can even set up a recording timer, and publish your screen capture video to your website with one-click publishing.

To learn more about this application, visit the site below:
iShowU
Screenflow is a popular screen recording and editing software for Mac users. It provides high-quality screen recordings – even for Retina displays.
Screenflow provides many powerful features, including auto-timer, pause-screen recording, nested clips, video annotations, attractive titling options and sophisticated 2D and 3D transitions.
A free trial of the software is available.

To learn more about this application, visit the site below:
ScreenFlow
Snapz Pro X allows you to effortlessly record anything on your screen, saving it as a QuickTime® movie or screenshot that can be e-mailed, or published and shared online.
Snapz Pro X captures full motion video on your screen, with digital audio and an optional microphone voiceover. Additional features include Retina display support, transparency masks, and "Live Preview," which shows you how your screenshot will look before you save it to disk.
A free demo version of the software is available.

To learn more about this application, visit the site below:
Snapz Pro

To learn more about WordPress membership plugins, go here:

A Comprehensive Guide To WordPress Membership Plugins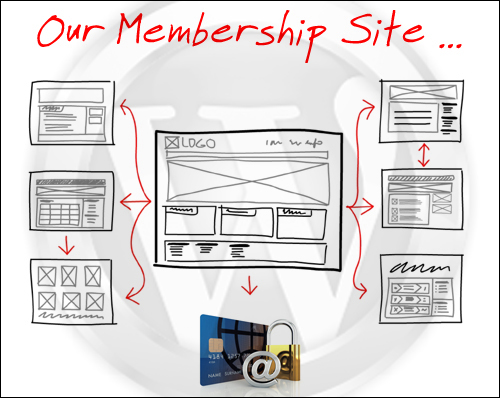 Back To Overview Of Membership Sites
***
"This is AMAZING! I had learnt about how to use WordPress previously, but this covers absolutely everything and more!! Incredible value! Thank you!" - Monique, Warrior Forum
Disclaimer: WordPress and its related trademarks are registered trademarks of Automattic, Inc. This site and the services and products offered on this site are not affiliated, associated, sponsored, or endorsed by WordPress, nor have they been tested, reviewed, or certified by WordPress. The owner, contributors and/or advertisers may derive financial benefit from sales of items advertised, linked to, or reviewed on this site.
***
Did you enjoy this post? If so, please use the social links below to share this page with others.