Instant Product Lab – Rapid Info Product Creation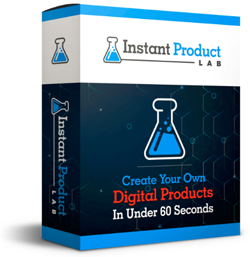 A great incentive to get people to subscribe to your list is to offer something of value like a guide or special report.
Creating quality info products, reports, and lead magnets, however, can be very time-consuming.
In this post, we look at a cloud-based application that lets you create info products such as reports and lead magnets in minutes.

(InstantProductLab)
Instant Product Lab is a cloud-based application that lets you create info products in minutes using point-and-click.
While there are many e-book creators in the market, this tool is very simple and easy-to-use. No technical or design skills are required and there is nothing to install or update. Instant Product Lab is hosted in the cloud, so you can access this tool from anywhere.
To create a simple e-book, guide, or report, simply access the tool, search for content to use in your digital product by entering a keyword, and choose a template. The tool will then automatically create digital info products that you can download, publish, sell, or give away.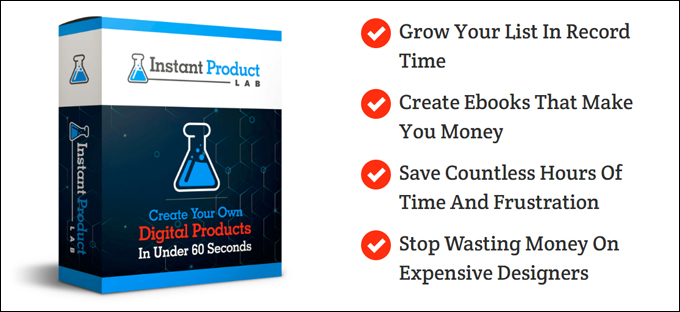 (Create digital products quickly with Instant Product Lab)
The developers of this newbie-friendly tool claim that no tools, designer, or even writing experience is required, as the tool will compile the content for you. Users, in fact, have access to an exclusive content library of over 250,000 online articles.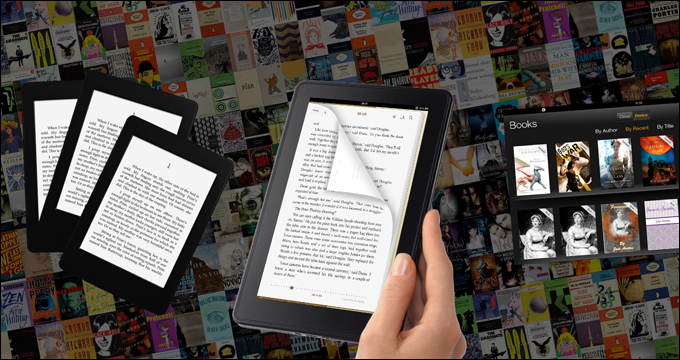 (Source content for your info products from over 250,000 exclusive articles)
Some of the benefits and features of Instant Product Lab include:
For affiliate marketers, the software automatically inserts your affiliate link into the content in multiple places.
You can create e-covers and landing pages for your e-books with the tool and host your info products on their servers.
Repurpose existing content.
Share your PDF products on sites like Slideshare for additional traffic.
Integrates with all major email marketing programs like Aweber and GetResponse.
Includes full support and step-by-step video training on how to use the tool, plus money-making and list-building training.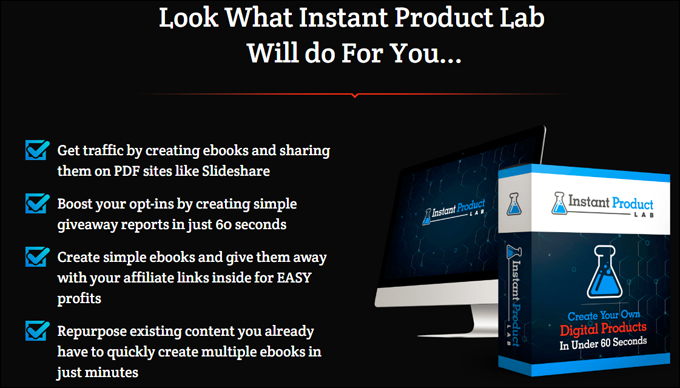 (What Instant Product Lab will do for you)
Automated content creation tools should always be used in a sensible way. Some situations where this tool can be used in a practical way include:
Creating simple reports you can offer as an incentive to start building a list, or testing different report titles. Once you start acquiring subscribers, or find a title that converts well, create a high-quality info product to replace your 'test' lead magnet and offer your existing subscribers the new and improved version of the report.
Using the tool to compile your own articles into reports and other digital products. This also applies for PLR articles, affiliate articles or promotional content supplied by product vendors, etc.
Here are some testimonials from Instant Product Lab users:
"You can make a ton of money as an affiliate but the real money is being a vendor and selling your own digital products. As a product vendor I've managed to turnover seven figures in sales and now have hundreds of affiliates driving traffic to my products online which is awesome" Matthew Neer, Internet Marketer / Digital Product Specialist

"I generated over $60,000 in revenue with my first digital product and have since gone onto generate over $145,000 from selling digital products online. You can make a lot of money in a short period of time with your own digital product online" Brendan Mace, brendanmace.com / CEO
For more testimonials, visit the Instant Product Lab website.
The video below shows Instant Product Lab in action …
(Learn more about Instant Product Lab)
Instant Product Lab comes with a 30-day money-back guarantee and is available in two editions: Lite and PRO.
Learn more: Instant Product Lab
For more tutorials on how to grow your list with content, go here:
***
"If you're new to WordPress, this can stand on its own as a training course and will stay with you as you progress from beginner to advanced and even guru status." - Bruce (Columbus, Ohio)
***