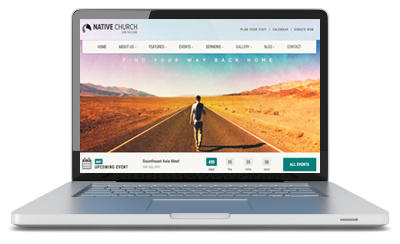 Are you looking to set up a website for your church, synagogue, mosque, or a religious group or community?
Using WordPress themes can save you time on web design. WordPress provides many great web design templates that can help you create an inviting and engaging website for your church, temple, mosque, or organization. Most WordPress themes are mobile responsive and will work and look great on any computer, laptop, tablet, or smartphone. Additionally, many WordPress themes can be easily translated into different languages and include loads of customizable settings and plugins that will give you complete control of your website and your information.
We've compiled below a list of stylish and elegant WordPress themes for churches, synagogues, temples, mosques, houses of prayer, and other religious-themed sites.
Best WordPress Themes For Churches, Synagogues, Mosques And Religious Websites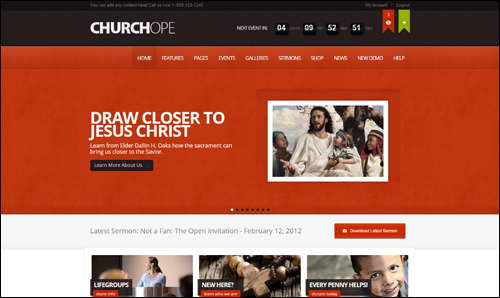 (ChurcHope WordPress Theme)
ChurcHope is a clean, modern, and responsive WordPress theme with everything you need to set up a website for a church. This fully customizable theme includes lots of pre-built page layouts, unlimited color palette, online store, flexible page width, classic blog styling and important functionality for churches, such as video, audio, or PDF sermon management, event management with event countdown, upcoming events, calendar page and widget, locations, and time schedule, speaker profiles and bios, social features, testimonials, newsletter subscriptions, slideshows, and a whole lot more.
To learn more about this theme, go here: ChurcHope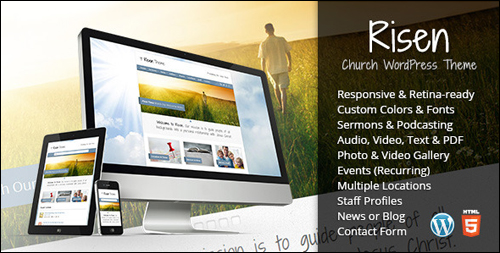 (Risen)
Risen is a WordPress theme for churches, parachurch ministries, nonprofits, and charities. This theme includes many great features, such as mobile-friendly responsive design, built-in sermon podcasting, sermon archive, photo and video gallery, church events (recurring), support for multiple locations, staff profiles and church news. Additional features include powerful customization options that allow you to easily to change the theme's colors, fonts, and background. Additionally, the theme is very well-documented with easy to follow instructions and video guides explaining how to use all of its features.
More info: Risen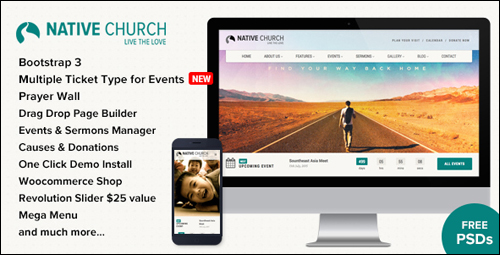 (NativeChurch WordPress Theme)
NativeChurch is a powerful WordPress theme for churches, charities, non-profit and religious websites. The theme includes full screen event calendars with built-in events management plugin, audio and video sermons management, causes and donations with built-in online payment system, wide and boxed layout pages, 10 predefined color schemes and customizable colors, gallery pages, contact form, support for language translations, and more.
More info: NativeChurch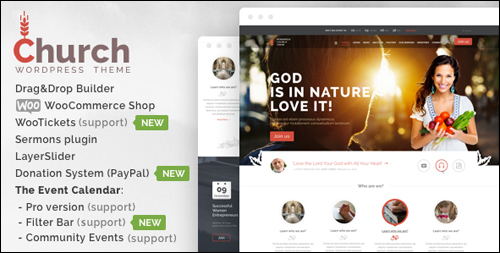 (Church And Events Theme For WordPress)
Church and Events is a WordPress theme built for churches and running events. This SEO friendly and translation-ready theme supports WordPress event management and registration plugins, includes donation system and sermon support for managing videos, audios, PDF files and links, and provides endless design possibilities with boxed and full-width layouts, 10 header layouts, one-page style menu option, sticky header position option, over 20 footer layouts, sidebar manager, and more.
To learn more about this theme, go here: Church And Events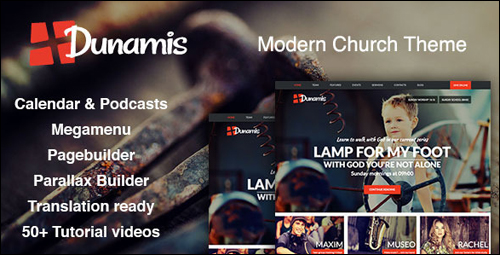 (WordPress Theme – Dunamis)
Dunamis is a modern church theme designed for churches and religious institutions. This responsive theme works across all screen sizes and devices, and allows you to accept recurring donations online, add podcast sermons, post announcements, schedule events, and more.
For more information, go here: Dunamis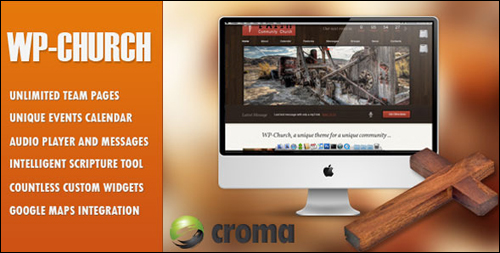 (WP-Church WordPress Theme)
WP-Church theme for WordPress includes unique events calendar with countdown timer and upcoming events widget, mp3 players for sermon podcasts, automatic scripture finder, image galleries with configurable slideshow, Google maps with street view and directions, newsletter subscription widget, custom colors, and more.
To learn more and view a live demo, go here: WP-Church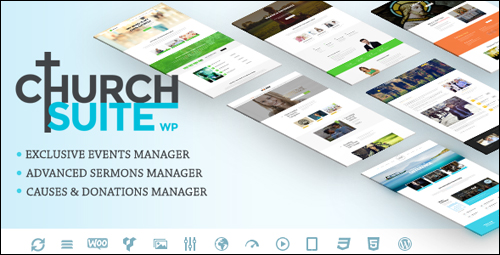 (Church Suite WordPress Theme)
Church Suite is a fully responsive WordPress theme with a minimal, clean design that is fast to load for visitors and ideal for church websites. The theme includes a theme options panel with management features for events, sermons, causes, and donations, and custom widgets for social media, contact forms, newsletters, and more. This theme also supports unlimited colors and layouts and many font, font icon, and styling options.
For more information, go here: Church Suite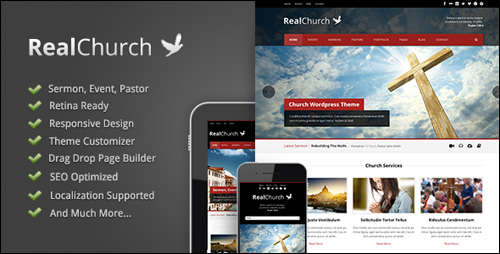 (Real Church Theme For WordPress)
Real Church is a powerful church theme for WordPress. This search optimized and translation-ready theme includes support for sermons with videos, audios, attachments and PDF files, events and time counters, maps, pastor profiles, blog, social links, galleries, and more.
For more details, go here: Real Church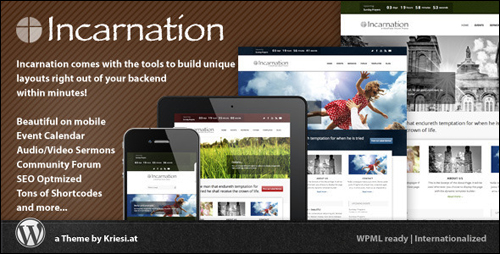 (Incarnation Theme For WordPress)
Incarnation is a responsive SEO-friendly WordPress theme suitable for building any type of church website with an online community. The theme supports audio and video sermons, event calendar, community forum, and many other options. Additional features include multi-language support, option for customizing layout, styling, colors and fonts.
To learn more about this theme and view a live demo, go here: Incarnation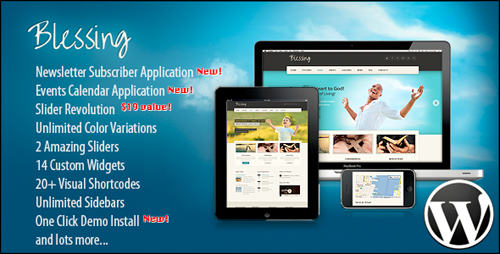 (Blessing)
Blessing is a modern-looking WordPress theme for churches, charities, and prayer groups. The theme includes an events calendar and mail subscription functionality, allowing users to keep track of church events, prayer meetings, conferences, and charity events, and to receive notifications of important dates and events. Additionally, the theme includes image sliders and effects, video support, advanced page options, custom widgets, and a bonus Christmas newsletter template.
For more details about this theme, go here: Blessing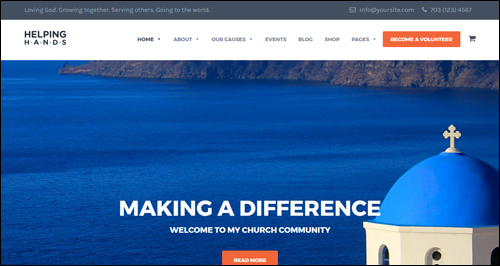 (Helping Hands Theme For WordPress)
Helping Hands is a mobile-responsive and search optimized WordPress theme for churches, non-profit organizations, charities, and fundraising websites. The theme includes many powerful features, including collecting donations via PayPal or other payment processing gateways for single and multiple campaigns and rewarding donors, full-width and boxed layouts with unlimited colors and variations, advanced control panel, and more.
For more details about this theme and a live demo, go here: Helping Hands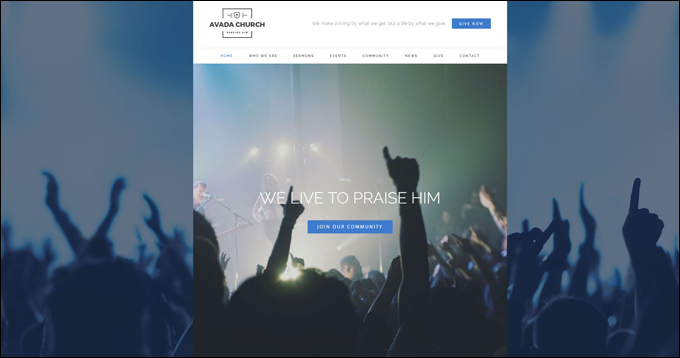 (Avada Church WordPress Theme)
Avada is a fully responsive and versatile multipurpose theme that lets you easily build, configure, and run any kind of website you want without touching code, including a website for a church or religious organization.
To learn more about the Avada theme for WordPress, go here: Avada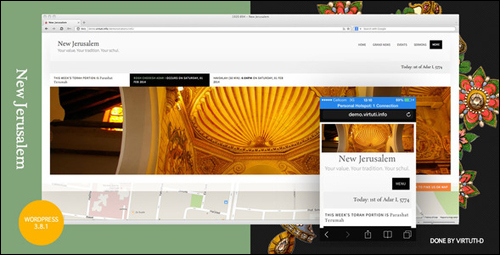 (New Jerusalem Theme For WordPress)
New Jerusalem is a clean, modern WordPress theme with a slight traditional touch suitable for a Synagogue website. The theme was developed after proper study of various Synagogue websites like Central Synagogue (New York), Beth Jaacov (Hamilton), Choral Synagogue (Saint-Petersburg), and includes multiple page templates for creating extended website sections like prayer and holiday calendars, educational programs, staff profiles, photo galleries, donations, membership and contact form, and video, audio, and written sermons. Additional features include Hebrew date (day, month, year), Shabbos candle-lighting times (according to time zone), weekly Torah portion, and built-in support for translations.
To learn more and view a live demo, go here: New Jerusalem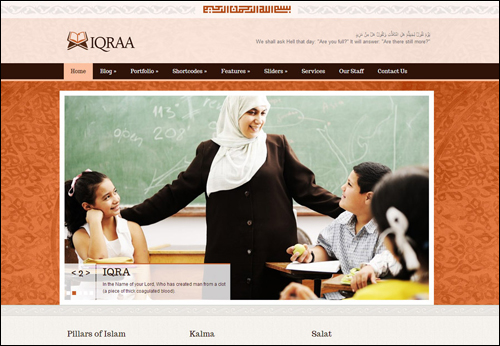 (Islamic WordPress Theme)
Islamic is a responsive WordPress theme suitable for any type of Islamic website such as an Islamic center, mosque, or community site. The theme features RTL (right-to-left) support for languages like Arabic, Persian, and Urdu, unlimited color options, responsive image sliders, multiple blog styles and layouts, and more.
For more information and a live demo of this theme, go here: Islamic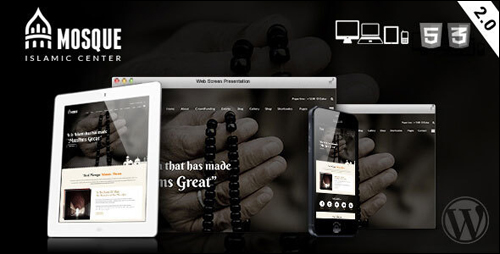 (Mosque)
Mosque is a fully responsive, multi-purpose WordPress theme and complete solution for an Islamic center website. The theme includes features like event management, crowdfunding, PayPal donations, image gallery, audio and video management, Islamic teachings management, prayer timings, and online store. Additional features include built-in styled sliders, multiple blog layouts, menus, Arabic fonts, and support for language translation.
More information: Mosque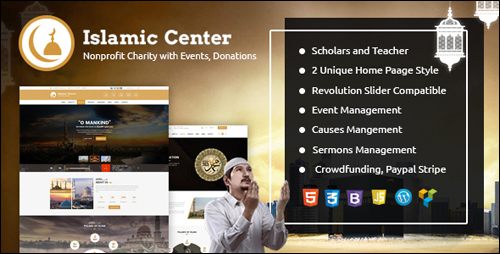 (Islamic Center Theme For WordPress)
Islamic Center is an ideal WordPress theme for managing events, crowdfunding causes and collecting donations, adding audio and video sermons, and listing scholar and teachers profiles. The theme also features unique home and inner page layouts, audio and video management, image sliders, and online store and payment processing functionality for selling items or collecting donations online.
More information: Islamic Center
In addition to the above themes, we have also compiled a list of the Best WordPress Themes For Clubs, Charities, Fundraisers, Political Campaigns And Non-Profit Organizations
We hope that you have found the above information useful. To view more WordPress themes, see this section or check out the theme directory on our sidebar. If you're a WordPress theme developer and have a theme that you would like to add to this list, go here.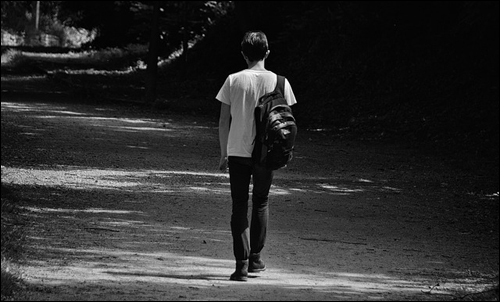 (Source: Pixabay)
***
"I have used the tutorials to teach all of my clients and it has probably never been so easy for everyone to learn WordPress ... Now I don't need to buy all these very expensive video courses that often don't deliver what they promise." - Stefan Wendt, Internet Marketing Success Group
***