Access Hundreds Of WordPress Video Tutorials
Keeping hundreds of videos up-to-date is too time-consuming, so instead of creating our own WordPress video tutorials, we source these from quality providers. Due to licensing restrictions, however, we cannot provide free access to these videos on WPCompendium.org — we can only add them to a paid membership site as streaming content or sell them as downloadable files for personal use.
In order to provide a complete WordPress step-by-step training system, therefore, you can access hundreds of detailed written step-by-step tutorials for FREE here on WPCompendium.org and view hundreds of professional-quality WordPress and Internet marketing video tutorials for a very low membership fee on WPTrainMe.com.
WPTrainMe Video Tutorials – More Info
WPTrainMe PRO members get access to all the videos listed on this page (including all videos listed from the suppliers described further down this page):
If You Just Want To Learn WordPress …
If you just want to learn WordPress, we recommend joining WPTrainMe.com. It's the cheapest option available (and much cheaper than buying the videos yourself).
WPTrainMe members:
Pay a very low annual membership fee and get access to hundreds of video tutorials (we regularly add new videos to our membership area),
Have 24/7 access to all videos inside the membership area, and
Can access all WordPress tutorials from their WordPress dashboard by installing the WPTrainMe plugin (included with your membership) …
(WPTrainMe – WordPress User Tutorials Plugin)

Our WPTrainMe plugin PRO edition lets you  instantly access all the written tutorials on WPCompendium.org plus hundreds of streamed video tutorials from your WordPress dashboard.
If you just want to learn how to use WordPress, we recommend becoming a member of WPTrainMe for benefits like convenience and low cost access to video tutorials. We regularly add new videos to our membership site and update these when our suppliers make these available, giving you hassle-free access to all the content at significantly lower costs than buying it yourself …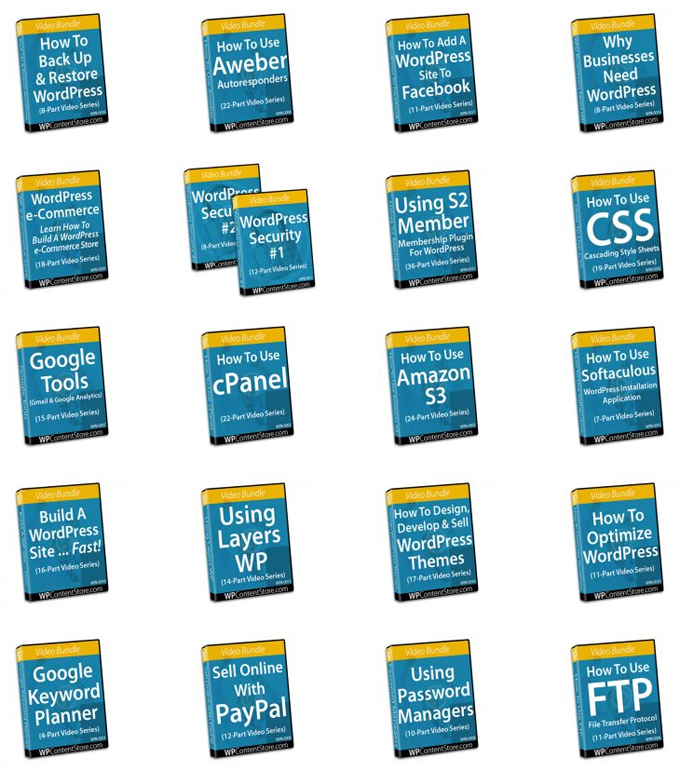 (Access hundreds of video tutorials at WPTrainMe)
To access hundreds of WordPress and Internet marketing video tutorials, register as WPTrainMe PRO member or see our special offer page.
If You Want To Sell Or Brand WordPress Video Tutorials As Your Own …
If you plan to sell WordPress videos or need to download or brand the videos as your own (e.g. to create your own WordPress video training site), then we recommend purchasing the videos from the suppliers below: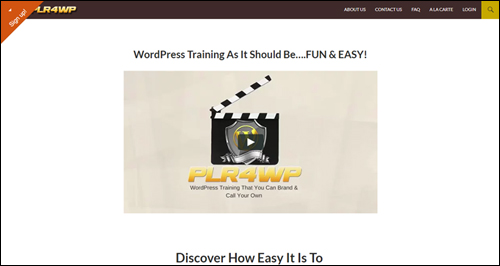 (PLR4WP – WordPress Whitelabel Video Tutorials)
Steve Dougherty's PLR4WP site provides 180+ WordPress white label videos grouped into 12 volumes which you can rebrand and claim as your own (make sure to read your rights on the website before purchasing).
The video packages are always kept up-to-date, contain no 'geek speak,' and include the following:
Camproj and source videos and PSD source files for the opening & closing call to action images on each video,
Unbranded white label hi-definition MP4 videos that can be uploaded to your server without customization.
Marketing packages with static HTML mini-site sales pages, thank you / download pages, banner images, and source (PSD) image files.
Video transcripts
Unbranded sample/demo videos
Customer support
Here's a list of all the PLR4WP videos (Note: WPTrainMe PRO members get access to all the videos listed below):
WordPress History
WordPress.com vs WP.org
What's New In WP Version 4.5
What's New In WP Version 4.6
What's New In WP Version 4.7
What's New In WP Version 4.8
Installing WordPress Manually With cPanel
Installing WordPress Manually With FTP
Installing WordPress Automatically With cPanel
WP Dashboard tour
WordPress Cleanup After Install
Revisions and Auto Saves
Settings General
Settings Writing
Settings Reading
Settings Discussion
Settings Media
Settings Permalinks
Settings-3rd Party Settings
Change Site Login Details Using Site Database
Backups
Security Begins At Home
Secure Install
Remove User ID 1 & Why
Blocking Hackers From Seeing Admin Usernames
Hiding Usernames
Change DB Prefix After Install-Method 1
Change DB Prefix After Install-Method 2
Replace The Salt
Securing Your wp-config.php File
Secure Hosting Services
Customizing The Login Error Messages
Prevent Brute Force Attacks Method 1
Prevent Brute Force Attacks Method 2
Prevent Brute Force Attacks Method 3
Removing The WordPress Version Numbers
Allowing Others To Work On Your Site
Has Your Site Been Hacked
Hacked Site Cleanup
What To Do After Hacked Site Cleanup
Volume 3 – WordPress Content Creation
Pages vs Posts
Categories
Tags
Post Manager
Post Formats
Page Manager
The Visual Editor
Creating Pages & Posts
The Media Library
The Visual Editor – Hyperlinks
The Visual Editor – Create Playlists
WordPress Plugins
Custom Menus
Managing Widgets
Managing Themes
Volume 4 – WordPress Localhosting
Local vs Online
Why I Chose XAMPP
Installing Free ServerPress
Uninstalling Free ServerPress
Installing XAMPP
Start XAMPP As Admin
Install WordPress With Bitnami (not the best method)
Install WordPress Without Bitnami (the best method)
Quick & Simple Backups
Moving Live WordPress Site To Local
Troubleshooting-Can Not Login On Local After Move
Move Local WordPress Site To Live
Troubleshooting-Increase Max Size Of File Uploads
Troubleshooting-General Issues
Troubleshooting – Fixing Windows Firewall Blocking Install Error
Troubleshooting – Fixing Port Conflicts pt 1 (Why)
Troubleshooting – Fixing Port Conflicts pt 2 (How)
Troubleshooting – Fixing Port Conflicts pt 3 (Fix WordPress After Port Change)
Troubleshooting – XAMPP Control Panel Red X's
Configure XAMPP Console
Volume 5 – WordPress Page Speed
Why The Need For Speed
Hosting For Speed
Speed Testing Tools Introduction
GTMetrix
Pingdom
Page Speed Insights
WebPagetest
Image Optimization
Web Caching
Leverage Browser Cache
GZip
Minify and Concatenate
Fixing The Above The Fold Render Blocking
What Is SEO
Keywords
LSI
SEO Plugin For WordPress
What's New In Version 3.6
Yoasts Updates Since Version 3.6
Dashboard Settings
Google Site Verification
Google Search Console
Titles & Meta Settings
Social Settings
XML Sitemap Settings
HTML Sitemap Setup
Submitting The XML Sitemap
Advanced Settings Tab
Tools Tab
On Page Module Overview
Volume 7 – WordPress Theme Customization
How To Create A Child Theme
Before We Customize
Personal Greeting Shortcode
Flex Date Shortcode
Remove URL Underline
Remove Incorrect Login Shake
Rebrand Admin Bar WP Logo
Remove Top White Space
Adjust Gap Between Posts On Homepage
Add Border Below Header
Customize Site Description
Customize Site Title
Random Admin Announcement
Add Drop-Down Menu To Admin Bar
Volume 8 – WordPress Forum Set Up
What Is A Forum
Different Forum Applications
Install bbPress
Convert Other Forums Into bbPress
Forum Structure
Create Forums
Creating Categories
Customize Category Display
Creating Sticky Topics
Creating A Registration Page
Customizing Search Boxes
Create Password Reset Page
Forum Spam Prevention
What Is A Plugin
Choosing The Best Plugin
Plugin Tester
Plugin Structure
Contact Us Page
Secure Video Player
TinyMCE Advanced
Visual Editor For Widgets
Widget Options
Grid Shortcode
Notification Bars
Volume 10 – WordPress Multisite Set Up
WP Multisite-What & Why
Enable Multisite
Activate Multisite
1-Click Multisite Install
Quick Cleanup
Network Admin Tour
Create & Manage Sites Part One
Create & Manage Sites Part Two
Creating Users Part 1 – Auto-Creation By Network
Creating Users Part 2 – Manually As Super Admin
Creating Users Part 3 – Manually As Site Admin
Creating Users Part 4 – Site Visitor Create Own Account
Add & Manage Plugins
Single Site Registration
Add & Manage Themes
Updating Networks
Volume 11 – WordPress eCommerce Set Up
What Is eCommerce
Pre-Setup Checklist
WooCommerce Install Part 1
WooCommerce Install Part 2 (WordPress Settings & Basic Cleanup)
WooCommerce Install Part 3 (Manually Setup Payment Options)
WooCommerce Settings-General Tab
WooCommerce Settings-Products Tab
WooCommerce Settings-Taxes Tab
WooCommerce Settings-Tabs (The rest of them – Shipping, Checkout, etc.)
WooCommerce Add Demo Content
WooCommerce Add Theme
WooCommerce Create Dropship Account
Connect To Our Store
Product Ideas
Master The Mockup
Adding A Product To Our eStore
Running A Test Purchase (& Buying A Sample)
Volume 12 – WordPress Traffic Generation
WordPress Traffic Overview
Add Newsletter Signup Form
Google Analytics
Article Writing
Slide Submission Part 1
Slide Submission Part 2
Video Marketing Part 1
Video Marketing Part 2
PDF Submission Part 1
PDF Submission Part 2
Social Media
Paid Traffic
Plus additional titles as new videos are released.
For more details, go here: PLR4WP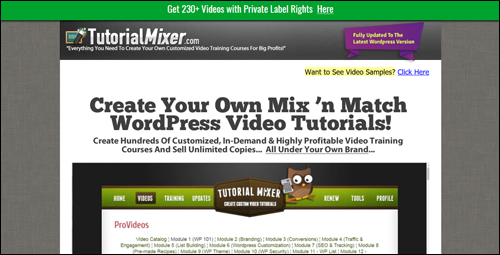 (TutorialMixer – WordPress Video Tutorials)
TutorialMixer provides members with access to a video catalog containing 230+ video tutorials with private label rights.
Here's a list of all the TutorialMixer videos (WPTrainMe PRO members can access all videos listed below from their dashboard):
How to Buy a Domain Name
How to Buy a Web Hosting for Super Cheap
How to Connect your Domain to Any Web Hosting Account
Installing WordPress Automatically Using cPanel
Installing WordPress Manually via FTP
How to Change Permalinks Structure
How to Write Effective Blog Titles
How to Create New Posts in WordPress
How to Create New Pages in WordPress
How to Install Plugins
How to Install Themes
How to Upload and Format Images Using the Media Manager
How to Launch Your Site to Search Engines and Ping Settings
Figuring Out Your Customer's Demographics
Creating Memorable Slogans that Stick
Power of Colors – How to Use Colors to Sell
Upgrade Your Logos: Get Cheap Yet Quality Logos
Upgrade Your Fuzzy Graphics to a Vector
How to Use Mascots to Brand Your Company
Upgrade Your WordPress Site's Theme Design
Creating Simple Video Intros
Position Brand Trustworthy through Educational Videos
Boost Your Brand through Facebook Posts
Turn your Website Prospects into Buyers
Increase Conversions by Appealing to These 3 Groups
Time Tested WordPress Layouts
Pages to Convert Skeptical Fence Sitters
Call to Action Forms Part 1 – Creation
Call to Action Forms Part 2 – Sidebar
Banner Ads Part 1 – Creation
Banner Ads Part 2 – Sidebar Widgets
Simple Before and After Pictures
Removing More Skepticism with Social Proof
MODULE 4: TRAFFIC & ENGAGEMENT
Doing Basic Keyword Research to Target the Right Customers
How to Decrease Your Bounce and Increase Social Engagement
How to Optimize Your Images So They Are SEO Friendly
Drive Traffic with this Powerful Video Marketing Strategy
How to Get Your Content Indexed in Google Fast with Social Bookmarking
How to Track Your Social Engagement Performance
Creating Interesting and Educational InfoGraphics
How to Create Your Own Page Engagers to Increase Social Interaction
How to Share Your Site Socially
Why You Should Build a List and Different Ways to Do So
How to Create Free Gifts Fast to Build Your List
Part 1 – How to Start Your Autoresponder Campaign
Part 2 – How to Add the Autoresponder to The Sidebar
How to Create WP Squeeze Pages
Building a List by Piggybacking on Product Launches
Writing an Autoresponder Email Series that Converts
How to Create Raving Fans On Your Email List
Using Integration Marketing to Build Your List
How to Use Exit Popups to Build Your List
MODULE 6: WORDPRESS CUSTOMIZATION
Get a New WordPress Blog Ready
Control How Visitors Comment
Understanding Different User Permissions
Embed YouTube or Vimeo Videos
Creating Gallery with Media Manager
Add HTML Code to the Editor Tab
Use WordPress Widgets Effectively
Create Navigation Menus and Sort Them
Remove "Powered by WordPress"
Cloaking Ugly Long Affiliate Links
Help Visitors Find Content Thru Related Posts
Using Authority Sites to Increase your SEO
RSS Part 1 – Finding Your RSS Feed Location
RSS Part 2 – Syndicating Your Feed
Embedding Google Analytics
Training – How to Create Teaser Videos to Sell Your Product Themes and Increase Sales Conversions.
Pre-created Product Packages and Teaser Videos
A. Logo Creation
B. Video Creation and Marketing
C. Website Conversions
D. List Building
E. Website Creation (WordPress 101)
F. Social Traffic
How to Design, Develop, & Sell Premium WordPress Themes
Introduction to WP Theme Creation
Different Types of Themes
Planning Your Layout for WordPress Theme
Designing Your Layout for WordPress
How to Find Photoshop (PSD. WordPress Theme Designers to Do the Work
The Basic Theme Chop Shop Option #1 – Getting Experts to Chop a PSD Theme and Turn It into a Basic WordPress Theme (For WordPress Experts)
The Premium Theme Chop Shop (Option #– Getting Experts to Create Custom Control Panels So Your End Users Can Customize the Theme Without Any Technical Knowledge
Creating Premium Theme Specifications (Features and Expectations)
How to Find WordPress Experts to Integrate Custom Control Panels into Your Theme
Sifting and Choosing the Right WordPress Expert
NDA – Protecting your Premium WordPress Theme Asset
Quality Assurance Testing
Branding and Packaging Your Themes
Angle of Selling – Free Level / Pro
Sales Copywriting 101
Where to Market your themes
Final Recap
Protect Your Computer (Antivirus and Anti-Spyware – Avast and Webroot)
Web Server Vulnerabilities
WP Database Backups
Secure File & Directory Permissions
Update All Software
Firewalls
Monitoring your files
WordPress Security Scanners
MODULE 11: WORDPRESS LIST BUILDING
Different Ways to use WordPress?
Why WordPress? Vs other platforms
Themes – See How Easy it is to Change a website's design with one simple click
How Plugins make WordPress powerful?
See How Fast You Can Install a WordPress blog
Google Keyword Planner
Differences between old Keyword Tool and new Keyword Planner
4 Different Types of Searches
Under the Cover – Keyword Search Examples
Research Your Niche for your WordPress Site
Free Facebook Traffic
Quality over Quantity
Demographics and Frame of Mind
Find Groups with Active Fans
Pinpoint and Recruit Fans
Your Fan Page Engagement
Outsource and Automate
Differences in Version 3.8
Admin Color Schemes (the default color is black. but how do you switch them to grey or other colors?
How to revert the 3.8 dashboard to the pre WordPress 3.8 style?
WordPress 2014 Magazine Style Theme videos
MODULE 15: WORDPRESS TWENTY FOURTEEN THEME
2014 – Differences between WordPress Official Themes
What audiences is this good for?
Installing and Customizing Theme Options
Creating Posts with Featured Images
Creating Media Gallery Post
Creating Image Post
Creating Audio Post
Creating Video Post
Creating a Page (Different Types of Templates)
Comparing Softaculous vs Fantastico
Softaculous Walk Through
Overview of Scripts in Softaculous
How to Install WordPress
How to Edit Installation Details
How to Backup Installed Software
How to Uninstall Software
Visual Editor and Image Editing
Photo Galleries
Theme Area – Theme Customization with Widget Preview
Audio Playlists
Video Playlists
Part 1 – YouTube Basics
Overview of YouTube
Research your competitors and rank
Research organic SEO rank
Preparing and Uploading Files
Optimizing Your Video
Part 2 – Boost YouTube Traffic
Increase your reach with Playlists
Increase engagement with Annotations
Increase your rank with Social
Increase your video reach
Latent Semantic Indexing Keyword Research
Installing and Using Yoast SEO Plugin
SEO Optimizing your Posts/Pages with Yoast SEO
Getting your XML Sitemap with Yoast SEO Plugin
Submitting XML to Google Webmaster Tools
Part 1 – Miscellaneous WP videos
How to Customize Your WordPress Dashboard
How to Customize Your WordPress Theme
How to Upgrade / Delete Plugins Automatically
How to Upgrade WP Themes Automatically
How to Create a Static Front Page
Part 2 – Enhance Your WordPress Site
How to Make Simple Permalink Keyword Tweaks to Increase Ranking
How to Track Your Statistics with Google Analytics
How to Add a Facebook Like Box to the Sidebar and a Page
How to Add Twitter Box Widget to the Sidebar and a Page
How to Create Backups for Your WordPress Blog
How to Restore a Previous Backup of Your WordPress Blog
MODULE 21: WORDPRESS TWENTY FIFTEEN THEME
2014 vs. 2015
2015 Installation and Overview
Customize and Design
Sidebar Widgets
Menu and Item Descriptions
Social Links Menu
How to Add a Logo
How to Add Google Web Fonts Your Theme
Beautiful Image Galleries
Remove the Comments section
Replace Powered by WordPress
Why you want to use LayersWP
How to Install Layers WP via WordPress
Quick Overview of the Layers Dashboard
Explanation of Layout
Customization of the Layers Settings
Creating Layers Page(s)
Adding Layers to the Page(s)
How to Add a Slider Layer
How to Add a Video / Media Layer
How to Add a Layer with Custom HTML code
How to Install a Layers WP Child Theme
How to Import a Style Kits (aka extra layers)
How to Install Extensions
How to Hide "Built with Layers" Icon
Part 1: Backup
Backup Software and why they're needed
How to Install and Quick Overview
Setup Storage
How to Set Automatic Schedules
How to do a Test Backup
Part 2: Restore
How to Upload Files
How to Create a MySQL Database
How to Restore the Backup
MODULE 24: WORDPRESS FOR LOCAL BUSINESSES
WordPress.com vs. WordPress.org
Proprietary System Limitations
WordPress for Small Businesses
Myths Debunked
Easy CMS
Is it SEO Friendly?
Dynamic Websites
Custom WordPress Plugins
MODULE 25: WORDPRESS ONLINE E-COMMERCE – PLANNING AND BASIC IMPLEMENTATION
Part 1: Planning Your Online Ecommerce Store
Overview of The Course
Types of eCommerce (Digital vs. Physical)
Examples of Digital Ecommerce Stores
Platforms to Integrate Into
EDD Membership sites?
EDD Marketplaces?
Get Ideas: eCommerce Competitor Intelligence
Map Out Your Draft Sales Funnel
Finding Compatible – EDD Themes
EDD Extensions: Payment Processors
EDD Extensions: Must Have
EDD Extensions: Increase Your Profit
Finalize your Sales Funnel Map
Part 2: Implementation
Install Easy Digital Downloads
Quick Overview of EDD
Creating Downloads
Create Thank You Pages
Integrate EDD into Your Theme
MODULE 26 – WORDPRESS TWENTY SEVENTEEN THEME
Intro to Theme and who's it for?
Different ways to use it?
Overview of Design and Layout
WordPress Customizer Overview
Site Identity
Header Image or Video
Colors
Widgets
Static Page
Page Layout
MODULE 27 – WORDPRESS MULTI-SITE
What Is WP Multisite And How Can It Help You?
Disadvantages of Multisite
How it Works
Can It Work With Existing Sites?
Planning Out Your MultiSite Network
How to Create Subdomains
Softaculous Installation
Quick Overview of Dashboard
Network settings
Super Admin
Individual Site Creation
Users
Network Enabled Plugins
Network Enabled Themes
How Do Updates Work?
How to Use Multisite As A User
Plus additional titles as new videos are released.
For more details and to view the latest videos, go here: TutorialMixer
***
"I have used the tutorials to teach all of my clients and it has probably never been so easy for everyone to learn WordPress ... Now I don't need to buy all these very expensive video courses that often don't deliver what they promise." - Stefan Wendt, Internet Marketing Success Group
Disclaimer: We have no association with WordPress, Automattic, or any of the WordPress products mentioned or reviewed on this website. We may derive affiliate commissions from purchases of any products and/or services advertised, promoted or linked from our website. All images and information sourced from product websites remain the copyright of their respective owners and comply with all license terms and agreements of use.
***
Did you enjoy this post? If so, please consider sharing this tutorial with other blog owners using the share buttons below.