Grammarly – Free Grammar Checking Software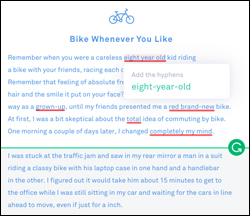 If you write articles and blog posts, create digital information products like e-books, reports, or any kind of written documentation, then you will want to make sure that your content is free of grammatical errors and misspellings.
If you can't afford to hire a full-time proofreader or editor to make sure that your content is published error-free, then here's the next best thing …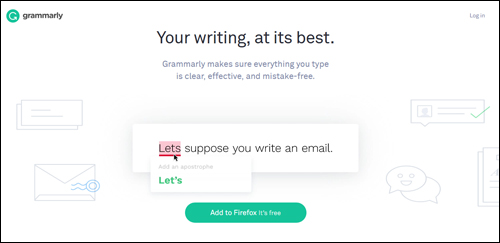 (Grammarly – Free Grammar Checking Tool)
Grammarly is a powerful FREE grammar checking tool that helps to improve your content writing by correcting grammar, punctuation, and spelling mistakes while also catching contextual errors, improving your vocabulary, and suggesting style improvements.
The software's online grammar-checking algorithms have been developed and are regularly maintained by linguistic technology experts.
You can use this software to check your articles, blog posts, reports, e-books, or any kind of written documentation.
To install and begin using the software, go here: Grammarly
How To Use Grammarly
To use Grammarly, just install the software on your web browser, Microsoft Word, or on your desktop …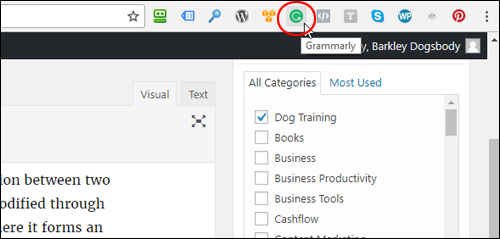 (Install Grammarly on your web browser)
Once installed, the tool lets you check your content anywhere online, including Gmail, Facebook, Twitter, LinkedIn, and WordPress …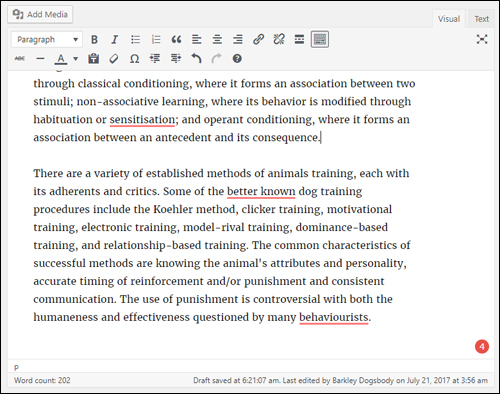 (Check your content for errors)
If writing a post on WordPress, for example, run your post or article through Grammarly before publishing to make sure your content has no errors …

(Check your posts before publishing for errors)

If you don't see the symbols when checking your content, make sure that you have enabled Grammarly for your site …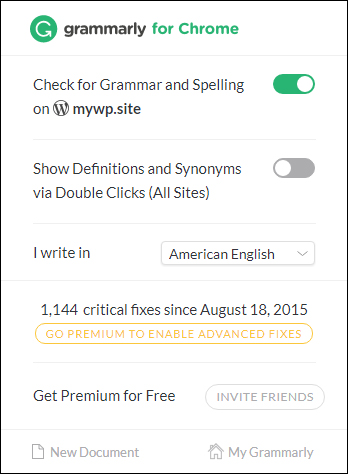 (Make sure Grammarly is enabled)
Also, to use some of the features, make sure that you're logged into your account …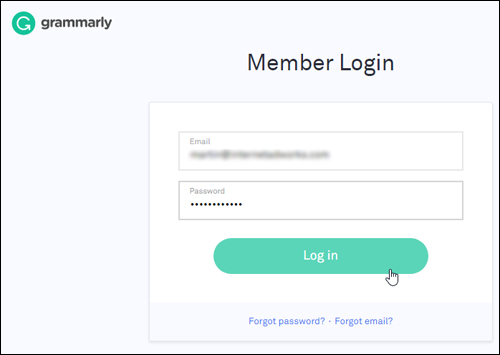 (Make sure you're logged into your account)
If you can see your Grammarly dashboard, you're logged in …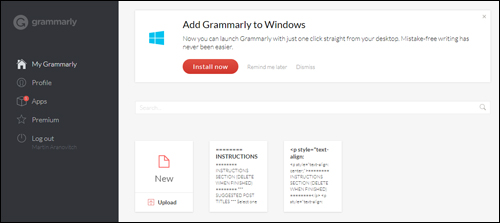 (Grammarly Dashboard)
To check your content for errors inside applications like Microsoft Word, make sure that the tool is enabled …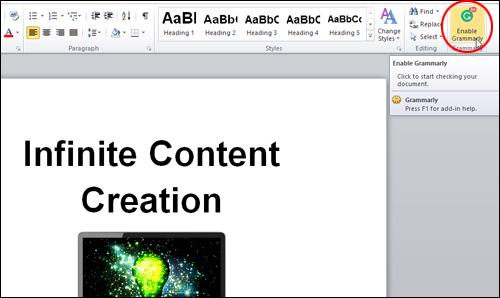 (Use Grammarly with MS Word)
Grammarly will begin scanning your document for errors. Depending on the size of your document, allow a few minutes for the scan to complete …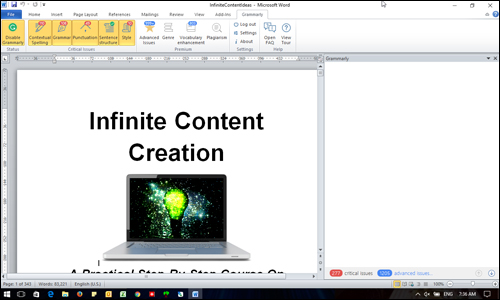 (Grammarly scans your documents for errors)
After the scan is complete, the tool's menu bar will display the number and types of errors found in your document …

(Grammarly scan results)
A screen opens up next to your content where you can view the critical errors and advanced issues the tool has found after scanning your content …

(Grammarly displays the number of issues found in your content)
To view and correct issues, click on the error counter and Grammarly will scroll through your content until it finds an issue. You can fix critical issues with the free version of the tool (repairing advanced issues requires upgrading to the premium version).
Grammarly not only catches all of your spelling and grammatical errors, it will also point out errors in your punctuation (e.g. wrong use of commas, double spacing between words, duplicated words, etc) …

(Fix punctuation errors)
Grammarly scans your text for common and complex grammatical mistakes, spanning everything from subject-verb agreement to article use to modifier placement, missing articles, weak adjectives, repeated words, etc …

(Delete duplicate words)
Work through your content to fix all mistakes in your sentence structure and style …

(Fix mistakes in your sentences)
As you scroll through each error, Grammarly shows you what's wrong and gives you the option to automatically fix errors with just one click.
To correct mistakes, just click on the suggestion …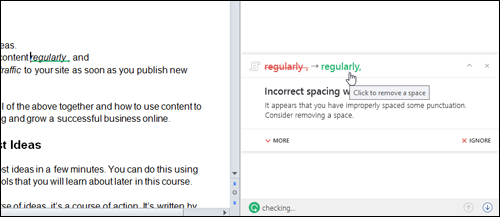 (Click on suggestions to correct errors)
You can also ignore the suggestions and keep scrolling through to the next item or scroll back to view previous items …

(Ignore suggestions to continue checking for issues)
The premium version of Grammarly takes your content checking to a whole new level, allowing you to repair advanced content issues, view suggested vocabulary enhancements, detect instances of plagiarism, etc.
As you can see, Grammarly is a powerful and essential tool for content writing. Once you begin using it to improve your content, you will not want to publish articles or blog posts again without first scanning for grammatical, spelling, or punctuation errors.
To learn more about Grammarly, go here:
***
"I was absolutely amazed at the scope and breadth of these tutorials! The most in-depth training I have ever received on any subject!" - Myke O'Neill, DailyGreenPost.com
***