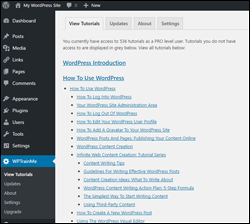 Please note: This plugin is no longer supported.
All the information that was included in this plugin can now be found on WPCompendium and The Complete Step-By-Step WordPress User Manual.
Do you have a web site built with WordPress and need to learn WordPress fast?
WordPress currently drives millions of business and personal web assets and web blogs around the world, including websites for many of the leading organizations, institutions and world-famous celebrities.
WordPress also lets you easily build, set up and maintain really powerful, professional and great looking web sites. In fact, you can use WordPress to set up everything from small business sites, personal blogs, affiliate marketing and / or product or service review sites, to online commerce sites, subscription sites … and even social networking sites!
WordPress is not only the world's preferred content management system and web publishing program, it's also 100% free!
The BAD News …
You could just pay someone like your website developer, your web designer, or a webmaster to take care of your website, but that can end up costing you a lot of money, especially if you are running a small business, things are tight, and you only need small things done that don't require much time or technical expertise, like adding or editing content, changing settings or installing plugins or themes, etc.
Learning WordPress can save your business a considerable amount of time and money. You can manage most things yourself, and only bring in a professional when you need help with WordPress (e.g. technical support, custom web development involving coding, web programming, etc.)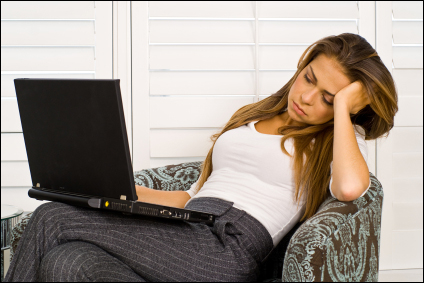 (Save time and money learning how to use WordPress yourself!)
When it comes to learning how to use WordPress, however, there are also some challenges.
Although there is a ton of information on line pertaining to working with WordPress, a lot of it can be disjointed and comprises largely of online tutorials and helpful hints designed for computer savvy persons like web developers. You could end up spending a ton of valuable time searching online for information, yet still end up confused.
And then, of course, there are many things that YOU DON'T KNOW when it comes to WordPress! Stuff like how to configure WordPress to bring more leads to your web site, plus time-saving advice, applications and techniques you might use (normally at zero cost) to deliver your organization BIGGER, BETTER, and FASTER results, and a whole lot more!
There has been no complete step-by-step training system that you can easily follow to learn how to use, maintain and expand an online presence quickly and effectively using WordPress, particularly if you are not necessarily tech-savvy … until now!
The Excellent News …
WordPress enables you to easily control your digital presence, with little to no technical skills required … and for very little to no cost!
WPTrainMe – WordPress User Tutorials Plugin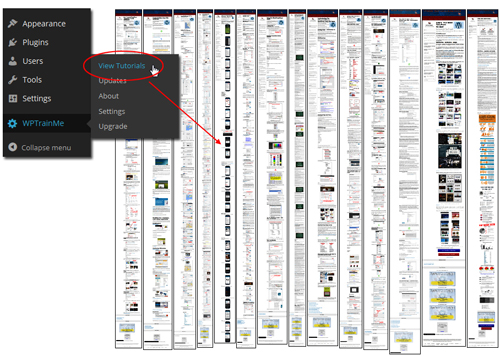 (Learn WordPress fast inside your own WP dashboard with hundreds of detailed step-by-step WordPress tutorials!)
Plugin Description
WPTrainMe is a in-depth and easy-to-use WordPress A-Z training plugin. The WPTrainMe plugin gives users access to hundreds of detailed step-by-step tutorials covering every aspect of working with WordPress from your own WP admin dashboard.
(WPTrainMe lets you access hundreds of WordPress tutorials directly from your WP dashboard!)
The tutorials show you precisely how to install, set up, configure, customise, use, look after, grow and make money with WordPress without making you jump all over cyberspace attempting to find answers.
WPTrainMe consists of 100s of practical step-by-step online tutorials with tons of screenshots, downloadable check lists, templates, relevant instructional videos and more.
Best of all … little or no technical knowledge is needed!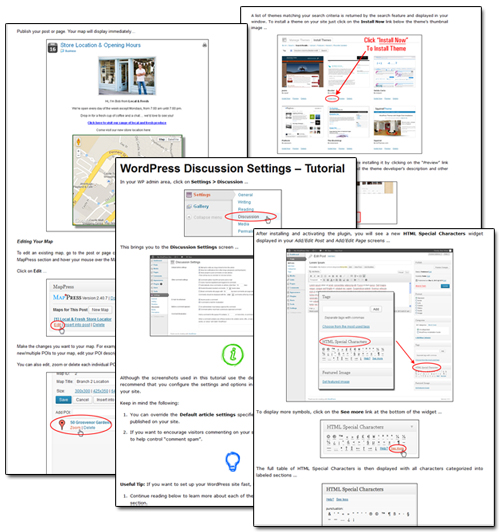 (teach yourself WordPress with detailed step-by-step tutorials!)
Everything you need to master using WordPress is covered in the WPTrainMe training. And you can connect to each of the tutorials instantly from your own WordPress dashboard as soon as you require any assistance with WordPress.
To learn more, go here: WPTrainMe
Plugin Benefits
Here are just some of the many advantages of choosing WPTrainMe to learn WordPress:
Ideal WordPress Training For Non-Technical Users
All WordPress tutorials have been especially written for non-technical end users, not web site developers or tech "nerds." All tutorials are laid out in logical order with navigation menus and search tools which makes WPTrainMe very easy to use and find what you are looking for. All of the written training content and information is kept simple and easy to understand and presented by means of detailed step-by-step instructions.
Links to related topics are also available after each tutorial, plus accompanying "over the shoulder" instructional videos if you want to review the material. Best of all, no html coding experience is necessary to implement what you learn in the training.
Immediate Help At The Click Of A Mouse
The plugin will provide context-related instructions, so every time you need assistance with whichever section you're doing work in, just click on the help tab within your dashboard and a number of tutorials related specifically to that area displays, delivering immediate access to helpful information on what to do.
Plugin Content Gets Updated As WordPress Features Change
WordPress is continually growing and being developed. With WPTrainMe, training content can be kept up-to-date to reflect the latest WordPress software and functionality changes. Brand new lessons are regularly being uploaded to the plugin to help you learn all that can be done using WordPress. As soon as new WordPress tutorials are modified inside the WPTrainMe system, these are automatically available to you within your control panel.
Additional benefits include:
Save time: All that you should know in order to master using WordPress you can find in a single location and accessed with just one click in the WP admin area.
Save money: WPTrainMe can save you many hundreds of dollars on WordPress training. You will definitely find it very difficult to come across an alternative WordPress learning program that offers so much detailed information and real value for your dollar.
Learn WordPress within your schedule: The online tutorials are on hand 24/7 inside the administration area, which allows you to work through the information in your own personal time and within your own needs.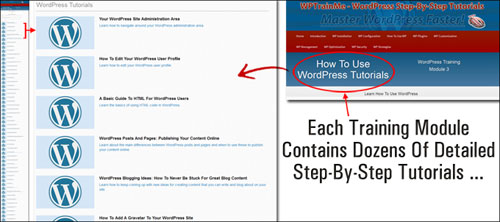 (Training modules are arranged in logical sequence and each module contains dozens of detailed tutorials!)
WPTrainMe Plugin Features
WPTrainMe's tutorials teach you all the main WP functions and cover every aspect of using WordPress.
Plugin users have access to hundreds of easy-to-follow tutorials broken down into 10 modules:
WordPress Introduction
WP Installation
How To Configure WordPress
Using WordPress
WordPress Plugin Tutorials
WordPress Customization
Managing WordPress
Optimizing WP
WordPress Security
WP Strategies
Additional features include things like:
Works on every device: WPTrainMe is built on a fully-responsive platform, allowing you to access the tutorials through your desktop PC, laptop, tablet or smart device.
Created by WP expert users for non-technical WP users: All tutorials are especially authored for non-expert users, delivered in logical sequence and wholly interlinked with other related training content.
A complete WordPress learning system: WPTrainMe tutorials come with hundreds of screenshot tutorials with step-by-step information, accompanying video tutorials, flowcharts, templates, check lists, additional downloadable information and more!
One-click access: Everything you would like to learn to grow and run your own organization's online presence is easily available with the click of a button within your own website's control area.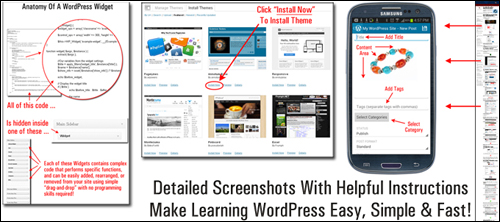 (Screenshot tutorials with helpful instructions make learning how to use WordPress fast, simple and easy!)
User Feedback
Here are a few of the testimonials and comments that plugin users have submitted regarding WPTrainMe's tutorials:
"Learning WordPress has been a huge stumbling block for me. I've been looking for something that covers absolutely everything but doesn't cost an arm and a leg. Thank you so much … you have just provided me with what I have been looking for. An amazing offer with nothing but value. Truly appreciated!" – Tanya (Australia)
***
"If you're new to WordPress, this can stand on its own as a training course and will stay with you as you progress from beginner to advanced and even guru status." – Bruce (Columbus, Ohio)
Useful Plugin Tips
If your company needs to teach team members how to use WordPress, then WPTrainMe is a valuable and time-saving instructional tool. Rather than having to spend a great deal of time explaining to your employees how to use WP to do a range of things that they'll probably forget soon after you've showed them what to do, you can simply install the WPTrainMe plugin on your website and then teach them how to access the training instead. This way, you'll be encouraging them to master the skills they need to use WordPress efficiently in your business anytime they have questions.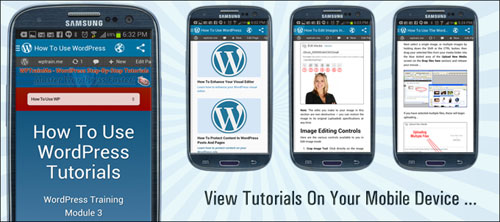 (Access tutorials on all mobile devices)
Support
Because the WPTrainMe training plugin functions mostly as an interface to an external site where all of the training is located, the plugin is light-weight and uses minimal to none of your resources. Nonetheless, the plugin is expertly-coded and well supported and comes with a detailed online user guide and videos and additional written documentation that show you how to install and use WPTrainMe, in addition to FAQs and access to a plugin user support helpdesk.
Plugin Cost
WPTrainMe is available in 4 different licensing options:
FREE – This provides users with access to dozens of detailed 'step-by-step' tutorials on using WordPress. Cost = Free.
PRO – This gives users access to the full WPTrainMe library, which includes hundreds of step-by-step tutorials. Price = $37 per year.
Please Note: Pricing details of WPTrainMe can vary, depending on whether there are any promotions or limited-time specials being offered. Currently, the software is being retailed for the prices shown above. This may or may not be the actual pricing charged by the product author if you visit the plugin site.
Check the plugin's website for the latest pricing details: WPTrainMe – WordPress Training Plugin
Additional Plugin Information
The WPTrainMe plugin was designed to allow the content to be easily kept up-to-date whenever WordPress makes significant updates to features or functionality, as all of the tutorials is stored on external servers and delivered via the plugin's interface.
In fact, the WPTrainMe plugin allows you to access all of the written tutorials here on WPCompendium.org plus hundreds of additional WordPress and online marketing video tutorials …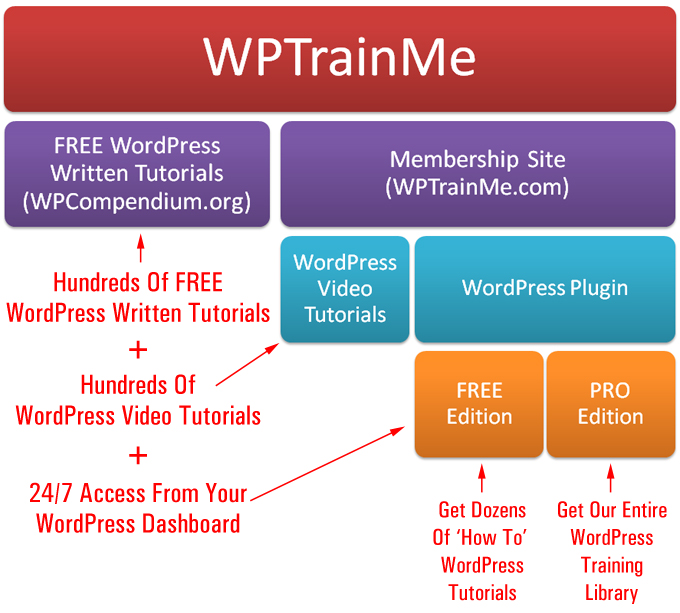 (WPTrainMe's tutorials can be easily updated in the plugin whenever new improvements are made to WordPress!)
For more details about the WPTrainMe plugin, visit the WPTrainMe website.
Our Recommendation …
If you are planning to start, grow or manage your own WordPress website, then we recommend that you consider purchasing the PRO edition of the WPTrainMe plugin, which gives you complete access to all of the tutorials and updated training content.
As an added bonus, PRO users get a practical 250+ page step-by-step instructional guide showing you how to install WordPress on your own domain, which is very useful, as you need to install WordPress on a domain first before you can install the WPTrainMe plugin on your website or blog.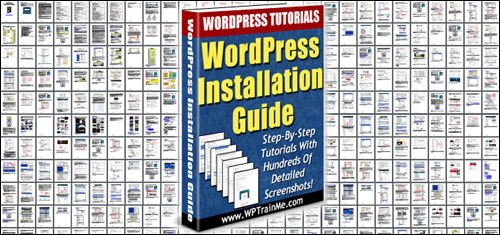 (A detailed WordPress Installation Guide is included for PRO plugin users!)
For complete details, visit the plugin website: WPTrainMe – WordPress Step-By-Step Training Plugin
***