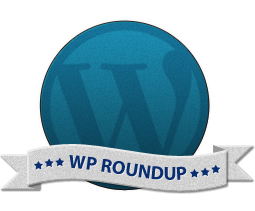 In addition to providing hundreds of FREE WordPress tutorials for beginners that show you how to build, grow, and manage your own website without coding skills, we also want to keep you up-to-date with some of the latest resources and plugins developed to help WordPress users.
***
Useful Resources For WordPress Users
WordPress has an active global community of plugin, theme, and product developers who are always looking for ways to improve the experience and results of WordPress users everywhere.
Additionally, many software developers create tools and services that WordPress users can integrate with their online marketing strategies to automate processes that can improve search rankings, drive more traffic to their sites, generate more leads, and help get more sales.
In this WordPress Roundup, we look at a plugin that lets you find and add relevant WordPress tags to posts, a web-based software that creates high-converting video background landing pages, a WordPress plugin that automates social media marketing campaigns, a cloud-based application that lets you create info products such as reports and lead magnets in minutes, and more.
Here are some of the latest products creating a buzz with WordPress users: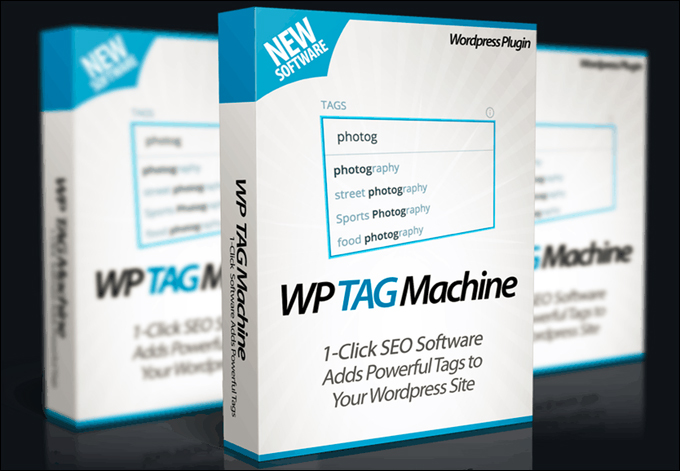 (WP Tag Machine)
Adding relevant tags to your posts can help your website rank higher and should be done as a regular habit when creating new posts. Finding relevant post tags, however, can take a little time and effort.
WP Tag Machine is a simple, yet powerful SEO plugin for WordPress that will help you improve Google rankings using post tags and instantly add tags to your posts with just a few mouse clicks. Used wisely, this plugin can be a very powerful SEO tool.
WP Tag Machine installs like every other WordPress plugin (if you need help installing WordPress plugins, see this tutorial: How To Install WordPress Plugins).
Once installed, there are no settings to configure. The plugin works right out of the box and adds a new section to your posts below the content area …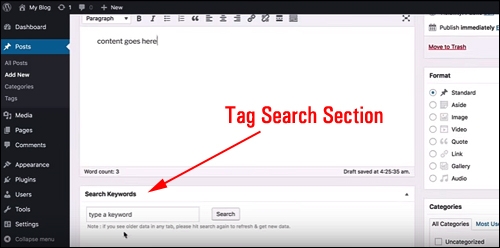 (WP Tag Machine installs a tag search feature below your post content area)
To find tags for new and existing posts, just enter a keyword relevant to your post into the keyword field and click the 'Search' button …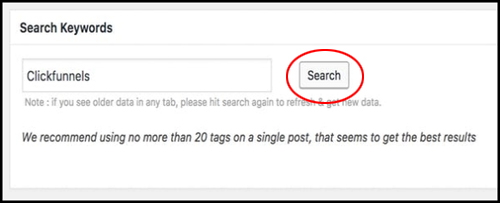 (Search for relevant keyword tags)
The plugin searches for relevant tags. Depending on the keyword(s) you have entered, the plugin can return hundreds of results …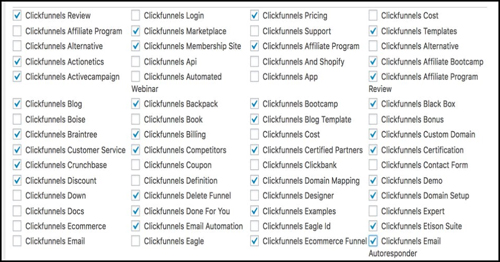 (WP Tag Machine finds and returns relevant post tags)
Select the tags you want associated with your post. You can select tags individually by ticking each check box, or click the 'Select All' button. For best results, select only tags related to the content of your post, and add no more than 10 to 20 tags per post …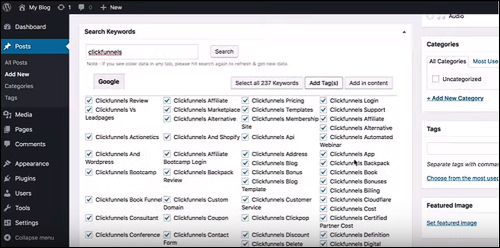 (Select and add relevant tags to your post)
Once you have selected your tags, click the 'Add Tag(s)' button to instantly add the tags to your post …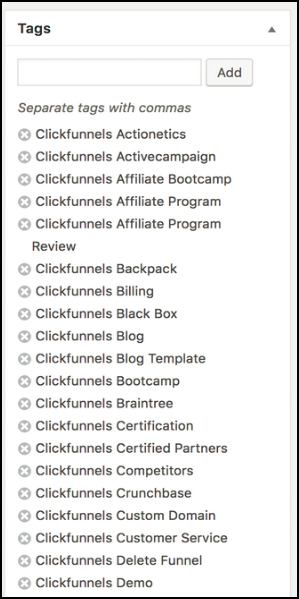 (Post tags added)
Publish or update your post and you're all done!
WP Tag Machine works with every WordPress theme and post tags can be downloaded and exported as a CSV file.
Below are some testimonials from WP Tag Machine plugin users:
"This is a brilliant method to get more attention to your pages. I recommend anyone to obtain WP Tag Machine." John Drake

"The hardest thing about posting an article on wordpress is doing the keyword research. Sure, it is easy to pick a keyword for the article but filling in the tags? I never know where to start. Ankut,thanks for creating the perfect solution, now my posts can be optimized like a pro. Brilliant!" Steve Brough

"This is such an amazing plugin to anyone looking to improve their rankings and get more SEO traffic. And the best thing, it's so simple to use, love it!" Raul Mellado
For more testimonials, visit the WP Tag Machine website.
The demo video below shows WP Tag Machine in action …
(Learn more about WP Tag Machine)
The plugin developers provide walkthrough video training and regular plugin updates. The plugin is available with individual or unlimited site licensing and comes with a 30-day money back guarantee.
Learn more: WP Tag Machine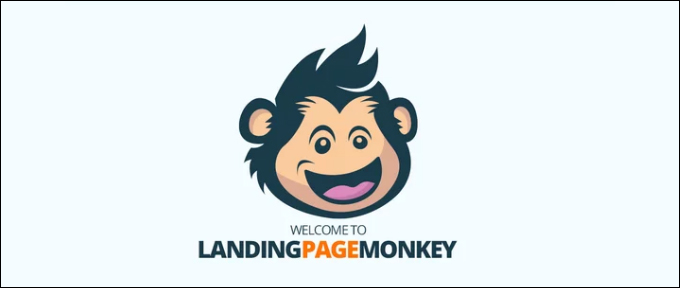 (LandingPage Monkey – Landing Page Creation Software)
A proven way to capture new leads and subscribers is to build a list using a high converting landing page.
Creating a good looking landing page that converts well, however, takes time. It requires designing the page and then tweaking it to improve conversions. Hiring web coders, web designers, and web marketers to create landing pages that convert well is expensive, especially if you plan to build multiple lists using multiple landing pages.
Many landing page creation services produce unattractive or outdated-looking pages, or tend to be restrictive or complicated to use.
Landing Page Monkey is a web-based software that lets you build high-converting, very attractive and professional looking landing pages with a few clicks of the mouse.

(Create attractive, high-converting video background landing pages)
Landing Page Monkey lets you create great looking landing pages quickly and easily using a background color, background image, or background video …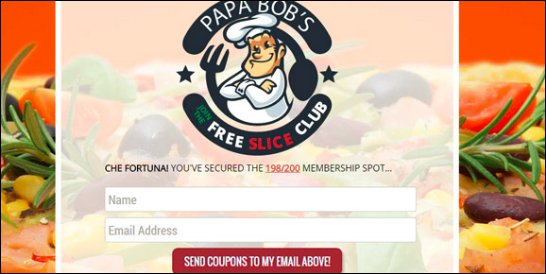 (Create great looking landing pages quickly and easily)
Attention-grabbing video backgrounds can out-convert regular landing pages, in some cases by almost 40% …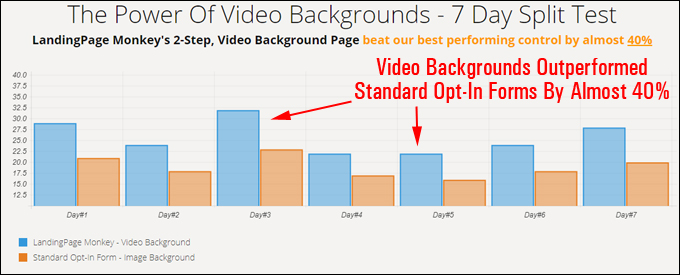 (Landing pages with video backgrounds can outperform standard opt-in forms)
Landing Page Monkey works with all autoresponder services …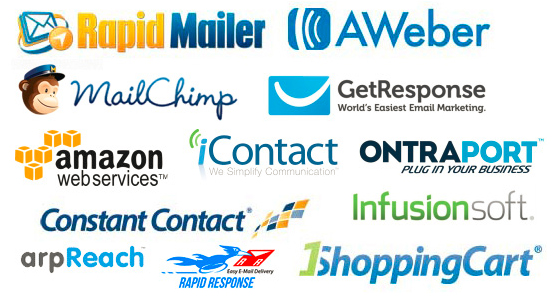 (Landing Page Monkey works with all autoresponders)
You can add video backgrounds from any hosted service, including YouTube, Vimeo, Amazon S3, and even your own server …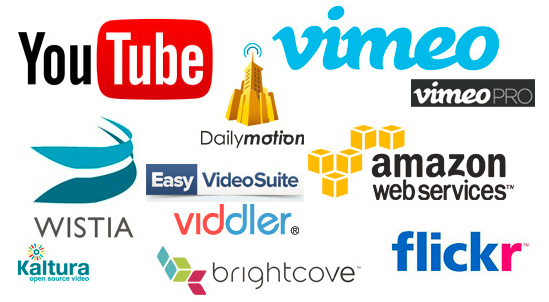 (Add video backgrounds from any hosted service)
You can also add animations to your landing pages …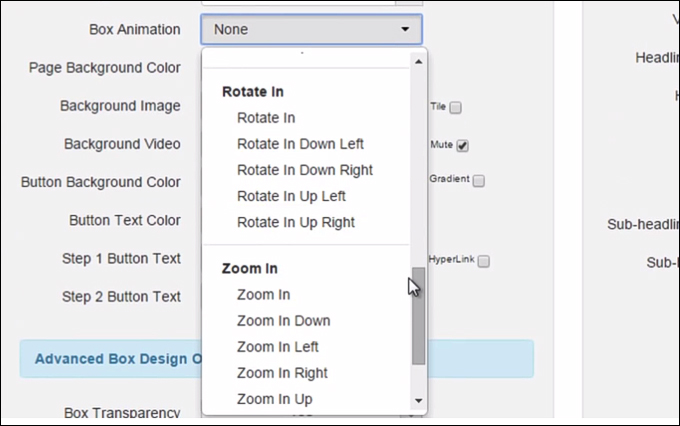 (Add animations to landing pages)
Your LandingPage Monkey dashboard lets you track conversions and monitor the performance of your landing pages and perform additional tasks like cloning, editing, resetting and deleting campaigns, copy landing page codes to your clipboard, import, export, and more …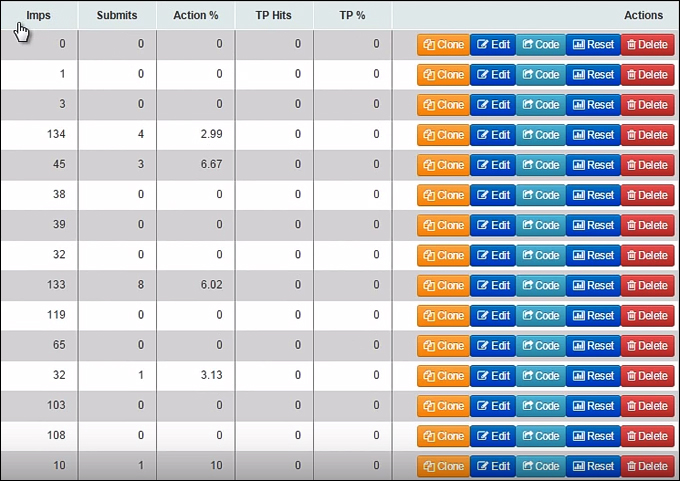 (Track the results of all landing pages from your dashboard)
LandingPage Monkey features include:
Landing pages integrate easily with WordPress.
Build unlimited landing pages quickly and with no coding involved.
Landing pages can be cloned and replicated with just one click.
Build video background landing pages that help convert more leads faster.
Landing pages are fully responsive and work on all devices.
Built-in social sharing.
Edit pages on the fly inside your dashboard with no other software or tools required.
Customize your landing pages (pick different layouts, swap out background graphics or videos, change colors and font styles, add animations, etc).
See which pages perform best, and maximize conversions and ROI using built-in tracking and statistical tools.
Edit your landing pages live with no downtime.
Use 'simple' mode for fast page creation and basic features, or 'advanced' for customization and fine-tuning.
Import and export landing pages (can share with other users or affiliates and make backup copies).
As LandingPage Monkey is a web-based software, there is nothing to download, install, or update. LandingPage Monkey makes it easy to create high-converting landing pages without coding skills and without hiring a programmer or web designer. After purchase, you get instant access to a web-based dashboard where you can start creating landing pages in just minutes using point-and-click.
With LandingPage Monkey, you can easily build:
Opt-in Pages
Affiliate Pages
Sales Pages
Webinar Registration Pages
Workshop Registration Pages
Prize Draw Pages
Contest Opt-ins
After-Purchase Email Collection Pages
List-Building Pages For Pay-Per-Click Campaigns

Tips:
You can host your landing pages on your own website or host them at no cost on LandingPage Monkey's servers.
If you're just starting out, you can build a list or promote affiliate offers without a website or a web hosting account. Just drive prospects to your landing pages using the unique links generated for each page.
If you have a domain you'd like to use, you can cloak your links using a tool like Trackerly and promote your offers or list using links from your own domain.
Video tutorials inside your account show you how to easily add landing pages created with the software to your WordPress site.
Here are some testinmonials from LandingPage Monkey users:
"After beta testing Landing Page Monkey and really learning the full power of LPM – I have to say this is the most powerful list conversion software I have ever seen." Stephen Luc, InstantPrivateLabelVideos.com

"Looks very sexy! love the demos – There's some very cool stuff you can do with this software and it's easy too." Soren Jordensen, IMWealthBuilders.com
For more testimonials, visit the LandingPageMonkey website.
Watch the video below for a demo of LandingPage Monkey …
(Learn more about Landing Page Monkey)
LandingPage Monkey comes with a 30-day money back guarantee and there are no add-ons, upgrades, or upsells related to the software when you buy. If you plan to build landing pages for clients, however, you can upgrade to a Developer license inside your account area.
More info: Landing Page Monkey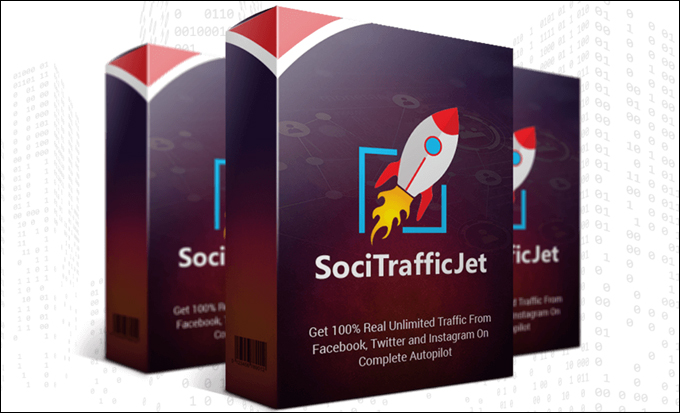 (SociTrafficJet)
SociTrafficJet is a WordPress plugin that lets you automate social marketing campaigns.  Used sensibly, this plugin can help drive more traffic from Facebook, Twitter, and Instagram to your blog, e-commerce site, or affiliate offers.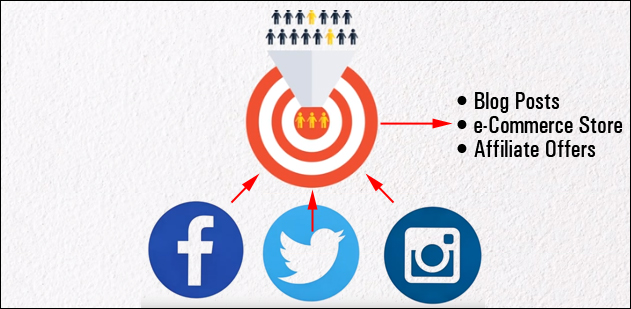 (Drive more traffic from social media to your sites or affiliate offers)
Users have reported a significant increase in traffic, engagement, opt-ins, and revenue after installing the plugin …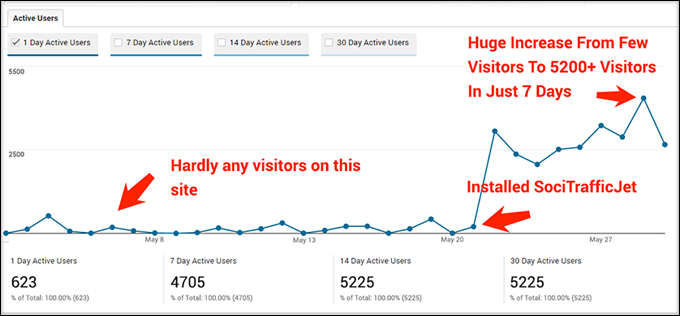 (SociTrafficJet beta testing results)
SociTrafficJet can be used as part of your digital marketing strategy to promote your blog posts, e-commerce products, special deals, coupon offers, and affiliate offers in any niche …

(Promote affiliate offers in any niche)
Once installed and activated, the plugin will add a new section to your dashboard menu …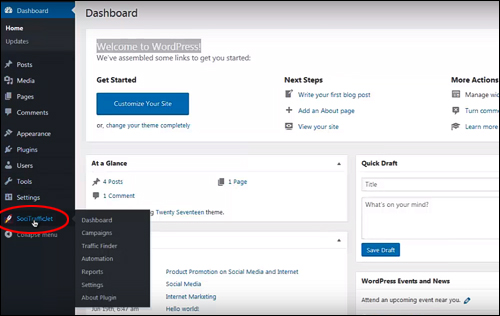 (SociTraffic Jet menu)
Clicking on the menu brings up the plugin's dashboard …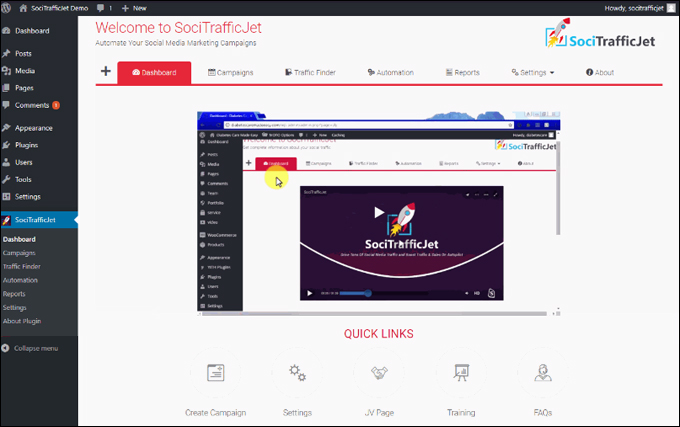 (SociTrafficJet Dashboard)
The intuitive plugin dashboard lets you set up, run, and manage all of your campaigns.
Configure your social media settings in the 'Settings' tab …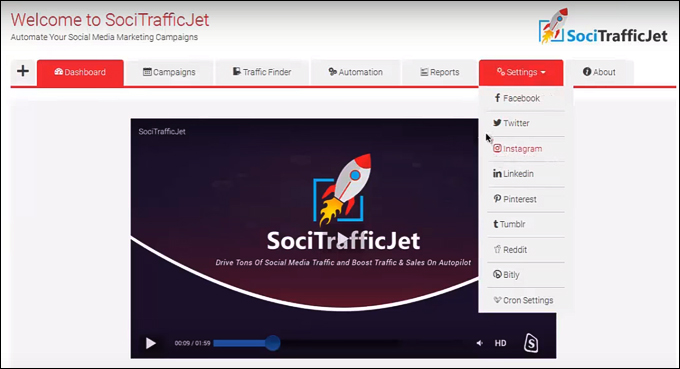 (SociTrafficJet Settings Tab)
The 'Campaigns' tab lets you view all the campaigns you have set up. You can set up unlimited social media campaigns and promote posts/pages across multiple campaigns at the same time (great for promoting an offer in different niches) …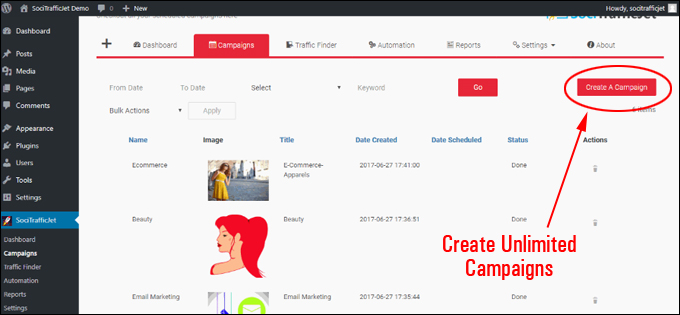 (Create unlimited social media marketing campaigns)
Use the Traffic Finder tool to find Facebook groups and pages that you can promote social posts to …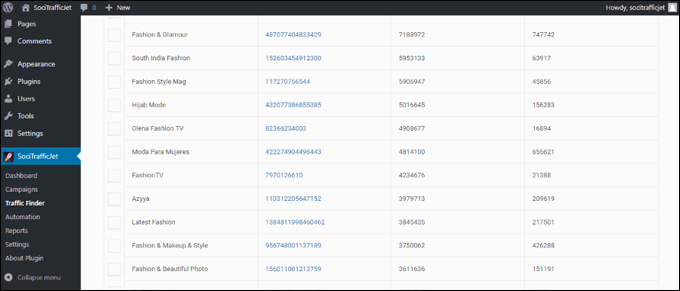 (SociTrafficJet Traffic Finder)
You can also view your campaign reports and analytics in the 'Reports' tab. This section lets you see the status of your campaigns and evaluate how these are performing, what was shared, where traffic is coming from, which campaigns are pending or scheduled, and more, giving you full control of your automation …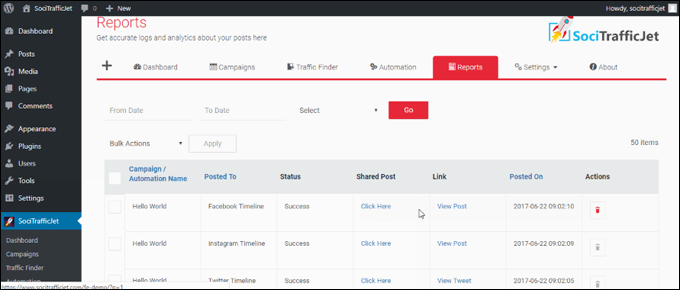 (SociTrafficJet Reports tab)
SociTrafficJet lets you send out your campaigns immediately or schedule these using the Campaign Scheduler …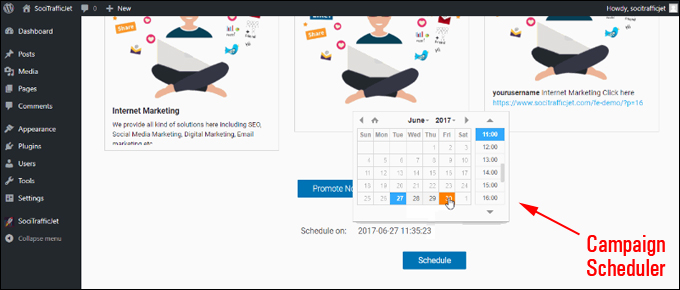 (SociTrafficJet Campaign Scheduler)
You can also preview and fine-tune your social posts before going live …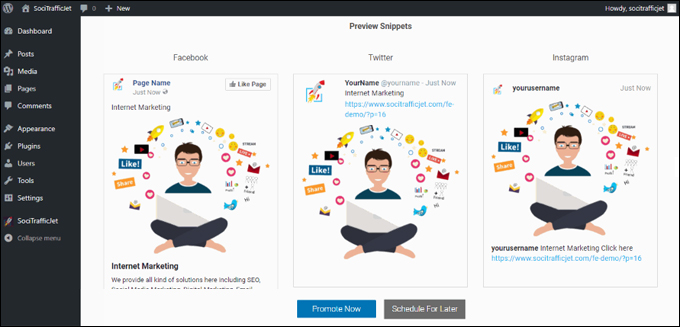 (Preview your social posts before going live)
SociTrafficJet is easy to use and requires no technical skills. Training is provided with video tutorials covering everything from setting up to using the tool, including video tours of each dashboard tab.
Here are some testimonials from SociTrafficJet users:
"Bingo man!!! You nailed it and now I am completely free from the manual work. This software is creating wonders for my social medial campaigns. I am pleased with the automation feature, now getting traffic is easy for me. Thank you for creating this wonderful software." Steve Rosenbaum

"You've nailed it Doc yet again. Unlike other WordPress Plugins, it gets installed effortlessly fast. No spending hours going through the motions and keep on waiting like a dead clock. It's undoubtedly fast, scheduling, sharing campaigns across Social Media frontiers without any manual work. This is all-in-one social media automation software that you must get your hands on." Billy Darr
For more testimonials, visit the SociTrafficJet website.
The demo video below shows SociTrafficJet in action …
(Learn more about SociTrafficJet)
In addition to the regular plugin edition, which lets you set up campaigns to post on Facebook, Twitter and Instagram, SociTrafficJet offers the option to upgrade to the Elite and Enterprise editions for additional automation and leverage.
The Elite upgrade provides complete social marketing automation to Facebook, Twitter, and Instagram and lets you set up multiple campaigns at once.
The Enterprise edition gives you the full power of the software and includes access to additional social networks like LinkedIn and Pinterest, and bookmarking sites like Tumblr, Reddit, and Bitly …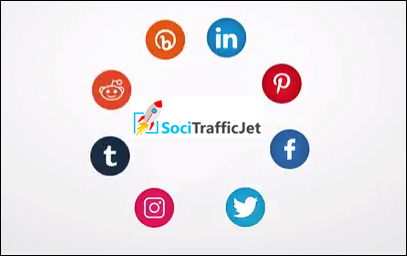 (Post to additional social networks with SociTrafficJet Enterprise edition)
For more info, go here: SociTrafficJet

(InstantProductLab)
A great incentive to get people to subscribe to your list is to offer something of value like a guide or report. Creating quality info products, reports, and lead magnets, however, can be time-consuming.
Instant Product Lab is a cloud-based software that lets you create info products in minutes using point-and-click.
While there are various e-book creators in the market, this tool is very simple and easy-to-use. No technical or design skills are required and there is nothing to install or update. Instant Product Lab is hosted in the cloud, so you can access this tool from anywhere.
To create a simple e-book, guide, or report, simply access the tool, search for content to use in your digital product by entering a keyword, and choose a template. The tool will then automatically create reports and lead magnets that you can download, publish, sell, or give away.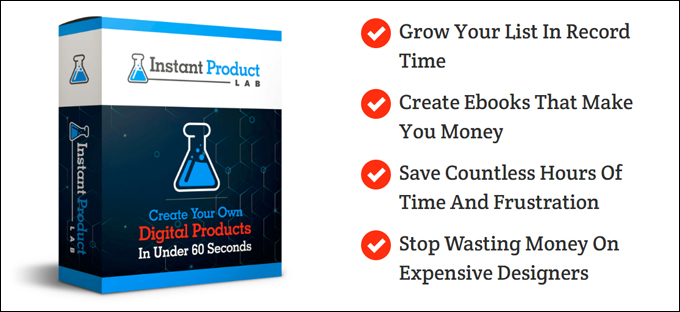 (Create info products quickly with Instant Product Lab)
The developers of this newbie-friendly tool claim that no tools, designer, or even writing experience is required, as the tool will compile the content for you. Users, in fact, have access to an exclusive content library of over 250,000 online articles.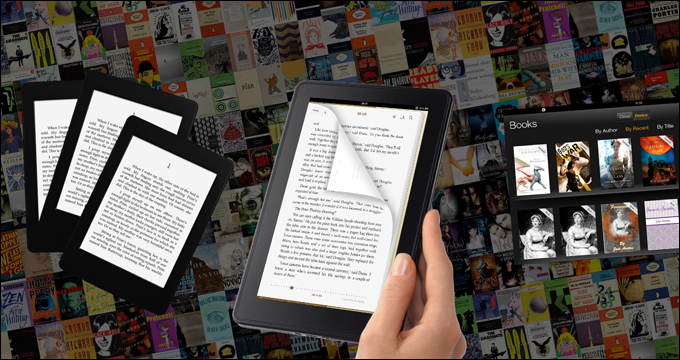 (Source content for your info products from over 250,000 exclusive articles)
Some of the benefits and features of Instant Product Lab include:
For affiliate marketers, the software automatically adds your affiliate link into the content in various locations.
You can create e-covers and landing pages for your e-books with the tool and host your info products on their servers.
Repurpose existing content.
Share your PDF products on sites like Slideshare for additional traffic.
Integrates with all major email marketing services like Aweber and GetResponse.
Includes full support and step-by-step video training on how to use the tool, plus money-making and list-building training.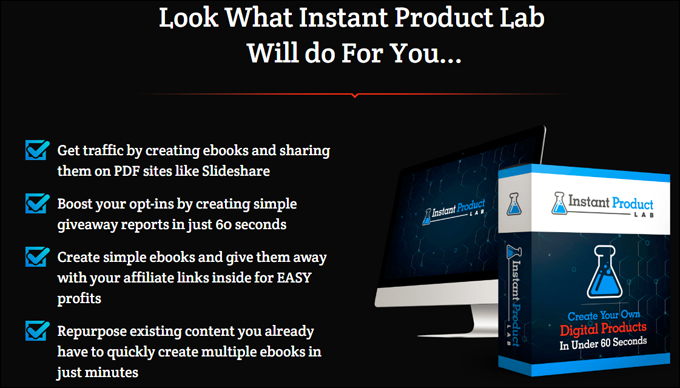 (What Instant Product Lab will do for you)
Automated content creation tools should always be used in a sensible way. Some situations where this tool can be used in a practical way include:
Creating simple reports you can offer as an incentive to start building a list, or testing different report titles. Once you start acquiring subscribers, or find a title that converts well, create a high-quality info product to replace your 'test' lead magnet and offer your existing subscribers the new and improved version of the report.
Using the tool to compile your own articles into guides and other digital products. This also applies for PLR articles, affiliate articles or promotional content supplied by product vendors, etc.
Here are some testimonials from Instant Product Lab users:
"You can make a ton of money as an affiliate but the real money is being a vendor and selling your own digital products. As a product vendor I've managed to turnover seven figures in sales and now have hundreds of affiliates driving traffic to my products online which is awesome" Matthew Neer, Internet Marketer / Digital Product Specialist

"I generated over $60,000 in revenue with my first digital product and have since gone onto generate over $145,000 from selling digital products online. You can make a lot of money in a short period of time with your own digital product online" Brendan Mace, brendanmace.com / CEO
For more testimonials, visit the Instant Product Lab website.
Watch the video below to see how Instant Product Lab works …
(Learn more about Instant Product Lab)
Instant Product Lab comes with a 30-day money-back guarantee and is available in two editions: Lite and PRO.
Go here to learn more: Instant Product Lab
Useful Tools For WordPress Users
If you are stuck for content ideas for blog posts, check out this great FREE content idea generation tool …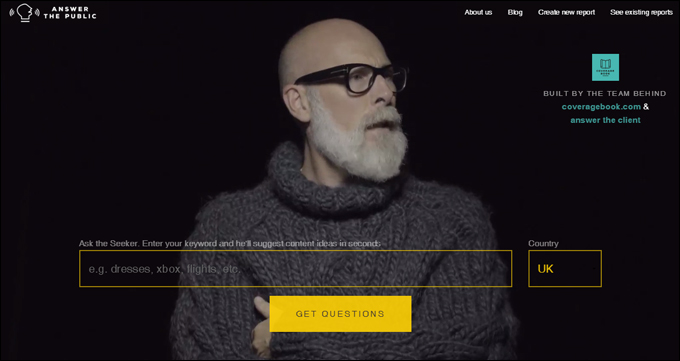 (AnswerThePublic.com – Content Idea Suggestion Tool)
According to the developers, this tool was created to provide content, creative, PR, and SEO marketers with a search insight tool that better utilizes the auto suggest results provided by Google & Bing to uncover the motivations & emotions of people entering search queries and provide users with a richer starting point for content ideas.
To use this tool, visit AnswerThePublic.com, then enter a keyword in the search field and select a language from the drop-down menu …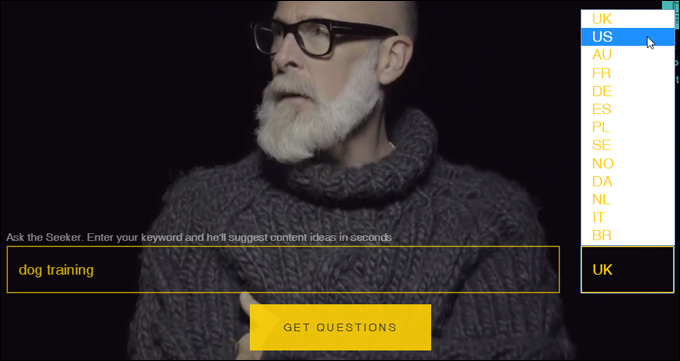 (Enter a keyword)
Click on the 'Get Questions' button …

(Click the button)
The tool will create a new report with visual graphics and a list of alphabetical results …

(A report is generated with a list of results)
The alphabetical list report generated by the tool contains clickable links to Google's Search tool, allowing you to further explore results for selected keyword phrases …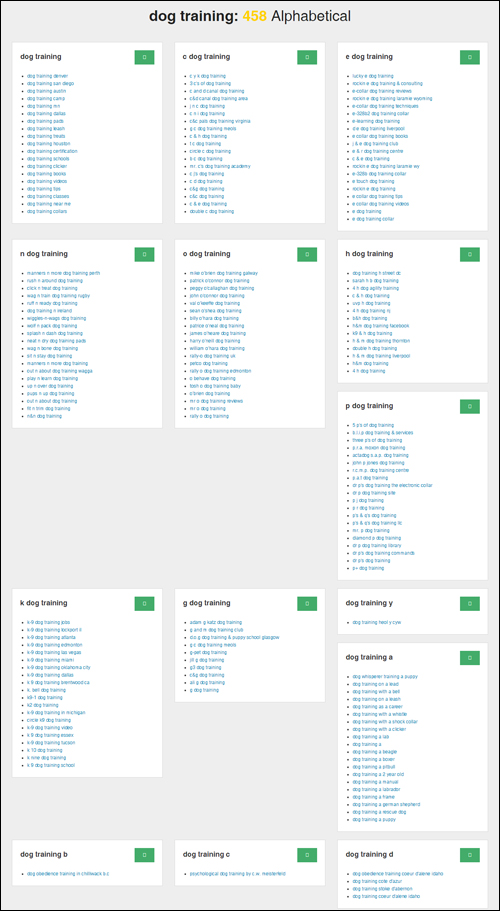 (Content ideas – alphabetical list)
Images can be saved to your hard drive  …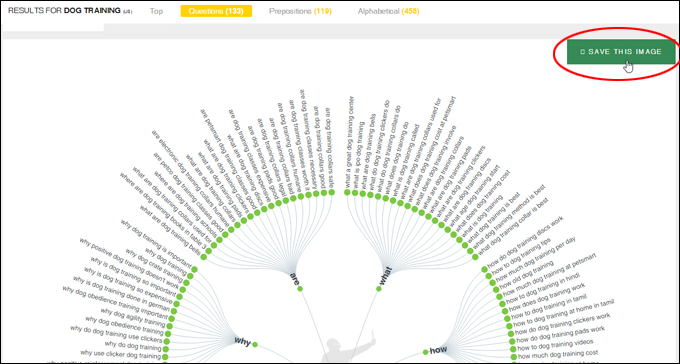 (Download images to your hard drive)
You can also export data from reports in CSV format …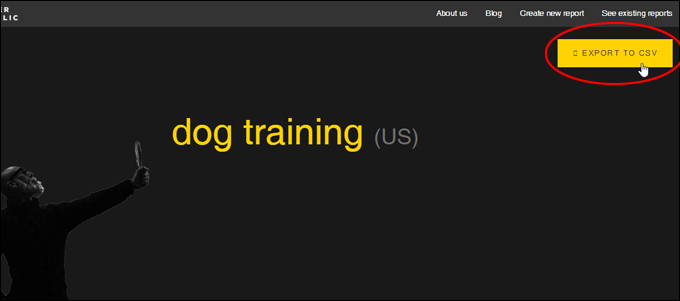 (Export reports to a CSV file)
The tool can be used to generate content ideas in other languages …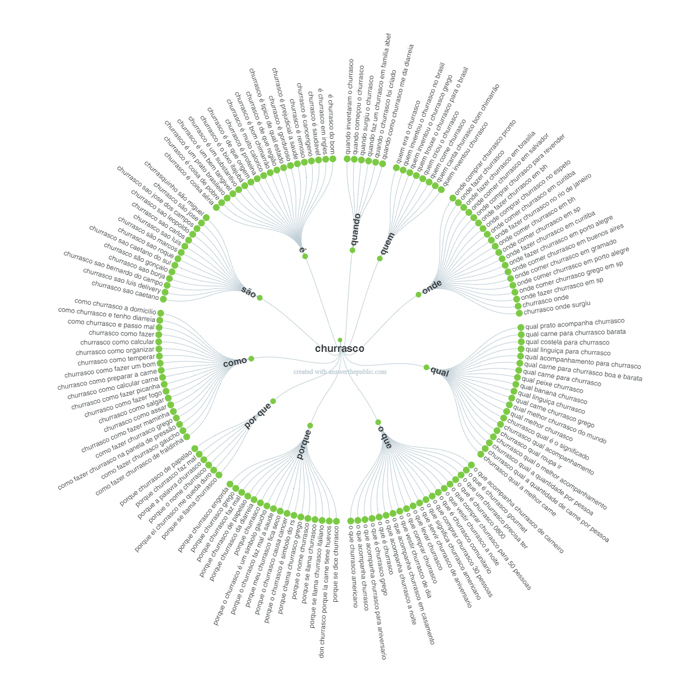 (Generate content ideas in different languages)
You can also view recent searches made by other users …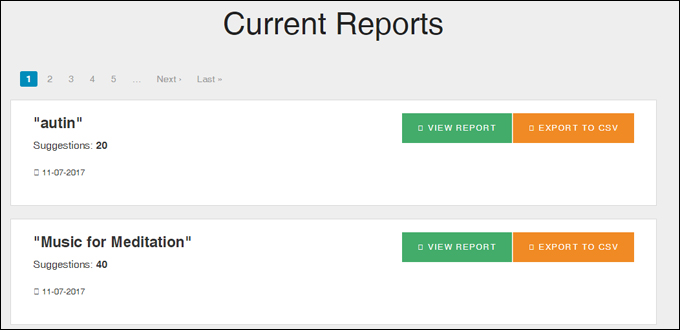 (View reports generated by other users)
For more great content generation ideas and content generation tools, make sure to subscribe to our FREE 120-Part Content Creation Course.
WordPress Themes
InkThemes is a WordPress theme marketplace where you can find hundreds of affordable WordPress themes.
Here is one of their latest themes …

(Geocraft – WordPress Business Directory Theme)
Geocraft lets you set up a business directory website. You can add, edit, and sell free and premium directory listings, capture leads, add advertising banners, and more!
This highly customizable and fully responsive directory theme works on all user devices …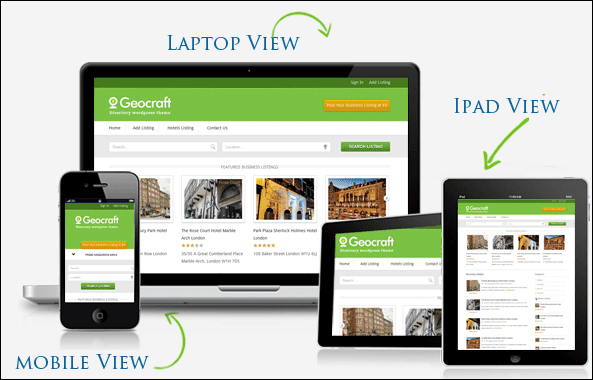 (Geocraft resizes listings automatically to match user's viewing devices)
The theme is also available in different color schemes …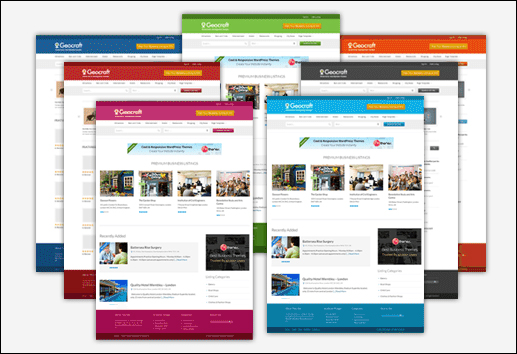 (Geocraft theme is available in different color schemes)
A built-in lead generation form lets prospects contact listed businesses directly …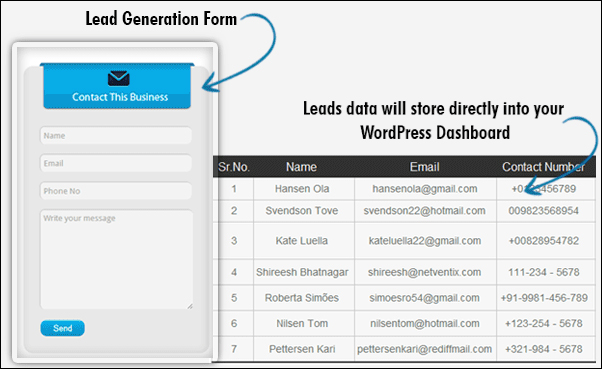 (Geocraft Theme – Lead Generation Form)
You can easily customize listing prices, set up free and premium listing packages, configure one-time and recurring billing options, etc …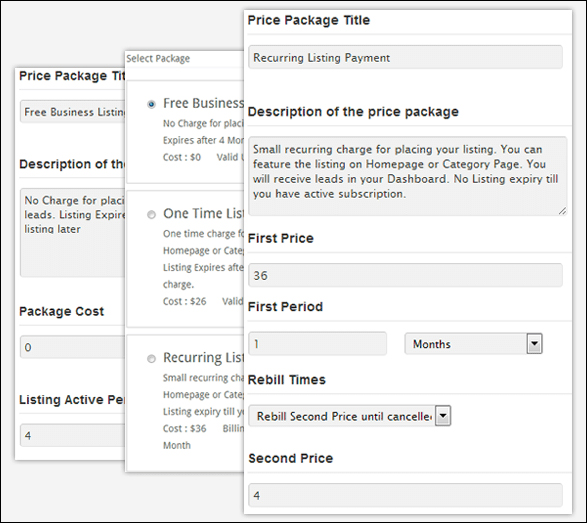 (Setup different listing options)
Additional theme features include:
Geolocation search functionality displays results customized to user's location.
Interactive Google Map displays listings as custom markers.
Prioritize listings based on higher advertiser bids.
Automated email notifications for listing approvals and expiries.
Customized reviews and rating systems.
Display categories and recently added listings in the sidebar.
Import bulk listings using CSV format.
Monetize web traffic with banner ads or Google AdSense.
And more.
To learn more about this business directory theme, go here: Geocraft  – WordPress Business Directory Theme
Ink Themes has more than 50,000 customers worldwide.
Below are some testimonials from Ink Themes customers:
"Just want to say this to anyone who is on the fence and researching, Just Buy. Great support behind it!" Samuel Heins

"These themes are brilliant. I did a quick mockup of a friend's website and he preferred the version I came up with based on the ColorWay Theme over the one he paid $2500 for. Thanks for fantastic themes." Aaron Leighton

"I am totally hooked on these themes. Themes are extremely professional and newbie friendly. If you're a newbie or tech challenged and don't want to waste time learning how to code, buy these themes." Mercedes Tabano
Check out these additional themes from Ink Themes:
[table id=11 /]
To view other great WordPress themes and learn more about other WordPress theme companies, see the tutorials below:
For the latest WordPress Themes from Theme Forest, see the "WordPress Themes Directory" section on the sidebar menu.
WordPress Updates
To learn about new WordPress features, improvements, updates, and bug fixes, see our WordPress Updates section.
We hope that you have found this information useful. If you are looking for a cost-effective way to start or grow your business online, we recommend choosing WordPress and going through our hundreds of FREE WordPress tutorials for beginners.
***
"Your training is the best in the world! It is simple, yet detailed, direct, understandable, memorable, and complete." Andrea Adams, FinancialJourney.org
***