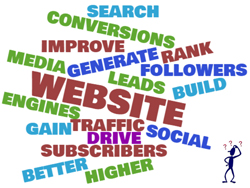 This is an excerpt from "The Digital Business Game Plan," which explains what you should know before taking your business online and how to develop a digital strategy that will put you in control of your digital business presence.
***
The Digital Business Game Plan – What You Never Knew You Should Know About Taking Your Small Business Online
"I have looked at this thing like a hundred different ways. From my point of view,
from their point of view … and 98 others!"
(Michael Scott, The Office, Season 5, Ep.26  "Casual Friday")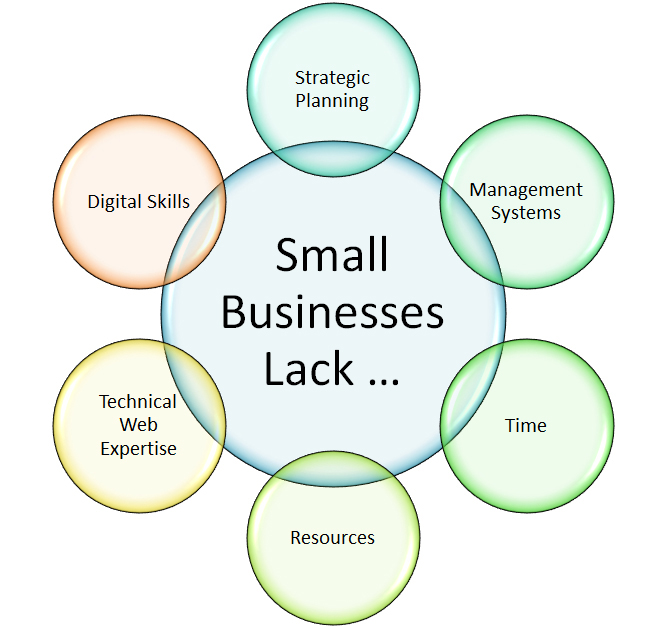 (Most small businesses lack planning, systems, time, resources, technical web expertise and digital skills)
All businesses want an online presence that will deliver them better results, like more leads, more subscribers, more sales, more customers, etc.
To get better results online, however, you first need to create a digital strategy for your business that sets out clear goals and objectives and implement systems to manage your digital processes.
Most small businesses don't invest enough time and effort into doing strategic planning or implementing systems before taking their business online. They also lack time, resources, technical web expertise and digital skills.
Many small business owners, then, simply end up putting website developers in charge of managing their digital processes and internet marketers in charge of giving them results.
In essence, this strategy is called "leave it to the experts, go with whatever solutions they recommend, and hope this will give you results."
There is a problem with this strategy. You still need to plan, implement systems, find the time and resources, and have the expertise and skills to manage the outsourcing process itself.
Outsourcing the management of your digital processes to technical experts and digital marketers without creating a strategic plan and putting systems in place first is also risky, because their business depends on keeping clients like you using their services in order to stay in business.
This creates a situation where you could end up depending on service providers:
Whose expertise and methods you cannot properly evaluate,
Who have a conflict of interest when it comes to advising and recommending you solutions,
Who need you to keep using their services to stay in business,
Who have no accountability for your results, and
Who have no vested interest in your business.
Without a digital business strategy and systems to manage and control your digital processes, you could end up being held "hostage" by your outsourced service providers.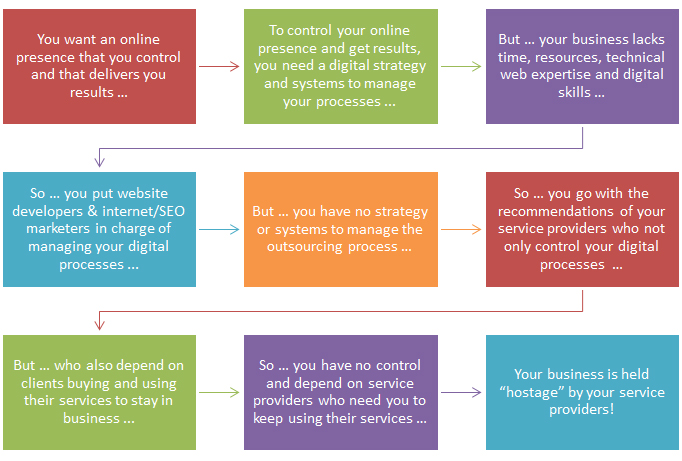 (This is how your business can end up being held "hostage" by your service providers!)
The Digital Business Paradox
Most small business owners, then, want control of their digital business presence yet paradoxically give this control away to their web & digital service providers by putting them in charge of their digital processes.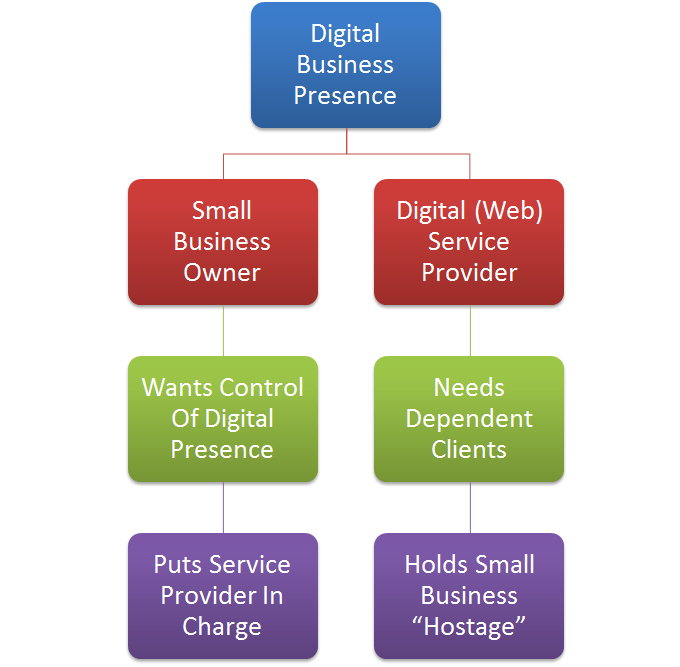 Many small business owners, in fact, begin to feel unmanageable and overwhelmed shortly after taking their business online. They have difficulty finding the time to do the things that would help them get better results because there is no strategy to prioritize objectives or systems to manage things effectively.
Many also confuse strategies with tactics.
Strategies Vs Tactics
Wikipedia defines the difference as follows …
"Strategy is undertaken before the battle. Tactics are implemented during battle. The terms tactic and strategy are often confused: tactics are the actual means used to gain an objective, while strategy is the overall campaign plan, which may involve complex operational patterns, activity, and decision-making that lead to tactical execution."
Source: https://en.wikipedia.org/wiki/Tactic_(method)
The digital realm is a highly competitive battleground for businesses who want better results online.  Going into battle without a strategic game plan that puts you in control of your tactics is a recipe for dropping the ball often and running all over the field confused and overwhelmed.
If your strategy for taking your business online is to get a website developer to build you a website and then take things from there, you will be fighting a losing battle before the game has even begun.
Let me show you why …
Continue reading "The Digital Business Game Plan" … (coming soon)
Download "The Digital Business Game Plan"
(The Digital Business Game Plan For Small Business Owners)
***
"These tutorials have so much information and are easy to understand. If you use WordPress or plan to in the future these will help you with everything you need to know." - Valisa (Mesa, Arizona)
Disclaimer: WordPress and its related trademarks are registered trademarks of Automattic, Inc. This site is not affiliated with nor sponsored by Automattic, Inc. or the WordPress Open Source project. This site and the services and products offered on this site are not associated, affiliated, endorsed, or sponsored by WordPress, nor have they been tested, certified, or reviewed by WordPress. The owner, contributors and/or advertisers may derive financial benefit from sales of items linked to, reviewed, or advertised on this site.
***
Was this tutorial useful? If so, please consider sharing this information with other bloggers using the links below.