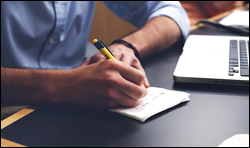 This tutorial is part of our tutorial series on content marketing and web content creation. Subscribe to our FREE content creation course to learn how to come up with endless new content ideas for your website or blog.
***
Tools For Generating Content Ideas Quickly
If you are stuck for content ideas for your website, blog, or social media post and articles, headlines, etc., check out the useful content idea generation tools below. Most of the tools listed below are free and will help you come up with content ideas very quickly …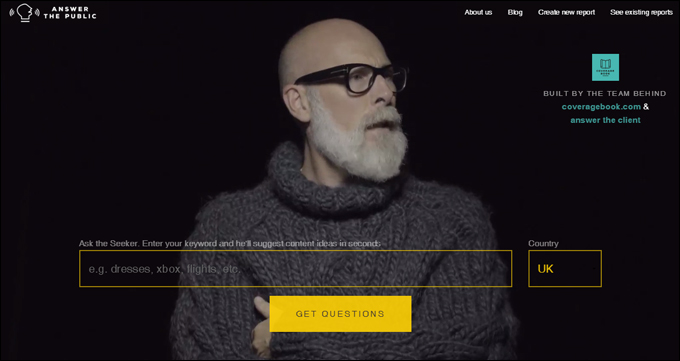 (AnswerThePublic.com – Content Idea Suggestion Tool)
According to the developers, this tool was created to provide content, creative, PR, and SEO marketers with a search insight tool that better utilizes the auto suggest results provided by Google & Bing to uncover the motivations & emotions of people entering search queries and provide users with a richer starting point for content ideas.
To use this tool, visit AnswerThePublic.com, then enter a keyword in the search field and select a language from the drop-down menu …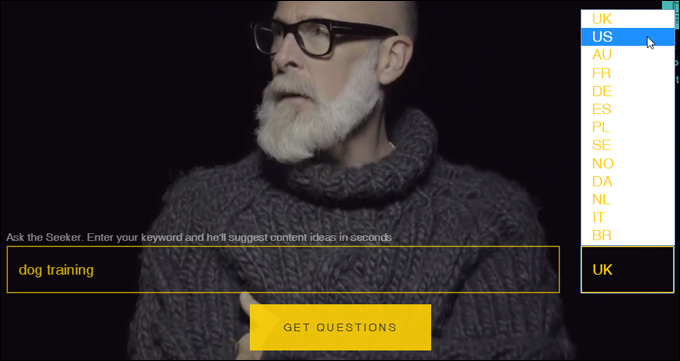 (Enter a keyword)
Click on the 'Get Questions' button …

(Click the button)
The tool will create a new report with visual graphics and a list of alphabetical results …

(A report is generated with a list of results)
The alphabetical list report generated by the tool contains clickable links to Google's Search tool, allowing you to further explore results for selected keyword phrases …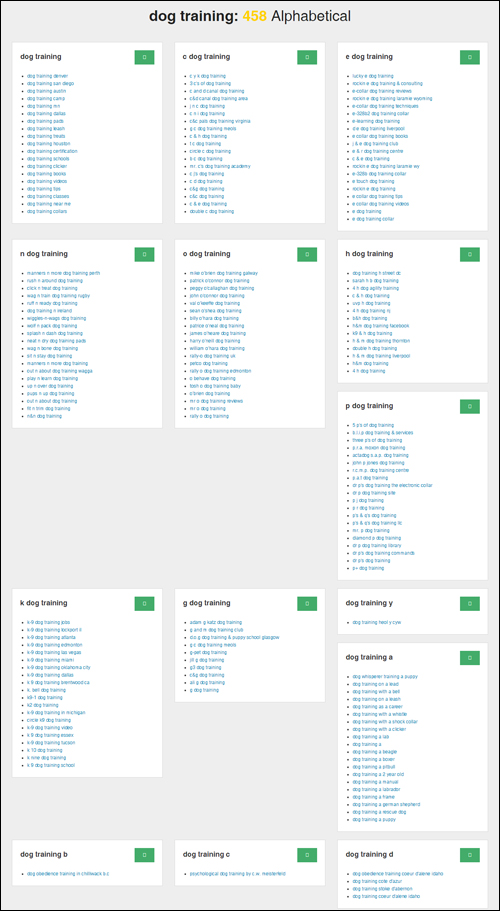 (Content ideas – alphabetical list)
Images can be downloaded to your hard drive  …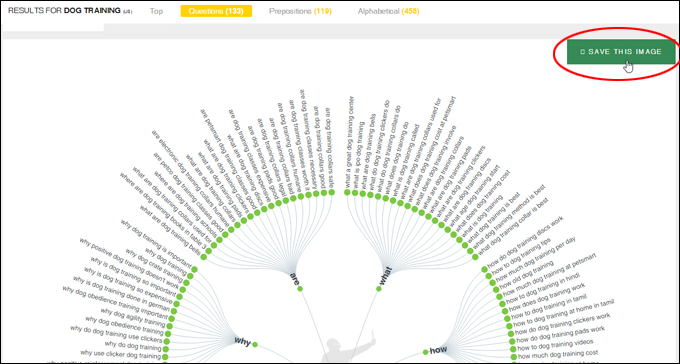 (Download images to your hard drive)
You can also export reports in CSV format …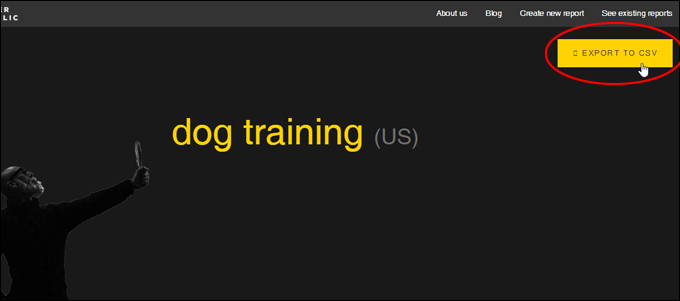 (Export results to a CSV file)
The tool can be used to generate content ideas in different languages …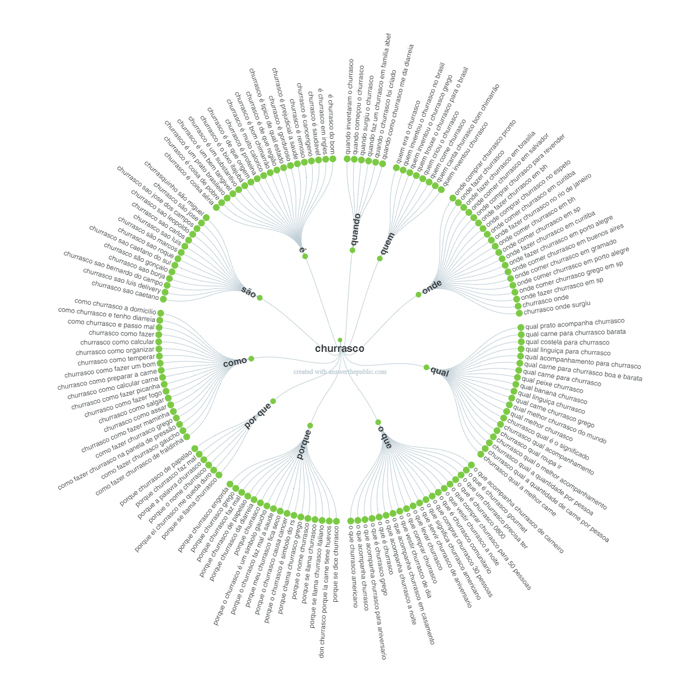 (Generate content ideas in other languages)
You can also view recent searches made by other users …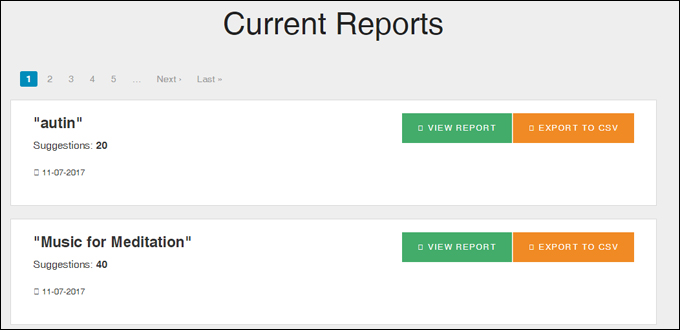 (View reports generated by other users)
To access the tool, go here: AnswerThePublic.com
Hubspot's Blog Ideas Generator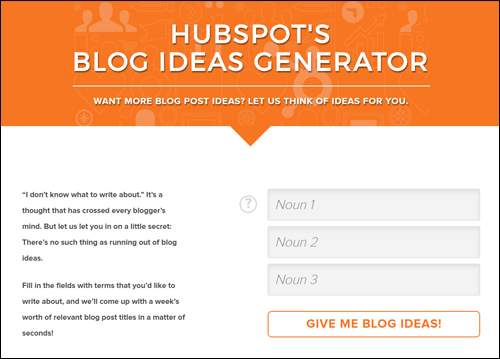 (Hubspot's Blog Ideas Generator)
Hubspot's Blog Ideas Generator is another great tool for coming with content ideas quickly.
Enter your keywords and click on the button …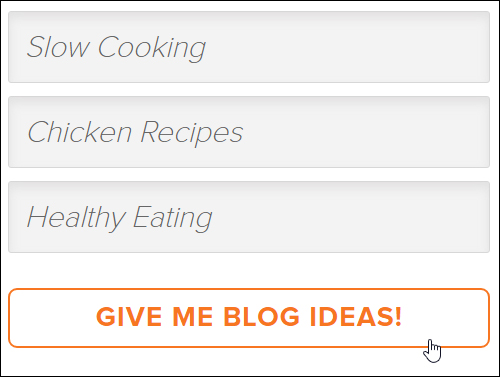 (Enter your keywords)
And the tool will generate a list of content topics for your articles and posts …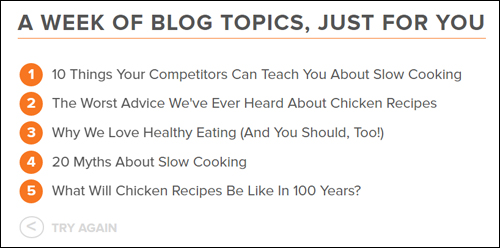 (Content Topic Ideas)
To access this tool, go here: Hubspot's Blog Ideas Generator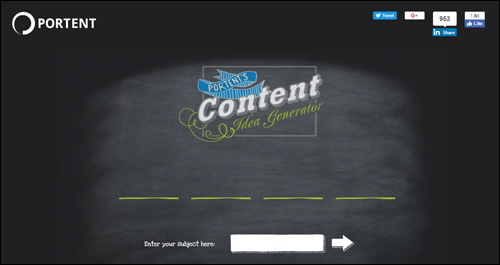 (Portent's Content Idea Generator)
Portent's Content Idea Generator is a cool-looking tool or generating content headline ideas.
Enter your keywords and click the arrow …

(Enter your keywords)
And a headline idea for your topic will be instantly generated …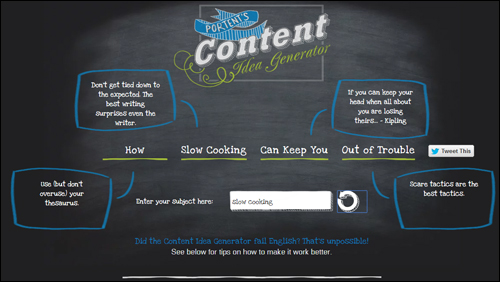 (Your headline idea is generated)
To access this tool, go here: Portent's Content Idea Generator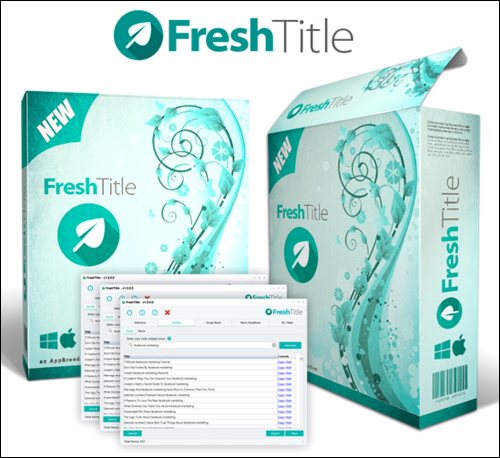 (Fresh Title)
FreshTitle Headline Builder is a 1-click software tool that's works on PC and Mac computers, and lets you instantly discover hundreds of engaging headlines & post titles for your web content in seconds.
With this software, you simply enter any niche key phrase you want (e.g. home schooling, online dating, survival equipment, etc.) and Fresh Title's built-in method returns over 830 pre-optimized and proven-to-convert headlines instantly that you can simply copy and paste into your content.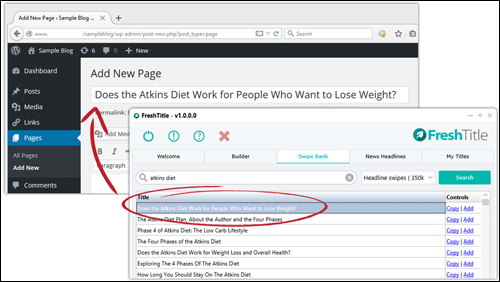 (FreshTitle Gives You Immediate Access To Thousands Of High-Converting Titles)
As well as typing in keywords into the software, you can answer a few simple questions and Fresh Title will generate you an additional 125 detailed and more finely optimized headlines that are also proven to convert.
Learn more here: FreshTitle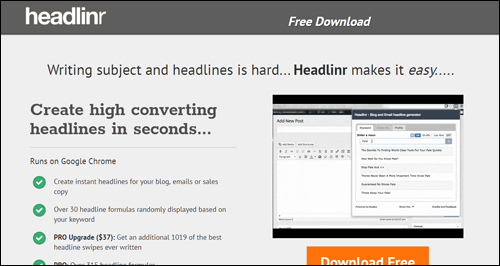 Headlinr is a Google Chrome browser extension that lets you quickly generate ideas for new blog posts and articles, Facebook posts, email headlines, sales copy, and more …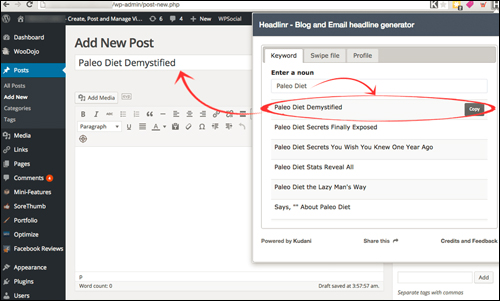 (Generate blog post ideas quickly)
Headlinr runs on Google Chrome. The FREE version of this extension generates over 30 headline formulas displayed randomly based on the keyword you enter. The PRO upgrade provides over 1,000 headline swipes, 315+ headline formulas, and lets you create your own headlines and swipes, add and store your own headline templates, blog post ideas and swipes, and more.
For more information, go here: Headlinr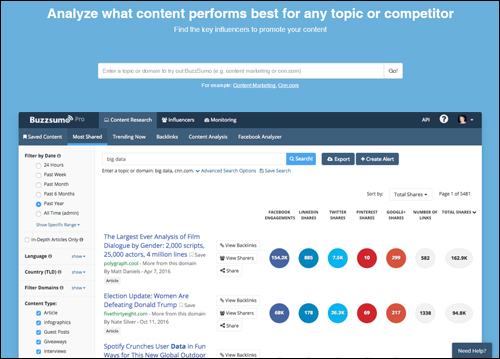 (BuzzSumo)
BuzzSumo is a powerful content marketing and market research tool that lets you analyze what type of content is popular with readers on the web and social media.
You can also use the free version of this tool to generate content ideas quickly. Just enter your keyword into the search field and click 'Go' …

(Enter your keywords)
BuzzSumo brings you a list of results …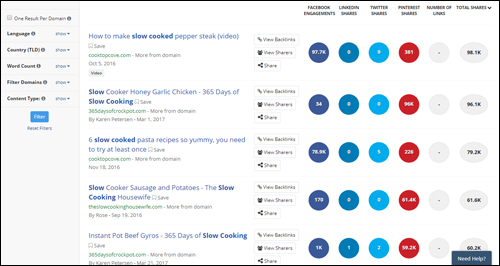 (BuzzSumo search results)
If you're just after some quick content ideas, the FREE version of the tool should be fine. The PRO version of the tool gives you access to all search results and much more information (e.g. backlinks, social engagement, key influencers, etc.)
To learn more about this tool, go here: BuzzSumo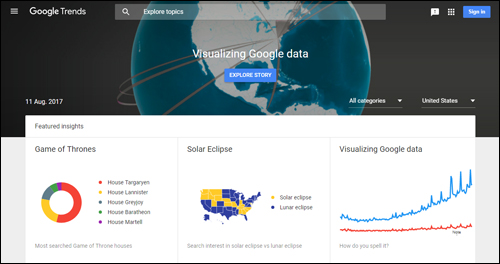 (Google Trends)
Google Trends is not only another valuable tool for performing market research and seeing what topics are currently trending but also for generating timely content ideas.
To explore trends and generate ideas for your topic, enter a keyword into the search tool and press 'Enter' …

(Enter your topic)
This brings up your results. If you want, you can also use the tool to explore how the topic is trending in areas like Google News, Google Shopping, YouTube, etc.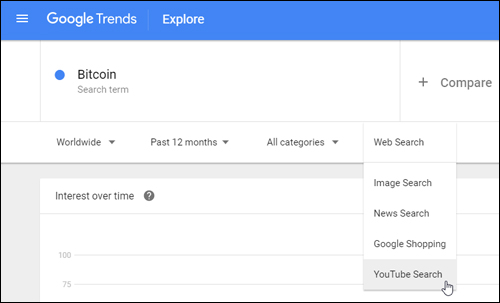 (Google Trends Results)
Scroll down the screen to the 'Related Queries' section to see what search queries are currently popular on Google …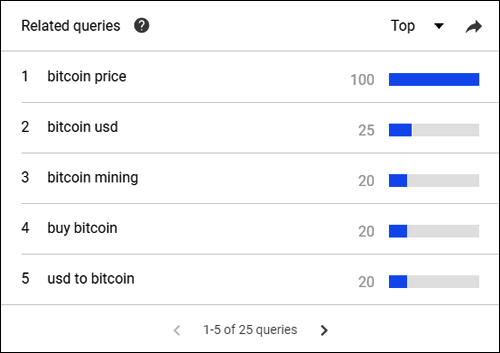 (Google Trends – Related Queries)
Click on 'Related Topics' to see what topics are popular right now This provides valuable information that can help you research your ideas further.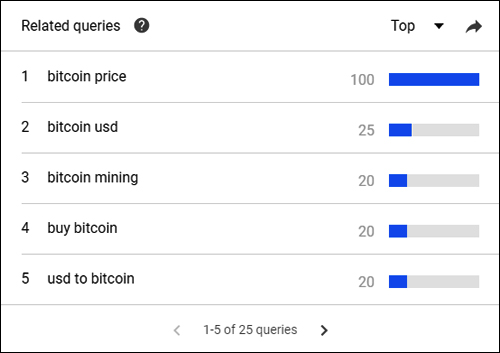 (Google Trends – Related Topics)
Google Trends also lets you see which way your topic idea is trending …

For more information, go here: Google Trends
Hopefully, the above tutorial has given you a number of useful and inexpensive tools that you can use to generate great content ideas quickly. For more great content generation ideas and content generation tools, subscribe to our FREE 120-Lesson Content Creation Course by entering your details in the form below …
For additional tutorials in our series on content marketing with WordPress, go here:
***
"I am beyond impressed with what you have put together. I can tell that you put a ton of hard work into building what you have. You have the absolute best content on WordPress I have ever seen!" - Robert T. Jillie
Disclaimer: This site has no direct association with WordPress or any of the WordPress-related products mentioned on this site. We may receive a financial benefit from sales of third-party products and services advertised on this website. All images are the copyright of their respective owners, comply with all license terms and agreements of use to the best of our knowledge and are used solely for training or illustrative purposes.
***
Did you enjoy this tutorial? Feel free to share this page with other WordPress users using the links below.