Create Cartoon Explainer Videos Easily With Toonly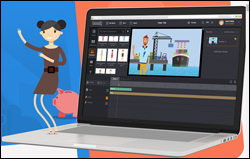 Video marketing is an effective way to promote your business online.
The main challenges of using videos to promote your business online, however, is that your target audience has a limited attention span and so many other competing businesses are also using videos.
Cartoon explainer videos can be very effective not only when it comes to grabbing and keeping a viewer's attention, but they can also be used to inform, educate, and convert viewers into prospective clients and customers, train users, simplify complex subjects, tell engaging stories, and a whole lot more! They are also great for getting your point across quickly, reducing customer support calls, and getting shared online.
Cartoon explainer videos work really well, but they can also be expensive to create. A digital agency will typically charge thousands of dollars to create a short animated video for your business, and some will even charge thousands of dollars per minute of video!
We have discovered an inexpensive and easy-to-use cartoon explainer video creation software that we are now using to create animated explainer videos in-house. This software tool is called Toonly.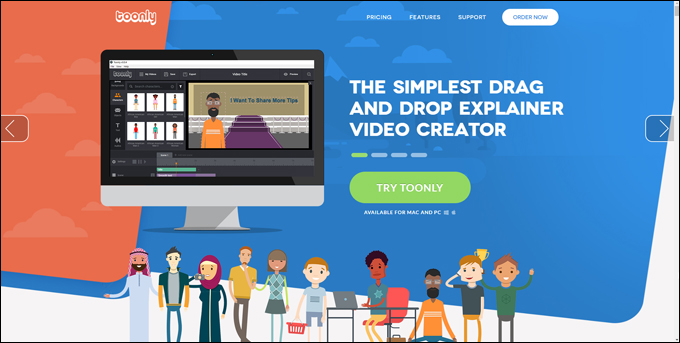 (Toonly – a simple drag and drop explainer video creator)
Toonly is a simple, inexpensive, and powerful drag and drop explainer video creation software tool that lets you create professional cartoon explainer videos quickly and easily without requiring video creation skills, animators, illustrators, etc.
Toonly was developed by the creators of Doodly, another powerful video creation tool that lets you create doodle videos.
Toonly is available for PC and Mac users. After installing and launching the software, simply login …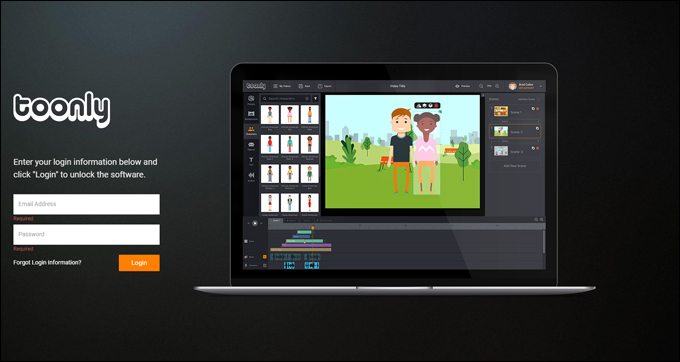 (Toonly login screen)
And you will come to the main dashboard ('My Videos') section, where you can create a new video or edit an existing video …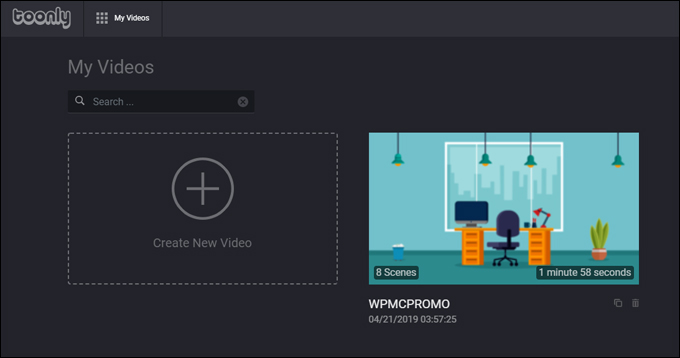 (Toonly dashboard)
Toonly has an intuitive interface. You don't have to be a video designer to start creating videos, as the software provides a growing library of built-in scenes, backgrounds, animated characters, text, objects (including the ability to upload your own images), royalty-free music backgrounds, and more. You can also add voice overs directly into your videos …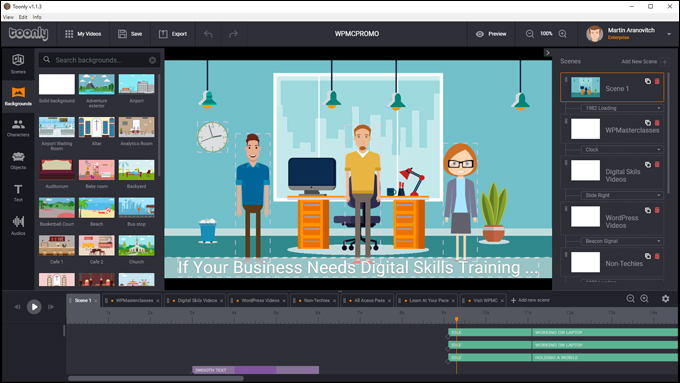 (Toonly video creation interface)
To create your video storyline, just drag and drop text or images (called objects) into a 'scene', adjust timelines, specify settings for your objects, preview and save, then create the next scene …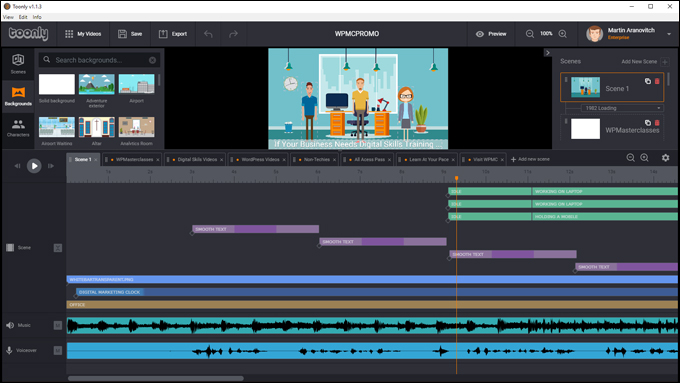 (Build an animated explainer video with multiple scenes)
Toonly provides many different scenes, scene transitions, characters, props, objects, etc. to build your video storylines. All characters are custom drawn by the software's own graphic design team, and you can import your own images into the program to add to your videos.
Animated characters come with dropdown menus allowing you to select the activity you want them to engage in during your scene. You can even make characters engage in multiple actions within a scene (for example, they can walk into a room, shake hands with another person, talk on a cellphone, then sit down and start working on their laptop, while other characters and objects are also performing their own actions …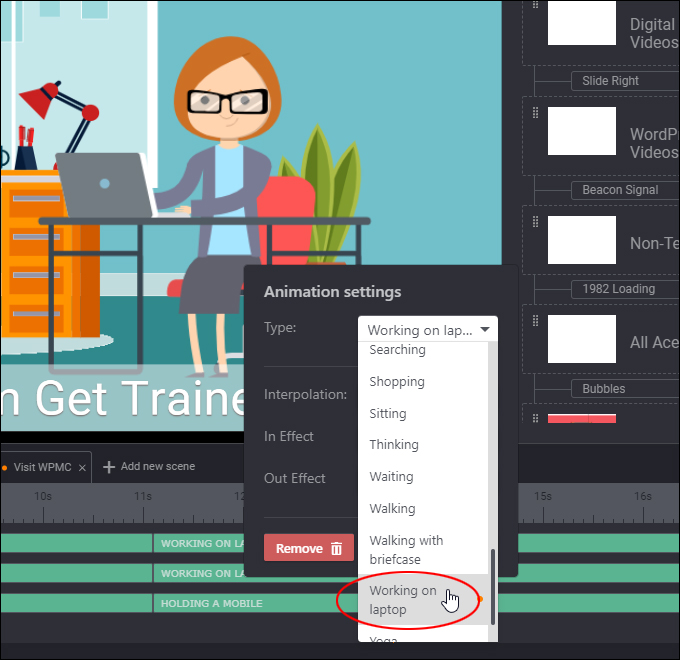 (Animate your video characters with various actions)
Toonly provides keyboard shortcuts to help make creating and editing videos faster …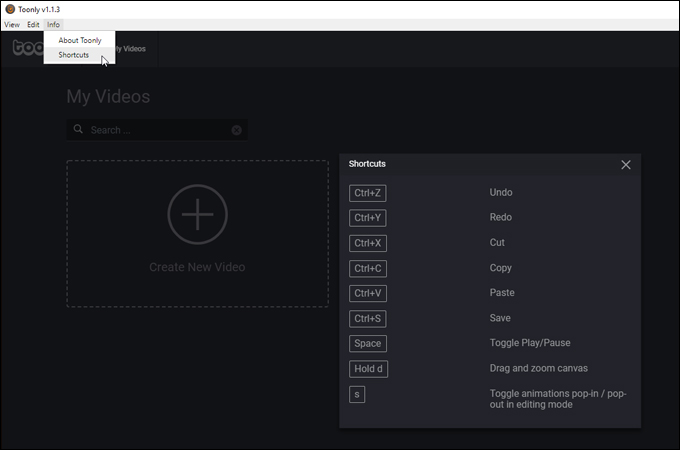 (Toonly keyboard shortcuts)
Toonly is also very well supported. As a user, you get access to video tutorials where you can learn how to use all the features of the software, a Facebook group where you can post questions and engage in discussions with other users, FAQ and customer support sections, a feature request page, and more …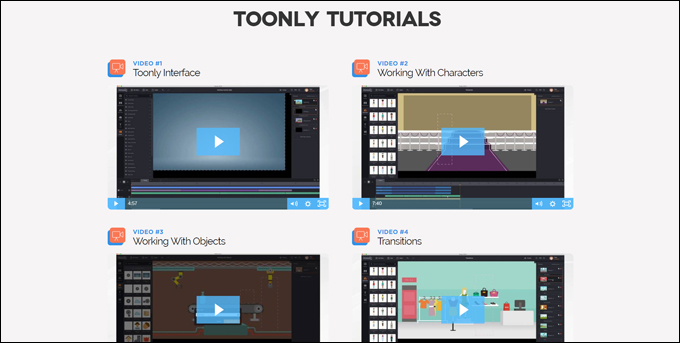 (Toonly is well supported)
The software is also regularly updated with new features and new elements …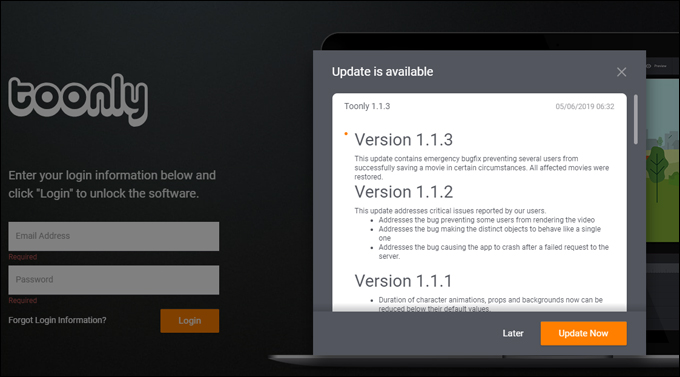 (Toonly is regularly updated)
Toonly is an ideal and inexpensive video creation tool that can be used in any niche, industry, or profession. The software can benefit users such as:
Small Business Owners & Service Providers
E-Commerce Store Owners & Digital Marketers
Information Technology Companies
Human Resources Departments
Trainers & Presenters
B2b Sales
Non-Profits
Etc.
Some of the many uses for Toonly include:
Landing/Email-Capture Pages
Facebook Ads
Social Media Channels
Video Salesletters
Crowdfunding
etc.
Here is a cartoon explainer video we created from scratch using Toonly in just a couple of hours …

(WPMasterclasses.com Promo Video)
[Note: The above video is displayed on this page using another very powerful video tool we have written about that lets you monetize videos on your WordPress site called Affiliate Video Pro.]
No doubt, videos are an important part of marketing your business online effectively. If you are looking for a powerful and inexpensive video creation tool that lets you create professional-quality engaging animated cartoon explainer videos quickly and easily without requiring any video design skills, then consider using Toonly.
For more information about the software, pricing, FAQs. etc. visit the site here:  Toonly – Cartoon Explainer Video Creation Software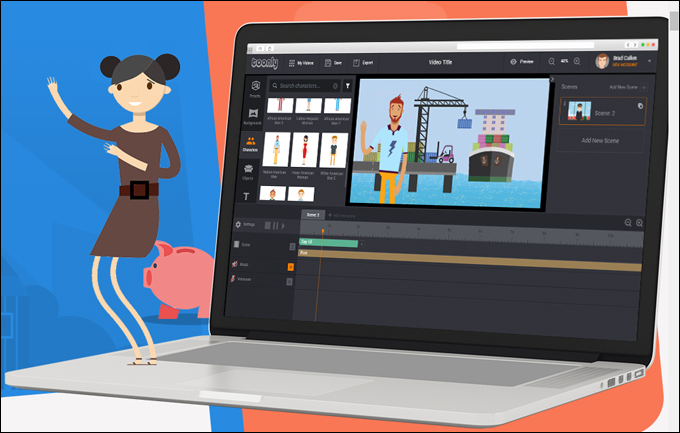 ***
"This is AMAZING! I had learnt about how to use WordPress previously, but this covers absolutely everything and more!! Incredible value! Thank you!" - Monique, Warrior Forum