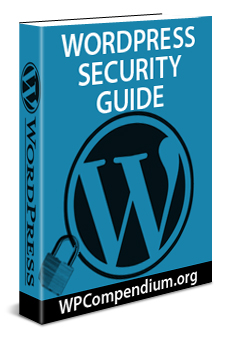 Round Corner, Australia – May 16, 2017 /NewsNetwork/ —
With cybersecurity threats on the rise, a free online guide to computer and website security for non-technical website owners has launched showing WordPress users how to improve the security of their sites regardless of technical experience.
WordPress website owners and small businesses who want to learn how to improve all aspects of their online security now have access to a free online guide to computer and website security written especially for a non-technical audience.
More information can be found at: https://wpcompendium.org/wordpress-security-tutorials.
With WordPress powering over a quarter of all websites worldwide, millions of small businesses face the risk of having their online security compromised by malicious activities of hackers, anonymous users, and bots spreading malware, ransomware, and other potentially disastrous viruses, which can strike anywhere in their system.
According to Martin Aranovitch of WPCompendium.org, "every website owner is responsible for learning the basics of how to improve their online security at all levels and not just hope that their web hosting company or web developer has this covered."
Online security begins by making online users aware of all the areas they may be leaving themselves vulnerable to being attacked and showing them basic ways to protect themselves and their assets. Although the free security tutorials on WPCompendium.org are aimed mostly at owners of WordPress sites, the information contained in this comprehensive online guide is beneficial to all website owners, especially non-technical beginners, as these are divided into various sections that explain how to keep passwords, computers, software, web browsers, web servers, website data, files, and web content secure, protected, backed up, and up-to-date.
Over six years of experience have gone into writing, compiling, and presenting the information available on the site. The site emphasizes that business owners looking for ways to grow and operate their business securely online can rely on WPCompendium as a valuable source of reference. While information in books and printed media tend to become quickly outdated, the online articles, tutorials, and guides found on WPCompendium are regularly being added to and continually revised to provide up-to-date information.
Tutorials in the WordPress modules also include checklists and guides that can be downloaded and printed and links to additional resources for more advanced users. More information can be found on the WPCompendium.org site or by visiting: https://wpcompendium.org/wordpress-security-tutorials.
Contact Info:
Name: Martin Aranovitch
Email: media@wpcompendium.com
Organization: WPCompendium.org
Address: PO Box 48, Round Corner, NSW 2158 Australia
Source: NewsNetwork
Release ID: 29902
Published by DistributionPress.com
***
"This is AMAZING! I had learnt about how to use WordPress previously, but this covers absolutely everything and more!! Incredible value! Thank you!" - Monique, Warrior Forum