The Small Business Digital Manager
Before starting or taking your small business online, we recommend downloading  "The Small Business Digital Manager" and completing our Website Planning tutorials.
(The Small Business Digital Manager)
Get More Traffic, More Leads, More Subscribers, And More Sales Online!
Small businesses often complain about depending almost entirely on their website developers to make better use of their online presence.
Most of these complaints center around not being able to make simple changes to their website as quickly and as easily as they would like to, add new features, or test new marketing ideas without constantly having to go through technical people like web developers and web designers to get better results online.
Not being able to make quick changes to your own site or waiting for service providers to reply to requests is costly for any small business struggling to get better results. Delays increase stress and frustration, stifle business momentum, kill time-sensitive sales initiatives, and lead to many valuable opportunities being lost.
Instead of an active and dynamic web presence that can help the business leverage its marketing efforts and generate new leads, many small businesses end up with an underutilized website with outdated information that they cannot easily manage themselves.
This book focuses on helping small businesses get better results online by showing them how to take control of their digital presence. It examines a fundamental misconception that many businesses have about outsourcing digital work, explains why most small businesses are not in control of their digital processes, why this leads to businesses becoming disempowered 'hostages' of their service providers, how to fix this, and how to get consistently better results like higher search engine rankings, more traffic, more leads, and improved sales conversions.
"The Small Business Digital Manager" provides small businesses with a new paradigm that puts them in charge of their online presence and in control of processes that generate better results.
This book does not propose any easy 'quick-fix' solutions It does, however, offer a more effective approach for small businesses that are currently struggling online and in need of better results.
Who Can Benefit From This Book
'The Small Business Digital Manager' is a "must-read" book for anyone who is:
Thinking of starting or taking a small business online,
Tasked with helping a small business manage its website or its digital marketing, or
Looking for a new career opportunity in the digital sector.
'The Small Business Digital Manager' contains over 150 illustrations, diagrams, and flowcharts.
Why WordPress Users Should Get This Book
One of the core strategies discussed in "The Small Business Digital Manager" is that having an expertly configured WordPress site puts a business in complete control of its digital presence …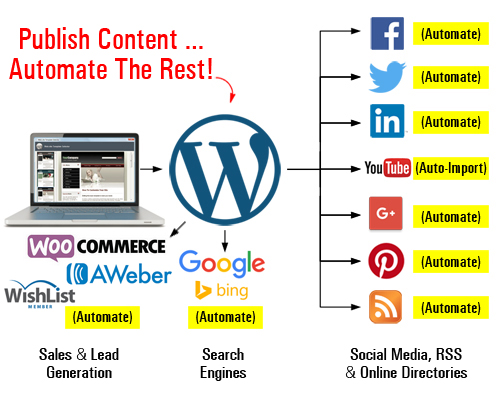 (Expertly Configured WordPress Site)
WPCompendium.org provides the step-by-step tutorials that show businesses how to achieve this using WordPress.
Small Business Digital Manager – Online Training Course
In addition to reading the book, we recommend enrolling in the Small Business Digital Manager online training course.
The course expands on the areas and methods covered in the book and provides additional resources, information, and documentation, including video tutorials, downloadable templates, checklists, support forum, and more.
Download 'The Small Business Digital Manager'
(Take Control Online And Drive More Traffic, Leads, Subscribers & Sales Online!)
Download "The Small Business Digital Manager" from Amazon.com today using the links below:
Note: Even if you don't own a Kindle device, you can still read "The Small Business Digital Manager" on your Apple or Android smartphone, tablet, or computer by downloading the free Kindle app from the Apple App store, Windows store, and the Android app stores on Google Play and Amazon.
Please feel free to share this page with anyone who may be thinking of starting or taking a business online or is interested in learning how to build a profitable and rewarding career helping small businesses get better results online.