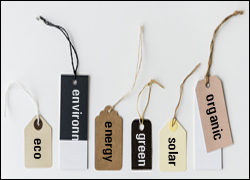 WordPress Tags should not be confused with WordPress Categories.
A Tag is similar to a Category, but smaller in scope. Categories are broad, and Tags are granular. Also, while a post may be filed under a single category, it can be referenced using several tags.
As an example, let's say that you like to keep all of your bills organized in a filing cabinet for easy access and retrieval, and you receive a bill for a "National Geographic" magazine subscription. After paying your subscription bill, you could file it away inside a manila folder labeled "National Geographic," which you then store inside an archive folder called "Magazine Subscriptions" …
Inside the National Geographic manila folder, you would not only store subscription bills for the magazine but also invoices, brochures and other special offers and announcements that National Geographic occasionally sends out to subscribers.
In this case, the archive folder called "Magazine Subscriptions" would be a category, and the manila folder labeled "National Geographic" would be a tag. All of the individual items inside the manila folder (i.e. the content) would share the same tag, which identifies them all as belonging to a collection of content that refer to National Geographic magazines.
Similarly, if your website was all about "travel" and you publish a review of a Sea Princess cruise to Tahiti, then you could file your post under a category called "sea travel" or "cruises," and depending on the content of your review, add more granular-level descriptive tags to your post like: Sea Princess, Sea Princess Cruise Review, Oceanview Deluxe, Tahiti, etc …
In this tutorial, you are going to learn how to set up and configure tags in WordPress.
To learn how to use tags in your WordPress posts, see the tutorial below:
How To Configure WordPress Tags
The step-by-step tutorial below explains when to use tags and how to add, edit and delete tags in WordPress.
Planning Your Tags
An easy way to remember the difference between Categories and Tags is that the Categories of your posts won't change often, but your Tags will probably change with every new Post you make.
Although tags can be added "on the fly" when you write a new post, it's always a good idea to do a little planning beforehand and think about the main tags you are going to be adding to your content.
Having said that, however, it's easier to plan your categories, than to plan your tags. While we recommend planning your categories before you start publishing your content and then adding a new category whenever one is required, it's more practical to add tags when you publish new content, and then administer them later.
Nonetheless, let's go through the process of setting up WordPress tags now, so you understand how to use the Tags section.
How To Add, Edit And Delete Tags In WordPress Posts: Step-By-Step Tutorial
In your WP admin area, click on Posts > Tags …
This brings you to the Tags screen, where you can perform a number of tag management tasks, such as adding, editing and deleting single and multiple tags …
Let's go through each of these options now.
Adding WordPress Tags
To add a new tag, simply fill in the fields in the Add New Tag section as described below:
Name – Enter a short tag name here, preferably 1-3 words.
Slug – The "slug" refers to the words that display in the URL of all posts published under a tag. Your slug can be different than your tag name. Note: Keep all words lower case and make sure they only contain letters, number and hyphens (i.e. no spaces between words). If you don't enter a slug into this field, WordPress will create one for you using a lower case version of your Tag Name.
Description – Write a brief description of your tag here (optional). Some WordPress themes display the tag description on your site, and it also helps with search engine optimization.
Click the Add New Tag button when done to add your new tag to the Table of Tags …
Repeat the above process to continue adding new tags …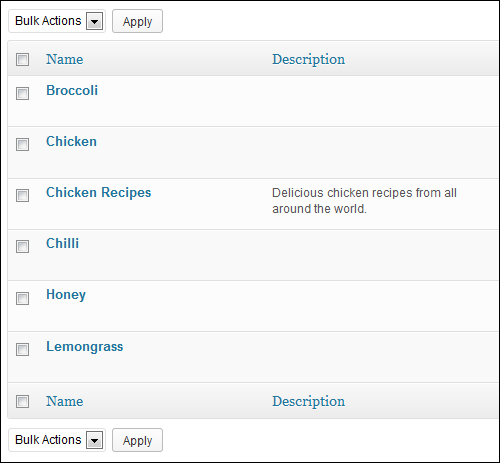 As well as adding tags in the 'Tags' area, you can add new tags while creating or editing posts …
WordPress also lets you add tags to posts by selecting a tag from a list of existing tags as soon as you begin typing a new tag name into the tag field …
Additionally, when you add new tags to a post …
… the new tag is automatically added to the Table of Tags …
To learn more about adding tags to WordPress posts, see the tutorial below:
Deleting WordPress Tags
You can delete WordPress tags either individually, or in bulk.
How To Delete A Single Tag
To delete a single tag, hover your mouse over the tag you want to delete and a menu containing a range of options will display. Click the Delete button in this menu to remove the tag from your list …
A message will appear asking you to confirm the item deletion. Click OK to proceed, or Cancel to stop …
How To Delete Tags In Bulk
If you have too many tags to delete individually, you will want to use the "bulk" delete feature.
To bulk delete tags, click on the main check box in the header row (next to the "Name" column title). This will select all tags on the page …
Next, go through the list and deselect any tags that you DO NOT want to delete. You can select/deselect tags individually by toggling on the checkbox next to the item.
Once you have selected all of the tags you want to delete, choose Delete from the "Bulk Actions" drop down menu …
With 'Delete' selected in the drop down menu, click the Apply button …
The selected tags will be deleted …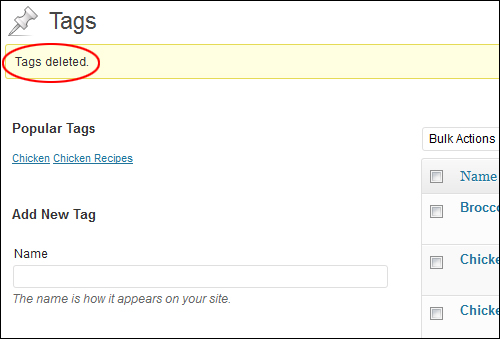 Editing WordPress Tags
If content is regularly being added to your site, then after a while your tags could end up becoming unwieldy, especially if you allow multiple authors to publish posts on your site (e.g. guest blogging), of if you use any type of content automation (e.g. auto-blogging), import content from other sites, etc.
To edit a tag:
Go to your Tags section,
Locate the tag you want to edit,
Hover your mouse over the item, and
Click on the Edit link …
This brings up the 'Edit Tag' screen. Make your changes in the tag fields, and then click the Update button to save your new details …
You can also edit a tag using the Quick Edit option. Position your mouse over the tag you want to edit and click on Quick Edit …
Make your changes and then click the Update Tag button to save your new details, or click Cancel to keep what you already have saved …
Popular Tags
The more content you publish using the same tags, the more popular those specific tags will become. This is reflected in your site's tag cloud …
WordPress displays Popular Tags in your tags section …
This lets you edit information about your most popular tags if necessary.
As the content in your site increases, the Popular Tags section also gives you a visual representation of the topics that are most written about on your site …
WordPress Tags – Additional Information
Unlike categories, tags have no hierarchy, so there is no Parent > Child relationship for tags like there is for categories.
Like categories, tag names and slugs must also be unique.
You can assign as many tags as you want to a WordPress post. However, it's best to keep these as focused and as grouped as possible. Some experts recommend using no more than 3 – 5 tags per post …
Tags help your readers find posts on similar topics (which helps to keep them longer on your site) …
Depending on how you configure your sidebar, you can display a Tag Cloud to your visitors using a Tag Cloud Widget …
See the tutorial below to learn how to add a Tag Cloud to your WordPress site:
When a visitor clicks on a Tag anywhere on your site …
An archive page displays all the posts published on your site that share the same Tag …
WordPress Tags – Useful Tips
You can view the same Tag Archive page as the one that your visitors see from your Admin area. Go to Post > Tags, and locate the tag whose archive page you want to see. Hover your mouse over the tag entry and click View …
Let's take a look at some other useful features of WordPress tags that are worth knowing about.
WordPress Tags – Sorting Features
Your Table of Tags allows you to sort items alphabetically (or in reverse alphabetical order), by hovering your mouse near the column title and then clicking on the little "triangle" icon that appears next to the title …
Your tags will be rearranged according to which column you've chosen to sort (e.g. Description, Slug, or Posts) …
WordPress Tags – Searching Features
You can search for tags by typing in a keyword into the search field and clicking on the Search Tags button …
This will bring up all Tags that contain your search keyword(s) …
By combining functions like "search" and "sort", you can narrow down your results even further …
If you have many tags, WordPress displays a number of Tag Pages in the Tags screen …
You can specify how many tags display per page. To set the number of tags to display per page, click on the 'Screen Options' tab at the top of your screen …
Enter the number of tags in the 'Tags' field (you can also hide columns like Description, Slug, and Posts) and click the Apply button …
WordPress Tags – Grouping Features
The 'Posts' column displays the number of posts assigned to each category. To see which posts share your tags, click on an item in the Posts column …
A list of all the posts that share the tag will display in your Table of Posts …
WordPress Tags – Tools
You can convert Tags into WordPress Categories using the tag to category converter link found below your Table of Tags …
This will take you to the Tools > Import section …
To learn more about converting tags into categories using the 'Categories and Tags Converter' tool, see the tutorial below:
WordPress Tags – Plugins
There are many great WordPress plugins you can use to help you manage post tags and enhance your tag clouds.
You can search for WordPress tag plugins inside your WordPress dashboard (Plugins > Add New), or the WordPress Plugin Directory …

(WordPress Plugins – Tags)
Search the WordPress Free Plugin Repository for tag plugins below:

Tip: Use A WordPress SEO Plugin
One additional step you can take to maximize the SEO benefits of using tags is to use a WordPress SEO plugin that lets you optimize your WordPress tags …
Hopefully, now you have a better understanding of tags and how to set up and configure WordPress tags on your site.
***
"I have used the tutorials to teach all of my clients and it has probably never been so easy for everyone to learn WordPress ... Now I don't need to buy all these very expensive video courses that often don't deliver what they promise." - Stefan Wendt, Internet Marketing Success Group
***