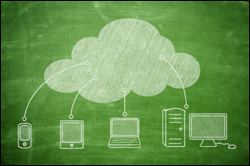 This tutorial is part of our WordPress Management tutorial series. In this tutorial, we look at setting up and using offsite (i.e. external) storage services like Amazon S3 cloud storage.
***
Offsite Data Backup System
Storing your data backups on your computer hard drive can present a serious a risk. If your computer crashes or dies due to excessive use or a malicious virus renders your hard drive inoperable, you could lose all of your valuable data.
Using a secure "offsite" data storage solution is a practical and sensible way to ensure that your valuable data can be recovered quickly if something happens to your computer.
Some of the more affordable offsite data storage options you may want to consider using include:
Purchasing an external hard drive
Using a solution like Amazon's Simple Storage Service (Amazon S3)
Offsite Storage Solutions
Amazon S3
Amazon S3 is a highly affordable, extremely secure and almost limitless offsite data storage solution. It is ideal for businesses and WordPress users who want to store and access images, media, and other files.

For a step-by-step tutorial on how to set up and use Amazon S3 to store your WordPress files and data backups securely offsite, go here:

How To Set Up An Amazon S3 Account
Other offsite storage solutions include:
Dropbox – Dropbox is a free service that lets you bring your photos, docs, and videos anywhere and share them easily.
CloudFlare – CloudFlare is a content delivery network and distributed domain name server service that offers free and commercial, cloud-based services designed to help improve website performance, speed, and security.

If you're not using Firefox as your primary web browser, we recommend that you consider switching to Firefox, or at least install it on your computer to make a number of browser based operations like performing file and data transfer services using FTP and Amazon S3 easier and more convenient for you. Firefox works on Windows, Mac, and Linux.
Next Step:

If you haven't set up an offsite data backup storage system yet, go here to learn how to set up an Amazon S3 account:

How To Set Up An Amazon S3 Account

If you have already set up an offsite data backup storage system yet, go here to learn about data transfer methods:

Data Transfer Methods

If you already know about data transfer methods like FTP or cPanel, go here to learn how to delete unnecessary and unwanted data:

WordPress Content Management
***
"If you're new to WordPress, this can stand on its own as a training course and will stay with you as you progress from beginner to advanced and even guru status." - Bruce (Columbus, Ohio)
Disclaimer: This site has no association with WordPress or any WordPress products mentioned or reviewed on this site. We may receive affiliate commissions or financial benefits from the sale of third-party products advertised, reviewed or linked from our site. All product images are the copyright of their respective owners and comply with all license terms and agreements of use.
***
Did you find this post useful? If so, please take a moment to use the links below and share this article with other WordPress users.