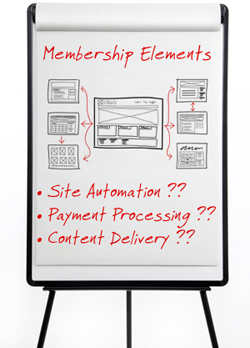 This is Part 4 of our tutorial series on building a membership site with WordPress.
In Part 3, we looked at different types of membership platforms that will suit your membership model and help you deliver your products or services.
In this tutorial, we look at some of the main components that allow you to set up and manage a membership site successfully.
***
How To Build A Membership Site With WordPress – Membership Elements
Getting the right elements together for your membership site is important because you will want to automate as much of your membership site's management as possible.
This includes:
Membership sign-ups and cancellations
Credit card processing,
Autoresponders
Content delivery system
Member support
Member training
and more …
(Membership Site Processes)
The more you can automate your membership processes, the more time you will have to spend promoting and growing your site and engaging with members. After choosing your membership format, and before you can begin automating things, the next step is to determine exactly how you intend to deliver your content and materials to paid subscribers.
Membership Site Components
If you elect to go with an email-based membership site, then all of your content will be sent through your autoresponder service.
With traditional membership platforms, however, you will want to choose a scalable, solid membership based software program that will make it easier to manage and grow your entire community.
A few things to keep in mind when evaluating potential software or scripts that will power your front and back end, is that you need to be able to control every aspect of your membership community, including:
Time Release Content
Also known as 'drip feed' content, you may want to be able to deliver content at specific intervals, rather than all at once. This prevents subscribers from being able to gain access to all of your content immediately upon joining, which would give them very little motivation to stay subscribed to your service.
Instead, you want to be able to control the content flow, so that a new subscriber is only able to gain access to a specific content package, or if you are running your membership site on a monthly basis, you would want only content from the first month of joining to be visible to each subscriber.
Content Management System
Unless you are proficient with HTML and coding a custom membership solution yourself, the simplest thing to do is use WordPress.
WordPress not only has a built-in content management system that lets you easily create pages directly from your administration panel, but there are many excellent WordPress Themes available that you can choose from, which let you easily set up and control every aspect of your membership pages.
For example, you can use a WordPress theme like the one shown below to set up a video membership site …
(WordPress Theme: Subscribely by InkThemes)
Or you can use a theme like the one below to create an entire membership portal with different page layouts for each section of your membership area …
(WordPress Theme: OptimizePress)
As you will see in a later section of this tutorial, WordPress is an ideal platform for running feature-rich membership sites, and also for simplifying the membership setup process considerably.
In fact, many of the elements discussed in this section are either already built into WordPress (e.g. content management system), or can be easily added using membership plugins.
Additionally, integrating complex elements like membership protection, credit card processing, and content delivery can also be easily done in WordPress with plugins, or via simple option configurations on third-party sites (many of which support WordPress integration).
Autoresponder Integration
Whether you choose to incorporate an email-based membership site into your program or not, you will want to be able to add every member who joins your site as a subscriber to a mailing list.
This way, you can follow up with members each time you update your site. More importantly, you will be able to build a profitable back-end system by offering additional upgrades, new content packages, one-time offers and special downloads.
To learn more about using autoresponders, see the tutorial below:
Payment Processing Automation
Ideally, if you are running a paid membership site, you will want to be able to collect credit card payments and automate the whole signup and payment process.
Typically, setting up payment processing on a website can be expensive and complicated. You have security issues to deal with, banking hurdles to overcome and more.
Fortunately, providers like PayPal, ClickBank, JVZoo, and many others can make this process extremely easy, secure and convenient for membership site owners …
(Integrate Online Merchant Services With Your Membership Site)
In essence, these providers can handle all of the payment processing, credit card security and content delivery for you. You simply create an account with them (most are FREE to register), add your product information to your account, and then insert a snippet of code they provide either into your sales page to create an order button, or into a field in your membership site plugin software.
When customers click on your order button to register, everything is then handled automatically by your merchant provider.
Full-Scale Affiliate Program
In order to jump-start your membership site and power it up with fresh subscribers and targeted traffic, you may want to integrate an affiliate program into your membership site so that both guests and members can earn commissions by referring new members.
This is a great way to generate fresh leads while taking your online business to a whole new level. There is no other method of maximizing exposure that even comes close to what an active army of affiliates can do for your business.
To learn more about using merchant services and affiliate networks for your membership site, see the tutorial below:
The above covers all of the main elements you need for setting up and automating your membership site.
In our next tutorial, we look at software options for setting up and managing your membership site.
To view the next tutorial in this series, go here:
To learn more about WordPress membership plugins, go here: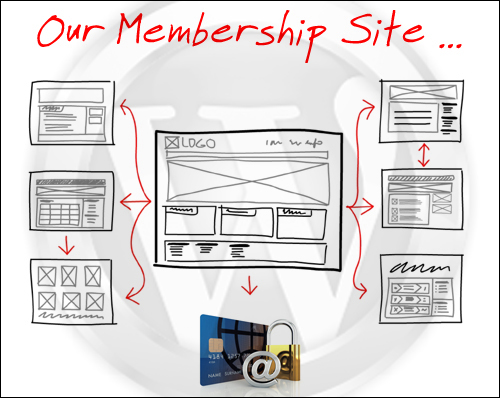 Back To Overview Of Membership Sites
***
"I was absolutely amazed at the scope and breadth of these tutorials! The most in-depth training I have ever received on any subject!" - Myke O'Neill, DailyGreenPost.com
***