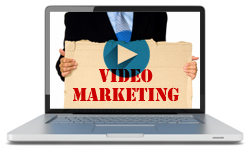 This tutorial is part of a series of tutorials we provide on content marketing and web content creation! We recommend subscribing to our FREE content creation course for more information, tips, methods, and strategies on ways to create great content for your website or blog.
***
Content Marketing With WordPress – Video Marketing
In this series of tutorials on content marketing, we continue exploring different content types and formats that you can use to increase exposure online for your business and drive more traffic to your website.
In this tutorial, we look at incorporating video marketing into your content marketing mix, including video sales letters and promo videos.

To learn more about adding videos to WordPress, see the tutorial below:

How To Add Videos In WordPress
Video Sales Letters And Promo Videos
Videos are a great way to market and promote your business online, and a great format for delivering and distributing content and information.
A video sales letter in its simplest form is just text on a screen with audio and is designed purely to sell your audience a product or service. Unless your sales pitch is riveting, it can be a little boring for viewers.
To create a more effective video sales letter, consider creating a narrated video recording of your sales presentation using screen capture software like Camtasia Studio and a slide presentation, and spend a little time making your slide presentation more engaging using animated text, images (e.g. product shots), etc.
Video sales letters often convert better than standard sales letters, even if you use the same basic sales copy and techniques! Why? Because it's a lot more personal when people can hear your voice and maybe even see your face.
And there are many other reasons. Even if you don't want to appear on camera, just hearing a voice actor can make a huge difference.
So let's find out how you can get started with your own video sales letters!
Why Use Video Sales Letters?
Video sales letters are popular because they can often convert better than traditional sales letters.
Here are some reasons why:
Video Sales Letters are more interesting and can hold the viewer's attention longer than text.
They are easier to trust because you can hear and possibly see the product creator.
People who watch an entire video presentation are much more likely to spend money than those who can't or won't.
There are also some minor drawbacks to consider:
Some people prefer to "skim" a sales letter and don't have the patience to sit through a video.
People on slow internet connections may not be able to watch the video even if they want to.
Videos use more bandwidth, so you need to make sure that your server can handle the additional load if you get a lot of traffic.
Video truly converts, and if you're not using video sales letters, you are missing out on potential sales. You can always have an alternate sales letter for people who leave your page without watching the video. Just set it up to open if they click the back button or close the window.
Video can also work well on squeeze pages, so if you have been having trouble getting people to opt into your email list, you might try a short video on your squeeze page.
Video Marketing Challenges
There are really only two challenges when it comes to marketing and promoting your content using videos:
Creating the videos.
Getting your videos seen.
1 – Creating Videos
Creating videos for marketing your business online is no longer really a problem. As you will see in a moment, there are many excellent and inexpensive tools that allow you to create videos quickly and easily, without having to invest in expensive video recording equipment, or spend time developing professional video editing skills.
Video-sharing sites like YouTube are filled with videos shot from mobile phones. If kids can do it, so can you. You can use the same technology and methods to promote your business online.
For example, let's say you run a local trade service like roof repairs or retiling. You can create "before" and "after" videos showing the work you've done and upload your videos to YouTube. If you use WordPress, you can quickly blog about your latest job and drop in a video so your visitors can understand the process and see the results. And you can do all of this in very little at no cost.
In addition to creating videos with your smartphone, you can also create screen capture videos. This is useful if your business involves using computers or software, or showing people how to do things using a computer or a laptop (e.g. software training).
Creating business marketing videos is not difficult. One the best and simplest ways to start, is to create a simple script using a presentation tool like MS PowerPoint (windows users) or Keynote (mac users), and then record this using a screen capture video software tool (see resources section below).
2 – Getting Your Videos Seen
Getting your videos seen by hundreds or thousands of online users can help bring lots of traffic to your site, more customers, and more sales. To get your videos seen by people on sites like Google, YouTube and other video sharing sites (e.g. Metacafe, Vimeo, etc.), you need to learn how to rank well, which involves learning how to research keywords, optimize titles and descriptions, and analyze your competition to understand what you can do to rank better and get more viewers.
Fortunately, there are tools and resources that can help you create videos and also get them seen by more people, and we'll explore some of these later in this tutorial.
Tips For Creating Engaging Video Sales Letters
Here are some things you can do to make sure that your video sales letters are engaging to viewers and the best they can be.
1. Grab Attention – Just like your headline, you need to make sure the first few moments of your sales video grab attention. Use appealing text, great music, and interesting imagery.
2. Be Brief – A video sales letter is generally most effective at between 10 and 25 minutes. Sometimes longer videos are necessary and effective, but most people will lose interest if you go beyond this range. So, keep your video to a reasonable length, but also long enough to say everything you need to say.
3. Solve a Problem – As in a normal sales letter, your video should focus on at least one problem your product can solve and present that clearly.
4. Stay Positive – You may have some negative things you need to focus on, but the overall tone of your video needs to be uplifting.
5. Use Auto-Play – I'm sure you've heard people talk about how much they hate auto-play. Yes, there are people who truly detest it. But the fact is, it works. Whatever your personal feelings are about it, you should consider using it because you'll see results. If in doubt, test your video sales letters with and without auto-play.
6. Don't Show Video Controls – Another proven fact of video sales letters is that you shouldn't show the video controls. Don't make it so people can click ahead or go back. Don't make it so they can pause it. Just keep the controls off. Once again, if in doubt, test your video sales letters with and without displaying video controls.
7. Use Music Carefully – Music can be a great tool in video sales letters, but it should be used carefully and judiciously. Be sure that music isn't playing in the background when you're speaking, because it could distract from your message.
Important Video Sales Letter Features
There are some features that can really make a difference to the effectiveness of your video sales letters. These elements should be included in every video sales presentation you create.
Headline
First of all, you should be sure your video has a headline. This should be in the video itself, in the script, and possibly on the web page itself beside or above the video.
As with regular sales letters, the headline is perhaps the most important element of all, so be sure it's a good one.
Solving the Problem
Earlier, we touched on the importance of presenting how your product solves a particular problem (or problems.) It's a good idea to focus on one main problem, but you could present a few other smaller problems, too.
Be sure you really stick that problem in front of the viewer's nose in a way they can't escape from. You can do this by mentioning the problem repeatedly in different ways, and even presenting various scenarios that might happen if they don't solve the problem. Make sure your product is presented as the solution to that problem.
Use Scarcity
Love it or hate it, scarcity works. Be sure to let people know they won't be able to get your offer for long. Either the product will be taken off the market, or the price will go up, but let them know that they must act right away.
Don't Forget A Call-to-Action
Tell the viewer what you want them to do. Don't expect them to read your mind! Do you want them to buy? Then tell them to hit the BUY NOW button. Do you want them to opt-in to your newsletter? Then tell them to enter their name and email address and hit SUBMIT. Whatever you want them to do, TELL THEM!
Include Social Proof
Social proof is a major key to getting sales on any kind of sales letter. This could be your credentials in your market or your testimonials. (Video testimonials included in the video could work well!)
Don't Forget A Guarantee
As with any type of sales letter, a solid guarantee can help close the sale. Let people know that if they aren't happy with their purchase, they can get their money back with no hassle.
Use Graphics Wisely
Graphics can be an important element in a traditional text sales letter, but they can be extremely distracting on a video sales page. Generally speaking, graphics should be used very sparingly on video sales pages.
Making Video Sales Letters
If you don't know how to make sales letters, you'll either need to learn to do it, or hire someone to do it for you.
The best option, of course, would be to learn to do it yourself. Not only is that the least expensive option, but your videos will almost always perform better with that personal touch.
Think about it. Who knows your product better than you? You are obviously the best one to present your product. You will gain a lot more credibility if you can look at the camera and say, "Hi, my name is Jane Smith, and this is my product!"
Sure, you can have someone else create the video for you, but it is so much better if you can put your own personal touch in the video and inject your personality into it in the same way you inject your personality into your product.
Video Creation Tools
There are some things you will need if you're going to make your own videos. These tools (software and hardware) will make life a lot easier for you if you intend to make your own videos.
Good Acoustics
The first thing you'll need is a room with good acoustics. Otherwise, you're likely to get a terrible echo, or it will sound like you're speaking in a tunnel. Ideally, you'll want to film in a small room filled with plush furniture (like sofas and beds) that can absorb a lot of the sound reverberations.
A Video Camera
You don't need to invest in an expensive video camera. Even a good camera phone will do. (Most high-end cellphones have a decent video camera built in.) Just be sure the video and sound quality are acceptable. Of course, you won't need this if you're going to do a screen grab type video. But if you're going to appear on camera yourself, or have an actor do it, you'll need a decent camera.
Decent Lighting
If you're going to be on camera, you need to be sure the lighting in the room is good enough to ensure your features are well lit and there are no harsh shadows.
A Good Microphone
If you're using a video camera with a decent built-in microphone, you probably don't need to worry about this. However, if you're doing a screen grab style video, or one that focuses on images and slides, you'll need a good microphone to record your voice. At the very least, you should hire someone to do the voiceover if you don't want to use your own voice. Videos with voice outperform those that don't by a wide margin.
Software
There are many good video creation software packages to choose from. We cover these in the section below.
Video Tools & Resources
The tools and resources below will help you create great screen recordings and engaging sales videos: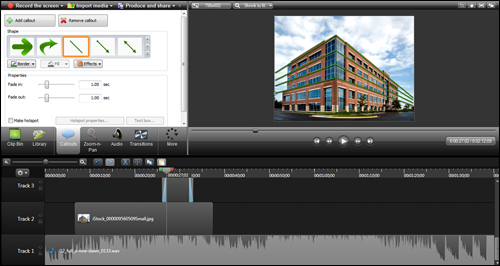 (Camtasia Studio – Professional Screen Capture Videos)
If you need to create professional screen capture videos, you can look at using a software tool like Camtasia Studio.
Camtasia is the leading screen capture video creation tool on the market. It lets you record on-screen activity, customize and edit content, add interactive elements, import media and create high-quality videos in a range of formats and sizes.

Go here to learn more:
Camtasia Studio
There are also excellent and inexpensive software tools that let you create professional animated marketing videos, including the popular "whiteboard" hand drawn sketch videos: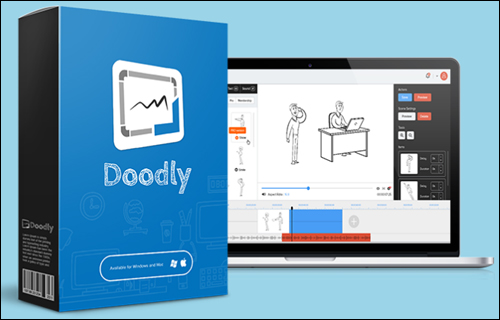 (Doodly – Simple Drag and Drop Doodle Video Creator)
Doodly is a simple and user-friendly drag and drop video creator. This powerful and professional doodle video software lets you create both whiteboard and blackboard videos with ease. you can use hundreds of built-in characters, props, images, fonts, and sounds, or upload your own images, fonts, and sounds, then export and share your videos in multiple formats and quality levels.

To learn more about this powerful animated video creator, visit the site below:

 Doodly – Simple Drag and Drop Doodle Video Creator
(VideoMakerFX – Video Creation Software)
VideoMakerFX lets you create professional animated sales videos, presentations, explainers, logo openers, photo slideshows, and more.

Go here to learn more:
VideoMakerFX
(EasySketchPro – Create Doodle Sketch Videos)
EasySketchPro lets you creates amazing doodle sketch videos quickly and easily from your desktop, including turning photos and videos into hand sketched doodles.

Go here to learn more:
EasySketchPro
(Explaindio – Whiteboard Video Creator)
Explaindio Video Creator lets you create HD videos with animation, whiteboard hand-drawn sketch videos, combine text overlays and images with videos and more in one very easy-to-use program.

Go here to learn more:
Explaindio Video Creator
If you want to create simple video sales letters with just text on a screen and audio, then consider using a video sales letter creation tool like EasyVSL.
(EasyVSL – Easy Video Sales Letter Creator)
EasyVSL is designed to create very simple PowerPoint-like sales presentations, but it makes the entire process of creating video sales letters much faster and more efficient.
You just choose the font and design of your text from several options included, then type or paste your script into the software and click inside the text to define each new slide. You can then edit your slides and sync your audio narration track to the video, choose a video quality setting for the output and EasyVSL will then encode your video in MP4 format, and your video is then ready to be uploaded to YouTube.
EasyVSL lets you create simple video sales letters very quickly and without any video editing skills required.

Go here to learn more:
EasyVSL
Here is an example of a sales letter video created using an animated whiteboard video tool:
Basic Tools
Here are some basic tools you can use to start building some of your video slides, depending on whether you are a Windows or Mac user, or want to use free software like OpenOffice:
 MS Powerpoint
 Open Office
 Pages For Mac
Outsourcing Your Video Creation
What happens if you don't know the first thing about creating a video sales letter and absolutely hate the thought of even trying to do it yourself? You'll have to outsource it, of course. Outsourcing can be effective, but just remember that you will lose your special, unique voice, and no one but you will understand your product the way you do.
For this reason, it's critical that you work hand-in-hand with your video creator in order to develop a script that really showcases your product the way you would.
If you decide to outsource the creation, be sure you check out samples the person has done to ensure they are capable of creating the kind of video you want, and make sure you have the basics of your script ready.
Distributing Your Videos
To increase the online visibility and viewership of your videos, add them not only to your website or blog and YouTube.com, but also submit your videos to other video-sharing sites, like the following sites:
Vimeo.com
Vevo.com
Veoh.com
DailyMotion.com
Metacafe.com
Flickr.com
You can do your video submissions manually one at a time, or use a software tool to submit your videos to multiple sites with just a couple of mouse clicks, like the Hydravid Video Distribution tool.
(Hydravid Video Distribution Tools)
Hydravid is a desktop application that lets you submit your videos to multiple sites simultaneously, including different accounts on the same video-sharing sites, and even upload different unique versions of your videos. The software also offers an upgrade module that lets you automate the distribution of your videos on a monthly basis.

Go here to learn more:
Hydravid
Summary
Videos are a powerful and effective content marketing strategy. As such, there is also a lot of competition to get videos ranked in highly sought-after niches and seen by thousands of online users.
It can be daunting trying to learn how to make video sales letters, especially if you're relatively new to internet marketing in general, but if you can learn to do them, or pay someone else to do them for you, it's likely you will find that your product converts better than you ever thought it could.
It's been proven time and time again that video converts. Nothing says you can't have a backup text sales page, too. But, in general — and depending on your target market, video can often convert better.
If you can't create your own videos, outsourcing them can be remarkably affordable. But remember to work carefully with the creator in order to be sure as much of your unique voice is preserved as possible.
Don't let fear or concerns deter you from learning how to create your own videos. It's fun, and a lot easier than you probably think!
Action Step
Begin scripting your video presentation using a tool like PowerPoint or Keynote, or just start with sentences on a plain text file.
Here are some great tips from professional business video production companies that will help you create a better video script:

To learn more about creating promotional videos for your business, see the video tutorials below:

How To Create Promotional Videos For Your Business
Congratulations! Now you know how to create simple video sales letters and video promos for your products and services.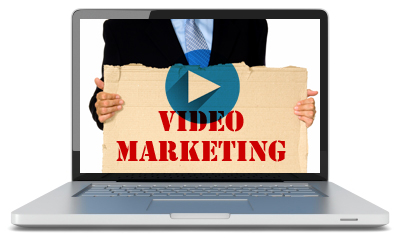 ***
"These tutorials have so much information and are easy to understand. If you use WordPress or plan to in the future these will help you with everything you need to know." - Valisa (Mesa, Arizona)
Disclaimer: We have no association with WordPress or any of the products discussed on this website. We may receive affiliate commissions or financial benefits from sales of any third-party services or products mentioned on our site. All product images remain the copyright of their respective owners and comply with all license terms and agreements of use to the best of our knowledge.
***
Did you enjoy this tutorial? If so, please take a moment and share this page with other bloggers using the social links below.