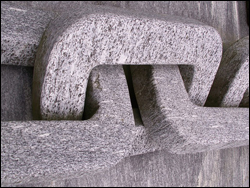 According to Moz, the SEO consulting company, "internal links are hyperlinks that point at (target) the same domain as the domain that the link exists on (source). In layman's terms, an internal link is one that points to another page on the same website."
The WordPress CMS platform comes with built-in content linking features, such as custom menus, permalinks, text links, tags, categories, and archives pages, site search pages, link widgets, sidebar widgets (e.g. Latest Posts), entries RSS, an internal link tool, post excerpt links, etc. Additional linking functionality can also be added to WordPress using plugins. In short, WordPress is perfect for adding extensive content linking.
In this step-by-step tutorial, you will learn about the SEO benefits of using internal links in your content, and how to easily link content using the WordPress internal linking tool.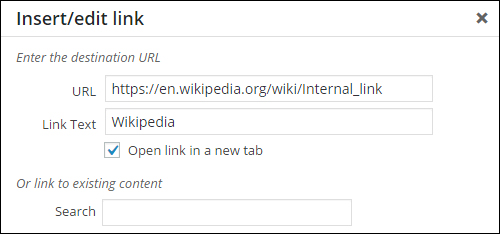 (WordPress Linking Tool)
Internal Content Linking Benefits
Internal content links are simply links added to your content to relevant content on posts and pages on your website or blog.
As defined by Wikipedia …
"An internal link is a type of hyperlink on a webpage to another page or resource, such as an image or document, on the same website or domain. Hyperlinks are considered either "external" or "internal" depending on their target or destination. Generally, a link to a page outside the same domain or website is considered external, whereas one that points at another section of the same webpage or to another page of the same website or domain is considered internal." (source: Wikipedia)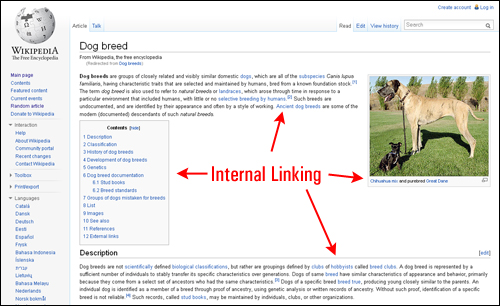 (Wikipedia's pages are full of internal content links)
Adding links to web pages provides a number of benefits, not only for website owners, but also for visitors and search engines. Internal content linking lets visitors access more content and ensures that search spiders can better index pages. Websites like Wikipedia use internal links extensively for traffic.
Benefit Of Internal Content Linking #1 – Improved Site Usability And User Experience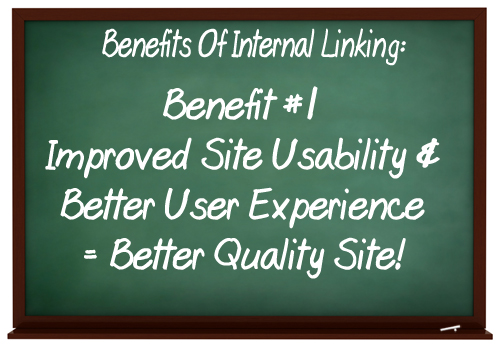 (Use internal links to improve site usability and user experience.)
One of the main purposes of a website is to provide users with the relevant content they are looking for. By providing users with easier access to other areas of your site containing more of the content they want to see, you not only improve the usability of your site, but also your website's user experience.
Improving the quality of the user experience means that visitors stay longer on your site and visit more pages. If you plan things well, this can easily lead to more sales or sales enquiries.
Make sure that what you are linking together is relevant for your users. For example, it makes sense to link your company page to your contact details page.
Benefits Of Using Internal Content Links #2 – Site's Search Results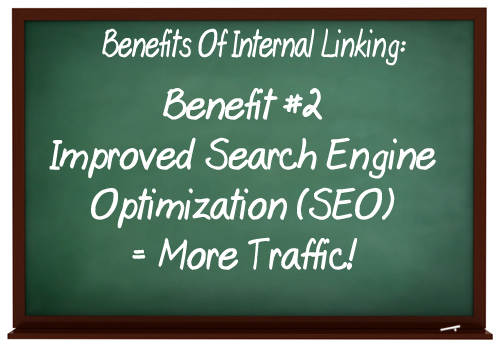 (Use content linking to site's SEO results.)
Adding links in your content improves your search results. Linking to other posts and pages on your website helps search engine indexing spiders crawl your web pages faster, more easily and more thoroughly than if your site was comprised only of standalone posts and pages. This can result in more organic search traffic to your site.
One of the more effective ways to improve your site's search engine optimization is by combining internal links with keyword relevancy. This is easily achieved by adding keyword terms to hyperlinks (these are called anchor text links).
For example, if your website provides travel-related services or advice, you could link the keyword phrase "romantic cruises" from an article on different types of vacations to another section of your website listing romantic getaway destinations. This helps search engines get a better understanding of what your website is about.
Using anchor text links is more effective for visitors and search engines. You can add keyword-relevant text links to content titles, body text, image captions, and so on.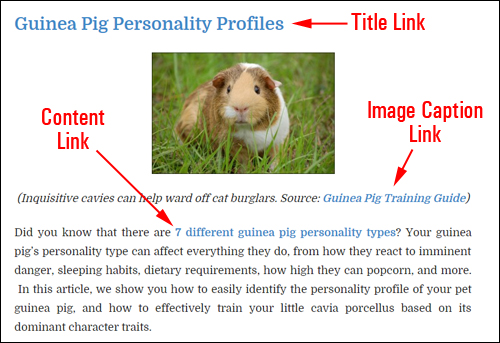 (Use keyword-relevant text links on content titles, body text, image captions, etc.)
Benefit Of Internal Links #3 – Increased Content Visibility & Exposure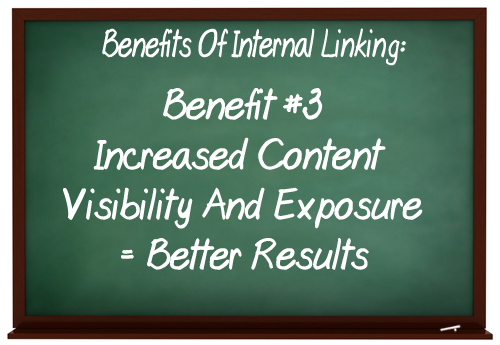 (Use internal content links to increase content visibility & exposure.)
In WordPress, as you continue adding content to your site, your post entries will get older and get pushed down the chronological table. This can cause posts to become less popular.
If there is old but useful content on your site that you would like more visitors to access, consider adding internal links within the content of some of your more popular pages pointing to your less popular pages to increase their exposure, and/or add links to older posts to help them get found again by visitors and search engines.
The more content you have being seen by visitors and being indexed by search engines, the more visibility and exposure your business receives online … and this can lead to better results!
How To Use The Advanced Content Hyperlinking Tool In WordPress
In WP v. 3.1, an advanced linking function was introduced that allows you to link content in your pages to other posts and pages on your site. This feature was improved in WordPress version 4.5 to include an inline linking tool.
Prior to this feature, if you wanted control over your internal linking strategy, you would have to manually look for the page you wanted to link to, then copy its URL and manually link to it in your content. Now, linking to pages and posts in WordPress is really simple.
Here's how to do it …
Log into your WordPress site, locate and open the post or page you would like to add links to.
Next, find and highlight the words you would like to transform into a link.
After selecting and highlighting the text, click on the linking tool in the WordPress WYSIWYG editor menu (< here's an internal link!) …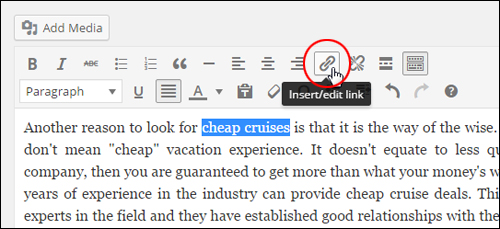 (WordPress visual editor – content link feature)

If you find yourself In the 'Text' tab of the content editor, click the 'link' button to access the feature …

(The feature can also be accessed in the 'Text' tab of the WordPress content)
The Inline Linking tool appears below the highlighted words …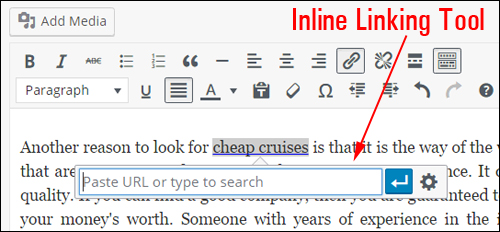 (WordPress Inline Linking Tool)
Paste in your link URL or start typing a word or keyword phrase related to the page or post you want to hyperlink into the field to bring up related posts and pages …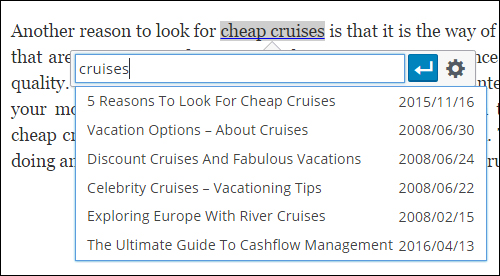 (Enter a search term to bring up related posts and pages)
Click the 'Return' button to add your link …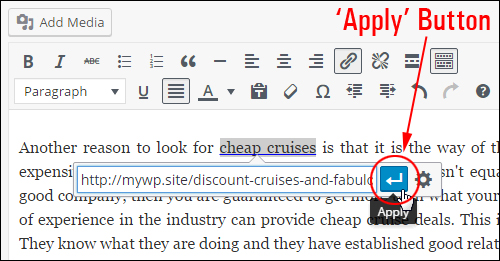 (Inline Linking tool – Apply button)
Your link will be inserted into the content …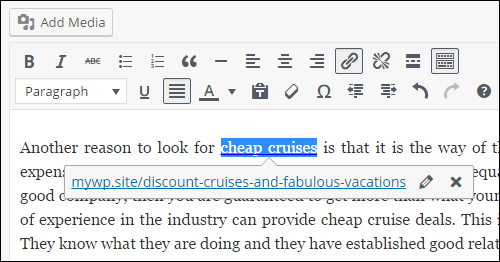 (Link added to content)
You can also access the advanced linking tool by clicking on the gear ('Link Options') icon …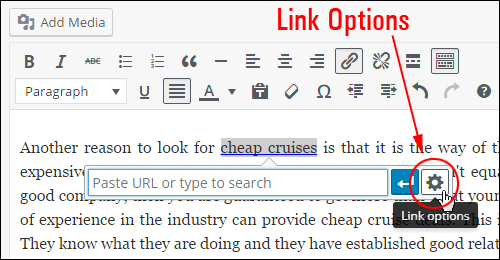 (WordPress Inline Linking tool – 'Link Options' button)
This brings up the Insert/edit link window …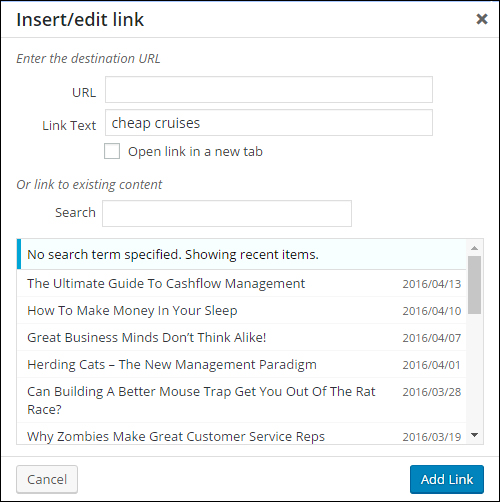 (Advanced content link tool)
The Insert/edit link tool is divided into two sections:
Enter the destination URL
Paste in the URL of your target link, add the Link Text associated with the link and select whether to open the link in a new window …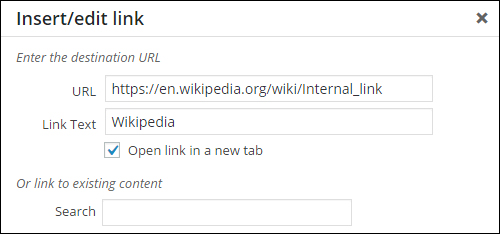 (WordPress Insert/edit link tool)
Or link to existing content
This is the advanced linking feature that allows you to insert internal links into your content. Type a word or keyword phrase related to the page you want to hyperlink in the Search box. WordPress will automatically begin searching for pages and posts containing those words …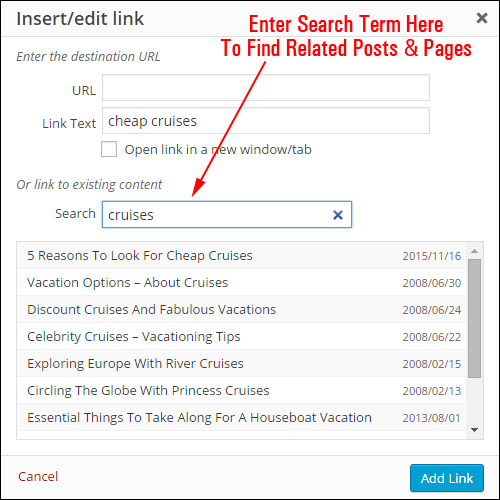 (Type in the search term to display related content)
Click on the title of page or post you would like to link to, and the item's URL automatically gets inserted into the fields in the destination URL section …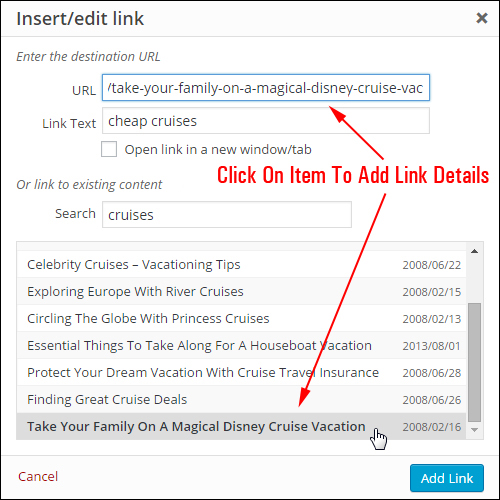 (Click on the post or page you would like to link to in your content)
Notice that the tool lets you link to posts or pages and shows you which item is what …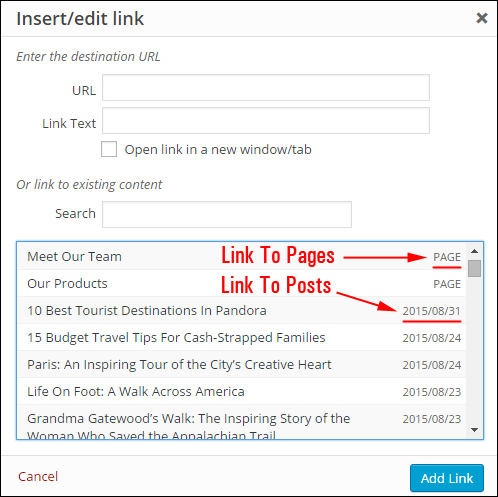 (Link to pages or posts)
You are not limited to posts or pages. You can also link to custom post types (these are post types created to display information in a specific way), like products, categories, etc. …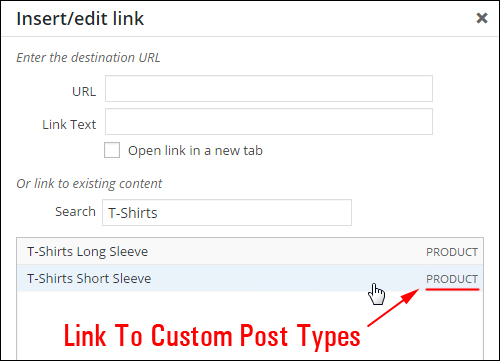 (Create internal links to custom WordPress post types in addition to standard posts or pages)
If you want the linked content to open in a new window, select the Open link in a new window/tab box and click the Add Link button to create your internal link …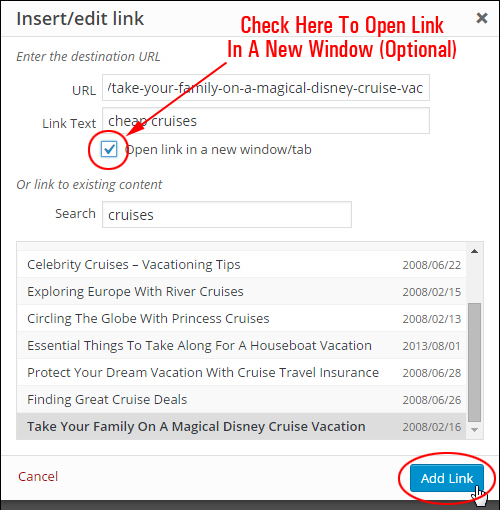 (Tick the box to open your link in a new window)
Note that the ability to open linked content in a new window or tab can be used for both internal and external links …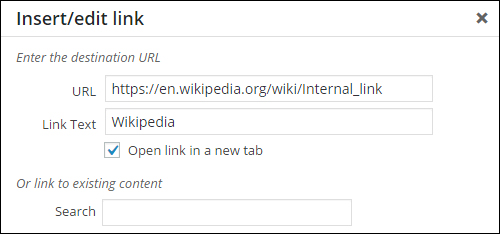 (You can open external and internal links in new windows – even external links pointing to content about internal links!)
Congratulations … you have created an internal link to content in other posts or pages …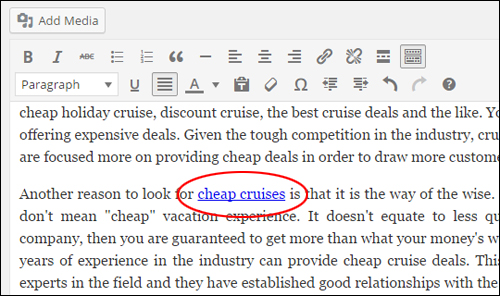 (An internal link)
WordPress Automatically Detects Broken Links
From version 4.6, WordPress now automatically checks when you add hyperlinks to detect broken links. If you add a broken link (e.g. add a space in the URL), WordPress will let you know, allowing you to fix the link before publishing it to your site. …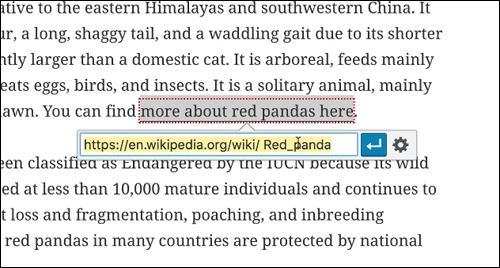 (WordPress automatically detects broken links. Source: WordPress 4.6 Features)

WordPress can automatically detect if you type in a broken link but it can't detect whether a correctly entered link leads to a 'not found' page error or a destination page that can't be accessed (e.g. server down or website deleted).
To learn how to detect and repair broken links, see the tutorial below:
Link Boundaries
In version 4.8, WordPress introduced a new feature called Link Boundaries that fixes common issues users experience when trying to update a link or the text around a link and can't seem to edit it correctly.
These include:
Editing text after the link and finding that the new text also ends up linked,
Editing text in the link but finding that text ends up outside of the link.
Link boundaries create a 'shield' around the link to help streamline the link editing process …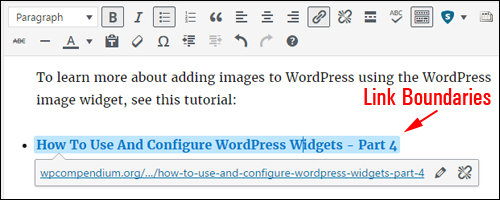 (New WordPress Feature – Link Boundaries)
To see this feature in action, watch the short video demo below:
(Link Boundaries)
Internal Link Options
You can format your internal links (e.g. you can italicize your link, make it bold, change the link color, etc …) using the format buttons in your WordPress WYSIWYG editor menu (< there's that internal link again! :)) …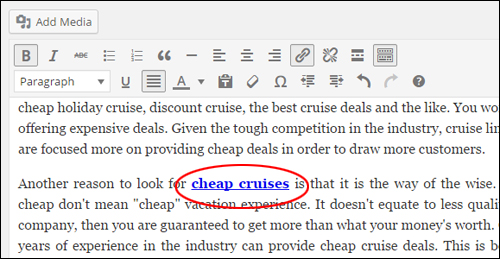 (Format links if you want visitors to notice them)
Removing Content Links
No tutorial on adding links to WordPress content would be complete without showing you how to delete any links that you no longer want, so let's take care of this right now.
To delete a hyperlink from your pages or posts, just click anywhere on the link and then click either the little cross icon on the link editor floating bar or the 'Remove link' feature on the content editor menu as shown below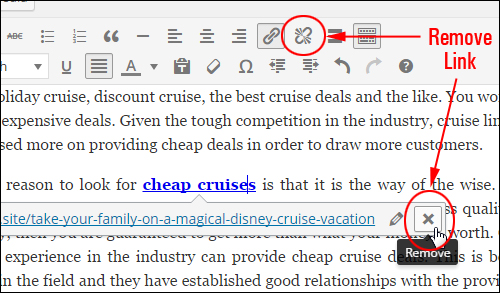 (Deleting both internal and external hyperlinks is easy … just click a button!)
Your link will be removed …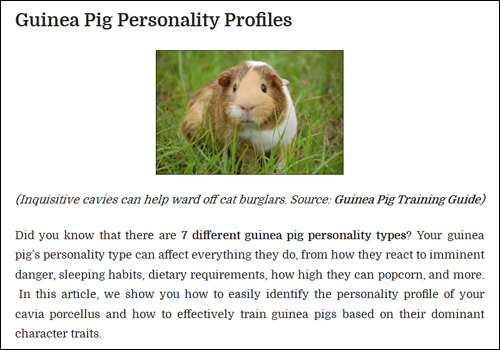 (Plain content … all links removed!)
Internal Linking Plugins for WordPress
So far, we have looked at how to create links to content in WordPress manually using the WordPress link function.
Are there any WordPress plugins that can perform this task?
Yes, there are! As we explain in this article, there are WordPress plugins that can do almost everything you can imagine. And if you cannot find a plugin that does what you are looking for, one can be created for you.
Also, depending on the type of theme installed on your site, you can get additional SEO benefits from internal linking features such as:
Using Breadcrumbs
Links to related posts
Internal linking using widgets
In another article, we'll discuss additional methods of linking content in WordPress, look at the benefits and challenges of automating links in WordPress, and look at a number of plugins that can help you create links to content automatically on your website.

(SEO internal linking. Screenshot source: No Sweat WP Internal Links Lite WordPress plugin)
Congratulations … now you know how easy it is to add links to content in your WordPress pages and posts.
***
"These tutorials have so much information and are easy to understand. If you use WordPress or plan to in the future these will help you with everything you need to know." - Valisa (Mesa, Arizona)