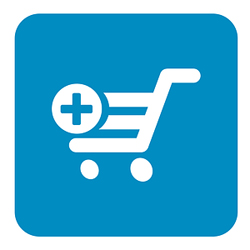 "1-click" upselling is a proven and effective way to increase revenue from selling products online.
A company like Amazon.com makes millions of dollars in additional sales every year from 1-click upsells.
For example, as soon as Amazon customers make a purchase selection, they are immediately given the option of adding additional products to their shopping carts …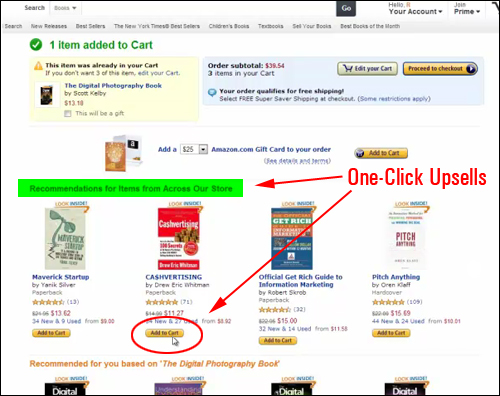 (1-click upsells make Amazon.com millions of dollars in additional sales!)
Another classic one-click upsell strategy made popular by Amazon.com to increase sales is the "Customers Who Bought This Also Bought These" feature …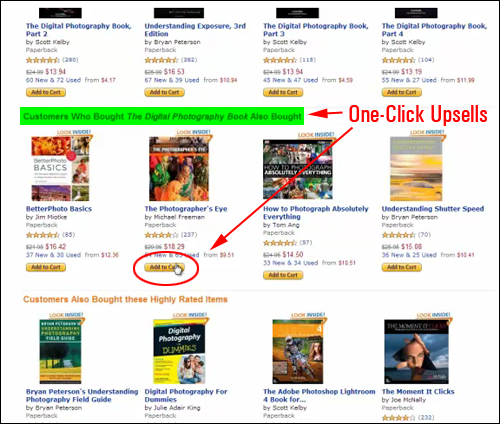 ("Customers Who Bought XYZ Product Also Bought" is one of Amazon's best upselling techniques!)
Another example of a "soft" one-click upselling strategy that tends to convert very well is to offer something for free (e.g. audio interviews), with the option to upgrade to a complementary paid product (e.g. workshops) …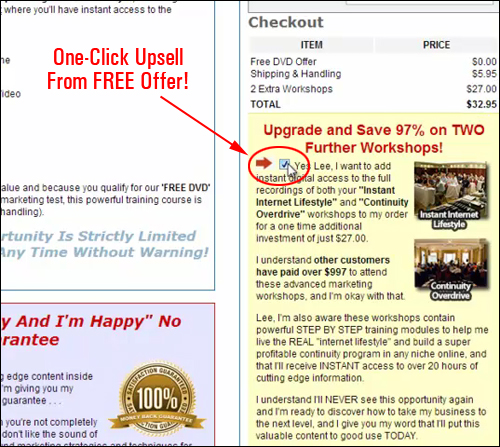 (One-click upselling from a free offer!)
Instead of offering customers the opportunity to upgrade to more expensive items, another powerful and effective method is to use one-click "add-to-cart" forms to promote items that cost less, thereby squeezing extra dollars from every purchase …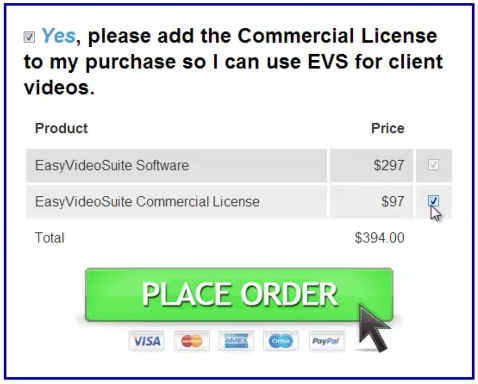 (Use 1-click upselling to offer items)
It's pretty clear that one-click upselling is a proven and effective way to increase sales online.
What's not so obvious, is that most online businesses are leaving a huge amount of money on the table by failing to maximize opportunities to profit from the actual buying process itself.
When a visitor clicks on your affiliate link or a link from an ad on Twitter or email solo ads, a buy button on your sales page, or a banner ad, you have a unique but time-limited opportunity to improve your bottom line. Allowing a customer to add an extra item when completing a purchase with a single click is one of the smartest ways to generate increased sales revenue without investing any additional time, effort or dollars in advertising or marketing.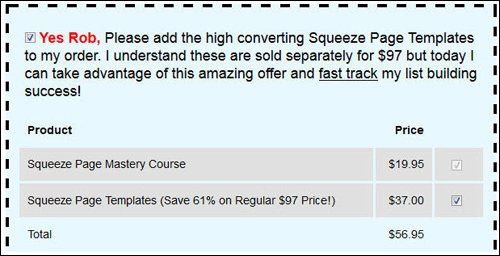 (One-click upselling is a proven and highly effective way to increase sales online!)
Now, imagine being able to offer your customers a cash discount of 10% – 15%, or even 50% off an additional product in return for clicking a button and sharing news of their purchase on Facebook, or entering a coupon code …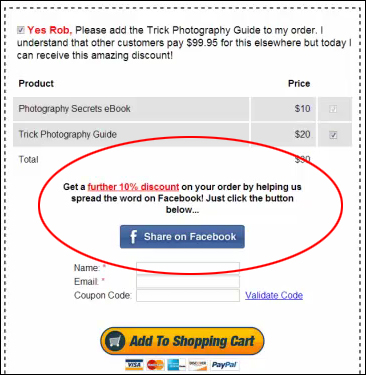 (Offer a discount for sharing your offer)
Typically, in order to be able to add one-click upselling forms to websites, and features like social sharing, discount coupons and list-building requires using expensive shopping cart solutions and expert technical website integration by experienced web programmers, which can take weeks to set up.
Apart from the hassle, delays and expense associated with getting one-click upselling features added to your website, another issue with using expensive and time-consuming solutions is that these tend to be designed to work with a specific payment processor or location on your site, so if you want to add another payment type, make simple changes to your forms or add the feature to a different page, you have to hire programmers to do the work for you.
If you are a WordPress user, adding one-click upsell forms to your sales funnel is very simple, thanks to a simple, yet powerful new plugin.
Our Featured WordPress Product …
WP Viral Payments Plugin For WordPress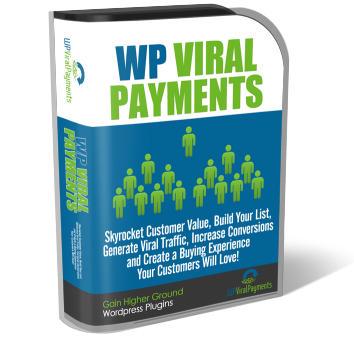 Plugin Description
WPViralPayments is a plugin that lets you add 1-click upsells to any page on your WordPress site …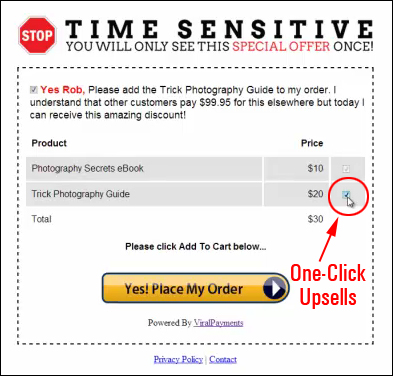 (Add 1-click upsell forms to any page on your WordPress site)
WP ViralPayments includes a built-in library of custom graphic elements …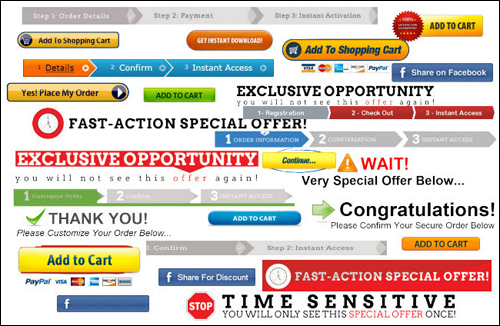 (WPViralPayments includes a built-in library of graphic elements)
The plugin also adds a shortcode menu button to your WordPress page editor …

(WPViralPayments shortcode)
Use the shortcode feature to choose graphic elements and other WPViralPayments components like order boxes and videos from the gallery and add them to pages …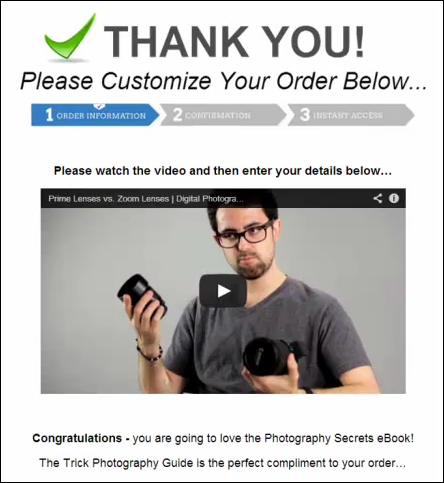 (WPViralPayments lets you add graphics, order boxes and videos to forms!)
Once the plugin is installed and activated, a module is added to your pages, allowing you to add, edit and customize all aspects of the plugin …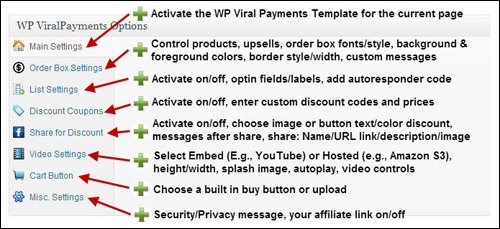 (Plugin features can be turned on or off and forms can be fully customized)
From this module, you can control and manage how every feature of the plugin works …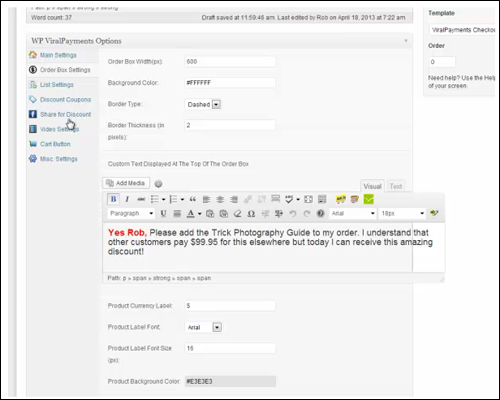 (Manage and control every feature of WPViralPayments)
Learn more here:
Benefits
Below are just some of the benefits and advantages of using WPViralPayments to insert one-click upselling features on your site:
Really Easy To Install
WP ViralPayments installs just like any regular plugin. Just upload the plugin file to your Plugins folder via your WP dashboard and activate.
Simple And Easy To Use
WP Viral Payments is very simple and easy to set up and use and requires no custom programming.
You can turn options on and off, specify the features you want and use the built-in library to add components to your forms. The form editor works just like the WordPress editor, allowing you to add custom text, graphics and any other element you like to your forms. Complete tutorials are also provided.
WP ViralPayments Makes You Money
Offering additional products in the same transaction is a great way to increase your return on investment. You can offer upsells or upgrades on your own products, quality PLR products, expansion packs, affiliate products, etc.
For example, if you are offering a training guide, you can offer customers the option to upgrade to the expanded version which includes additional items (e.g. videos, powerpoint slides, an expanded training pack, etc.)
For a range of strategies you can use to increase your profits with this plugin, see the "Useful Tips" section further below.
WP ViralPayments Saves You Money
WP ViralPayments works with any payment system and requires no costly web development to install and set up, expensive shopping carts or paying monthly merchant fees.
Use With Every WP Theme
WP ViralPayments is a plugin, so regardless of what type of theme you are running, you can easily add 1-click upsells to any page on your WordPress site.
Customers Experience Transparency When Making Purchasing Decisions
Customers are in control of their purchasing decision.
Build A List, Generate Traffic Virally And Increase Revenue
As you will see in the "Features" section below, WP Viral Payments can help generate traffic virally, increase revenue, grow a prospect list and make a lot more money from the actual buying process itself.
Collect Prospect Contact Details Before They Buy
The problem with most online buying processes is that they only capture a customer's contact details after the customer paid.
If shopping cart abandonment occurs, you are left with nothing, not even the email of your prospective buyers.
WPViralPayments lets you switch on "Required Optin" before a purchase is made, allowing you to capture your visitors' contact details regardless of whether they go ahead and complete their purchase, abandon the process, lose their confirmation emails or simply forget to confirm …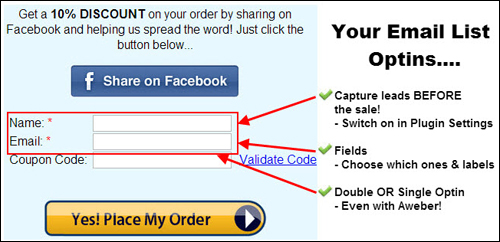 (Collect your prospective customer's contact details before they buy)
WP ViralPayments Features
WP Viral Payments provides many features to site owners. Here are just a few of these:
One-Click Upsells
One of the most powerful features of this plugin is that it allows you to do one-click order form upsells …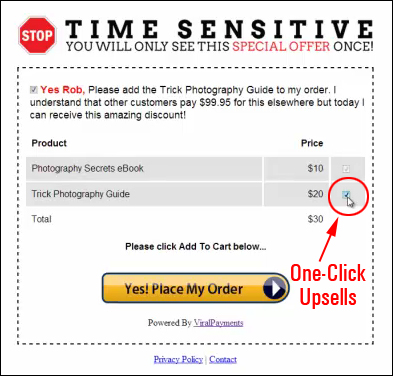 (Add 1-click upsells to any WordPress page)
This allows customers to effortlessly upgrade their purchase simply by checking or unchecking the checkboxes next to the additional items you are offering. Your visitors remain in control of the purchasing process.
Viral Traffic "Share For Discount"
By turning on additional options in the plugin you can easily add extra sharing features, such as the ability to offer customers discounts for sharing an update about their purchase with their friends on social media …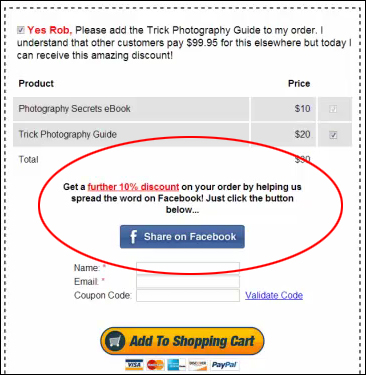 (WPViralPayments lets you easily add viral features to 1-click upselling forms)
This places a message about the purchase on the newsfeeds of all their friends, increasing online exposure for your business …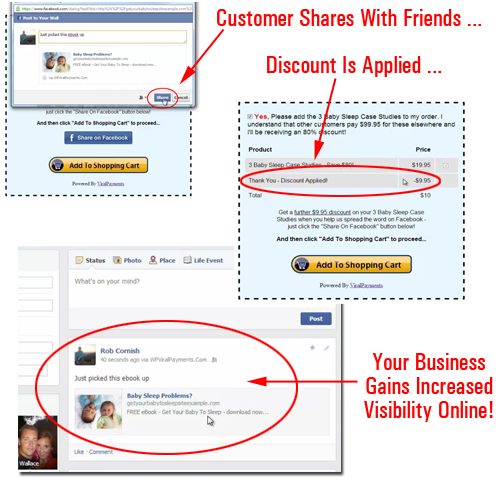 (Profit with social marketing)
WP Viral Payments lets you configure the information customers will be sharing with their friends, including the text, image and destination URL …

(Fully customize the plugin's social sharing feature)
You can then direct the traffic generated by this feature to any online property you want (e.g. your newsletter page for generating additional subscribers, sales page, a specific blog post, etc.), just by entering the destination URL in the plugin settings.
Coupon Integration
WPViralPayments allows you to set up multiple discount coupons quickly …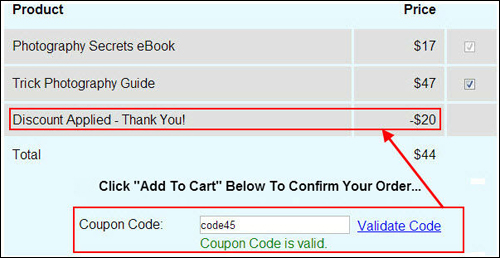 (Offer Coupon Discount Codes)
You can also combine share for discount and coupons. This enables your customers to virally share discount coupons.
Autoresponder Integration
The plugin is also compatible with many autoresponders (e.g. Aweber) …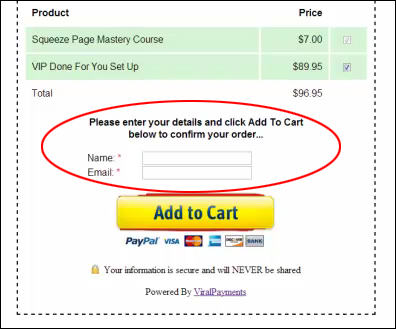 (Autoresponder Integration)
As mentioned earlier, this allows people to subscribe to your list before completing their transaction, so even if shopping cart abandonment occurs, you will have collected their details and can contact them later.
Some additional plugin features include:
Fully Customizable Options – Add custom-made built-in graphic elements (e.g. headers, navigation elements, scarcity graphics, etc.)
Integrates With All Payment Processors – WPViralPayments can be used with any payment processor you like (e.g. PayPal, ClickBank, etc.)
Integrates With Affiliate Systems – WPViralPayments can also be used with other affiliate systems and affiliate plugins like WordPress Affiliate Platform Plugin, allowing others to make sales for you.
Insert Videos – Add optional videos to forms.
Through the use of leverage and automation, and, depending on the type of products you sell, you can use the plugin to build your list, create more traffic and sell more products, effectively setting up a sales process where customers and affiliates end up doing most of the selling for you!
For more details of plugin features, visit the plugin site here:
User Feedback
Here are some of the testimonials that plugin customers have submitted for the WPViralPayments plugin:
"THIS IS AMAZING! My brain's spinning thinking of all the kick ass things I can do with this. Thanks so much!" Edwin Torres
***
"As soon as I heard about WP Viral Payments plugin I knew I had to use it – it's one of those plugins, that soon becomes a "must have". I set it up (easy to follow instructions) and immediately started selling more existing products but also products that had never sold before. I've made a many thousand times Return-On-Investment already and Rob should really be charging much more for this awesome plugin. Highly recommended!" Nicola Cairncross
WP ViralPayments – Money-Making, Traffic Generation And List-Building Strategies

The WP Viral Payments plugin allows you to implement a number effective traffic generation, list-building and money-making strategies. Let's go over some of these:
Monetize Free Downloads When Building A List
After someone subscribes for a free download on your blog's opt-in form, redirect your autoresponder's "thank you" URL to one of your WP ViralPayments pages. Add a 1-click upsell form to this page offering them a related upsell, such as a training video, downloadable guide, audio interview, or PLR product …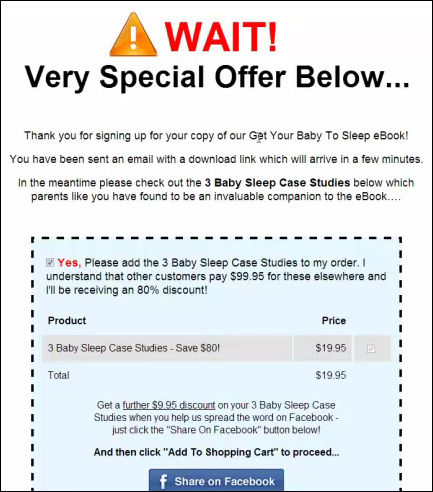 (Monetize Thank You Pages When Building A List)
As the example below shows, you can also take this one step further and offer subscribers further discounts as an incentive for sharing your offer virally with their friends on social media. WPViralPayments allows you to fully configure the information customers will be sharing with their friends, including the text, image and destination URL …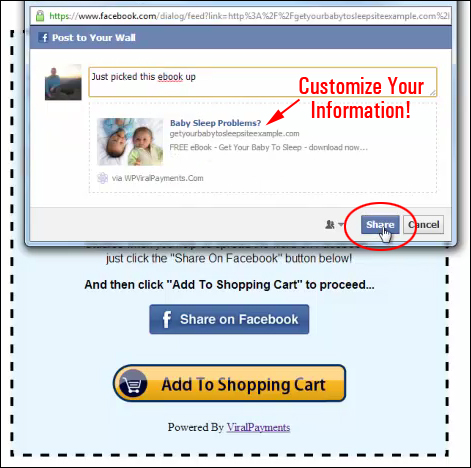 (Customize Share Descriptions)
Upselling A Higher-Priced Item From Low-Priced Front-End Offers
Here is another proven strategy that converts extremely well. You offer a low priced item or service on the front end (your own product or a high quality resell rights product), and then offer a higher-priced item or service as an upsell. This could be a service, like an installation, consultation call, etc. …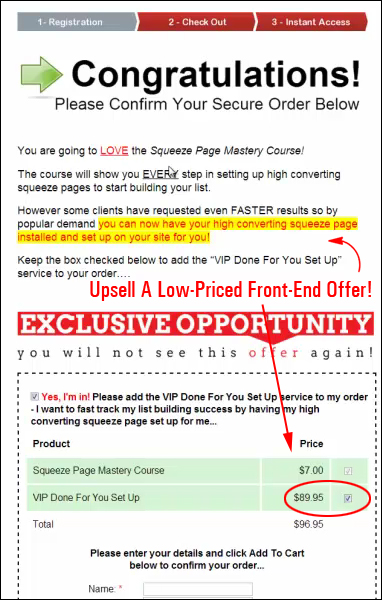 (Upselling Services – e.g. Done For You (DFY))
Tip: With "done for you" services, the work can be outsourced for a fraction of the cost.
Don't Sell Anything Upfront And Build Viral Traffic
This strategy is not so focused on upfront selling, but more about traffic generation and list building. You can offer people a choice of purchasing a valuable product, or get it at $0 cost in exchange for sharing the offer with their friends and joining your list …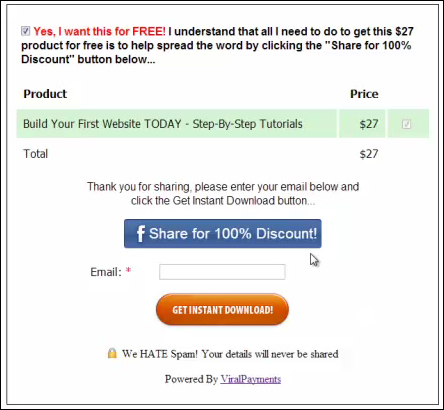 (Don't Sell Anything Upfront And Build Viral Traffic)
As the example above shows, your customers can choose to purchase the product advertised for $27, or share it with their friends and download it for free after sharing.
Note: To build your list, you can add the opt-in form in the product download page.
Promote An Affiliate Offer And Include An Exclusive Bonus
If you promote affiliate products, a proven way to increase your affiliate commissions and build a list at the same time is to set up a form that allows visitors to download a free bonus when they purchase someone else's product through your site …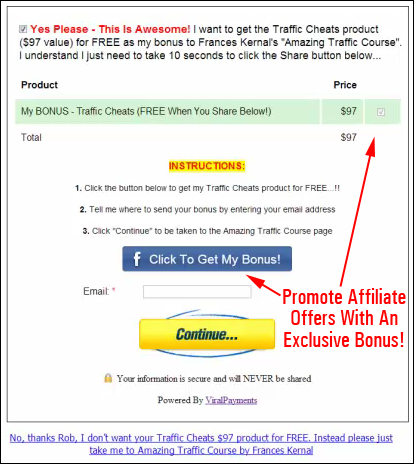 (Include A Valuable Bonus With An Affiliate Offer)
Amazon Affiliate Upsell Model
Offer a free guide and upsell the people who download your item to a physical product. You don't need to limit yourself to using WPViralPayments for upselling digital products only. You can also upsell physical products to customers and build a list at the same time. These can be your products or someone else's (e.g. an affiliate product).
The example form below shows how you could set up a giving away a free wine-making e-book and upsell your customers to an wine-making kit from Amazon as an affiliate …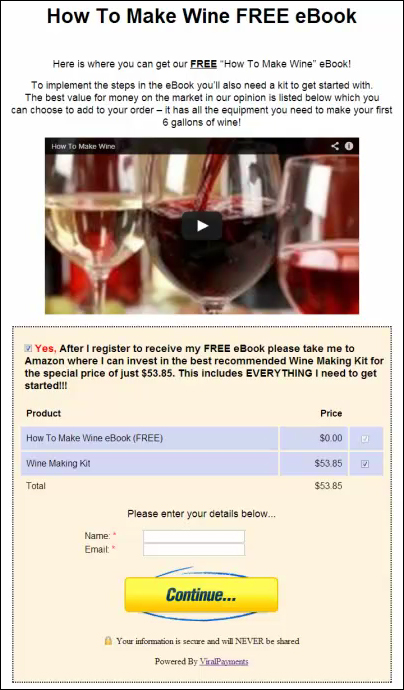 (Upsell Physical Products)
Note: Alternatively, if you sell a "how to guide" you can offer a free download and upsell customers a physical version of the digital delivered via a Print on Demand service (e.g. Amazon Print on Demand).
Offer The Online Version Of A Physical Product
Another very effective strategy for building a list, is to give your customers the choice of either buying a physical product (e.g. a DVD), or downloading an online version of the product for free, as shown in the example below …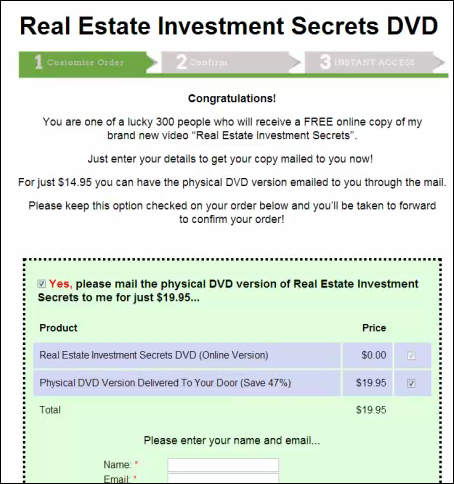 (Offer The Online Version Of A Physical Product)
Recurring Income Model
WP Viral Payments allows you to upsell subscription-based products and services to customers, giving you the opportunity to create continuity income from your offers. Examples of this include upselling web hosting for web-based services, SAAS services, etc …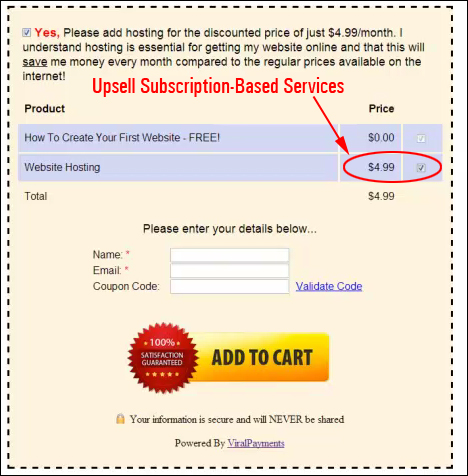 (Recurring Income Model)
With all of the above suggestions, you can add upsell offers using your own products and services, downloadable PDF reports, videos, audios, bonuses provided by other marketers or business owners, PLR products, resell rights products, digital/physical affiliate products, etc.
You can also integrate the above with coupons, social sharing, viral traffic and list building, giving you many exciting possibilities to grow your business.
Plugin Support
Rob Cornish, the developer of the WP ViralPayments plugin is a well-known plugin developer.
Customers not only receive great support and customer service, but the WP ViralPayments plugin is sold with a sixty-day, full money-back guarantee, so there's absolutely no risk involved.
Getting the plugin up and running takes just a few minutes. Step-by-step training is made available to plugin users. Training covers how to install and license the plugin, initial setup, creating a viral payments page, how to integrate payment links, integrating list-building, discount coupons and viral sharing features, integrating videos, creating custom button graphics and more.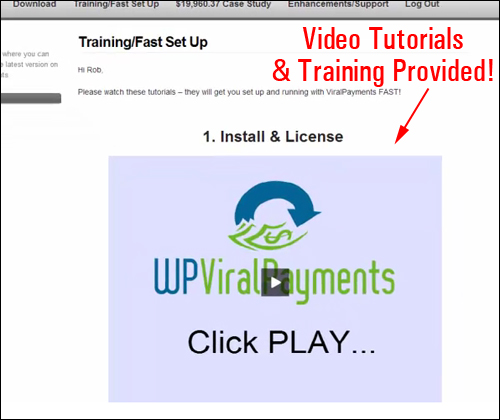 (Step-by-step training is given to plugin users)
Software Price
Single Licensing – This enables you to set up WPViralPayments on a single website. Cost includes all features and one year of free upgrades and support. Price = $49.00.
Ultimate Licensing – This allows you to run WPViralPayments on all websites that you own. Includes all features and lifetime upgrades and support. Price = $77.00.
Note: Pricing details of WP ViralPayments depends on whether there are any promotions or limited-time specials being offered. Currently, the software retails for the prices shown above. This may or may not be the actual price set by the software author when you visit the site and you may be shown additional upsells or one-time offers after you've purchased.
Check the plugin's website for current pricing details:
Additional Product Information
As you've just seen, you can use WP Viral Payments to make money, build your list and generate traffic even if you are not a product creator.
Even if you haven't got an upsell to offer, the one-click order form upsell feature is just one of many features that come with the plugin. You can still benefit from the sharing for discount, list-building and coupon features.
For a demo video of the plugin, including help documentation and tutorials, FAQs, support help desk, contact details and more, visit the WPViralPayments website.
Our Recommendation …
The one-click order form upsell is a proven and tested way to increase sales online, but it can be expensive, complex and time-consuming to set up. The plugin helps you overcome the complexity and expense of other solutions.
WPViralPayments is a powerful, yet simple and easy to use WordPress plugin that will help build your list, generate viral traffic and grow sales.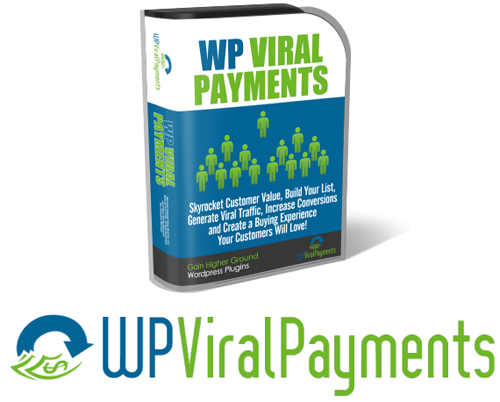 For more information, visit the plugin website:
***
***