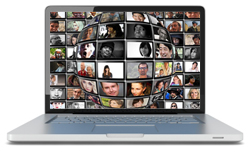 This tutorial is part of our "WordPress e-Commerce" tutorial series, where we show you how to sell your products and services online and set up an online store or membership site using WordPress. 
For other tutorials in our "WordPress e-Commerce" series, go here:
WordPress e-Commerce: Online Merchants And Affiliate Networks
Selling products through established online merchants allows you to focus more time and resources on marketing your business online instead of worrying about technical aspects like setting up online payment processes, transactional security issues, product delivery and notification systems, recruiting a network of affiliates to help promote your products, processing affiliate commission payments, etc.
If you plan to sell products online using a third-party service, this section provides an overview of:
Selling and promoting digital products
Leading online merchant services and affiliate networks
Tips and solutions to help you sell more of your own products and/or promote affiliate products.
Selling And Promoting Digital Products
If you plan to sell or promote digital products (e.g. e-books, video-based training courses, stock images, membership sites, etc.) on WordPress, there are a number of online merchant platforms and affiliate networks available to help make the process easier …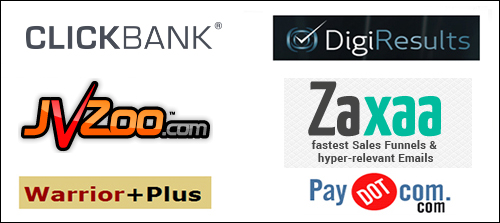 (Online Merchant Platforms)
The services below provide an established, secure, and ready-made platform you can simply plug your products into and a network of affiliates you can recruit to help you promote your products online.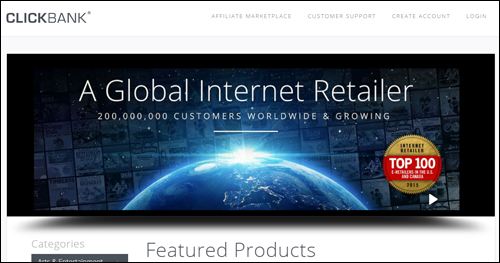 (ClickBank)
ClickBank is one of the world's leading providers of e-commerce payment solutions for digital product publishers. Thousands of vendors sell digital products online using ClickBank.
To learn more about ClickBank and create a FREE account, visit the company's website below: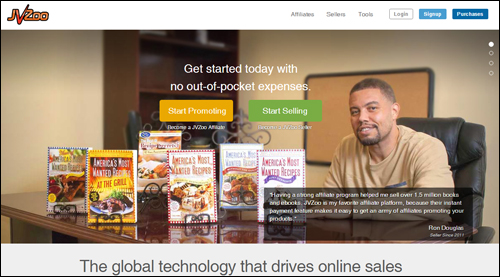 (JVZoo)
JVZoo is one of the leading affiliate network sites for digital products. JVZoo pays instant affiliate commissions into your PayPal account, provides a customer support center for vendors, and uses PayPal's Adaptive Payments technology to pay you instantly at the point of sale. This means that affiliates don't have to wait weeks or months to get paid.
According to the JVZOO site:
Our system runs on PayPal's adaptive payment system which allows your payments to go directly into your PayPal account the moment a sale is made. Unlike other instant payment systems with Paypal, JVZoo has a true payment system that allows you to be paid for EVERY sale that is made.
JVZoo also offers a number of great features, such as integration with the Warrior Forum (see below), automatic bonus delivery (lets you offer bonuses to customers who purchase through your own affiliate links), stylish button creation, digital delivery and protection, lifetime cookies, instant affiliate program setup, tracking & statistics, instant sales funnel generator, instant dime sale technology, ad manager plugin/widget, JV profit sharing, instant sales page generator, instant list building technology, one-time or recurring payments with trials, and more..
To learn more about JVZoo and create a FREE account, go here: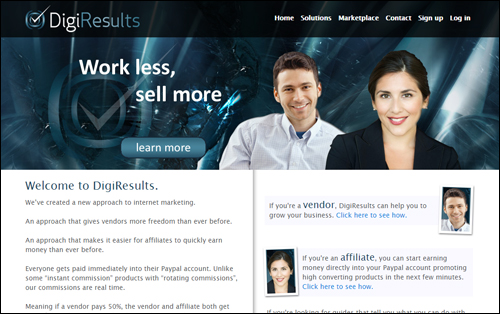 DigiResults lets you sell physical and digital products. Like JVZoo, affiliates get paid commissions immediately into their PayPal account upon making a sale.
There are many benefits to using DigiResults for product vendors and affiliates.
For product vendors, DigiResults offers:
Instant account creation with no setup fees and instant product approval (you can be selling your product in as little as 5 minutes from signing up),
Specify affiliate commission payout percentages on your products from 0% – 100% of the sale,
Offer a 60-day guarantee or no guarantee,
Set up and automate a back-end sales funnel with upsells
Hosting for both your sales pages and product downloads.
Instant exposure to affiliates in the DigiResults network
Dedicated support
And more …
DigiResults also provides a technology that detects whether your affiliate sales are coming from a ClickBank or PayDotCom affiliate and redirects the visitors accordingly so that your affiliates get paid, even if they are from a different network. This allows you to easily leverage affiliates from all 3 networks, tapping into a massive pool of affiliates and maximizing your exposure online.
For affiliates, DigiResults offers:
Immediate payments for promoting high converting products.
No customer support responsibility as an affiliate.
Free to join and get started.
Up to 100% commissions on premium products
To learn more about DigiResults and create a FREE account, go here: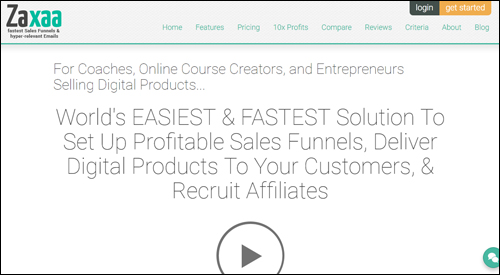 (Zaxaa.com)
Zaxaa was developed to simplify and automate the process of selling, promoting, delivering, and managing your products online, easily and quickly. Zaxaa provides innovative features, such as the ability to instantly predict your income, lifetime customer value (LCV), and customer retention metrics based on your previous transaction data, track sub-ids (useful if you plan to promote using affiliates), instantly set up pre-sales bumps, one-click upsells and OTOs (one-time offers), customize and embed payment forms on your site, sell unlimited products, create dime sales, accept online and offline payments, set up recurring subscriptions, share revenue with partners, create unlimited affiliate programs and membership sites with free trials and installment payments, and so much more.
To learn more about Zaxaa and create a FREE account, visit the company's website below: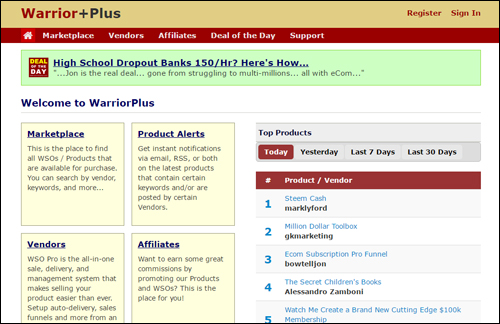 (WarriorPlus)
To sell your own products or promote products as an affiliate with WarriorPlus, follow the steps below:
1) Create an account on the Warrior Forum
To sell internet marketing related products using the WarriorPlus network and/or promote other people's products as an affiliate, you first need to set up an account in the Warrior Forum.
The Warrior Forum is a great place to network with other internet marketers and promote your internet marketing related products. Selling products in the Warriors Forum is done through their Warrior Special Offers section (WSO).
A WSO (Warrior Special Offer) forum is where hundreds of Internet marketers in the "make money online" niche post huge discounts for their products. Some even sell exclusively through the Warrior Forum.
To create an account with Warrior Forum, go here:
2) Create a WarriorPlus account
After creating an account at the Warrior Forum, use the same username to create an account with WarriorPlus.
To create an account with WarriorPlus, go here:
3) Add a PayPal Account to Receive Funds
In order to access the affiliate system, you will need a Paypal account that has had certain permissions set and that has been authorized by WarriorPlus.
After creating your WarriorPlus account, follow the instructions to complete this step of the process.
4) Sell your products or request offers to promote other vendors' products as an affiliate.
Once your PayPal account has been authorized, you can create a listing to sell your own products.
Note: You will need to request and be approved by vendors to become an affiliate of their offers. Once approved, you will receive an email with details on how to access your affiliate links for that product or offer.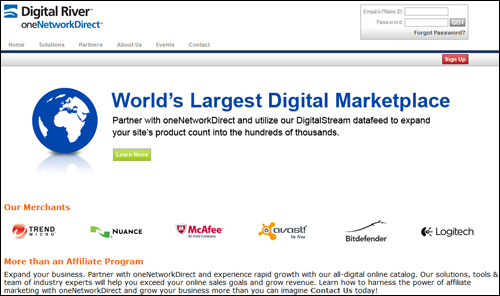 (oneNetworkDirect)
Digital River's oneNetworkDirect affiliate network was developed with the goal of driving traffic for Digital River commerce customers and being a top affiliate network for affiliates around the world.
oneNetworkDirect focused on digital products and has over 400,000 titles available for sale and promotion.
To learn more about oneNetworkDirect and create an account, go here: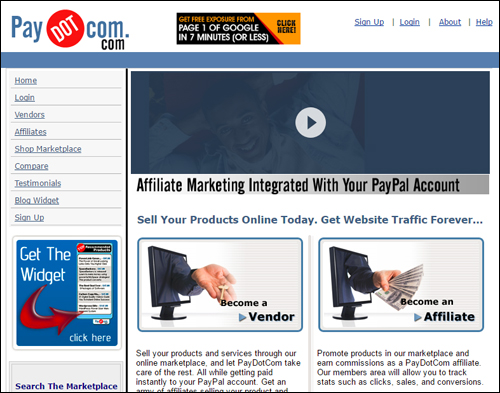 (PayDotCom)
PayDotCom is owned by Mike Filsaime, a successful Internet marketer. Like ClickBank, PayDotCom also specializes in digital products and is used by many internet marketers to sell how-to e-books, software, and web templates.
There are several advantages to promoting PayDotCom products as an affiliate:
PayDotCom offers many products for affiliates looking for web software, Internet marketing guides, and niche products to promote.
PayDotCom pays affiliates via PayPal. All you need is a PayPal account.
PayDotCom provides a number of affiliate tools like banners, a widget, and also campaign tracking.
PayDotCom also has its share of disadvantages:
Affiliates are charged fees. Like ClickBank, affiliates are charged a fee on any commissions they make. PayDotCom splits the fees for every sale 50-50 between merchants and affiliates. Many affiliates don't like this, as they receive no direct benefit from using PayDotCom.
Payouts are done by merchants. Unlike ClickBank, each merchant is responsible for paying their affiliates. This means receiving individual payment from different merchants for the products you promote on PayDotCom instead of one lump sum.
Commission delays. As the payout is done by individual merchants, you should expect delays in commission payments.
Additional areas that make PayDotCom one of the least recommended choices are a poor user interface, which can be confusing for affiliates (ClickBank lets you instantly see your total commissions when you login), and a lack of online documentation to help new affiliates.
Overall, PayDotCom is still a great affiliate network but it could be significantly improved.
To learn more about PayDotCom and create an account, visit the site below:
Selling Or Promoting Physical Products
The affiliate networks below are great for finding and promoting affiliate products. Unless you're moving a decent amount of products on a regular basis, however, these networks may not be a cost-effective option to use for selling your own products.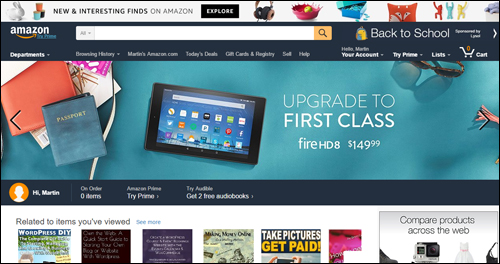 (Amazon.com)
Amazon is the largest online retailer in the world and provides a wide selection of money-making opportunities for product vendors and affiliate marketers.
In fact, many online experts credit Amazon as being the first company to use an affiliate program to grow its sales.
According to Wikipedia …
"Amazon was not the first merchant to offer an affiliate program, but its program was the first to become widely known and serve as a model for subsequent programs."
(source: Wikipedia)
To promote Amazon products as an affiliate, you must join the Amazon Associates program …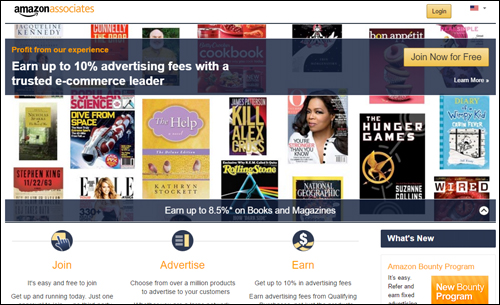 (Amazon Associates Program)

Amazon operates different stores in different countries and requires affiliates to sign up with each country's store separately. Click on the links below to sign up as an Amazon associate for each store you would like to promote products from:
To learn about all of the different ways to earn money with Amazon, visit Amazon.com and scroll down to the footer section for links to more information …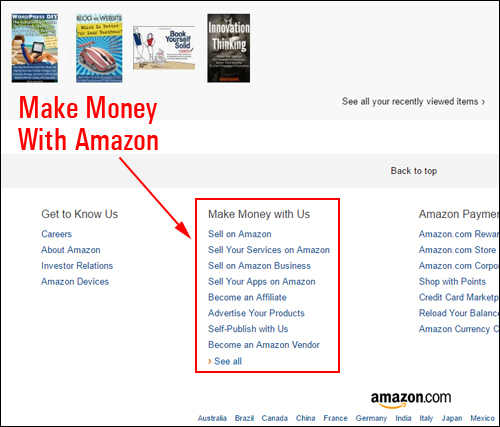 (Make money with Amazon)
There are many plugins and widgets available to help you sell Amazon products as an affiliate on WordPress.
For example: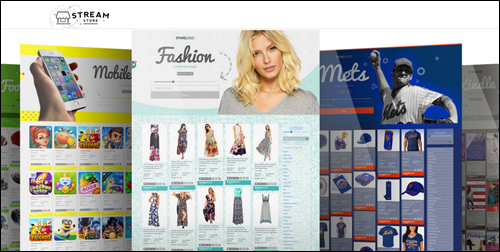 (StreamStore – WordPress Amazon affiliate store builder)
StreamStore is a revolutionary affiliate store builder for WordPress that lets you build a complete Amazon store network in minutes, with all products, deals, and discounts available, using responsive and professionally designed website and landing pages with a viral traffic system included.
StreamStore combines a WordPress plugin and theme and uses advanced live stream technology to populate products into your WordPress site based on the keywords and categories or sub-categories that you specify.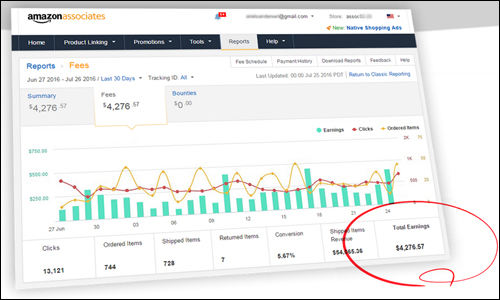 (StreamStore lets you earn affiliate revenue from Amazon.com)
We have created a detailed tutorial on how to set up an Amazon affiliate store with StreamStore here:
To learn more about the plugin, visit the site here: StreamStore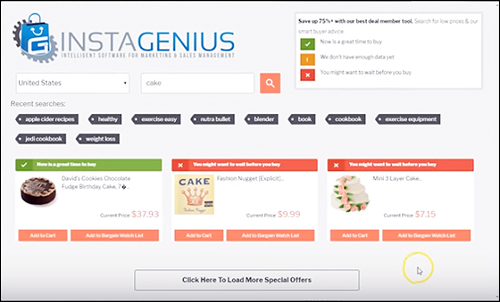 (Instagenius – Amazon Sales And Lead Management Plugin For WordPress)
InstaGenius is a hands-free Amazon sales and leads management plugin for WordPress that instantly turns your website or blog into a profitable list-building and lead capture system using intelligent tracking, email marketing, and affiliate marketing automation to tap into a vast source of potential leads and sales … window shoppers and hungry bargain hunters searching for great discounts, sales, and irresistible deals online!
We have created a detailed tutorial on how to profit as an Amazon affiliate with this WordPress plugin here:
To learn more about the plugin, visit the site here: InstaGenius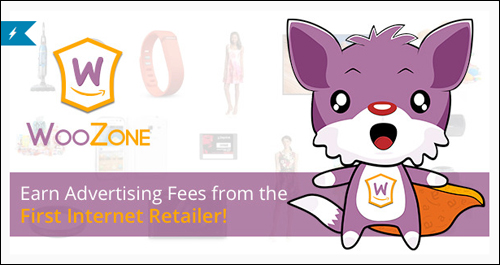 (WooCommerce Amazon Affiliates)
WooCommerce Amazon Affiliates lets you set up an Amazon affiliate store and import products automatically by entering a keyword, setting up how many pages to import, and specifying how often to import products.
To learn more about WooCommerce Amazon Affiliates WordPress plugin, go here:

(Amazon Link Amazon affiliate plugin for WordPress)
Amazon Link is a WordPress plugin that enables you to add Amazon product links to your WordPress posts and pages. You can add simple text links, thumbnail images, full-size images, complex templates, or full-blown Amazon flash widgets.
To learn more about this plugin, visit the site below:
You can search for more WordPress Amazon affiliate plugins inside your WordPress dashboard (Plugins > Add New), or the WordPress Free Plugin Directory …

(WordPress Plugin Search – Amazon Affiliate)
Search the WordPress Free Plugin Repository for image gallery plugins below:
Commission Junction (CJ) is one of the oldest and largest affiliate networks online. In early 2014, its parent company ValueClick integrated all of its businesses into a personalized marketing platform called Conversant …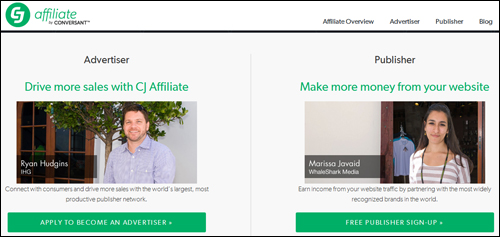 (CJ Affiliate)
According to Wikipedia:
Commission Junction (now CJ Affiliate) is an online advertising company owned by ValueClick and operating in the affiliate marketing industry. The company is the largest affiliate network in North America and operates worldwide. Among the top 500 retailers using 3rd party affiliate marketing software, 62% are powered by CJ Affiliate.
(Source: Wikipedia)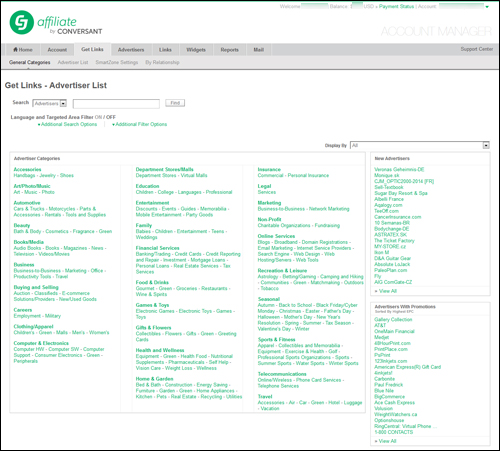 (CJ Affiliate)
CJ Affiliate – Advantages
If you're new to affiliate marketing, CJ Affiliate is one of the first affiliate networks you should consider joining. Becoming an affiliate (called a "publisher") with CJ is easy, free and requires no manual approvals.
Here are some of the reasons why you may want to join CJ:
Access To A Wide Range Of Offers – CJ Affiliate not only gives you access to hundreds of well-known merchants, but it also offers you the choice of promoting different types of offers, including Pay-Per-Sale, Pay-Per-Lead and Pay-Per-Call offers.
Established Merchants – Merchants in CJ include many of the more established and well-known companies.
Transparent Performance Stats – CJ provides an accurate 3 Month / 7 Day EPC (Earnings Per 1,000 Clicks) chart, which lets you know exactly how individual merchants are performing within the CJ network.
Affiliate Banners – Merchants in CJ provide plenty of affiliate banners and marketing material, which is hosted in CJ's servers. Each banner also displays performance stats allowing you to choose banners that are doing well for your affiliate promotions.
Individual Product Links – Linking directly to a product is the most effective way to generate affiliate sales. Most merchants allow you to create affiliate links pointing your visitors directly to individual products on their website.
Link Encryption and Protection – CJ offers the option to completely encrypt your link so that your affiliate ID is hidden and hijacking of your affiliate commissions is impossible.
Centralized Affiliate Payments – All affiliate commissions are paid to you by CJ, not the individual merchants and, depending on where you live, commissions can be paid directly into your bank account. This provides you with a predictable and reliable payment structure.
CJ Affiliate – Disadvantages
Although CJ is a great affiliate network, it does have its share of disadvantages.
Here are some of the downsides of using CJ Affiliate:
Advertiser Application Process – Unlike ClickBank where, once you join the network you can promote any vendor's products, with CJ you have to manually apply to each individual merchant and agree to their terms of service. Some merchants will auto-approve you, but others will manually review your application and let you know whether or not you have been approved. Sometimes this delay can take weeks or months.
Temporary Advertiser Deactivation – Because of the billing process between CJ and its merchants, many merchants constantly get "Advertiser Deactivated" notifications. While the advertiser has been temporarily deactivated, clicks made using your affiliate links do not earn commissions for that merchant.
Lack of Standardization – Every merchant in CJ has their own terms of service (TOS) and refund terms. Some merchants allow you to place ads using their trademarked terms, others do not. Keeping track of all these different terms can be confusing and, in some cases, can result in the merchant dropping you from their program for some breach of terms that you were not aware of, or accidentally infringed upon.
Poor Conversion Tracking Statistics – CJ's stats and reporting features are fairly outdated and generally provide only commission dates of sales and basic tracking data.
No PayPal Payment Option – CJ does not offer the option to pay affiliates directly into their PayPal accounts. It does offer an ACH (bank transfer) option, but only for affiliates that live in selected countries.
Closing Inactive Accounts – CJ will close affiliate accounts that have been inactive for a certain period of time.
To learn more about CJ Affiliate and create an account, go here:
Other Merchant Services And Affiliate Networks
Here are some other networks that provide merchant services where you can sell your own products or find and promote affiliate products: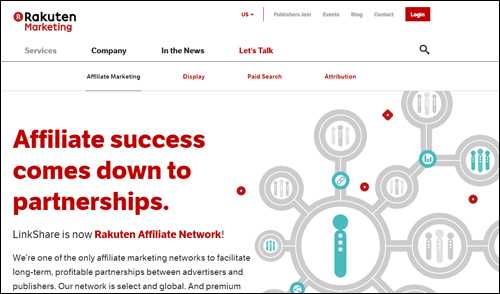 (Rakuten Affiliate Network)
Rakuten Affiliate Network (formerly LinkShare), lets you promote thousands of products from many well-known brands.
To learn more about Rakuten Affiliate Network, go here: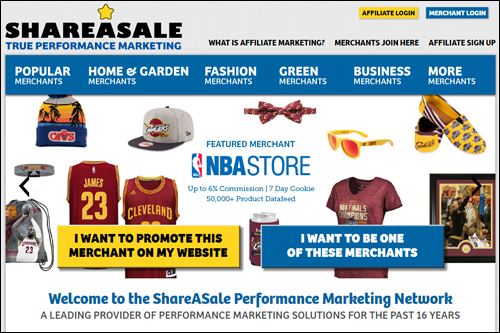 (ShareASale)
ShareASale is another very popular affiliate network where you can search for products to promote online.
To learn more about ShareASale, go here:
Affiliate Store Builders
There are a number of solutions available that allow you to build an affiliate store with WordPress.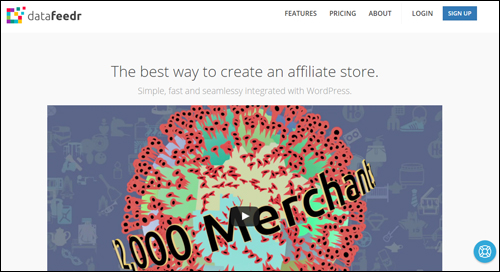 (Promote products from thousands of online merchants on your WordPress site with Datafeedr)
Datafeedr seamlessly integrates with WordPress and nearly all available themes and plugins. DataFeedr has partnered with leading affiliate networks. This lets you promote millions of products from thousands of leading online merchants on your website …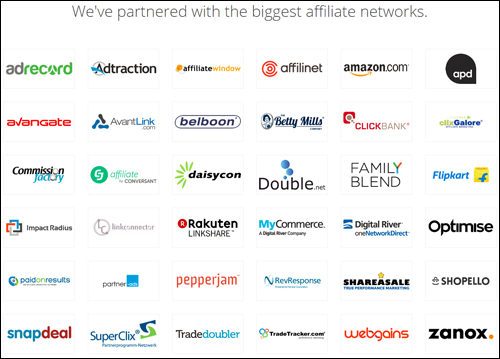 (Datafeedr has partnered with the world's biggest affiliate networks.)
Datafeedr provides powerful search filters that let you search for the products you want to promote, then build stores quickly and easily and configure the products in your store to automatically update at regular intervals.
You can also promote thousands of affiliate products from leading merchants services described further below using Datafeedr.
For more details about the Datafeedr affiliate store builder, go here:
For other affiliate store building tools, go here:
Affiliate Program Management Software
If you don't want to use an affiliate merchant network, you can host affiliate software on your own server. Using an in-house solution can give you better control over the management of your affiliate program and let you run it the way you want to. You own the software, so there is no third-party branding and no "middle agent" fees. You will have direct contact with your affiliates to offer incentives and to gather feedback.
The downside of running your own affiliate software is that there is no readymade network of affiliates you can tap into, such as those available in marketplaces like ClickBank, JVZoo, etc.
Popular affiliate program marketing solutions include: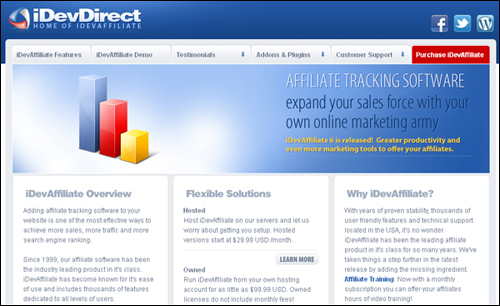 (iDevAffiliate)
If you research affiliate program management software and read  reviews, you will find that many users recommend iDevAffiliate.
iDevAffiliate features include:
Simple to setup and use
Not very SEO-friendly
Offers two-tier commissions (i.e. you can pay affiliates for referring other affiliates to your program)
There are a few different price plans (check the website for latest pricing details) and options for iDevAffiliate, ranging from the Standard edition to the Platinum edition (which includes SEO links), and a Black Tie service where they will set up and configure everything for you.
Add-on modules and plugins, such as language packs and Quickbooks exports are available at an additional cost. Technical support for iDevAffiliate is handled by the same team that developed the software when it first launched in 1999.
iDevAffiliate is a good solution for non-technical users. It offers many features and add-ons for your affiliate marketing program. It's simple and easy to use and will allow you and your affiliates to get set up quickly.
To learn more about this affiliate program management tool, go here: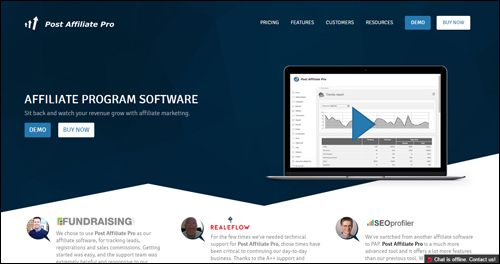 (Post Affiliate Pro – Affiliate Management Software)
Post Affiliate Pro is an advanced product, with many features and very SEO friendly.
Post Affiliate Pro features include:
Track affiliate sales on all your websites
Multiple languages for both merchant and affiliate interfaces
Create unlimited number of tiers
Customizable affiliate interface allows you to match your corporate website design
SEO friendly links are included in the basic version
Post Affiliate Pro packages range for their Xpress package and go up to their Post Affiliate Network solution installed on your server. They also offer hosted versions for a monthly fee. Check their website for the latest pricing details.
With PostAffiliatePro, you can activate many plugins at no extra charge, and you can write your own plugins in PHP to extend the functionality of the server aspect of the software. Post Affiliate Pro also uses anchor text links so you get a direct link from your affiliate websites to yours, which helps to improve SEO. With Post Affiliate Pro, your affiliates can also use discount coupons for offline marketing.
Another advanced feature in Post Affiliate Pro is split commissions. This allows affiliates to split commissions when customers are searching for your product since your customer may end up visiting multiple affiliate sites before making a buying decision. With split commissions, each affiliate the customer visited receives a share of the commissions.
Post Affiliate Pro is a feature-rich program that offers many features and plugins and is highly customizable to meet your affiliate marketing needs.
To learn more about this affiliate program management tool, go here:
If the above solutions are way more than what you need or are willing to pay for, then here is an affordable and robust WordPress-plugin based affiliate management program that is also worth considering: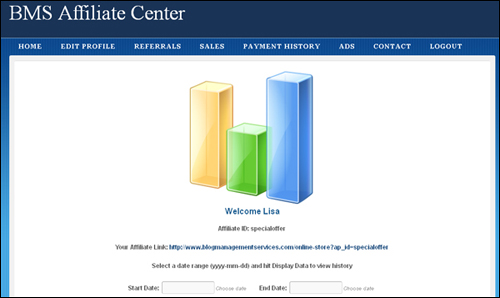 (WPAffiliatePlatform)
The 'WordPress Affiliate Platform' is an easy to use WordPress plugin for affiliate recruitment, management and tracking that can be used on any WordPress blog or site. This plugin lets you run your own affiliate campaign/program and allows you to reward (pay commission) your affiliates for referred sales.
The administrator can configure banners and links which affiliates can use on their site to drive traffic to your site. All clicks, leads, sales, etc. are tracked by this plugin.
If you are running online ad campaigns for your products and services then you can use the affiliate platform plugin to measure the true conversion rate of each campaign to find out the profitable ones. This allows you to weed out the non-profitable campaigns and save money in the process.
In a nutshell, the Affiliate Platform Plugin can help you achieve the following:
Launch your affiliate campaign in a short time.
Monitor clicks and conversions of visitors sent by your affiliates.
Maintain your brand with your own product Ad Banners and Links.
Drive more traffic to your landing/sales page from your Affiliate's site.
Increase revenue with more sales.
To learn more about this plugin, go here:
Like all software programs, the affiliate management solutions described above will have certain pros and cons, but ultimately they all meet basic requirements for managing a successful affiliate marketing program.
Hopefully, you have found this comprehensive guide useful for helping you choose the best merchant services and affiliate networks for selling and promoting products online with WordPress.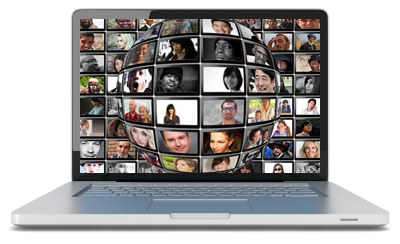 ***
"If you're new to WordPress, this can stand on its own as a training course and will stay with you as you progress from beginner to advanced and even guru status." - Bruce (Columbus, Ohio)
***