WaveNetVocalizer – Create Natural Sounding Video Voiceovers With Breakthrough AI Technology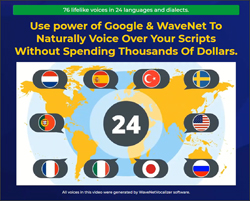 In this series of posts on useful and cost-effective tools and resources that will help improve your Video Marketing results, we cover a breakthrough AI technology-based software that lets you create professional and natural sounding voiceovers for your videos quickly, easily, and inexpensively.
WaveNetVocalizer is a new software-based tool that lets you tap into the same technology being used to power Google Assistant voices and use deep neural networks for generating raw audio created by researchers at London-based artificial intelligence firm DeepMind to easily create natural sounding voiceovers for all types of videos, including sales videos, explainer videos, affiliate review videos, and any other kinds of videos you want to create to promote your business online.
To see just how powerful this software is, watch the video below. All voices in the video demo below were created using Wave Net Vocalizer software …
(WaveNetVocalizer Promo Video)
The software currently provides 76 84 lifelike voices in 24 27 languages and dialects, allowing to maximize the impact and reach of your videos with audiences worldwide.
The above video contains several voiceover examples using different languages (e.g. Russian, Portuguese, German), and different dialects (e.g. English spoken with Aussie and British accents, American speakers from Chicago and Boston, etc.)
Listen to the audio demo below of some of these voices in different languages and dialects …
Adding natural voiceovers to videos is as easy and simple as pasting in text.
WaveNetVocalizer lets you download the voiceover files you've created to your hard drive or upload the audio files to storage services like Google Drive or Dropbox and use the files to add voiceovers to videos created with most video creation tools.
For more information about the software, pricing, FAQs. etc. visit the site here:  WaveNetVocalizer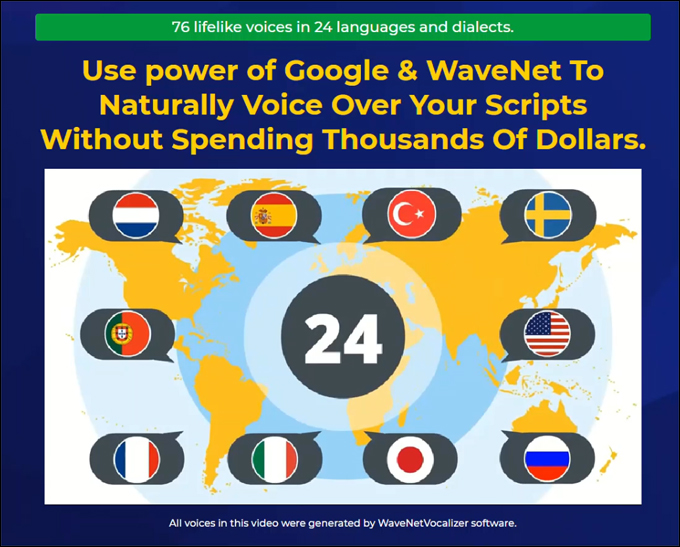 Note: In our previous articles, we talked about using tools like Affiliate Video Pro to monetize YouTube videos on your WordPress site and Toonly to create professional animated cartoon explainer videos without becoming a video designer.
For more useful and cost-effective tools and resources that will help improve your business results online using videos with WordPress, see our Video Marketing tutorials section.
***
"If you're new to WordPress, this can stand on its own as a training course and will stay with you as you progress from beginner to advanced and even guru status." - Bruce (Columbus, Ohio)