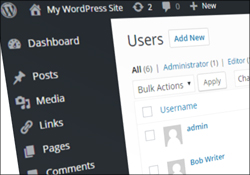 For better security, avoid setting up a WordPress site using the user name "admin".
This is the default installation username for WordPress and one of the leading causes of brute force attacks on a WordPress site.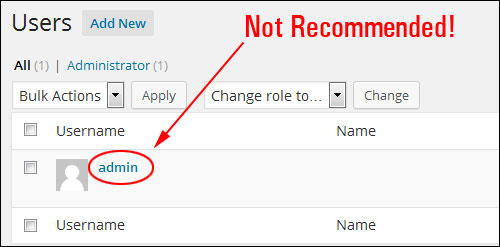 In this tutorial, you will learn how to change your WordPress admin username to a more secure user name.
Changing Your Admin Username In WordPress To Another User Name
Generally, on a new WordPress site installation, the first registered user is also the admin.
Having the default WordPress username admin is not recommended, as it puts your WordPress site at risk of being attacked by hackers or botnets …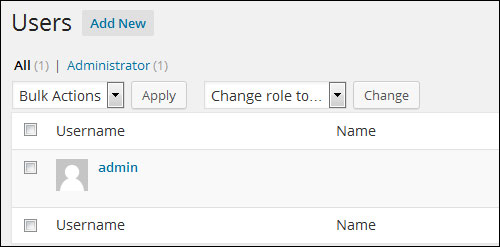 Let's change the WordPress admin user name from 'admin' to a more secure user name.
There are several ways to access your "Profile" section and view your username details after logging into your administration area:
Select the Users > All Users section in the main menu …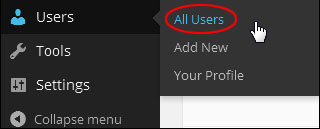 Click either on the username, or click on the Edit link when hovering over the username with your mouse …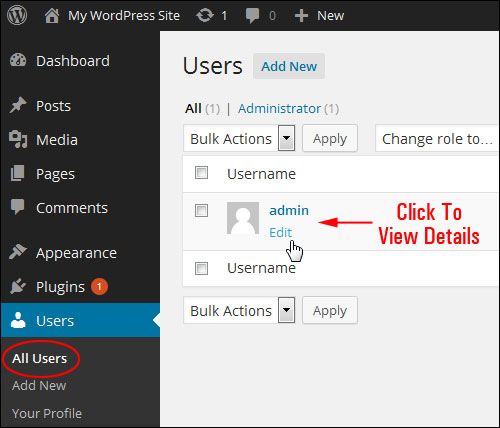 Or, select Edit My Profile from the "Howdy, User" drop down menu at the top-right hand corner of your Dashboard …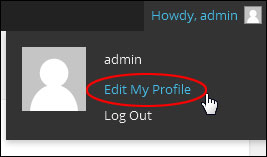 You can also access your "Profile" screen by selecting Users > Your Profile from the main menu.
You will discover when you get into the Profile area that you can't change usernames inside your Dashboard …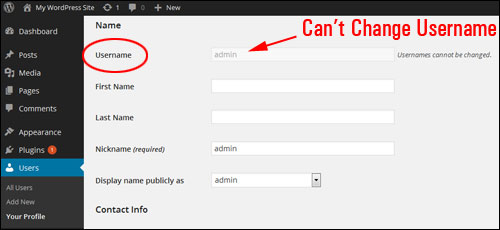 So, how do you modify this admin username?
If your WordPress admin login is "admin," here's the easiest way to change this without accessing your server:
Click Add New to add a new user …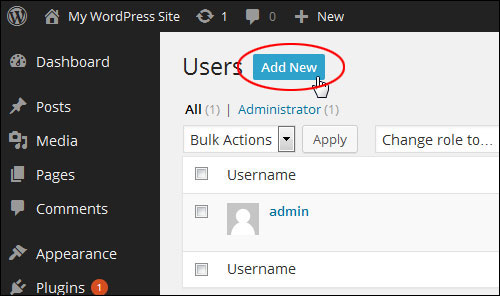 Next, create a more secure user name, and assign your new user account the role of "Administrator". Save your changes to update your settings …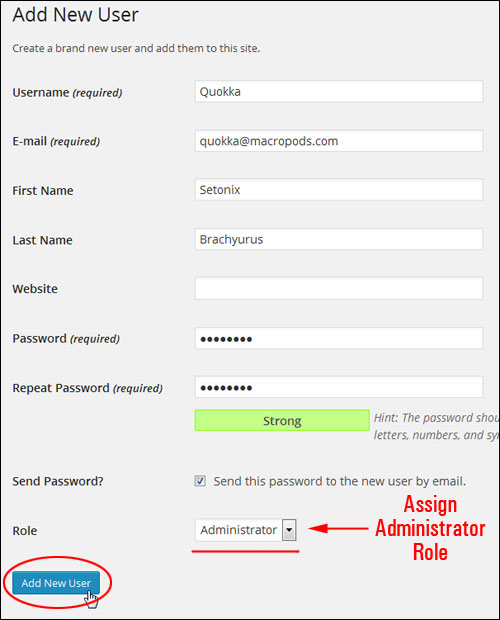 You will now see a new admin user with a new user name, plus the original user name (i.e. "admin") …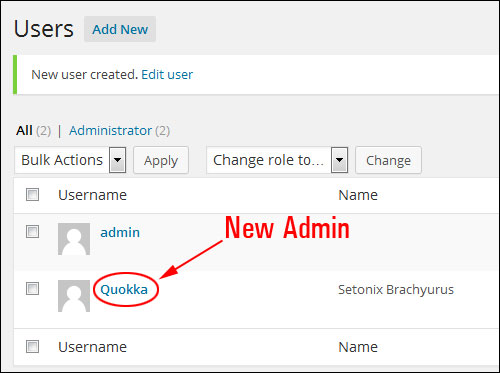 Log out of your WordPress admin area …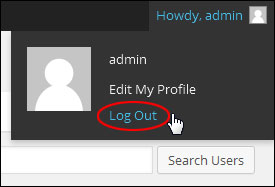 Log in with the new admin details for the user you have just created …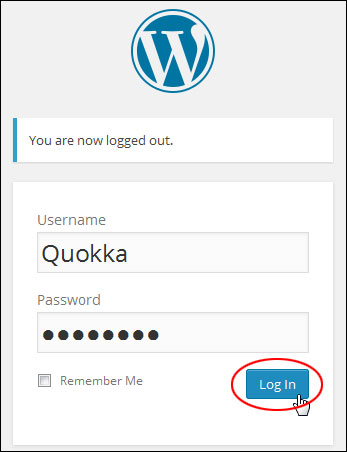 You should see your new username details in the "Howdy, User" screen …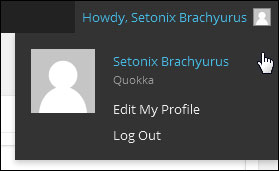 Click on Users > All Users in the main menu …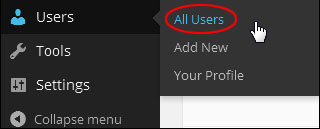 You can now delete your old administrator account …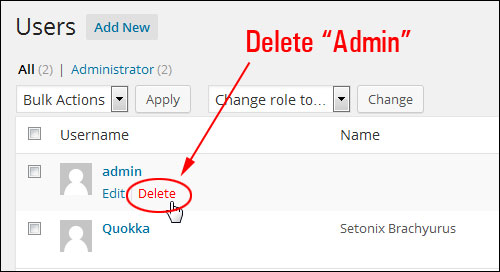 Select the option to assign all content owned by the old admin account and reassigned it to your new admin, then confirm the deletion of the old user account …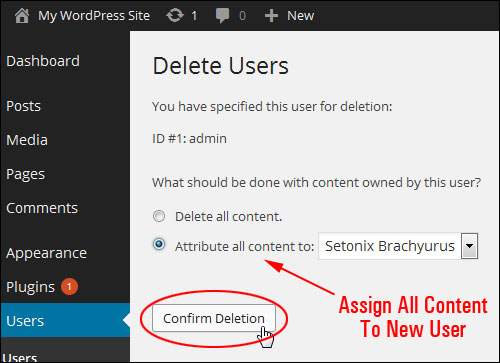 You are now left with only the new Admin account, effectively changing your WordPress admin user name …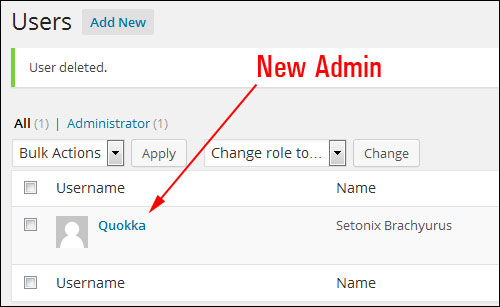 Although this tutorial is mostly intended for non-technical WordPress users, let's go one step further and show you how to change your WordPress username inside the WordPress database.
All you need is access to your server's control panel.


To learn how to search and replace content in your WordPress database without touching code or editing WordPress database tables, see the tutorial below:

How To Do A Global Search And Replace In WordPress
How To Change Your User Name Inside The WordPress Database
For the example below, the server uses the cPanel management application …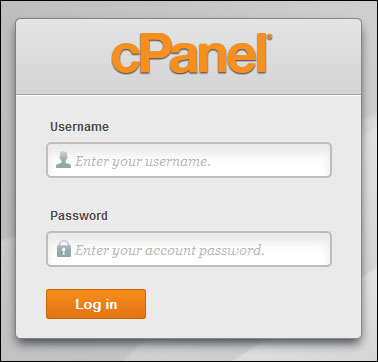 cPanel
Log into your server control panel …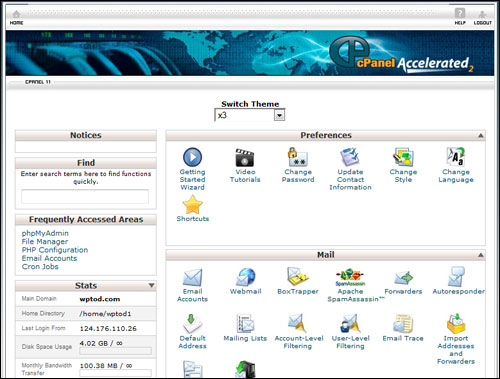 cPanel administration area
Find the "Databases" section and click on phpMyAdmin …

phpMyAdmin
Click on your WP database.
Note: If you have a number of databases set up on your domain, make sure you select the right one …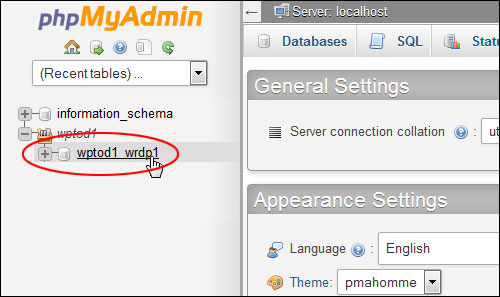 phpMyAdmin databases
Don't panic when you see the complicated-looking screen.
Click on wp_users in the "Table" column on the left-hand side …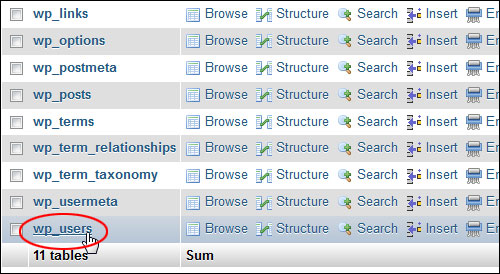 The username is located in the "user login" column. To edit the field just double-click on the text you want to change …

Type in the new username and click outside the edit box to update the field with a new username …

Log out of your server when you're finished and go back to your WordPress site. You will probably find that your session has expired. If so, log in again with your new administration login credentials …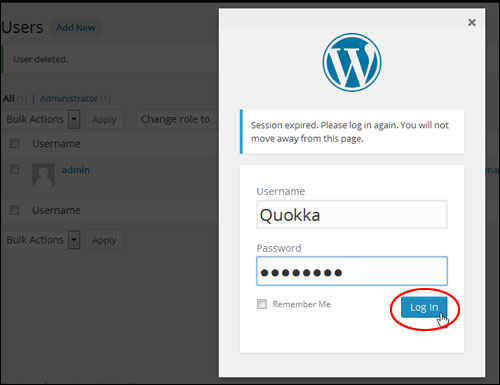 You will see that the username is now updated. However, it will probably still display the previous "nickname" …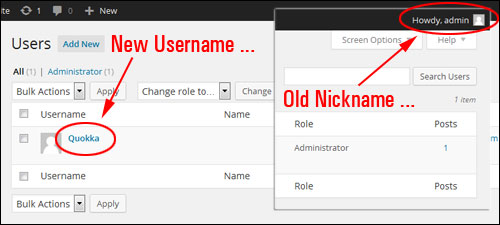 To edit your "nickname", go to your Users section and click the Edit link below your username …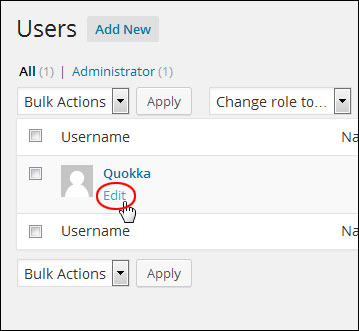 You can also reach your Profile section if you click on the Edit My Profile link in the "Howdy, User" box …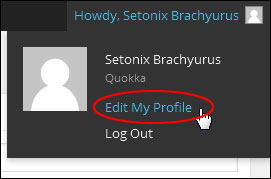 Select a new name to display publicly from the drop down menu …


Note: You can also create a new Nickname in the Nickname field and it will then be available for selection in the Display name publicly as dropdown menu …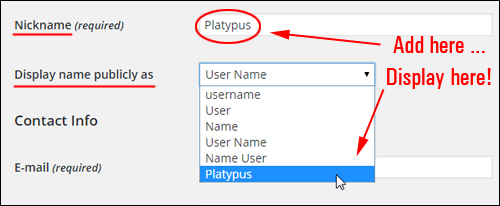 Click Update Profile to save your new settings …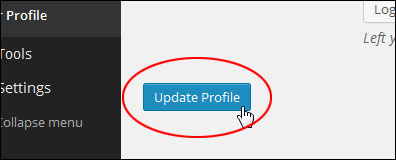 You admin area is now updated with a new username and nickname …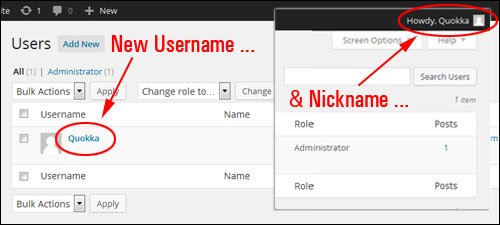 Congratulations! Now you know how to change the WordPress admin user name on your website or blog.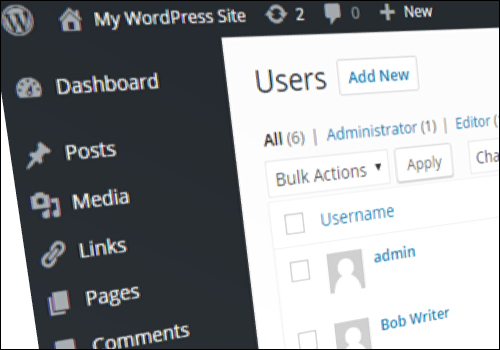 ***
"This is an awesome training series. I have a pretty good understanding of WordPress already, but this is helping me to move somewhere from intermediate to advanced user!" - Kim Lednum
Disclaimer: This site is not directly associated with WordPress, Automattic, or any WordPress-related products mentioned on this website. We may receive financial benefits from sales of any third-party products mentioned on our website. All product images are the copyright of their respective owners and have been used only for illustrative or training purposes.
***
Did you enjoy this post? Feel free to use the social buttons below to share this tutorial with others.