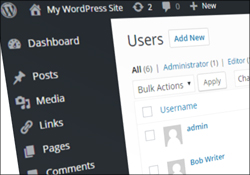 For web security purposes, avoid installing WordPress sites using the username "admin".
This is the default installation username for WordPress and one of the first things that hackers look for when attempting to break into the WordPress CMS.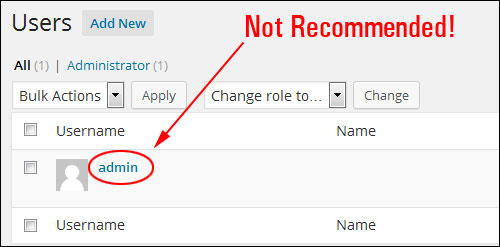 In this tutorial for non-technical users, you will learn how to change the WordPress admin username to a more secure username.
How To Change Your Admin User Name In WordPress
Typically, in all new WordPress site installations, the first registered user is also the admin.
The default WordPress user name admin is not recommended, as it can out your site at risk …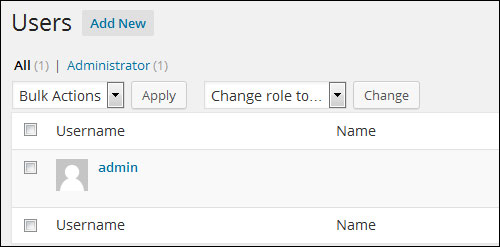 Let's change your WordPress admin user name to a more secure user name.
There are a number of ways to access your "Profile" section and view your user name details inside WordPress:
Select the Users > All Users screen in your main menu …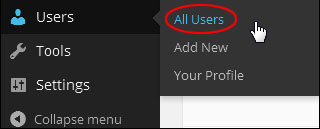 Click either on the user name, or the Edit link when hovering over the user name with your mouse …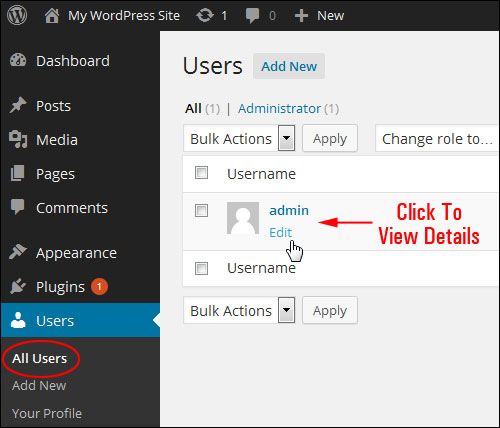 Or, select Edit My Profile from the "Howdy, User" drop-down menu at the top-right hand corner of your Dashboard …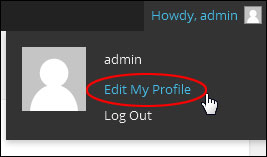 You can also access your "Profile" area by selecting Users > Your Profile from your admin sidebar menu.
You will see in the Profile area that usernames cannot be changed inside the Dashboard …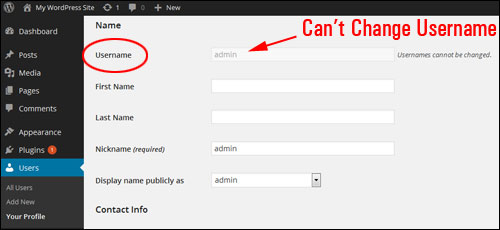 So, how can you edit the admin username?
If your user name is "admin," here's the easiest way to change your user name without accessing your server and altering your server files or your WordPress database:
Click Add New to add a new user …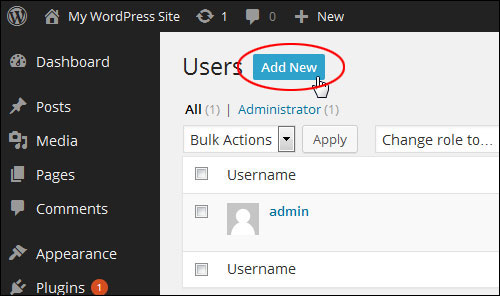 Next, create a new username, and assign the new user account the role of "Administrator". Remember to save your changes in order to update your settings …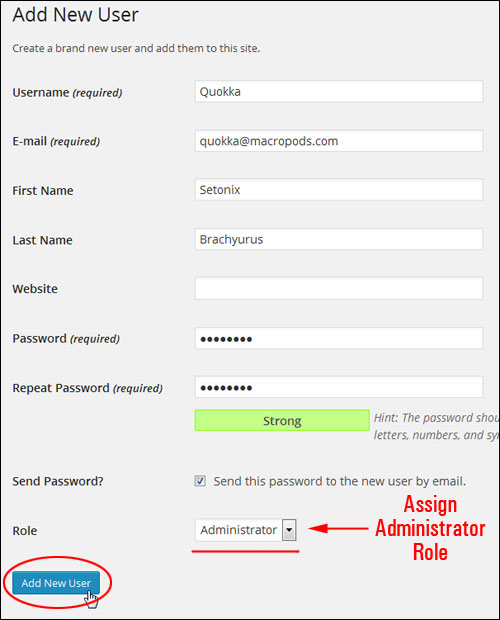 You You have now created a new admin user …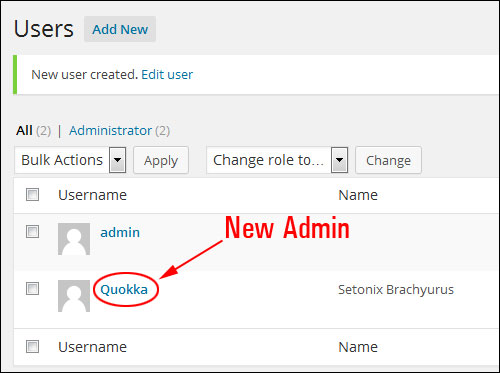 Log out of your WordPress admin area …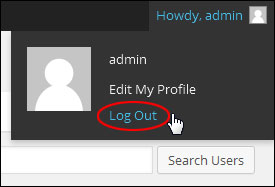 Log in with your new admin details …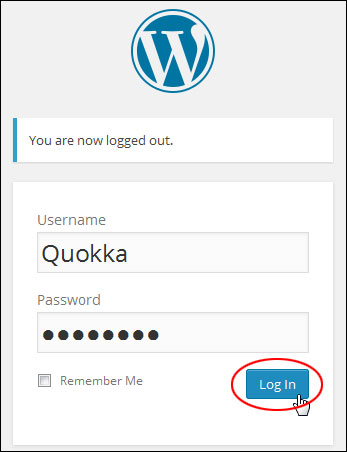 You should see your new user name details displayed in the "Howdy, User" screen …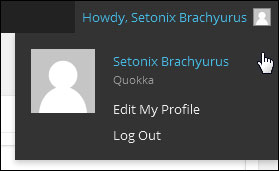 Click on Users > All Users in the main menu …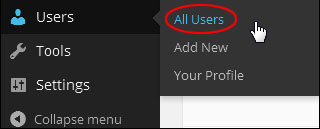 You can now delete the old administrator account …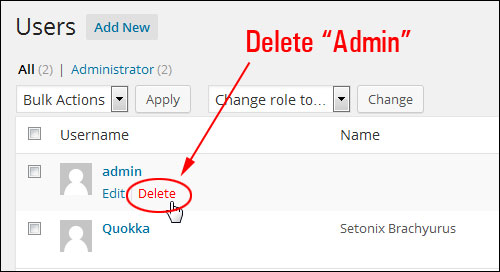 Choose the option to assign all content owned by the old user account and reassigned it to the new user, then confirm the deletion of the old user account …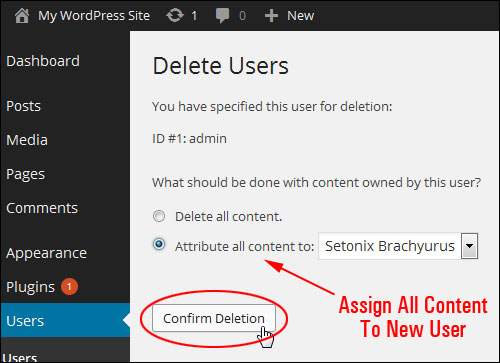 You are now left with only the new Admin account, effectively changing your WordPress admin username …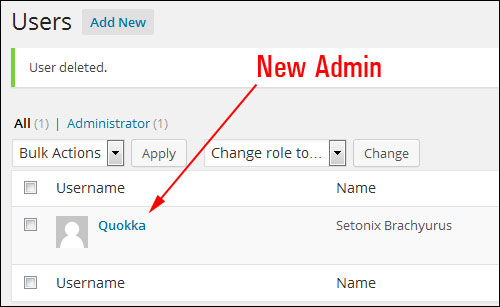 Although this tutorial is mostly designed for non-technical WordPress users, let's go one step further and show you how to change your WordPress user name inside the WordPress database.
All you need is admin access to your server's control panel.


To learn how to search and replace content in your WordPress database without touching code or editing WordPress database tables, see the tutorial below:

How To Do A Global Search And Replace In WordPress
Changing Your User Name Inside The WordPress Database
For the example below, the server is using the cPanel management tool …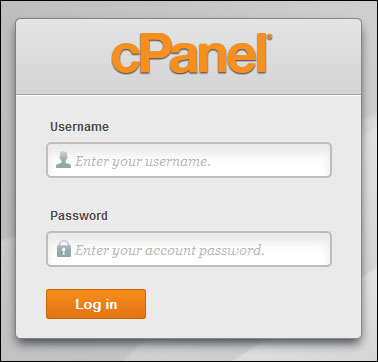 cPanel
Log into your server control panel …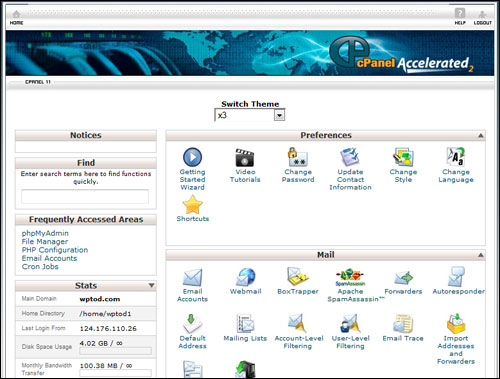 cPanel admin area
Find the "Databases" section and open up phpMyAdmin …

phpMyAdmin
Open up your WP database.
Note: If you have a number of databases set up on your domain, make sure that you choose the correct one …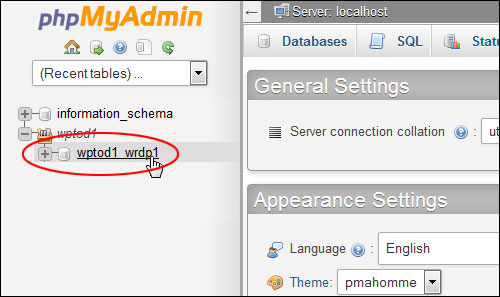 phpMyAdmin databases
Don't panic when you see the complicated-looking information on your screen screen.
Click on wp_users in the "Table" column on the left-hand side …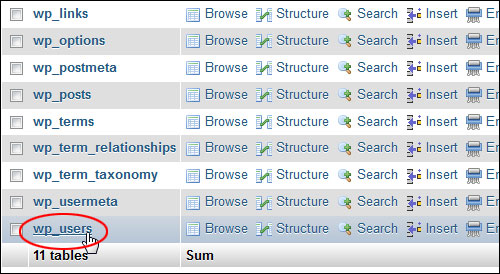 The user name is located in the "user login" column. To edit the username simply double-click on the text you want to change …

Type in the new user name and click outside the edit box to update the field with a new user name …

Log out of your server when you're done and return to your WordPress site. You may find that your session has expired. If so, log in again with your new Admin user name and password …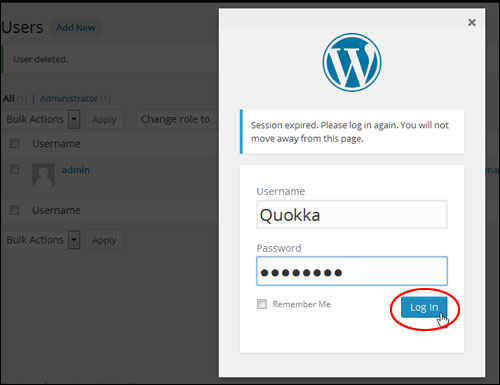 You will see that the username has been updated. However, your site will probably still display the old "nickname" …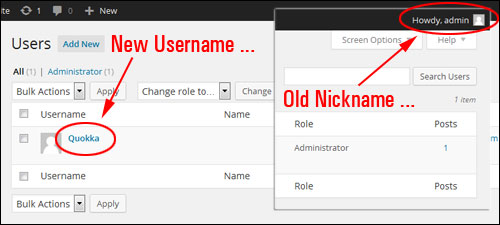 To change your "nickname", open your Users section and click the Edit link below the user name …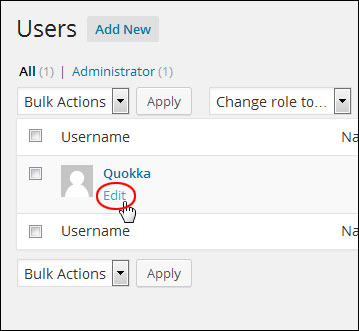 You can also reach your Profile section by clicking on the Edit My Profile link in the "Howdy, User" panel …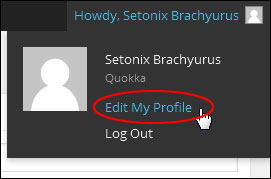 Choose a new name to display publicly from the drop-down menu …


Note: You can also create a new Nickname in the Nickname field and it will then be available for selection in the Display name publicly as drop-down menu …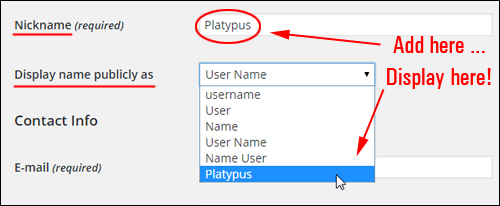 Click Update Profile to save your new settings …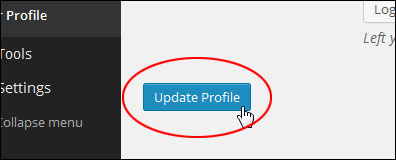 You admin area is now updated with a new user name and nickname …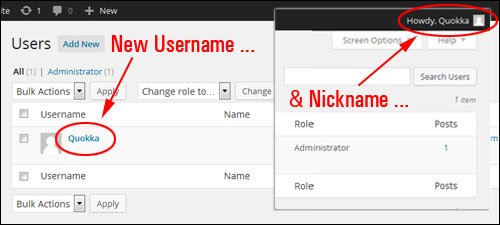 Congratulations! Now you know how to change the WordPress admin user name on your website or blog.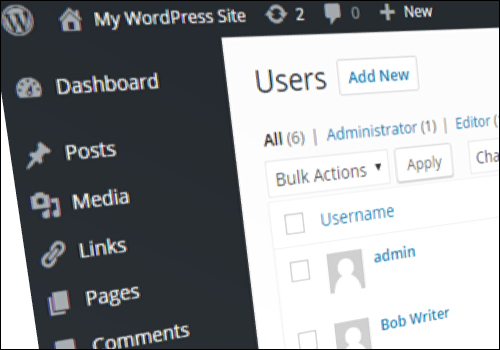 ***
"Wow! I never knew there's so much to learn about WordPress! I bought one of the WordPress for Dummies three years ago, such authors need to be on this course!" - Rich Law, Create A Blog Now
Disclaimer: We have no association with WordPress, Automattic, or any of the products reviewed on this site. We may derive a financial benefit from the purchase of third-party services and products mentioned on this website. All product images are the copyright of their respective owners and are used only for illustrative or training purposes.
***
Did you enjoy this post? Please feel free to use the social links below and share this article with anyone thinking of starting their own business online.