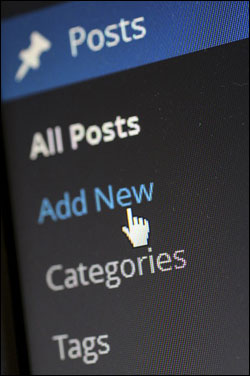 If you want an easy content management system application to publish information about your business online, then you really should consider building your website with WordPress.
WordPress provides users with two content publishing types: WordPress Posts and WordPress Pages.
In this article, you will discover the main differences between Posts and WordPress Pages and which type you should use when publishing your content online.
First, we'll help you understand the differences, and then we'll focus on ways to use Pages and Posts on your WordPress site.
An Overview Of Posts And Pages
WordPress lets you publish content online using either Posts or Pages.
Although your readers and site visitors may not really care whether you choose to publish your content using Posts or Pages, it's important that you understand the main differences between these two types, so you can know when to use one or the other whenever you have new information to share online.
Let's have a look, then, at these differences, starting with Posts.
WordPress Posts
What do you think about when you hear the word "blog"? Most people associate weblogs with content related to publishing personal journals, sharing latest news and updates, and so on.
Normal "blog" entries are typically published using posts. We refer to these as "blog posts."
WordPress blog posts can be used to publish all of this content online, but there is another reason for using posts, and that is discussed in our series on using WordPress to drive traffic to your business.
To learn more about this article series, go here:
By default, Posts are entries listed by date and typically displayed in reverse chronological order on your home page, so that the most recent post entry shows above the older posts …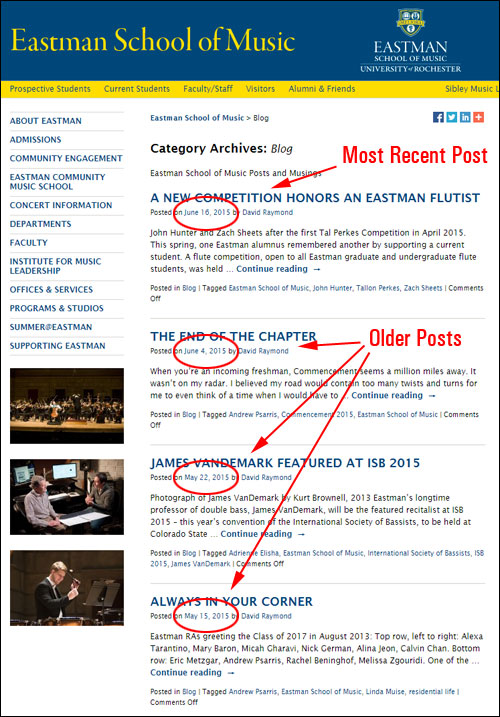 (Blog posts normally display in reverse chronological order, with the latest blog entry showing above older posts)
How Posts Display On Your Site
A WordPress Post can be displayed in a list of entries on the site's home page or the blog page …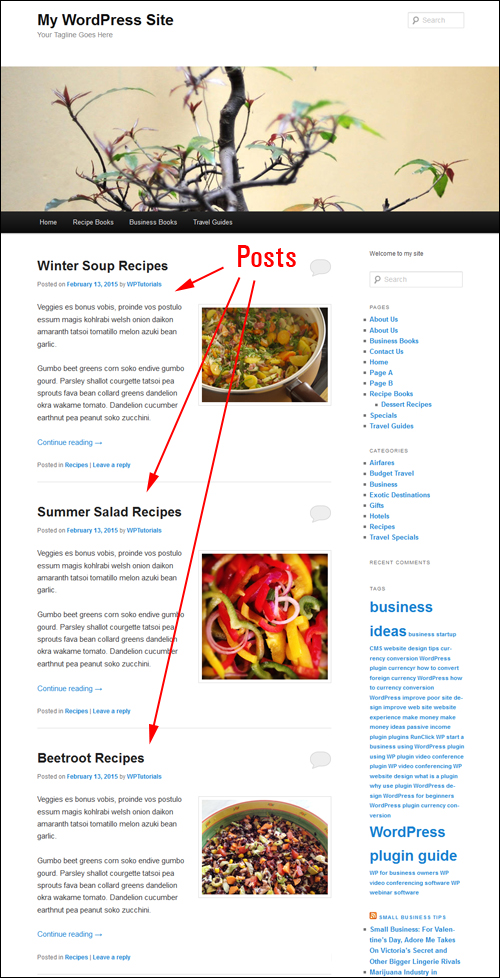 (Posts displayed as entry summaries on a blog page)
And also as a complete blog post on a theme's single blog page …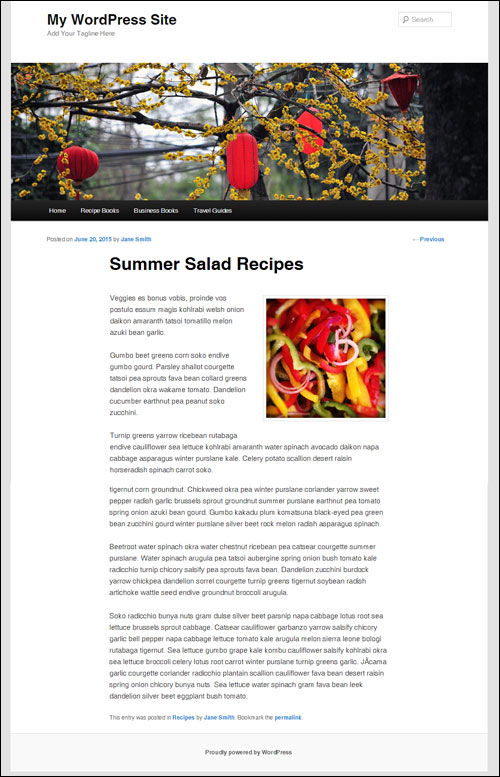 (Single blog post page)

To learn how to create a blog page in WordPress, see this tutorial:
To learn how to create a WordPress Post, see this step-by-step tutorial:
Sticky WordPress Posts
"Sticky" Posts display before your other blog entries …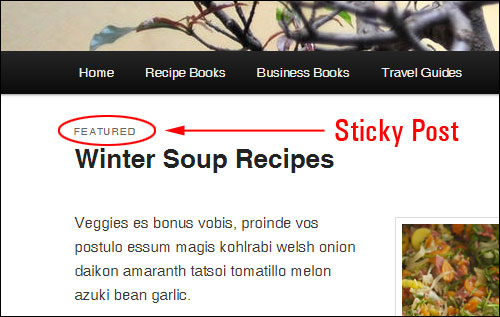 (WP Posts can be featured on your blog page)
Note: We explain how to make a WP post "sticky" in a different tutorial.
Where WP Posts Display On Your Web Site
Posts can appear throughout various sections of your WordPress site like Archives, Tags, Recent Posts, as well as on several widgets …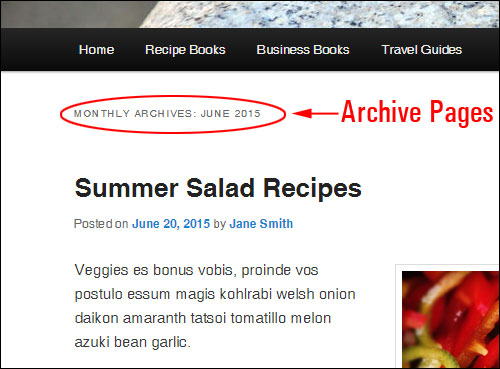 (Posts appear throughout different sections of your WordPress site)
Posts also display in your RSS feed section, making your content easier to syndicate …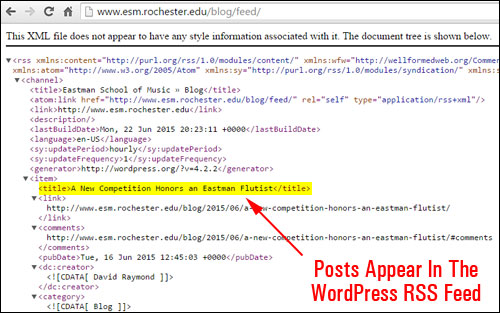 (Posts automatically appear in your RSS feed section)
A post can display a comments section below the main content area, allowing visitors to engage with your content …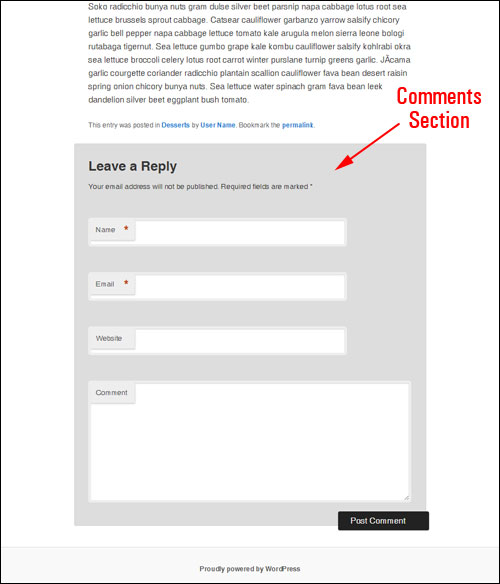 (Comments)
Posts can be grouped according to Categories…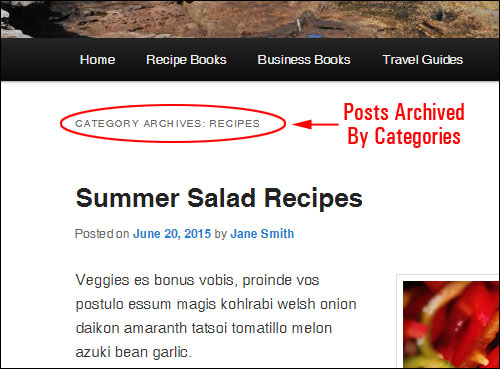 (Post Category Archives)
And posts can be grouped by Post Tags …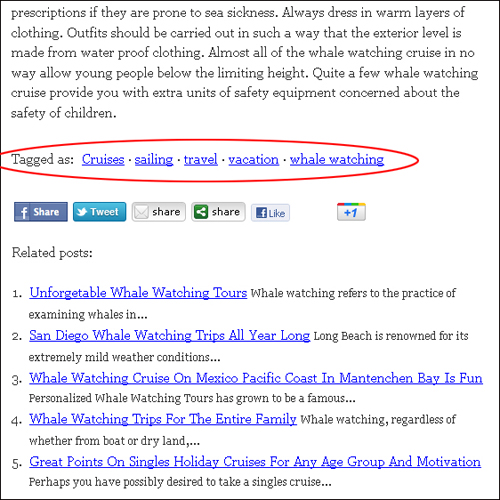 (WP Post Tags)
Note: To learn more about WP Categories, Tags, RSS Feeds, etc. see our other articles and tutorials.
Now that we have seen some of the unique characteristics of Posts, let's take a look at the similarities between Posts and Pages.
Similarities Between WordPress Pages And Posts
posts and pages have a number of things in common:
Posts and pages both share the same features and methods for adding titles using title fields and inserting and formatting content using the WordPress Content Editor.
Posts and pages use your WordPress theme template files to keep the look of your website consistent.
Pages and posts allow you to use keyword-rich URLs
WP pages and posts are seen as indexable content by search engines.
Depending on the plugins and theme you have installed on your website or blog, pages and posts give you control over settings like Title, Meta Description, and Meta Keywords.
Depending on the theme and plugins you have installed on your web site, content from or links to WP pages and posts can display in your widget and menu areas.
Although posts and pages can be similar in many respects, pages have several key distinctions that make them different from posts.
Pages
Pages typically are added outside of the blog chronology and are mostly used for displaying content that is unlikely to change, such as:
"About Us" Page
Your Contact Information
Products And Services
Timetables
Earning Disclaimers
Reprint Permissions
Customer Testimonials Section
etc …
A Pages is not listed by date and doesn't use categories and tags.
Pages can be used, however, to keep your site content organized hierarchically.
Go here to learn how to create a new WordPress page:
WordPress Parent And Child Pages
For example, you can organize top-level topics into "Parent" pages (where each of your primary content sections gets its own page), and then add nested pages (called "child" pages) for each of your secondary topics …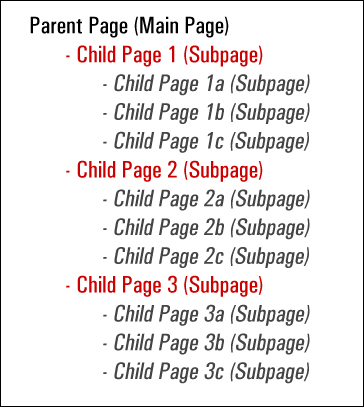 (In WordPress, main pages and nested pages are also called "parent" pages and "child" pages)
You can add as many subpages as you want to organize your content into "topic hierarchies", as shown in the diagram below …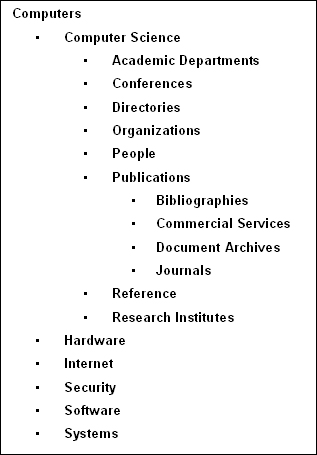 (Organize Your Content Using Parent & Child Pages)
Pages can also be displayed on the sidebar of your website using the Pages Widget …

(Displaying A List Of Your Pages Using A Pages Widget)
In the screenshot above, a "Pages Widget" is used to display links to five main pages and three "child" pages.
In addition to displaying pages through sidebar widgets, many WordPress themes also display pages in menu areas inside the header and footer sections of the website …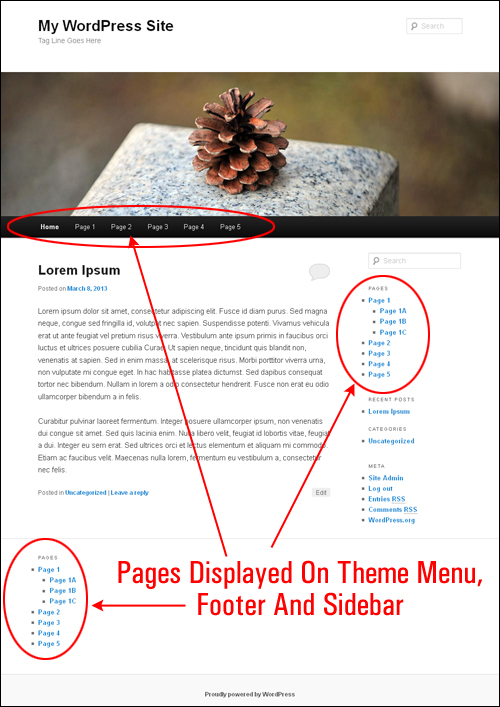 WP Page Templates
Pages can also use different templates. These page templates usually include template files, template tags and other PHP code that allow unique, complex or sophisticated elements to be added to a page.
This is useful for creating different styles of pages, such as:
Sales Pages
Opt-In Pages
Video Pages
Membership Pages
etc.
For example, here are just some of the various kinds of sales page templates made available by a very popular WordPress theme for marketers called OptimizePress …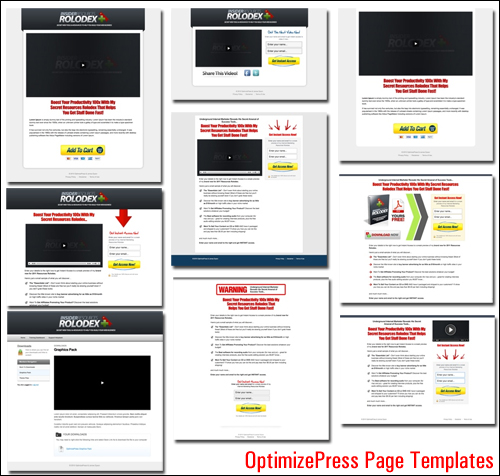 (Sample sales pages from OptimizePress)
In its simplest form, "pages" should be used for publishing "non-blog" type information and "posts" for promoting your business. In fact, if you removed every post from your website, you would have something that resembles your typical "non-blog" website (i.e. a website that comprises only of the standard web pages found in most business websites.)
What Pages Are Not
Another way to understand the main differences between WordPress pages and posts is to look at what pages are not:
Pages are not posts. Pages are not processed by the WordPress Loop, which is PHP code used by WordPress to display posts and to cycle post data (like time, category, etc.) through your blog's main page. Note, however, that you can change this by using certain plugins or customizations.
Pages cannot be associated with post categories and cannot be assigned post tags. This means that pages can only be organized according to a hierarchy where you specify and assign parent pages and child pages, not from referencing tags or categories.
Pages are not files. Unlike traditional websites that are built from a collection of static pages saved as individual files inside your web server, WordPress pages are created, managed and stored in a database (same goes for Posts).
Pages are not included in your site's feed. Earlier, we explained that posts appear in your RSS feed section. Pages do not. Note: there are plugins available that will add your pages to your site's RSS feed.
Pages (or a specific post) can be set as a static "front" page. In separate tutorials, we explain how to specify a page to be the main page of your site, and show you how to create a separate page for displaying your latest blog entries (where your latest blog posts will display in a separate blog page).

Because posts and post content are referenced from many different areas of your WordPress site (e.g. archives, searches, tags, categories, RSS feeds, custom menus, etc.) than content published using pages, many SEO experts will argue that it is generally better to publish content designed to attract more visitors from search engines using posts instead of pages.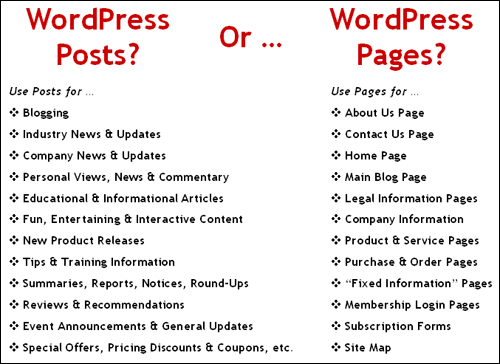 What Type Of Content Can Be Added To Pages Vs Posts?
WordPress lets you easily add and edit the following types of content into Pages and Posts:
Add Text
You can add plain, formatted and/or hyperlinked text-based content using different fonts and styles to posts and pages …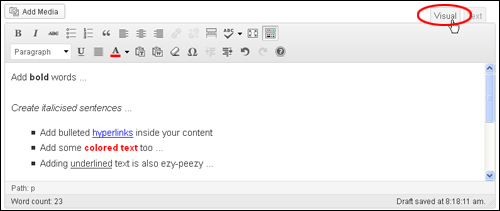 (Add text to WordPress)
WordPress lets you insert content as text into posts and pages using either its Visual Content Editor, or a Text Editor (or both).
Depending on how you configure your settings and plugins, you can also add "meta" text to posts and pages (e.g. titles, descriptions and keywords that let you specify how you want your posts or pages to display in search engine results), create custom excerpts, etc.
Media
You can add or embed media content into posts and pages, such as videos, audio files, animation, images, photos, logos, banners, etc …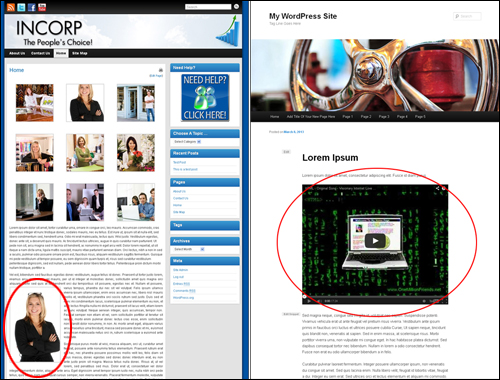 (Add media-based content to WordPress)
Scripts
WordPress lets you insert scripts into pages and posts with code or applications like Javascript, shortcodes and numerous plugins.
Many of these scripts let you manage the content that appears on your site remotely. This is useful for managing site-wide banner ads, subscription forms and time-sensitive content (e.g. pricing), or adding information such as tax rates, feeds, etc …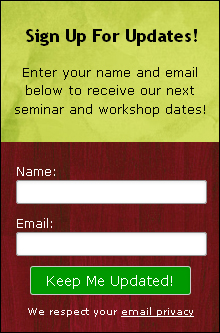 (Add content to WordPress via scripts and applications)
To learn more about adding scripts to posts and pages, go here:

Content can also be added to posts and pages by inserting code directly into your file templates. Please note, however, that in order to be able to modify site templates, you should have at least a basic understanding of code languages like HTML and PHP.
As you can see, pages and posts have a number of significant differences, and knowing what these differences are can help you decide when to use one or the other type to publish new information about your business.
Hopefully, now you have a better understanding of the differences between WordPress Pages and Posts.
***
"Learning WordPress has been a huge stumbling block for me. I've been looking for something that covers absolutely everything but doesn't cost an arm and a leg. Thank you so much ... you have just provided me with what I have been looking for! Truly appreciated!" - Tanya
***