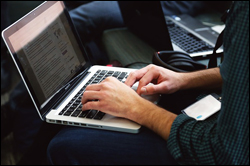 This is Part One of a 3-part article series designed to help you understand how to plan your website or blog.
Are you thinking about starting a website or blog for your business?
One of the most important decisions you have to make is if you should build this web site yourself, or get someone to create the site for you.
Both choices have pros and cons. Whatever option you pick will depend on things like:
Your budget
Time
Your business priorities
Level of urgency
Your skill level
Your level of commitment to manage and complete the project
And many other factors …
If your budget is limited and you want to save money, you could decide to build the site yourself, but it goes without saying that you will then need to spend time learning how to put it all together.

Before planning your website you need to plan your digital business and ask questions about the capabilities of your business to manage and grow a digital presence.
To help small businesses plan an effective digital presence, we have published a book called "The Small Business Digital Manager."
'The Small Business Digital Manager' looks at why most small businesses end up with an unmanageable web presence almost as soon as they take their business online and why this leads to poor results, and shows you how to be in control of your digital business processes and get better results online using a systematic and doable approach.
In addition to the book, we have also developed a comprehensive online course that will help you implement a practical and effective digital plan for your business.
For more details, go here: The Small Business Digital Manager – How To Get Better Results Online
Planning Your Website – Understanding The Process
Whether you choose to build a website yourself or get it built by someone else, the first crucial step is to get your website planning done. In this article, we explain why better website planning can help your business and what to do before you build a website.

Proper website planning is considered by many web business experts to be the most important aspect of building a successful website. Careful planning at the beginning helps to prevent costly errors later and can help you create a better end product.
Below, we have compiled a comprehensive practical guide for business owners aimed at helping you better understand the website planning process. We will also cover what to do and what not to do when planning a website, and give you tips on how to brief your web designer to ensure that you end up with a website that will deliver you the kind of results you expect.

Important: Before even thinking of setting up a website or registering a domain name for your online presence, it's absolutely important that you first spend a little time doing market research.
Building a successful digital presence requires more than just having a professional web site set up. It also requires in addition to a number of other things, a commitment to develop and implement an ongoing digital marketing strategy.
The Website Planning Process Simplified
So … you need a web presence.
Let's start, then, by understanding the website planning process.
Before doing anything else, take a look at the process chart below, and let's work through the information in this post together.
Note: To view a larger image click on the image or the link below the diagram.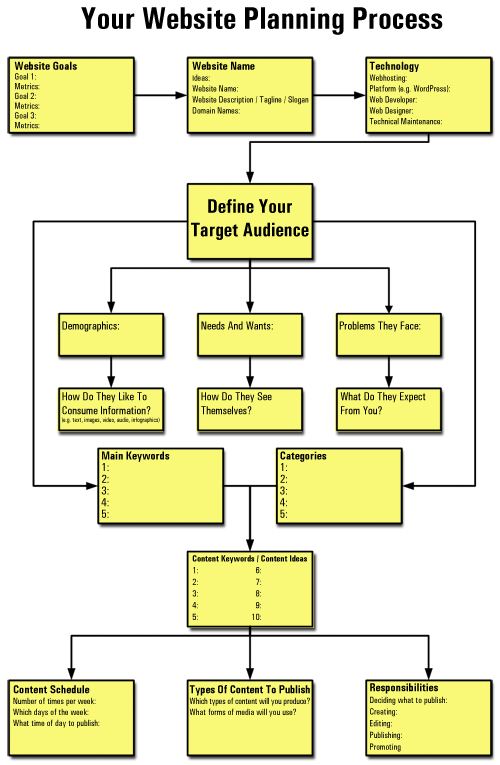 (click to view larger flowchart)
To make this process easy to follow, you will want to download and print the Website Planning Process Chart below.
After downloading and printing out the flowchart, grab a few sheets of paper and a pen, or whatever you takes notes on, so you can write down your thoughts and ideas as we walk you through the process. Also, make sure that you will not have any distractions for the next 15-35 minutes.
Step 1 – Defining Your Website Goals
No matter what kind of site you plan to build, the first step is to define clear goals for your site and make these as specific as possible.
Ask yourself these questions:
What kind of web site are you planning to build? Will it be a corporate website, an e-commerce site, a personal blog, or some other kind of website?
What specific objectives would I like to achieve with this site?
For example, your main goal could be to:
Sell products or services online – you might want an online web store. Depending on your objectives, this could require purchasing or installing an SSL certificate to create a secure site (i.e. changing your site from 'http' to 'https'), the addition of a membership area exclusively for your registered users, etc.
Capture new leads – you may want to look at getting a simple site built with a "squeeze" page (landing page) or an information page and a lead capture form where all of your online visitors get sent to,
Have a services site that will help build credibility and trust for your brand or professional services, post news, announcements, or updates to staff and clients, etc.
Get more exposure online for your existing business – you will need a blog built on a separate domain, or added to your existing website to better promote your services, or help assert your authority and expertise in your specific niche.
Or you may need a combination of the above or something else entirely …
Write down whatever goals you want your site to help you achieve on your worksheet, a blank sheet of paper, or wherever you are recording this process.
After your goals have been written down, go through the list and pick the goal that is most important to you.
Write this goal on your worksheet (in "Your Website Goals" section) as "Goal 1".
Now, return to your list and repeat this process to find at least two more goals and write these down on your worksheet as "Goal 2" and "Goal 3".

You've probably heard the old saying "you can't manage what you can't measure."
But, what if you already can't manage?
Running a website is going to to add a ton of additional things you will need to manage.
Your website planning process is an integral aspect of your business marketing planning process. It's important, therefore, that you continue to refer to your business marketing plan to make sure that you have the resources and capabilities available to implement the strategies that will help you achieve your goals.
So, with this in mind, let's do the following right now:
Once you have identified at least 1-3 goals and written these down in your flowchart, go back to "Goal 1" and ask yourself this question: "how will I measure this goal?"
In other words, what objective criteria will you use to measure your site's performance? How will you know if your site is helping your business achieve your goals?
For example, your website's objective could be getting a certain target amount of leads to submit an enquiry each week via your site's contact form, or getting "X" amount of new members per campaign, etc …
Also, think about the resources and costs associated with managing the process of monitoring your goals. If you need to, revise your business plan to accommodate your findings.

Note: Keep your goals as flexible as possible at this stage, so you can modify these as more data is gathered from your site from your site visitors.
Step 2 – Name Your Site
After you have clearly identified your goals, the next step is to come up with an appropriate name for your site.
This is another important step in the website planning process, so take your time to think carefully about coming up with a good name for your site.
Brainstorm your ideas or mastermind with others. Call a few customers (or potential customers if you haven't launched your business yet) and get their input.
Try to think beyond the obvious (i.e. your business name), especially if the name isn't something that immediately brings up your products or services to mind. Remember, most online users will probably have never heard of you.
Put yourself in the shoes of your ideal customer. Who would be searching online for the very product or service your company sells? What would they be typing into a search engine or browser to find you? Once you know the answer, try to come up with a name that would entice your prospects.
Note: You can be creative and clever with your name, but it's best to avoid being "too clever". The same advice can be said about choosing a catchy, memorable or a stand out name. It can be a fun or quirky website name, but it's best to try and avoid web site names that can sound offensive (and definitely stay away from trademarked or registered names or phrases – you'll just be inviting trouble!)
If you go online, you can quickly find out what other companies in your industry or niche have named their sites. Study your competitors, especially sites that occupy the search results that you would like to show up in.
For example, if you are thinking of starting a cooking blog, doing a quick online search for "cooking blog" reveals some ear-catching site names like: "Smitten Kitchen", "Cooking With Amy", "Shockingly Delicious", "Worth The Whisk" and more …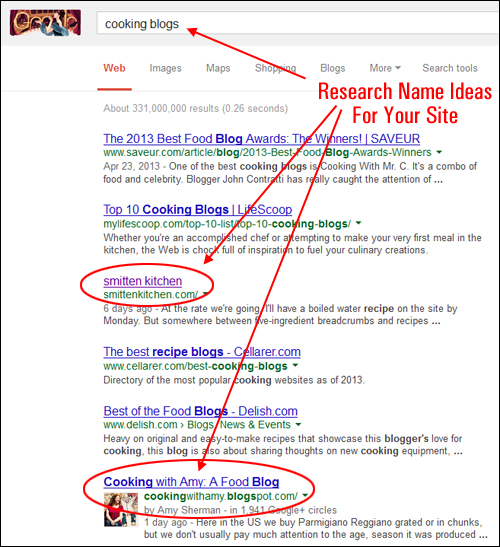 (Research name ideas for your site)
So … this is the time to get inspired. Make a huge list of possible names and then start narrowing your list down.
After narrowing your list of names down to the best choices, repeat the same process as above to craft a description, tagline or slogan for your website.
Your description should be concise and inform the reader with as few words as possible what your website is all about. For example, in one of the food blogs we came across while searching online, their description was "Fast, Fresh, and Simple Recipes Easy Enough for Tonight's dinner."
Include keywords in your web site's name and description.
Once you have completed this step, it's time to look at your domain name. If you plan to add a blog to your existing web site and decide that your business blog should have its own domain name, then by all means register a new domain name for your site.
There are different strategies you can use to register domains names for your web site. For example, you can register keyword-rich domain names (i.e. domains containing the keyword phrase that you want to rank for in search engines), expired domain names (domains that the previous owners have decided not to renew and that have been made available for registration once again, different top level domains and domain name extensions, etc.)

Tip: Subscribe to our site to learn more about useful strategies on registering domains and tips on how to develop and implement a successful website marketing strategy.
Step 3 – Manage Your Site's Technology
After settling on a name and description for your web site, the next step is to develop a clear plan to manage the technology that will host, support and power your web marketing vehicle.
We strongly encourage you to consider getting your website built with WordPress.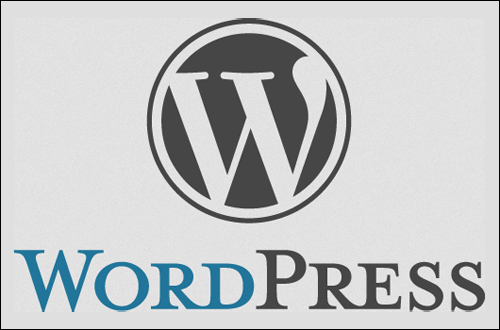 (WordPress)
WordPress is not only a robust web-building platform, but it is also easy-to-manage and great for non-technical users.
WordPress is also the world's most widely used web content management system, and, as you can see below, WordPress powers over 45% of the world's CMS-driven websites.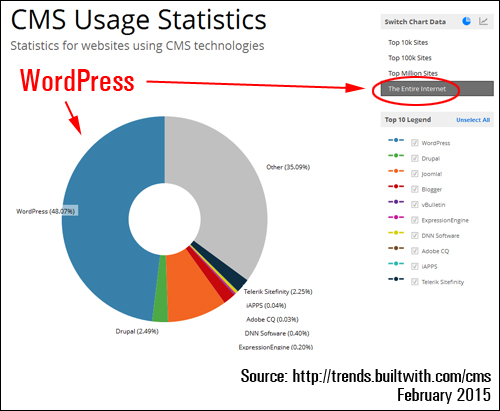 (WordPress - the world's most popular Content Management System)
A WordPress website is an ideal digital application platform for publishing content and communicating with visitors and potential clients.
A website or blog created with the WordPress platform allows you to engage with online users and makes things like posting content, special offers, promotions, news and announcements about your services, company or industry very easy, even if you have little to no technical web skills. No coding is, in fact, required to publish content on a WordPress site, and managing tasks like backups and software upgrades can easily be automated.
In fact, many large companies, small to medium businesses, institutions, organizations and well-known brands no longer use a traditional website built using static website building tools. More sites are now being powered by WordPress, which can provide businesses and their users with all of the functions and capabilities of a regular website.
If you would like to have better management and control of your own web marketing and don't have the time, need or desire to learn technical "web coding" languages such as HTML, then you should consider choosing a WordPress-powered business website or blog.
Hosting And Managing Your Web Site
In addition to choosing WordPress to drive your site, you should also decide who is going to host your website, and if you are going to outsource your site management to somebody else, or manage everything yourself.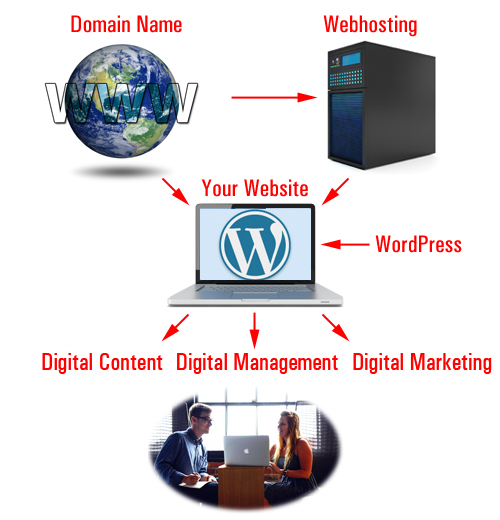 (Hosting & Web Management)

We use and recommend WordPress for many business needs, and we also provide a lot more information about WordPress and tips on subjects like how to register domain names, finding a good webhost and website management in other blog posts on this site.
If you need more help, just contact us for assistance.
Step 4 – Define Your Target Audience
After you have the basic planning steps figured out, then it's time to define who is your website's target audience.
Key information about your target audience should include:
Demographics
Needs and wants
Problems your audience is having, or will face in the future
How they consume information
How they generally see themselves
What they may expect from you and your site
It's very important that you spend time creating as accurate a profile of your target site users as possible. Try to picture the ideal person that you will be communicating directly with when presenting your information to.
Begin this process by asking lots of questions, like the following:
Who will you be writing to?
What kind of content will users be looking for on your site?
What issues and difficulties are your visitors going to face that your website will help them solve online? What specific solutions are people searching online for similar problems?
Are your ideal website users technology-savvy? How will your site users consume information? Will they prefer video to images and text? Do they need downloadable content (e.g. price lists, schedules, timetables)? Will you need to create content like videos, audios or multimedia presentations continually to keep your audience engaged?
Where are they located? Do geographic location and factors like occupation, religion or gender affect the success of your business? If so, what segments of the population will your site be marketing to and how will you find and target these demographics online?
How does your target audience see themselves? Who do they engage online with? What videos do they watch? What else do they buy, or consume online?
What will your audience expect from your site? What kind of information are you willing to provide online for free or for a fee? What kind of information are you unwilling to provide online for free?
Being able to accurately define your site's key target audience is an important step in the website planning process and it will help you communicate better with your web developer and everyone else assisting you in developing your website, and ensure that you end up with a website that will truly work for your business.

If you don't have access to accurate market research data about your target audience, then start with a "best guess" based on your experience and research.
Don't narrow your scope too much. You could be going after a niche that is just too small, or an online opportunity that may not be viable.
Create a list of all the things you would like your website to be able to do for your business and for your customers. This could include things such as having restricted areas where customers can view their order details and resellers or affiliates can view or download private or confidential information, add a directory, forum, customer support helpdesk, etc.
Educate yourself about any additional functionalities that your website will need to provide your business with better website administration, more efficient website management, improved web security, etc. and list these as well. This could include managed webhosting, automatic backups, brute-force attack prevention, and more.
Unless you plan to build a portal website and have the resources to do so, avoid trying to make your web site appeal to an audience that is just too broad, or you'll just end up putting yourself in an untenable position when it comes to populating your site with content, as you will learn when we continue exploring the website planning process in another post.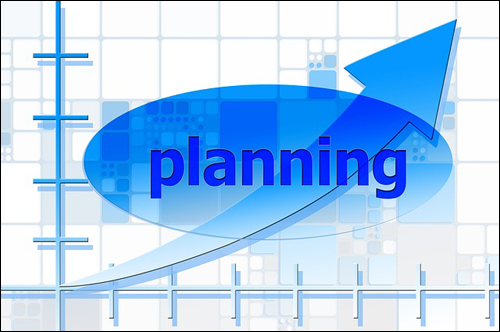 (Source: Pixabay)
***
This is the end of Section 1
To keep reading this article, click here:

Get Notified When New Tutorials Get Published – Subscribe To WPCompendium.org!
Additional images: Notebook, Map, Server, Startup.
***
"I was absolutely amazed at the scope and breadth of these tutorials! The most in-depth training I have ever received on any subject!" - Myke O'Neill, DailyGreenPost.com