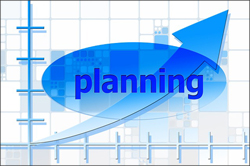 Are you thinking about taking your small business online?
Then this detailed guide to planning your website is for you.
Note: This section continues from the previous article series where we provide important information on planning your web presence.
How To Plan Your Website – What To Do And What Not To Do – Part 2
In Part 1 of this article, we covered the following areas of the website planning process:
Step 1 – Defining Your Website Goals
Step 2 – Site Name
Step 3 – Manage Your Technology
Step 4 – Your Website's Target Audience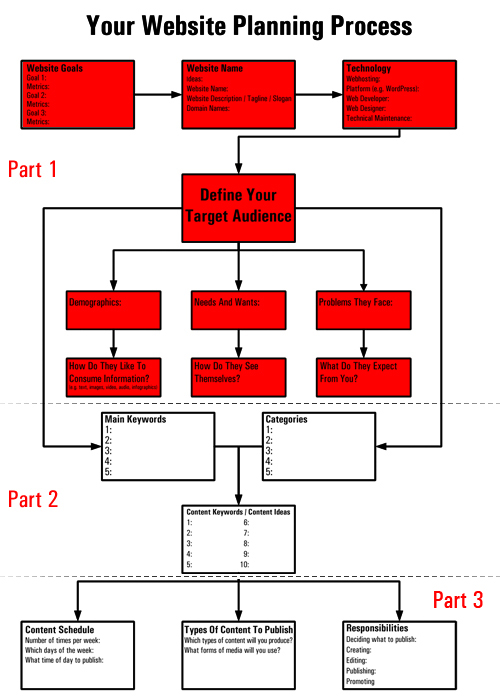 (The Website Planning Process)
As you can see, in so far we have established the foundations for planning your new site. If you have been following the above process, you would have a clear idea of your site's goals and objectives, established your website name, decided on the technology platform you will be using and defined your target audience.
At this point, you could start getting your site built. We recommend, however, that you go through the planning process presented in this article, as we will now address content planning and reviewing effective strategies for managing and publishing this web content. Getting all of your initial planning completed before you start building your website or blog could save you time and money.
Step 5 – Your Key Phrases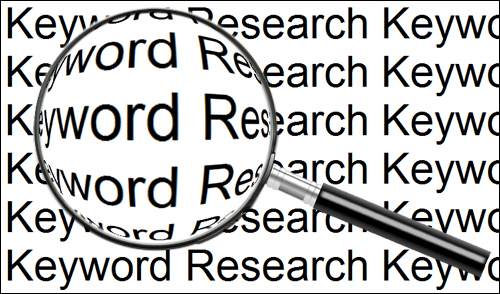 (List your main search phrases)
Now that you have a clearer idea of who you will be targeting with your website, the next step is to identify the main keywords that you want online users and search engines to associate with your website. This will help search engines connect your website with your target audience.
Ideally, you should try to find keyword phrases that have "low competition" and a reasonable monthly search volume. Depending on your needs, you may also want to focus on key phrases within your target industry that have some level of commercial viability.
There are many tools you can use help you identify good keyword phrases, including free keyword tools.
If you have an account with Google Adwords, for example, you can use a keyword search tool like the Google Keyword Planner.
The screenshot below shows that more people are searching each month for the key phrase "overseas adventure travel" (> 18,000 searches per month) than the key phrase "singles adventure travel", which gets less than 1,000 searches a month …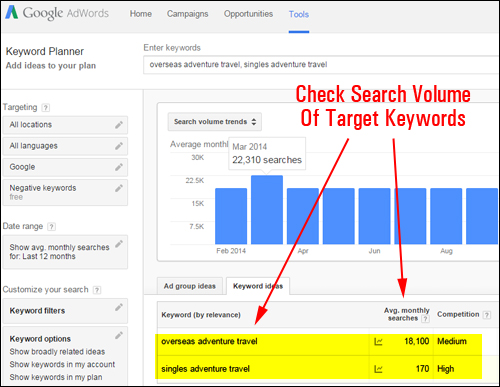 (Keyword Research Tool – Google Keyword Planner Tool)
According to this keyword research tool, however, the number of websites competing for visitors searching for "singles adventure travel", is much higher than sites trying to rank for a key phrase like "overseas adventure travel". This may be because one set of keywords relates to a specifically targeted audience (i.e. "singles" looking for adventure travel) while the other is more generalized, or because there is more money to be made selling adventure travel experiences to singles, etc..
Keyword research can also help you understand the commercial value of certain keywords. Typically, smart advertisers will advertise more frequently key phrases targeted towards attracting "buyers", rather than key phrases targeted more towards attracting people who are simply browsing or researching information online.
For example, people searching for the key phrase "colour printer minolta" are typically not as ready to buy a color printer as people who search for "konica minolta bizhub C3100P review", so if you plan to sell or review colour printers on your website, you would want to aim for longer, more descriptive and more targeted keyword phrases (called "long tail keywords"), hopefully with a higher search volume and low to medium competition.
It will help your website, therefore, if you have a few highly searched keywords in your content. However, don't go "crazy" doing keyword research for every post you plan to add to your site, especially if you are just starting out.
Make a simple start. Begin by making a list of the "top" five keywords you would like your site to rank highly for in the search engines, make sure that the keywords you pick get a decent number of searches each month and then use these keyword phrases naturally in your posts (i.e. aim to write content for people, not search engines).
Once your site begins to attract visitors, you can then study actual data like keyword searches used by visitors to find your website from analytic tools and apply the data to improve your keyword research.

Keyword Research Tips For Business Site Owners
Tip #1: Avoid building your advertising or content marketing campaigns on keywords that return extremely low to no monthly searches, or that have no commercial intent. There's no point ranking #1 in Google for key phrases that no one is looking for. Also, if you type a keyword phrase into Google and no one is advertising products for it (i.e. no Google ads show up), then that keyword most likely has no commercial value or is unprofitable.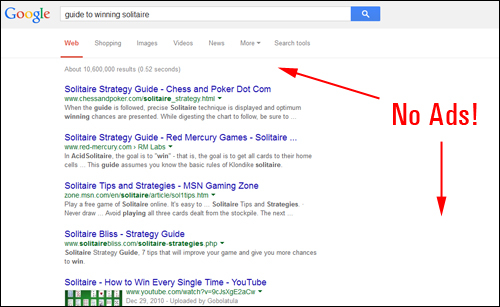 (Search words with no competing advertisers may be unprofitable)
Tip #2: Use keyword research tools to help you build keyword lists and generate commercial content ideas. Here are some great free and paid keyword research tools you can use:
Free Keyword Research Tools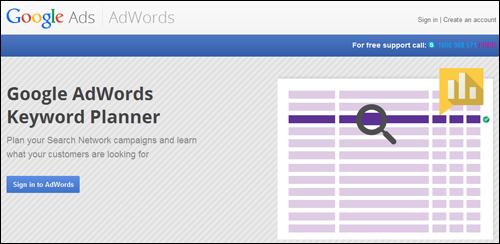 (Keyword Planner Tool – Google AdWords)
The Keyword Planner lets you explore keywords and keyword-based advertising ideas (e.g. pay-per-click advertising), get keyword search history, see how a list of keywords might perform in ad campaigns and even create a new keyword list by multiplying several keyword lists together.
To learn more about this keyword research tool, visit this site:
If you don't have access to a Google AdWords account, use the FREE tool below to help with your initial keyword research: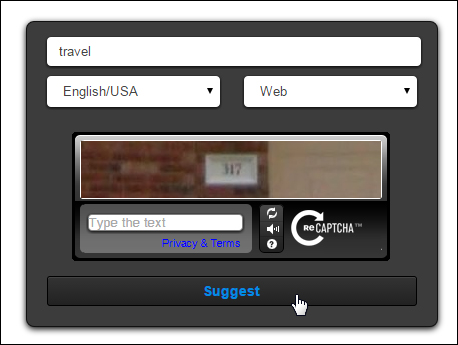 (Ubersuggest)
UberSuggest is a free keyword suggestion tool that essentially lets you perform the same function as typing your topic into the Google search box and seeing what topics or ideas come up.
This tool saves you time going go through the alphabet from a-z to discover new keyword suggestions related to your subject: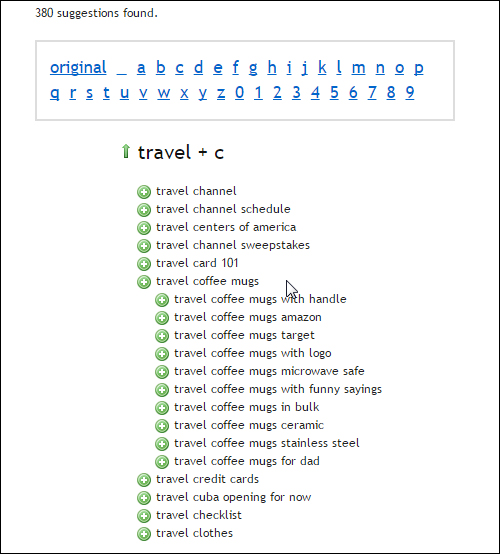 (Discover new content ideas with the Ubersuggest keyword tool)
To use this free tool, visit the site here:
Paid Keyword Research Tools
The keyword research tools below will help you not only discover many profitable keyword phrases and long-tail keywords to use when planning content or a pay-per-click advertising campaign, but also save time analyzing your competition's keywords and formulating a content SEO strategy for your site: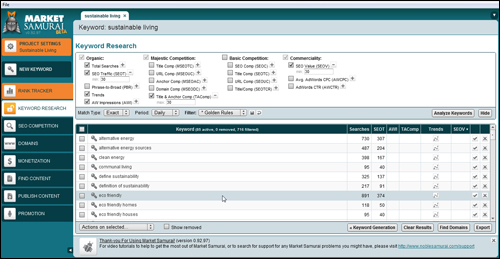 (Market Samurai Keyword Tool)
Market Samurai is an inexpensive tool that provides not only keyword research but also additional content and SEO research tools, plus excellent training tutorials on how to perform keyword research for SEO purposes.
For more information about this software tool, visit this site: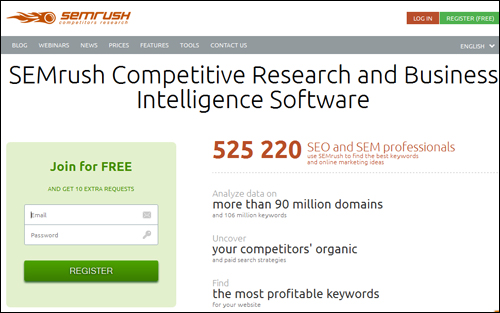 (SEMRUSH Keyword Tool)
With SEMRush, you can add the URLs of your competitors and the tool will show you all the keywords that site is ranking for, making it easier to find short-tail and long-tail keywords that you can then target.
To learn more about this tool, check out the website here: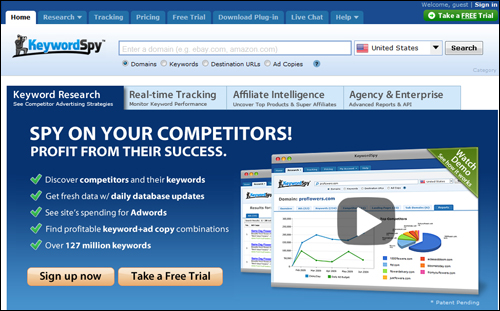 (Keyword Spy)
Keyword Spy is an SEO tool that's primarily used for doing keyword research. You can use Keyword Spy to identify the keywords that your competition is using and to research keywords for your own website and content marketing strategy.
For more information, go here:
Step 6 – Defining Site Categories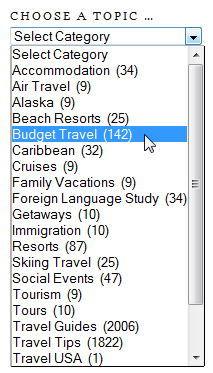 (Define web site categories)
Decide on specific areas in your niche that people might be interested in learning about and create a list of "categories" for all the topics that you plan to write content about.
For example, if your business is travel-related, your categories could include topics such as: "corporate travel", "adventure travel", "exotic destinations", "family packages", "overnight accommodation", "travel accessories", "cruises", "air travel", "South America," or any other travel-related categories that match your services.
Aim to create an initial list of about 5 – 10 categories. You can always add more categories to your site later on.

Practical Tips For Business Website Owners:
Tip #1: WordPress Makes Managing Categories Easy
WordPress offers two commonly used ways of grouping and organizing content on your site (WordPress refers to these as taxonomies): "categories" and "tags".
WordPress makes managing categories easy. It also lets you easily create new categories and match your posts to different categories to help keep your content organized.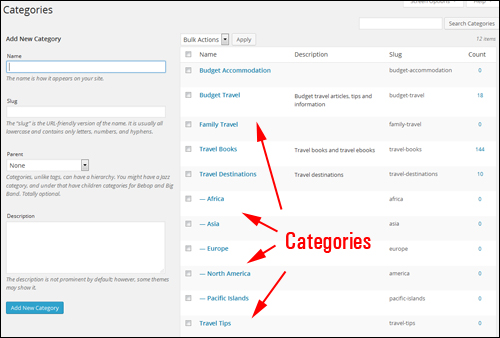 (Use WordPress to easily manage your website's categories)
Tip #2: Categories Can Increase Your SEO Rankings
Targeting the right keywords in your category names can increase your website's SEO rankings.
WordPress lets you easily create search engine-friendly URLs that include your categories as keywords (great for SEO, so remember this when choosing category names …

(Use WordPress categories to increase your search rankings)
Tip #3: Categories Help To Improve Ease Of Navigation On Your Site
Categories help visitors find content on your website more easily.
With WordPress, each category you create becomes a separate searchable webpage.
This allows your users to find all posts published under that category in one place …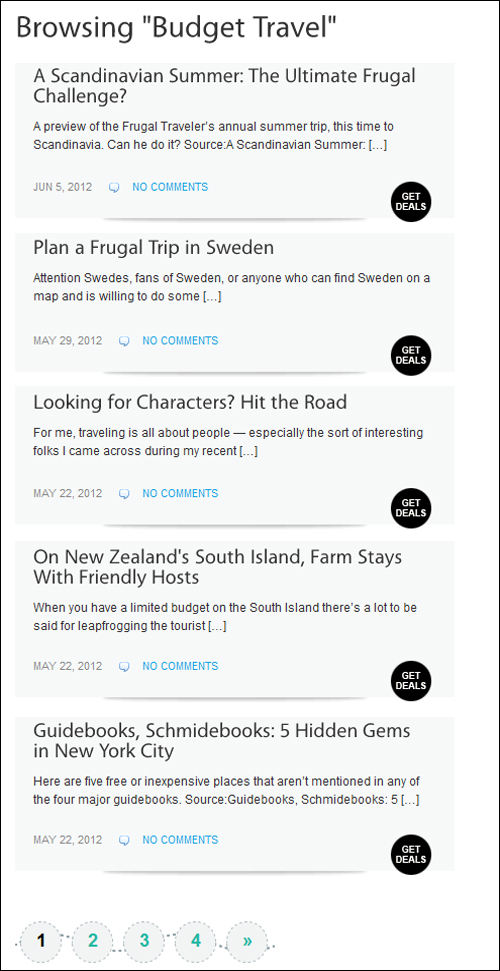 (Using WordPress categories improves ease of navigation on your site)
We have created a detailed tutorial on using WordPress post categories here:
Step 7 – Plan Your Content Strategy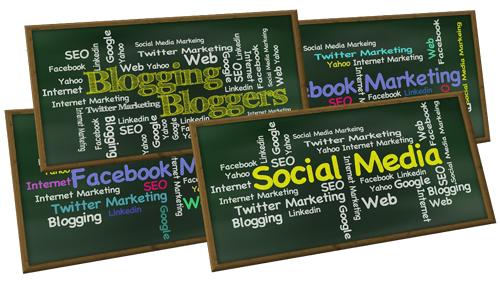 (Formulate your content strategy)
Now that you have created a list of keywords and categories, the next step is to begin planning your content strategy.
Organizing Your Website Pages
Your website should have standard pages like Home, About Us, Contact, legal pages, and product / service description pages and any additional pages specific to the needs of your business (e.g. a staff directory page linked to your About page, FAQ, etc.).
Your website may also need special pages or sections, such as a members-only section for customers, private access pages for resellers or affiliates, and so on.

If your business provides a number of services, don't list them all in one page. Instead, create a separate page for every service you offer. This allows search engines to better index and rank your website and web pages and creates multiple landing pages (i.e. entry points) for visitors to find and access your website.

(Create separate landing pages for each service your business provides)
Many businesses make the costly mistake of lumping all of their services in one page. If you want to, you can have a main 'Services' page which lists all of your services with links from each service pointing to their own separate page for more details.
Organizing Your Web Content
You will need to create and content to every page you plan to have on your website as well as create and publish new content on a regular basis to attract visitors, educate prospects, train clients, etc.
Ideally, your web content plan and content marketing strategy should be defined at the digital business planning stage before your website even gets built.
To learn more about the planning process we recommend for keeping your website and web content organized as your business grows, see this tutorial:

Content Strategy Tips:
Tip #1: Your "Fixed" Web Content
Make sure that you have content for all of your "fixed" website pages already written before you begin building your website, especially if you plan to get someone else involved in the process. This will help to avoid additional costs caused by delays or unpreparedness.
Here is a basic checklist of the content you will want to have already prepared before you start building a website:
Name of your business and brief business description.
Content for your "Front Page".
"About Us" page content.
"Products/Services" page content.
Site Categories.
Business Contact Details (e.g. business address, email, telephone numbers)
Images (e.g. product images, etc.). Image formats = .jpg, .png or .gif.
1 – 10 initial articles to be used as "seed content" for your site (saved as Word document or plain text file).
List of all external links and additional contact details to be included in your site (e.g. "Vendors", etc.
Downloadable documents (e.g. videos, PDF reports, price lists, etc.)
Also, ensure that all URLs you would like to add to your website and all other details like spelling, phone numbers, etc. are correct.
Tip #2: Create A List Of Content Topics
Here is a "fast" method you can use to help you create a list of content ideas for your site.
Write down 12 keywords, and for each keyword, write down one content idea you can add to your website.
You can also write a blog post about each of the topics listed below:
The products or services you sell
Your company and the people in it
The industry you're in
A industry event you plan to attend
Tips and how-tos
Staff information
What aspect of your services could you educate prospects about to help overcome objections?
What problem do you or your services help your customers solve?
What information can you provide to help more clients buy again from you?
What are common FAQs you get from interested visitors or prospective customers?
etc …
Once you have created this list of content topics, keep adding to your list.
Tip #3: Learn How To Run Out Of Content Ideas
We provide our clients and subscribers with detailed training email on how to develop a content marketing strategy, how to promote your business with content, and how to never run out of new content ideas.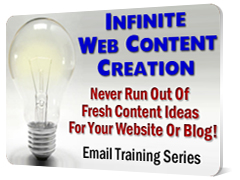 (Never run out of web content ideas)
The "Infinite Web Content Creation" email training series is aimed at helping WordPress website owners and covers the following areas of the content creation process:
Creating An Effective Digital Content Strategy
Content Writing Tips
Writing Web Copy
WordPress Content Posting Guidelines
What To Write About
Outsourcing Your Content Creation
Time-Saving Content Strategies
Enter your details in the form below to subscribe now and start receiving training content immediately!
***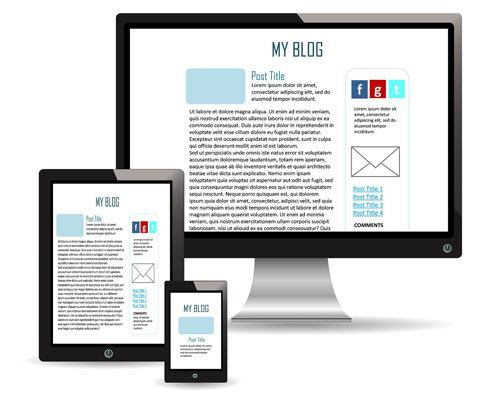 ***
This is the end of Section Two
To keep reading this article, click on the link below:
Images: Planning, Social Media, Blogging.
***
"This is AMAZING! I had learnt about how to use WordPress previously, but this covers absolutely everything and more!! Incredible value! Thank you!" - Monique, Warrior Forum
***