How To Edit Your WordPress User Profile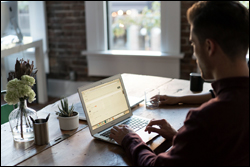 Your Profile screen lets you specify your name and how it will be displayed on your website or blog, your e-mail address for admin purposes, and other personal information and optional settings associated with your WordPress user account.
In this article, you will learn about editing your user profile.
We will also show you how to set up a biographical info box that will display on your blog in the "Author Archives" area and how to use this feature to better promote users who publish content on your blog or their business online.
How To Edit Your User Details And Personal Settings In WordPress
On the far right-hand side of the Admin Toolbar is the Howdy, User Name section …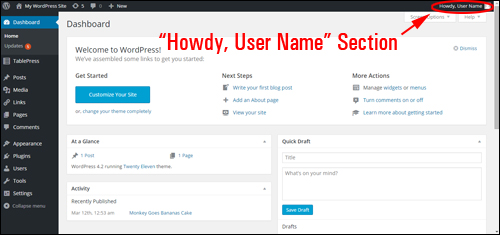 If you hover over this panel with your mouse it will expand with an image of your Gravatar, your name and username, and also links to your "Profile Screen" and a "Log Out" link …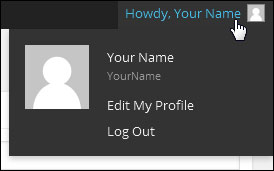 Select Edit My Profile…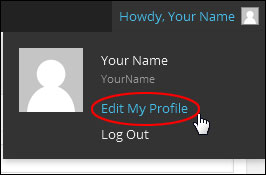 Another way to access your user profile area from the dashboard menu is to go to Users > Your Profile …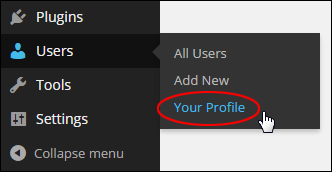 This brings you to the Profile section …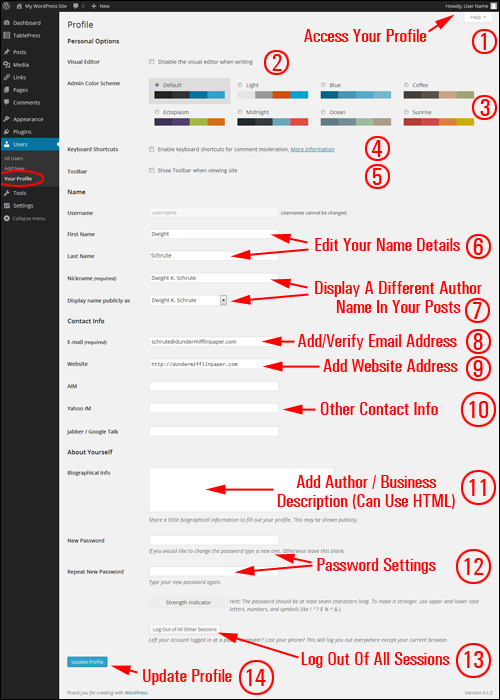 The Profile screen contains various subsections that allow you to view and edit information about your WordPress user account.
These include:
Personal Options
Name
Contact Info
About Yourself
Password Settings
Let's now go through each of these sections below …
Your Profile Sections
Please refer to the above image as you work through the descriptions below.
Main Profile Section
1 – How To Access Your User Profile
As explained previously, you can access your profile screen by clicking on the "Howdy, User Name" section and selecting "Edit My Profile" from the drop-down menu, or selecting Users > Your Profile from the dashboard navigation menu.
Profile > Personal Options
You would typically ignore this section, unless you specifically want to customize aspects of your WordPress site administration area that are only viewable to you (and no one else) such as disabling the visual editor when writing, changing the admin area's color scheme, or enabling keyboard shortcuts for comment moderation.
2 – Visual Editor
Ticking this box disables the visual editor and uses the plain HTML editor instead.

Tip: If you experience any problems when trying to add code to your content (e.g. HTML), try disabling the visual editor by ticking the checkbox in this section.
3 – Admin Color Scheme
WordPress lets you customize the look of your WordPress Dashboard by changing the default WordPress color scheme …

WordPress User Profile: Customizing The Default WordPress Color Scheme
You can select a different color scheme for your WP dashboard area from the default choices provided, or customize the color scheme using WordPress plugins …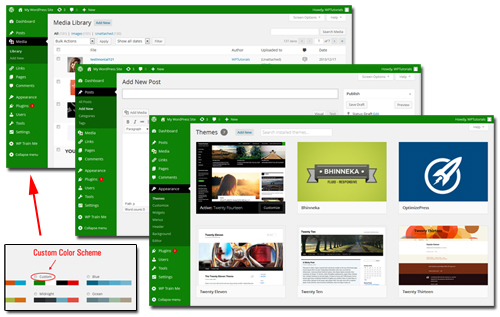 Although this has no impact on what your blog visitors see (themes control the design of your website is controlled by themes) or the functionality of your site, this feature can be used for branding the dashboard area with your corporate colors, or allowing users to personalize their own  admin area.

To learn how to customize your WordPress dashboard, see the tutorial below:
4 – Keyboard Shortcuts
Ticking the "Enable keyboard shortcuts for comment moderation" box allow you to use keyboard shortcuts when moderating comments.
5 – Toolbar
The Toolbar is located at the very top of your Dashboard screen and provides you (and your site users) with access to various useful administrative functions, features, information and "quick links" to other areas of your site …


Important: Leave the "Show Toolbar when viewing site" check box enabled to display the Toolbar in your WP administration area.
To learn more about the benefits of using the WordPress toolbar, see the tutorial below:
Profile > Name
6 – Name > Username
You cannot change a username in the User Profile screen.

You can, however, change your username if you know how to edit your WP database.
You can also change the username inside the WP Admin area using an easier method that requires no code editing or messing around with your WP database.
Changing your username will affect your login, as this username is required for logging into your site!
We have created a tutorial that teaches you how to do this here:
6 – Name > First Name / Last Name
You can edit the First Name and Last Name data in this section.
Just type in the first name and last name into the text fields …

7 – Name > Nickname / Display Name Publicly As
If you want to display a different author name than the name you originally set up for your WordPress site in your posts, you can change the Nickname (required) field and select your new nickname from the Display name publicly as drop down menu …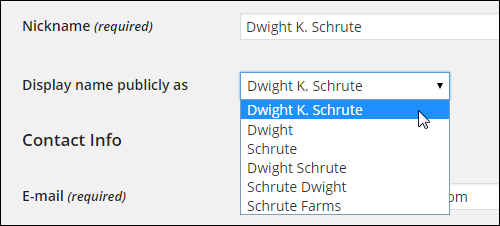 You can add multiple nicknames to your profile section.
Once you select a new nickname, all your posts, comments, etc. will then display with your new nickname, instead of the one that you originally set up your site with.
Profile > Contact Info
8 – Contact Info > Email
Make sure that your correct email address is entered in the Email (required) field. This field is required (see "Notes" section below for more information).
9 – Contact Info > Website
Type the address of your website or blog in the Website field (optional).
If you have another website or business blog that you would like to display in your profile, then enter the URL for that website or blog instead.
10 – Contact Info > Other
You can fill in the other Contact Info section fields, or just ignore these.
For more details about this feature, refer to the "User Profile: Additional Contact Information" section below.
Profile > About Yourself
11 – About Yourself > Biographical Info
In this section, you can add a personal or business description for your visitors or blog readers.
This feature not only lets you tell the world about yourself or your business, it can also be used to convert new visitors into leads for your products or services.

For great tips on how to write a truly compelling bio section that will help improve your conversions, see the article below:
For more details about using this feature, refer to the "Your Profile: Tips" section below.
12 – About Yourself > Password Settings
Here you can change your login password details.
Use the New Password section only if you are required to modify or reset your login password. You will need to confirm the new password before the system can accept the password change.
For more information about resetting your password in WordPress, go here:
13 – Log Out Of All Other Sessions
WordPress lets you log out of all current sessions except your current browser. This is useful if, for example, you have left your account logged in at a public computer, or if you've lost or misplaced your phone.
To learn more about how to log out of WordPress, see the tutorial below:
14 – Update Profile
Don't forget to click "Update Profile" at the bottom of this screen to save your changes …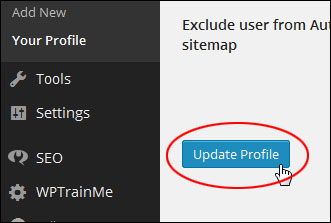 Important Notes: User Profile
WordPress only requires an email address and a nickname.
Your email address is used only for admin purposes.
Your email address is never sent to any other site (including WordPress) and it is never shown on your website (unless you decided to publish it, or use a theme that displays the email address).
Only registered users of your blog can access the email address you have provided.
Each user's email address must be unique.
In Addition …
Adding certain plugins to your site (e.g. for adding social media features), may add or remove fields in your User Profile screen (e.g. add a Facebook URL field, insert additional functionality fields related to the plugin, etc…)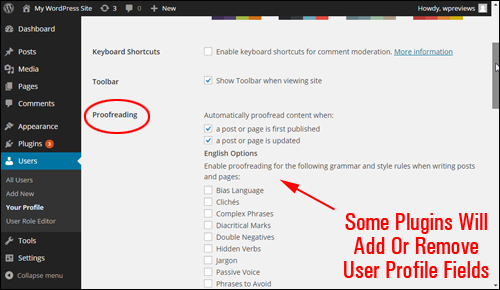 There are a number of plugins that let you change user profile fields. You can find a number of free plugins by going to Add Plugins and searching for "user profile fields" inside your WP dashboard …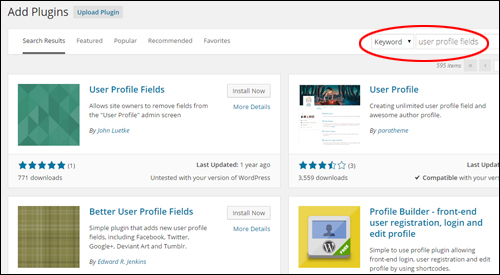 See Tip #3 in the "Useful Tips Related To Your User Profile" section further below for an example of a free plugin that lets you remove unnecessary fields in the Profile area.
Your Profile: Additional Contact Info
As mentioned above, the WordPress Profile screen has a number of fields that allow you to enter extra contact information such as:
Normally, most users simply leave these fields empty. Some WordPress theme developers, however, may choose to display this and other contact information in their themes.
If this is the case, then you can choose to set up accounts with these services (if you haven't already done so) and then add your details to the appropriate fields in the Contact Info section.
WordPress provides default fields for the following services:
AIM
AIM is a desktop and mobile chat application that lets you chat with friends or collaborate on a group project online …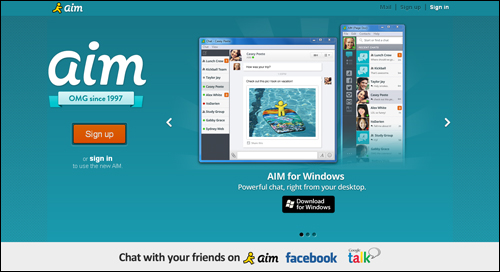 Yahoo! Messenger
Yahoo! Messenger lets you connect and chat with friends from any web browser or mobile device …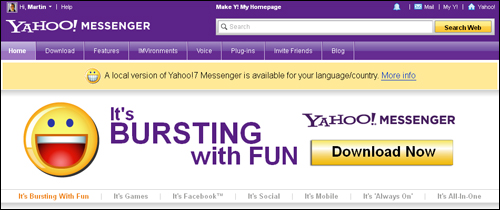 Jabber / Google Talk
Although this field says "Jabber / Google Talk", if you click on the link in this section, you will actually be taken the Google Hangouts website.
Google Hangouts is an instant messaging and video chat platform developed by Google. It replaces three messaging products that Google had implemented concurrently within its services, including Google Talk, Google+ Messenger (formerly: Huddle), and Hangouts, a video chat system present within Google+ …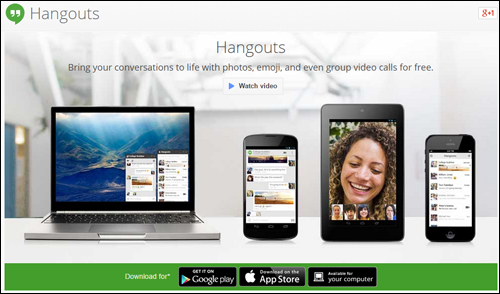 Useful Tip: If you plan to run business webinars online using Google Hangouts, then see this article we've written about a great plugin that lets you manage a professional video conferencing platform on your WP site using Google Hangouts:
Useful Tips Related To Your WordPress User Profile
Tip #1: Make sure that Show Toolbar when viewing site is enabled inside the Toolbar section of your Profile screen …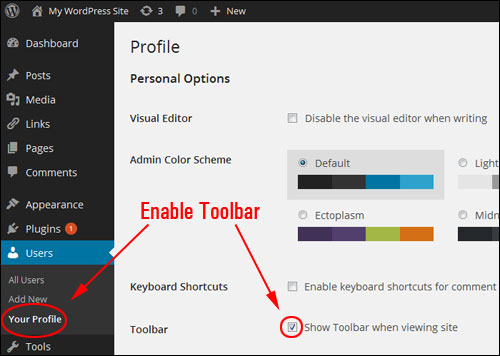 Tip #2: Your user profile gives you an additional opportunity to create additional backlinks which can be indexed by search engines.
To start with, add a Nickname and/or select a different name to display as the author on your blog posts …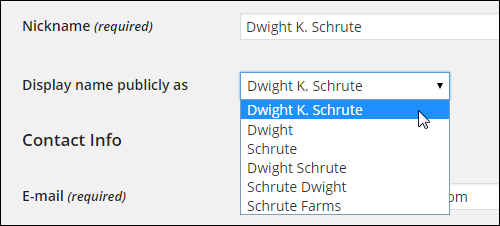 Once you have set this up, a link to the author displaying your specified nickname gets added to every blog post published on your site …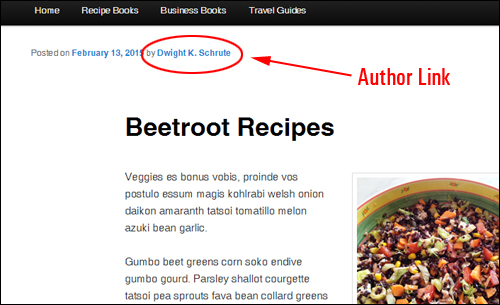 Clicking on the author link takes site visitors to the Author Archives section, where they can learn more about you (or about other authors publishing content on your site) and see other blog posts that you (or other users) have published …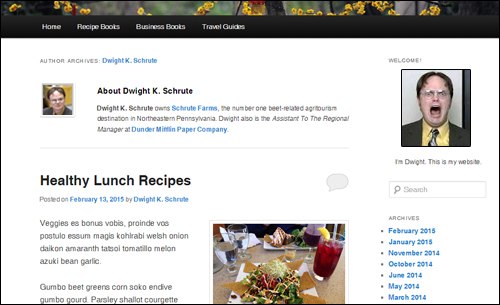 You can also insert hyperlinks and basic formatting like bold and italicized words to enhance your author description and promote yourself, your services, products, other websites, etc. to your site visitors …

This is done by inserting HTML formatted text into the About Yourself > Biographical Info field in your Profile section …

Tip #3 (Advanced User): How To Hide User Profile Fields
If you plan to run a corporate website, you can install a free plugin called Hide User Profile Fields that hides a number of fields when activated, such as:
Admin Color Selector
Keyboard Shortcuts Checkbox
Toolbar
AIM
Google Talk
Yahoo IM
Website
Biography description
User Role (every new user is registered as "Subscriber")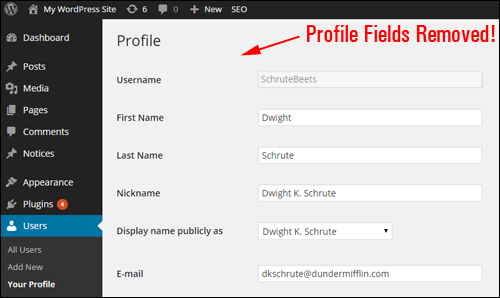 To learn more, visit the plugin page here:
Congratulations! You have now learned how to modify your user details.
***
"I am beyond impressed with what you have put together. I can tell that you put a ton of hard work into building what you have. You have the absolute best content on WordPress I have ever seen!" - Robert T. Jillie