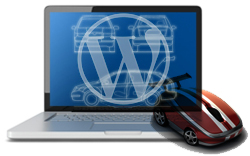 If you want to avoid spending thousands of dollars unnecessarily when starting or taking your business online, you will need to invest some time into planning your digital presence and learn all you can about the benefits of using WordPress.
We recommend starting as simply and as cost-effectively as possible. You really don't need to spend money on web design or web development to begin with. These options can be taken up later if required.
WordPress Gives You Complete Control Of Your Digital Presence
With many technology platforms, if you lack technical expertise, you have little choice but to rely on technical experts to get things done.
WordPress is different. You can easily install WordPress and configure settings by yourself, manage your website or blog with automation, and grow your business online with tools and methods that do not require technical expertise.
Even if you decide to outsource your web development or web management to professionals and/or experts in order to save time, you should still have a thorough understanding of your business needs, a clear vision that you can easily communicate to others, and a well-defined digital strategy before you get started online. This will ensure that anyone you delegate or outsource work to can deliver you the results you want. Otherwise, you could find yourself in a situation where people with no vested interest in your business end up taking charge of your digital presence and making decisions that may not be in your best interest.
Ultimately, if you are a non-technical user, it's best to avoid getting stuck with a digital presence where you are at the mercy of others and have little to no control of your online processes. In other words, you should avoid building a digital presence that works like this …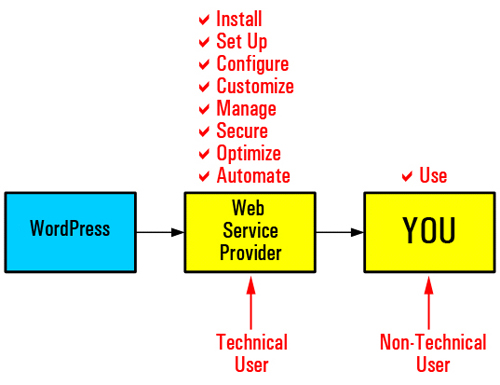 (This is how non-technical users can end up being held hostage by technical people!)
And instead, build a digital presence that puts you in control like this …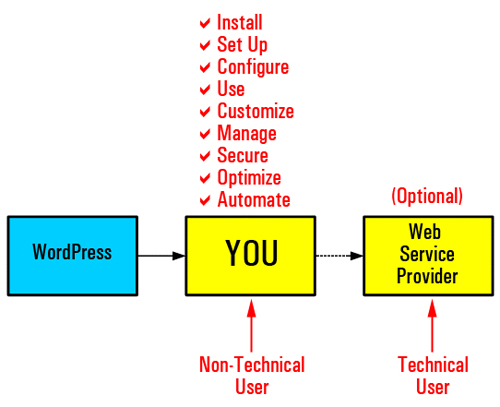 (This is how non-technical users take control of their digital presence!)
The above can mean the difference between being held "hostage" by technical experts and depending on others to get things done, and having the freedom to choose how you will manage and grow your digital presence.
WordPress Digital Business Blueprint
Throughout WPCompendium.org, we make the point that with WordPress, using technical experts is optional. You can use them if you want to, but it's not necessary. You don't need to hire technical experts to start, manage, or grow a successful digital presence, and you don't need to learn how to code yourself.
If you want to learn how to do it all yourself and save thousands of dollars in web development and web design costs without touching code, you can … that's the great power and beauty of WordPress!
So … if you plan to use WordPress, when would having technical expertise be necessary?
First … you want people with technical expertise to help you manage your web hosting server, but you don't need technical experts to install, set up, manage, or run a WordPress site.
Second, if you want to save time or don't want to learn how to install, configure, or manage your own website, you can hire people with technical expertise to do this for you. But you could also get someone who is not technical-minded like a staff member, family member, or friend to go through the tutorials on WPCompendium.org and you will still get great results!
Hiring people with technical expertise and coding skills like web developers or web designers, then, is only necessary if:
You need to customize your website in order to add features, functionality, or aspects of web design that you simply can't get from the thousands of plugins and themes that are currently available
Something happens to you site that causes serious technical issues, difficulties, or problems, and you need technical support to resolve these.
In other words, you don't need technical people to begin the journey, but you may need them once your site is already up and running and getting regular traffic and you have actual data about!
If you want to save thousands of dollars with your web presence, we recommend learning how to build a cost-effective presence online with WordPress. You can do this using our step-by-step tutorials and following the blueprint below as your roadmap: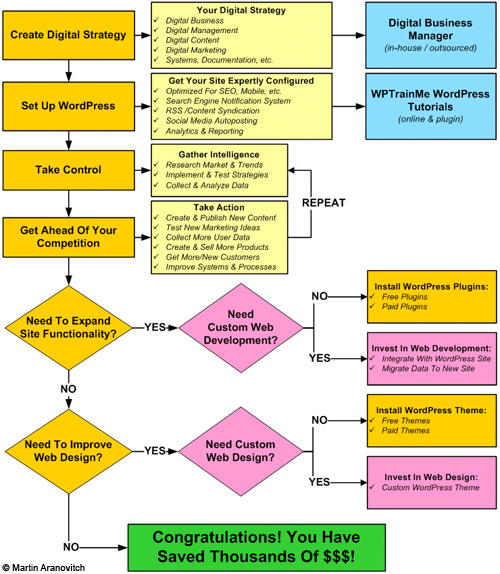 (WordPress Digital Business Blueprint – Click To Enlarge)
Let's briefly go through the processes shown in the flowchart above:
Create an effective digital strategy for your business. Begin by having a clear vision and strategy of what specifically needs to be done and who will manage what and how (i.e. in-house, or outsourced).
Set up and expertly configure your WordPress site. You can automate processes when setting up your site so that all you are left to do is add new content regularly to your site to generate ongoing traffic.
Take control of your digital presence. WordPress puts you in control of your own digital presence. Use this control to collect and analyze data and gather intelligence about your market and your visitors/users, implement and test new sales and marketing strategies, etc.
Take action. Taking small yet consistent action steps (e.g. publishing new content on a regular basis) will get you ahead of competitors who are "too busy" or who lack the processes to create and publish new content on their sites and market their business online effectively.
Expand only when you need to. WordPress is a flexible and scalable platform that lets you extend your site's functionality only when and if required. Knowing when to invest in custom web development vs. learning how to add new functionality using free or premium plugins can save you considerable money on web development costs.
Change your web design only when you need to. WordPress lets you change your entire web design with one click if required. Knowing when to invest in custom web design vs. learning how to change your website theme can save you considerable money on the cost of web design.
The key to ensuring the successful implementation of the digital business blueprint shown above is to have an expertly configured WordPress site.
What Is An Expertly Configured WordPress Site?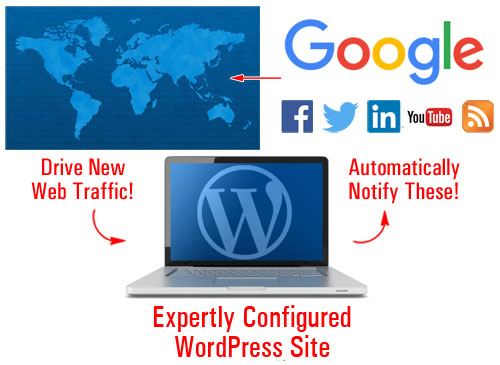 (An Expertly Configured WordPress Site Is The Key To Your WordPress Digital Business Strategy!)
An expertly configured WordPress website or blog lets you take full advantage of the power and scalability of WordPress. It does this by allowing you to:
Schedule automated tasks such as backups, content publishing, search optimized content distribution, auto-updating plugins and themes, etc.
Configure WordPress settings to instantly notify and syndicate your content to search engines, social media sites, RSS directories and dozens of other authoritative web properties (e.g. social bookmarking sites) automatically as soon as new content is published,
Integrate your WordPress site with a number of free and/or paid plugins, tools and third-party services that help improve your SEO, automate your content sharing and syndication, and give you better web and social analytics reporting.
To learn more about getting your WordPress site or blog expertly configured, see this tutorial series: WordPress Traffic Blueprint Automation

We provide accompanying video tutorials to our written tutorials inside our membership site at WPTrainMe.com.
How To Save Money With WordPress – Action Plan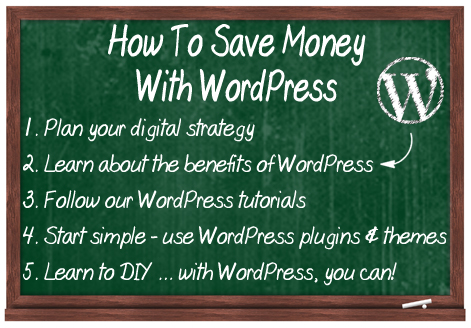 If you are willing to invest a little time into learning what to do, you can build a successful business presence online with WordPress without depending on professionals and/or experts to get things done.
Once your WordPress site or blog has been expertly configured, you can expect to see traffic being generated automatically simply by publishing new content to your site on a regular basis.
All of this and more is covered in our tutorials.
In summary:
Start simply and inexpensively with an expertly configured WordPress site, a free or premium theme and some essential free and premium plugins.
After your site has been set up and expertly configured, focus more on the functional aspects of your site, such as publishing great content, testing new strategies to generate traffic, improving your lead or sales conversion, monitoring and analyzing user behavior, etc than the aesthetic aspects (i.e. web design). Remember, you can change your web design anytime with the click of a button using any of the thousands of professionally designed WordPress themes.
Once you have a clear understanding of what is and isn't working and actual data you can review and analyze, you can then decide which areas of your site need to be improved. If everything is running fine and you just need additional functionality or a better theme with a different layout, you can extend this yourself with free or premium WordPress plugins and themes.
If you cannot extend your site's functionality or improve your web design with any of the thousands of existing plugins or themes that are available either for FREE or inexpensively, then you should consider contacting a professional WordPress web developer or web designer to discuss investing in custom web development or custom web design.
If at any time and for whatever reason you decide to migrate your site to a completely different web platform, all of your WordPress data is stored in a database and can be easily exported and downloaded as an SQL file.
If you plan to start a web presence of your own as a non-technical user, the benefit of learning WordPress is not to become a web developer, but to:
Have complete control of your own digital vehicle.
Know what you can achieve with WordPress and what all of your options are.
Get simple things done quickly without wasting time or experiencing delays waiting around for other people to do things for you.
Avoid spending money on unnecessary web services or solutions.
If you need help getting started with WordPress, see our index of WordPress tutorials.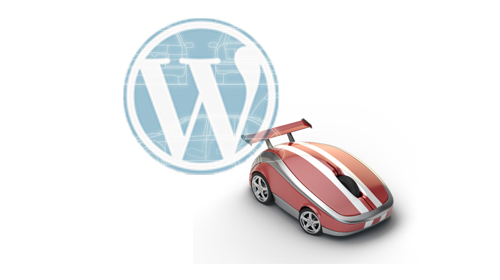 ***
"This is an awesome training series. I have a pretty good understanding of WordPress already, but this is helping me to move somewhere from intermediate to advanced user!" - Kim Lednum
Disclaimer: This site is not directly associated with WordPress or any of the products mentioned on this site. We may derive affiliate commissions or financial benefits from sales of any products and/or services advertised on this website. All images are the copyright of their respective owners and comply with all license terms and agreements of use.
***
Did you enjoy this post? If so, please consider sharing this post with others using the social buttons below.