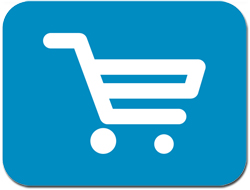 This tutorial is part of our "WordPress e-Commerce" tutorial series, where we show you how to sell your products and services online and set up an online store or membership site using WordPress. 
For other tutorials in our "WordPress eCommerce" series, go here:
WordPress eCommerce Plugins
WordPress can be used as an ecommerce platform. In this tutorial, you will learn about some of the more popular plugins for building an e-commerce site with WordPress.
If you plan to set up an ecommerce store using WordPress and take advantage of this $2 trillion plus industry, here are some of the things you will need to consider before choosing an e-commerce plugin:
Are you planning to sell digital (i.e. information like e-books, video tutorials, audio books), or physical products … or both?
Are you planning to sell single items or multiple items?
Will your product listings need to be updated on a regular basis?
Are you planning to offer quantity discounts, coupons, seasonal/monthly offers, etc …?
Do you need to track inventory, provide warehouse shipping, etc…?
Once you have a clear plan for your e-commerce store, you will have a better idea of the type of plugin you are looking for.
WordPress e-Commerce: Selling Single Items
If you only plan to sell a single product (e.g. an e-book or a physical item) or a handful of items online, you can easily create a basic e-commerce setup using WordPress without plugins.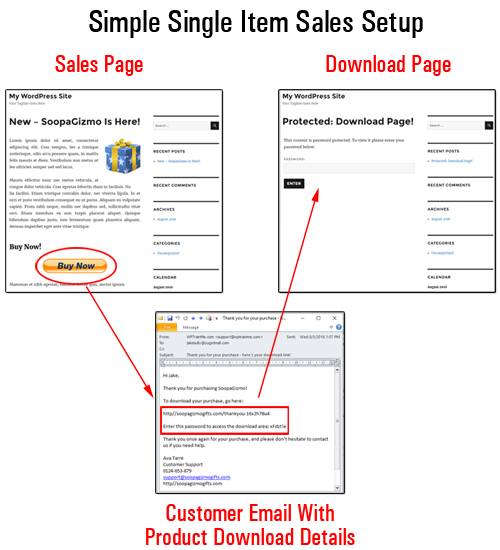 (Simple Single Item Sales Setup)
Here are the steps involved in setting up a single item store:
Create a page or post for each product you plan to sell and add your product information to this page/post.
Add a PayPal "buy button" or "shopping cart" button to your page or post.
If selling a physical item, make sure that your customers can specify their shipping address when entering their purchase details online with PayPal.
If selling a digital product (e.g. an e-book), create a separate page/post where your customers can download your product and password-protect it. After the purchase has been successfully completed, send your customer an email with the password and the download link of the page where they can access their purchase. You can send this email manually or set up an automated customer notification system.
Test your sales process to make sure that everything is working.
For more details on adding PayPal buy buttons to your site, refer to our video tutorials section:
WordPress eCommerce: Free Plugins
We normally recommend using free plugins to extend and expand the functionality of your WordPress site. One of our concerns about using a free WordPress plugin for managing your e-commerce setup, however, is that if the plugin developers are not getting paid, they may not be able to provide you with adequate plugin support when you need it the most …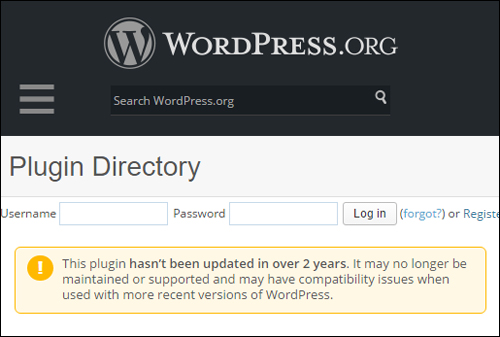 (Avoid using WordPress plugins that don't get regularly updated!)
If you're building an online store and experience technical issues, bugs or errors with the plugin that is driving your store, having no immediate support available is obviously going to become a major concern. For this reason, we focus much of this tutorial on exploring some of the more popular and well-supported WordPress e-commerce plugins.
Keep in mind also, that just as there are no guarantees of longevity in any business, no software developer can promise you that they will continue to provide support for their products in the future.
Having said this, before we look at premium WordPress plugins for e-commerce, let's take a look at some FREE plugins you can use to sell your products online with WordPress:
(eShop)
eShop is an accessible shopping cart plugin for WordPress that is packed with many features and options.
Some of the features of this plugin include the ability to create products using WordPress pages or posts and custom post types (or use as a product catalog with no sales), various methods to list products, upload downloadable products, access to basic statistics and basic stock control information, downloadable sales data, access to order handling section, automatic email notifications, user configurable email templates, Google Base Data creation, accept payment via PayPal, cash or check, and much more!
For more details about this plugin, visit the site below:

(wpStoreCart plugin for WordPress)
wpStoreCart is a free, open source, and full featured Ajax enhanced e-commerce platform built for WordPress. It is easy to use, lightweight, heavily supported (according to its developers) and constantly updated with new features.
Some of the main features of this plugin include:
Web-based "Setup Wizard"
Unlimited number of products & categories
Product Variations (e.g. size & color)
Product Properties (e.g. weight & dimensions)
Products support limited or unlimited quantities
Fully configurable product & category display
Search products using default WordPress search
Track e-commerce statistics with Google Analytics & Piwik e-commerce integration
USPS & UPS shipping integration
Multi-language & currency support
Works with any WordPress theme (a free Premium WordPress theme is included as a separate download)
Optional coupon and discount system
Includes widgets
Customizable registration process
Guest checkout
You can run your shop as "Digital Products Only", "Physical Products Only" or both
Advanced group settings, including groups discounts, group only products, unlimited groups
Integrates with PayPal payments and supports other payment gateways
Works on all browsers
And much more!
For more details about this plugin, visit the site below:
Paid WordPress eCommerce Plugins
The plugins below include some of the most popular premium plugins for running online stores using WordPress.
The good news is that most of the plugins below do offer a FREE "lite version" of their plugins with loads of great functions that allow you to try the plugin. They also give you an option to upgrade to a paid version later if you want additional features and access to support.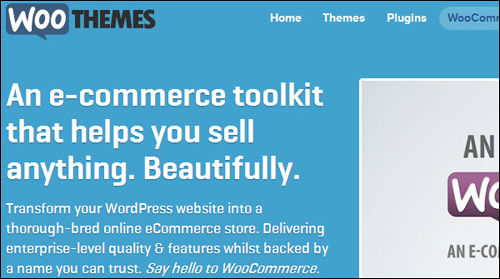 (WooCommerce ecommerce plugin for WordPress)
WooCommerce is an ecommerce toolkit for WordPress created by the WooThemes developers, which is designed to help transform your WordPress site into an enterprise-level quality online e-Commerce store.
WooCommerce integrates seamlessly in the frontend with specially designed WooCommerce Themes, and in the backend with the look and feel of the WordPress administration area.
This plugin also offers robust financial control and reporting functions, customer, order and inventory management systems, discount coupon and banner management features, seamless integration with a number of payment gateways, plus dozens of useful e-commerce extensions that allow you to do things such as generate QR Codes for your store products, offer expiring deals, integrate your order management and stock control system with multiple sales channels like eBay, Amazon and Magento, and a whole lot more.
For more details about this plugin, visit the site below:
To learn how to use WooCommerce with WordPress, see our video tutorials section: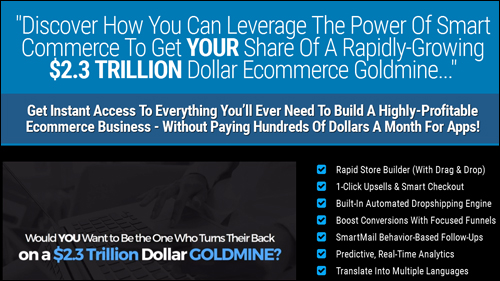 (Sellosity – Powerful WordPress eCommerce Plugin)
Sellosity is an incredibly powerful eCommerce store builder for WordPress. In a nutshell, Sellosity does absolutely EVERYTHING you can think of (and more) to help you launch and quickly start profiting from your very own online store.
With Sellosity, you can build a professional e-commerce store, avoid paying ongoing monthly fees for hosting and additional features, and get all the e-commerce functionality you need in one place.
Here are just some of the testimonials users have posted about the Sellosity eCommerce store builder for WordPress:
"The biggest challenge I believe Sellosity will solve is how complicated and expensive Shopify is. I've got clients where they're paying $300-400/mo ON TOP of the Shopify monthly fee, just for some simple plugins that seem to be WAY overpriced for what they do. Not to mention, Shopify's servers have gone down or had DDOS attacks recently. With Sellosity, we'll be on our own server/hosting and won't be a big target for those attacks like Shopify is." – Adam Holland

"Having owned a retail business and being tied down 24/7 not to mention the overhead cost is what has attracted me to e-commerce. I love selling physical products but a lot of the third party ecommerce platforms are really expensive after you start adding on apps that you will need to grow your business. This platform looks like it covers everything without being nickle dimed to death." – Mary Kay Allen
Sellosity provides a number of powerful built-in features, saving you money on the cost of purchasing add-ons …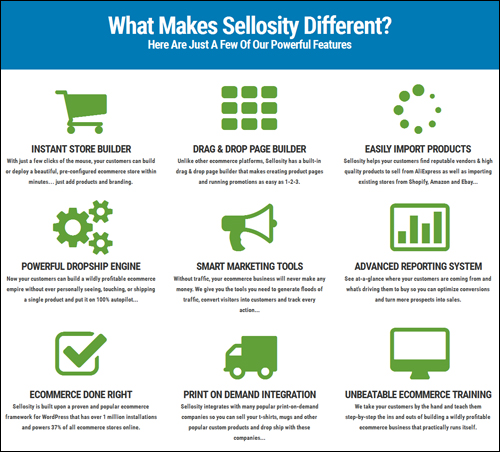 (Sellosity – eCommerce Builder Features)
Some of these features include:
Instant Store Builder – Build or deploy a beautiful, pre-configured e-commerce store within minutes with a few clicks of the mouse, then just add products and branding.
Drag & Drop Page Builder – Sellosity has a built-in drag & drop page builder that makes creating product pages and running promotions simple and easy.
Easily Import Products – Sellosity helps your customers find reputable vendors & high quality products to sell from AliExpress as well as importing existing stores from Shopify, Amazon, Ebay, etc.
Powerful Dropship Engine – Build a profitable e-commerce store without ever personally seeing, touching, or shipping a single product and put it on 100% autopilot.
Smart Marketing Tools – Sellosity provides a range of built-in traffic generation, sales conversion, and tracking tools.
Advanced Reporting System – Sellosity lets you see 'at-a-glance' where your customers are coming from and what's driving them to buy, allowing you to optimize conversions and turn more prospects into sales.
Proven e-Commerce Platform – Sellosity is built using the WooCommerce e-commerce framework for WordPress … a proven platform that has over 1 million installations and powers 37% of all e-commerce stores online.
Print on Demand integration – Sellosity integrates with many popular print-on-demand companies allowing you to add t-shirts, mugs, and other popular custom products and merchandise to your store and sell these using dropship methods…
eCommerce Training – Sellosity provides users step-by-step training on how to use the platform to build and automate a profitable e-commerce business.
Click here to learn more about Sellosity …
Below are a couple of detailed video walkthroughs of the Sellosity platform …
(Sellosity Video Walkthrough and Sneak Peek)
(Sellosity Video – Detailed "Under the Hood" Backend Tour)
Sellosity is a truly integrated "all in one" e-commerce store builder for WordPress. You get a powerful, feature-rich platform with additional capabilities, including the ability to:
Source high-quality products to sell on your ecommerce store without spending a single dollar on inventory,
Automate your shipping and handling process, allowing you to run a 'hands-free' e-commerce store where you never have to stock or handle any of your products yourself,
Leverage Sellosity's Focused Funnel Smart Commerce to boost your conversion rates and maximize every sale.
For more details about this plugin, visit the site below: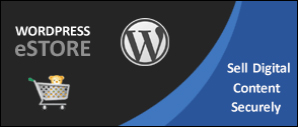 (WP e-Store e-commerce plugin)
WP eStore is a versatile WordPress shopping cart plugin that allows you to sell any type of digital products and services from your WordPress site securely and with complete automation.
Once you set up the plugin, the whole process of buying, payment verification, and product delivery (without revealing the real URL of the product) works on auto-pilot.
You can sell services online using WP eStore …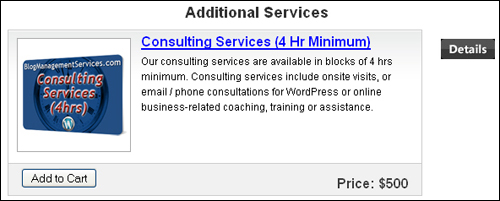 (Sell services online with WPe-Store)
You can also sell physical products with this plugin as long as you don't need complex shipping options.
WP eStore is a WordPress plugin that works really well for creating simple WordPress stores. It also integrates with the developer's own affiliate program plugin (for recruiting and managing affiliate partners) and membership plugin.
You can also download a FREE version that lets you set up PayPal payments on your WordPress site, and upgrade to the paid version later.
For more details about this plugin, visit the site below: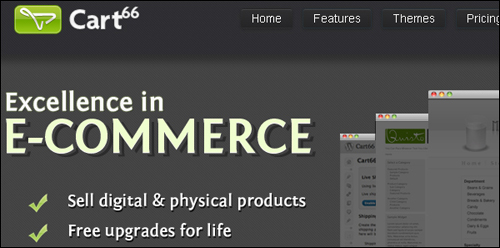 (Cart 66 WP plugin)
The Cart66 WordPress e-commerce plugin lets you sell electronics, digital downloads, videos, music, web hosting, legal services, collect membership fees, and more directly from your WordPress site.
With this plugin, you can easily place a product on any page or post on your WordPress website, and use the built-in Amazon S3 integration to deliver your digital products, even large files like videos or an entire album of MP3s.
You can use the plugin's easy PayPal integration to collect sales payments, or set up your own merchant account and collect payments without having your buyers ever leave your site.
Additional features of the Cart66 e-commerce plugin for WordPress include:
Add product variations
Create coupons and offer special discounts for your sales and promotions
Allow users to pay via PayPal or with Credit Cards – choose from a range of payment gateways and processing merchants
Memberships and subscriptions
Blend your store with your WordPress theme
Add products to pages on your site using shortcodes or the plugin's menu icons
Complete store customization
Inventory tracking
Custom and live shipping options
Email notification center lets you send out and automate HTML email receipts, timed followup emails, order status emails, order fulfillment emails, and subscription reminder emails
Dedicated support and training documentation
If you want to sell products and services using PayPal Websites Payments Standard or Express Checkout, incorporate product variations and promotions and manage orders, Cart66 also offers you the option of downloading a "lite" version of the plugin for FREE.
For more details about this plugin, visit the site below: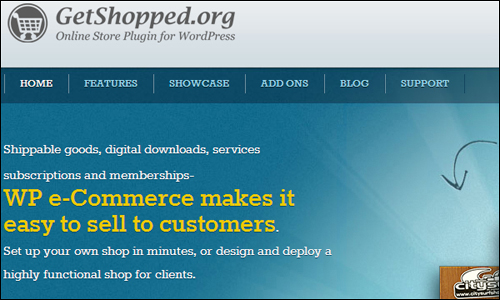 (WP e-Commerce plugin)
WP e-Commerce is one of the most popular, robust and feature-rich e-commerce plugins for WordPress available that allow you to sell products, downloads, and services online. The plugin is robust enough to handle thousands of products and offers bulk product detail import features.
You can download the plugin for free (it is fully functional with no limitations), and upgrade if you want additional capabilities, display options or premium support.
Some of the main features of the WP e-Commerce plugin are:
100% Customizable – You can use your own HTML & CSS and have complete control over the look and feel of your online store.
Streamlined Checkout puts less pages between your products and checkout.
Integrates with Google Checkout, Paypal, Payment Express, and many other trusted payment processors.
Flexible built-in shipping rate calculators. Integrates with a variety of shippers for real-time rates.
This is an extremely popular plugin that offers a lot of options for setting up an online store with WordPress.
For more details about this plugin, visit the site below: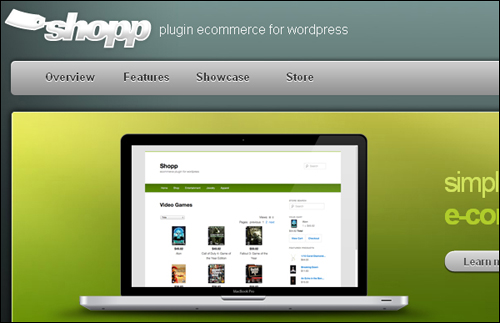 (Shopp WordPress ecommerce plugin)
Shopp is another e-commerce plugin for WordPress that has been around for some time, which means that it has been developed and improved upon extensively.
Shopp offers simple design customization features and flexible shipping calculations. It also offers additional functions such as multiple payment gateways and shipping services integrations as premium add-ons, plus a "priority support" option if you need faster response times from the support department.
Shopp is licensed as a core framework. The fee you pay depends on the number of sites you plan to use the plugin on. wish to use it on).
For more details about this plugin, visit the site below:
WordPress For eCommerce: Related Plugins
If your business is not quite about selling products or services online, but you still need an e-commerce type of application to handle payments securely online and deal with customers who want to buy from you, then here are some e-commerce related plugins that may just be the solution you're looking for:
Membership Sites

(WishList Member)
WishList Member is a membership plugin that offers full integration with WordPress. WishList Member also fully integrates with most leading payment processors such as PayPal, 1Shopping Cart, ClickBank and Infusionsoft, and autoresponders like Aweber, MailChimp, GetResponse and more. Additionally, Wishlist Member provides integration support for other payment processors and 3rd party email autoresponders through a 'generic' option.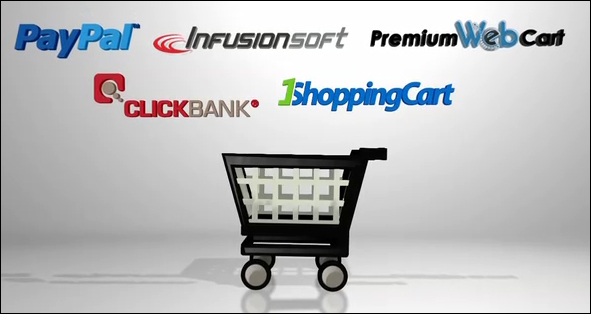 (WishList Member integrates with all leading payment processors)
With WishList Member, you can sell content, digital products and subscriptions online and provide customers with private access to your products and services with no programming skills required. You can also build a private online community and create recurring revenue with a membership site in three simple steps:
Step 1: Create your content.
Step 2: Upload and protect your content. Add articles, videos, PDFs, MP3 audio files and just about any other type of content you want to your membership pages or posts.
Step 3: Seamlessly integrate your shopping cart.
For more information about this plugin, visit the site below:
For more WordPress membership plugins, see this tutorial:
Event Management

(Event Espresso – Event management WordPress plugin)
Event Espresso lets you sell an event like bookings or tickets to a live training course, workshop, concert, performance, show, or seminar, instead of regular products and services.
Event Espresso automates processes like:
Sell and manage event bookings (including recurring and multiple events)
Let customers sign up and register for events
Collect payments online
Send out receipts and event reminders
Perform ticketing functions using mobile devices
Groupon integration
And a whole lot more …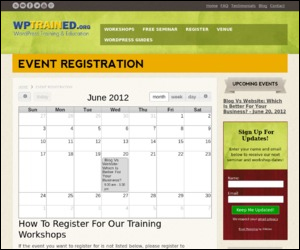 (Automate event registrations with EventEspresso)
For more details about this WordPress plugin, go here:
Hotel Bookings & Reservations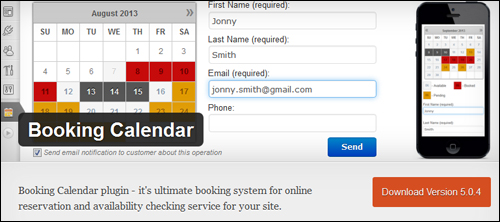 (Booking Calendar Plugin)
Another e-commerce type variation you may want to consider is having a system for managing bookings and reservations, such as hotel rooms and other types of accommodation, renting out function rooms and offices for meetings, etc.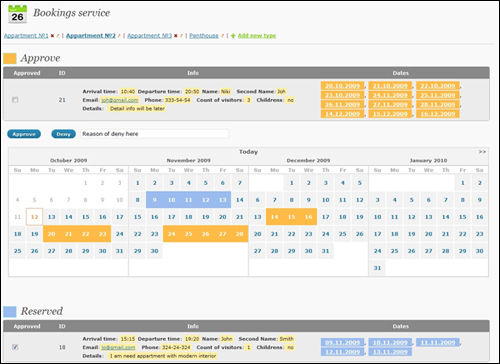 (Manage bookings and reservations online)
There are several WordPress plugins available that provide an online booking solution. Many plugins offer a FREE version with the option to upgrade to a paid version for additional features and functions.
To learn more, see this booking calendar plugin, or just search online for "WordPress plugin bookings and reservations".
Promoting Your Product Listings From Other Sites Using WordPress Plugins
Because of the popularity and growth of WordPress as the content publishing platform of choice for millions of users worldwide, many online retail companies now offer widgets, badges, and RSS feeds that allow you to display other product listing information on your WordPress site.
You can find a number of WordPress Plugins that will let you display products that you are selling on other stores on your WordPress site.
Let's explore some of these plugins.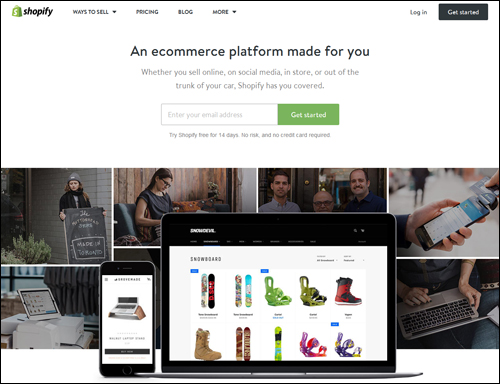 (Shopify – e-Commerce Platform)
With Shopify, you can sell products in different ways through various sales channels. The Shopify eCommerce plugin allows you to set up an online store on the Shopify platform, then connects you to your store, streamlining the process for adding and customizing 'Buy Buttons' by integrating the functionality into your WordPress admin.
For more details about this plugin, visit the site below: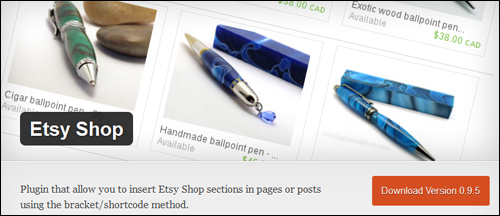 (Etsy Shop)
If you sell items on Etsy, you can use the Etsy Shop plugin to display items on your posts and pages …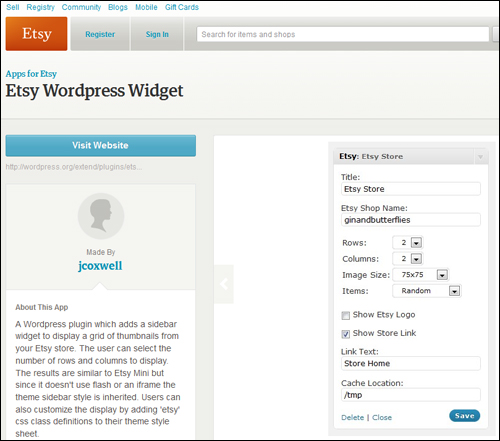 (Etsy WordPress Widget. Source: Etsy WordPress Widget)
For more details about this WordPress plugin, go here: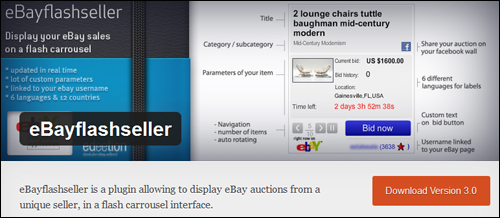 (eBayFlashSeller Plugin)
If you sell items on eBay, you can use the eBayflashseller plugin to display your eBay auction listings on your site.
For more details about this WordPress plugin, go here: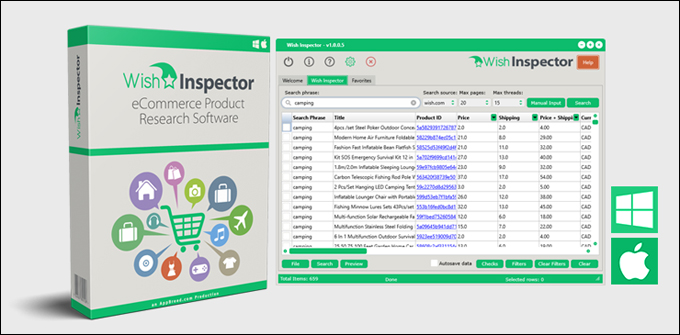 (Wish Inspector – Dropshipping product finder)
Wish Inspector is a dropshipping product finder software that lets you quickly search and analyze thousands of best-selling products on Wish.com to add to your e-commerce store.
For more details, go here: Wish Inspector

(My Kindle Books WP Plugin)
If you sell books on Amazon Kindle, you can use a plugin like My Kindle Books to display a book list page that includes your books (or anyone else's) on your site.
For more details about this WordPress plugin, go here:
Promoting Affiliate Products Using WordPress Plugins
The last category of products and services that you can promote on your WordPress site are affiliate products from other businesses, merchant networks, and vendors.
With affiliate marketing, you promote products that you do not own and receive a sales or referral commission when someone visits your website, clicks on your affiliate link (a special link encoded with your own unique ID), and makes a purchase from your link.
Most vendors and businesses that offer an affiliate program will provide affiliate banners and links, but some will also provide widgets, plugins, and entire affiliate store building solutions.
You can apply to affiliate networks and affiliate programs in your niche and promote products on your site using links and banners, or use affiliate 'aggregator' plugins like the one below to build a combined catalog of products from different merchants.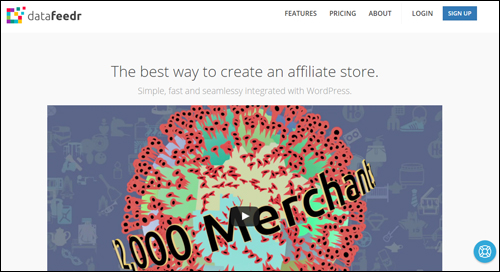 (Promote products from thousands of well-known merchants on your WordPress site with Datafeedr)
Datafeedr seamlessly integrates with WordPress and nearly all available themes and plugins. DataFeedr has partnered with the biggest affiliate networks. This allows you to promote millions of products from thousands of leading merchants on your site …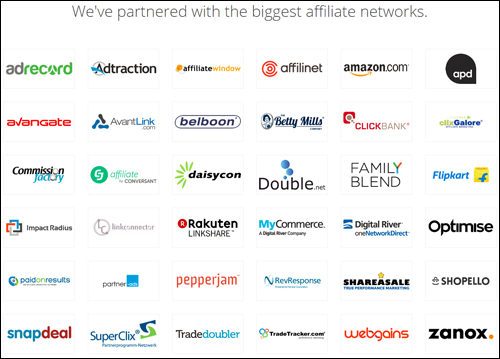 (Datafeedr has partnered with leading affiliate networks.)
Datafeedr provides powerful search filters that let you search for the products you want to promote, then build stores quickly and easily and configure the products in your store to automatically update at regular intervals.
For more details about this affiliate store builder, go here:
To learn more about selling products online as an affiliate, see this tutorial:
Hopefully, this tutorial has helped you discover a number of useful plugins that you can use to create an online store and sell your products and services online using WordPress.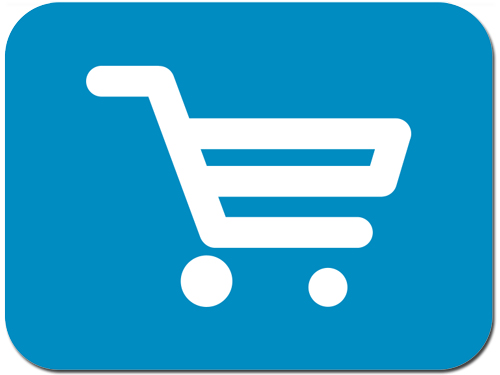 (Source: Pixabay)
***
"Your training is the best in the world! It is simple, yet detailed, direct, understandable, memorable, and complete." Andrea Adams, FinancialJourney.org
***