WordPress Content Checklist
Use this WordPress content checklist to help you prepare the initial content you will need to get your new website launched.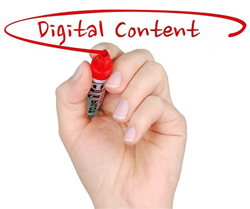 This tutorial is part of our WordPress installation tutorials, where we show you how to install a WordPress site or blog on your own domain name with no coding skills required.
***
Installing WordPress on your domain only takes a few minutes. Configuring WordPress settings after the installation takes a little longer (1-2 days or more), but preparing the initial content prior to launching your site is what takes the longest time. Creating your initial content now will save you considerable time during the installation and configuration process.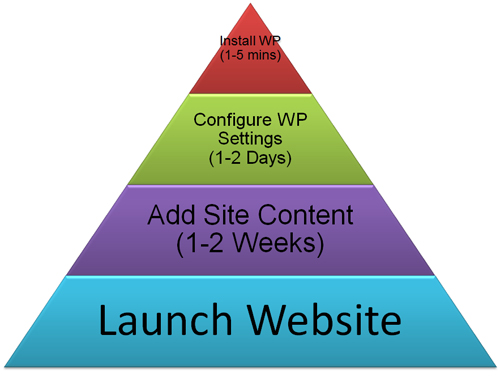 (Launching A WordPress Site – Timeline)
You should allow at least a week or two to source and create all of the content you will need for your website. This tutorial will help you prepare this content.
WordPress Site Content – Checklist
If you have been following our tutorials and have all of the technical requirements in place (i.e. domain name, web hosting and domain nameservers), all that is left to do before installing WordPress is to get your content ready and choose a WordPress Theme for your new site.
To help you save time with this step, we have created the Initial WordPress Content Checklist below.
1) Content
Make sure you have the following content ready to add to your site:
Business name and a brief description of your business.
Site Categories – Your main service/product categories.
Home Page & Company Pages. Content about your company, the problems and challenges that your business or solutions help to solve, benefits and features, pricing, etc.
"About Us" page.
Products/Services pages.
Images & artwork for content, product images, logos, banners, etc. Image format = .jpg, .png or .gif.
Media files (e.g. videos, PDF files).
Contact Details (business address, email addresses, telephone numbers, etc.)
3 – 10 initial articles/posts (saved in Word document or plain text file).
Customer testimonials.
List of all links and URLs (e.g. social media accounts, resources, affiliate links, etc).
2) WordPress Theme (Site Design)
With WordPress, you no longer have to pay web designers thousands of dollars to get a professional looking website and then wait around for weeks until your web design has been completed.
The WordPress community includes many professional web designers who provide WordPress users with thousands of high-quality WordPress Themes, and many of these themes are 100% free to use!
Now, all you have to do is select a WordPress Theme for your site, and follow our step-by-step tutorials to learn how to install any WordPress theme on your site in just a few clicks.

If you refer to our WordPress Digital Business Blueprint which explains how to save time and money using WordPress, you will see that you can launch your website quickly starting with any WordPress theme you like. Then, as your site begins to grow and attract visitors (following our WordPress Traffic Automation Blueprint), you can choose from thousands of great themes and completely change the look and feel of your website in minutes … whenever you want!
If you need more information about WordPress themes, see the tutorials below:
Free WordPress Themes:
You can search through thousands of great-looking FREE WordPress themes on the official WordPress Theme Directory.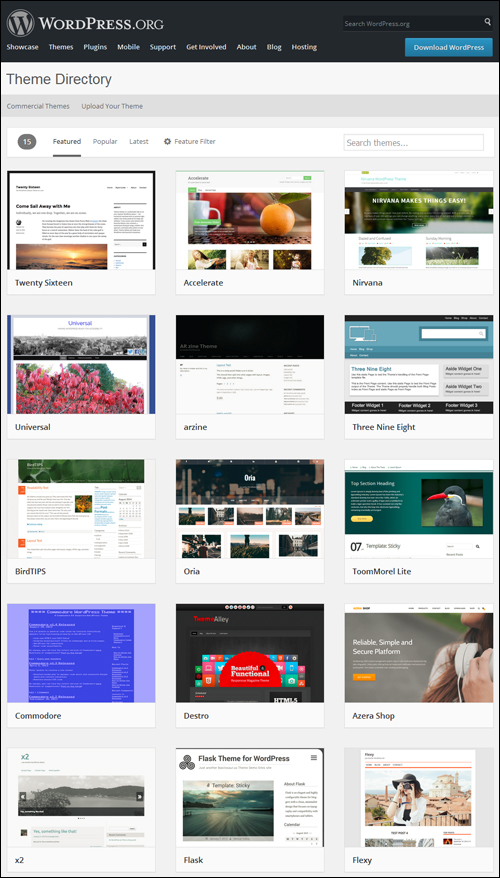 (Free WordPress Theme Directory)
Premium WordPress Themes:
If you are looking for affordable, stunning web design with a distinctive look, unique customizable options, and ongoing support, search through premium WordPress theme providers, like:
Here are some premium theme galleries from these companies to help you get started:
ThemeForest allows many professional WordPress theme developers to showcase their designs through their online marketplace. There are well over 7,000 premium themes to choose from (some starting from as little as $1) …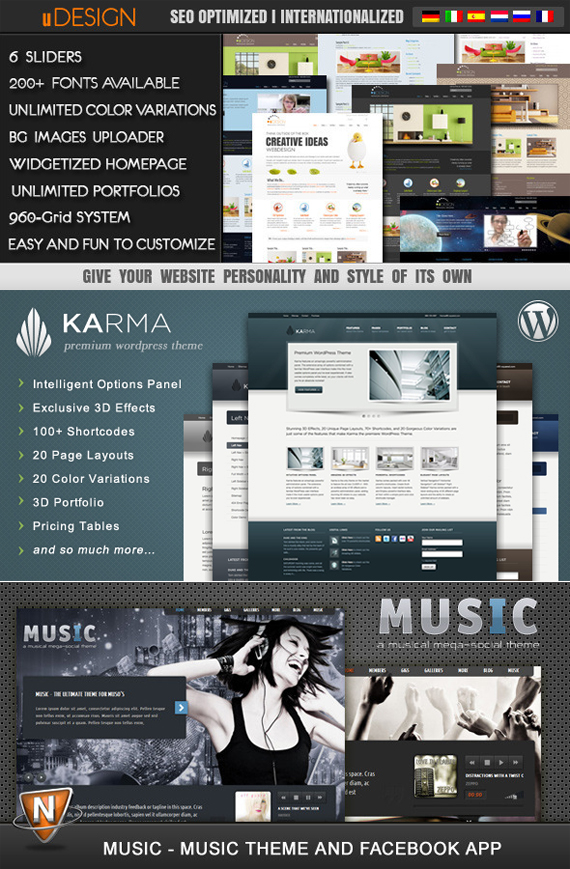 (Click on the images above to browse more ThemeForest themes)
For more details, go here: ThemeForest
SoloStream provides WordPress users with a selection of high-quality professional WordPress themes and the option of accessing all themes through a WordPress theme membership.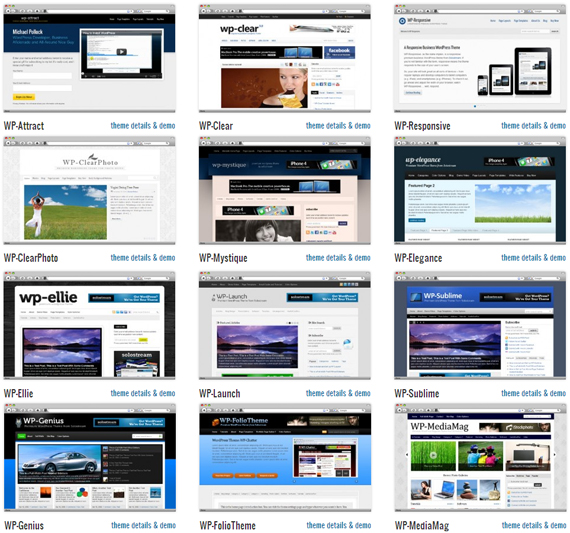 (Click on the images above to browse more SoloStream themes)
For more details, go here: SoloStream
StudioPress provides WordPress themes based on a framework that allows you to quickly and easily build a professional WordPress website that is highly search optimized, and provides auto-updating design architecture, turnkey designs with beautiful frames for your content and unprecedented control of the framework.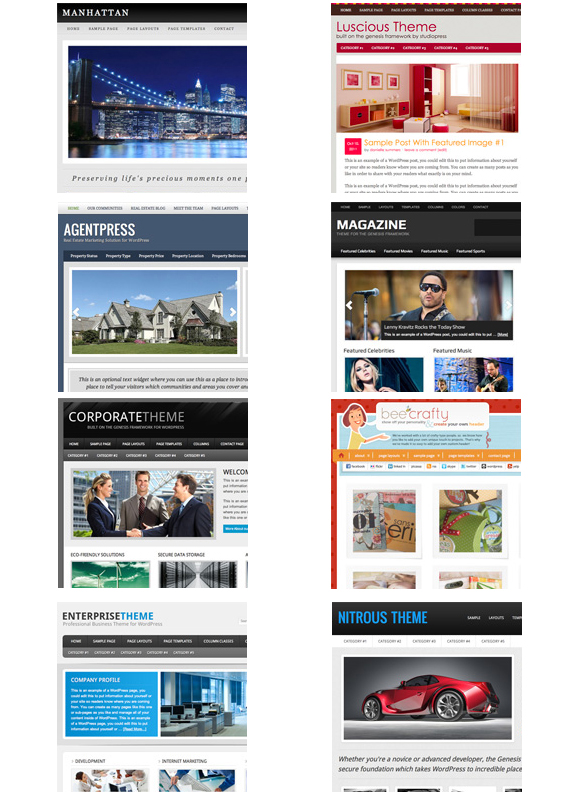 (Click on the images above to browse more StudioPress themes)
One low price entitles you to receive unlimited support and updates and to install your themes on unlimited domains.
For more details, go here: StudioPress
StoreFront specializes in e-commerce themes for WordPress. Their themes integrate well with powerful e-commerce platforms and plugins.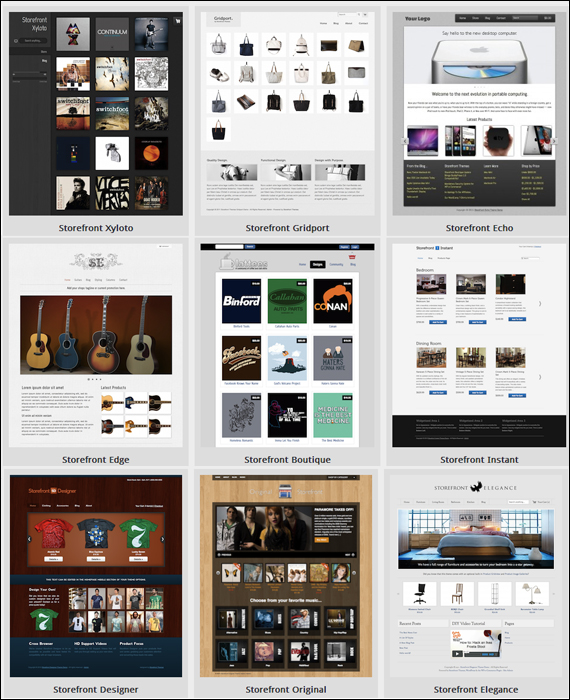 (Click on the images above to browse more StoreFront themes)
For more details, go here: StoreFront
Woo Themes creates stunning eye-catching themes. They also offer a membership option that allows you to access all of their theme collection.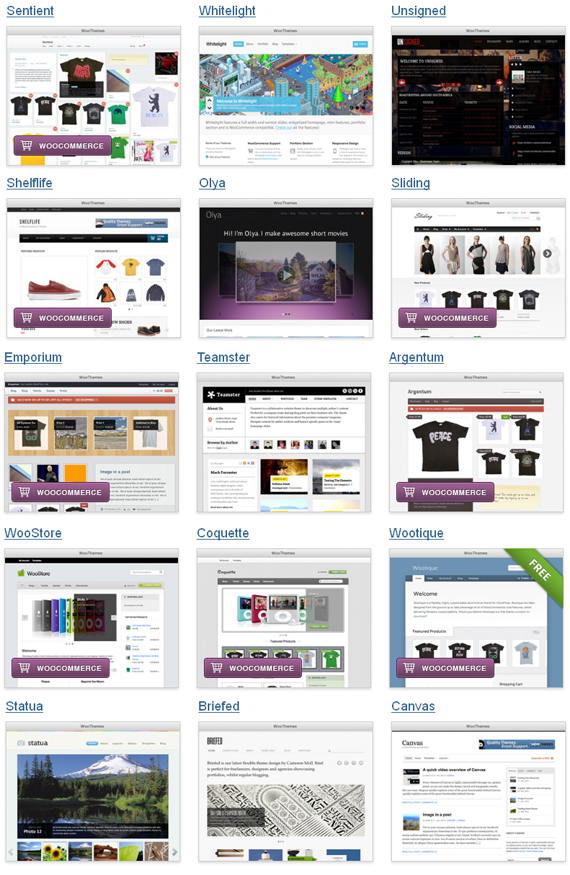 (Click on the images above to browse more WooThemes themes)
For more details, go here: WooThemes
3) Artwork
Have all artwork (e.g. logos, banners, graphic buttons, newsletter report covers, etc.) ready to upload to your server and ensure that site graphics meet your theme specifications.
Image format = .jpg, .png or .gif.
Image Size – Check the following:

Header image height and width
Thumbnail image size (some themes create auto-thumbnails from post images)

Image descriptions (for alt tags and image titles / descriptions)
URLs (if linking link artwork to product pages, etc.)
If you need to find free images or high-quality royalty-free stock images for your website, go here:
If you need artwork creation services, you can try one of these online freelancing services:
Fiverr lets you hire people to do things for you for $5.
4) Social Media Links
Make sure you have all of your social media account links ready, e.g.
Facebook
Twitter
LinkedIn
YouTube
Others (e.g. Pinterest)
5) Additional / Optional Site Features
Client Testimonials. If you would like to add testimonials to your site, make sure you have images, text, client/company names of testimonial givers and links to destination URLs.
Product/Promotion Banners. If you would like to feature rotating images or banners on your site, then you will need to create these and write down the destination URLs where users will be sent to.

Please ensure that all rotating banners are of identical dimensions and that your vertical banners will fit into the sidebar of most WordPress themes. Use standard banner sizes, e.g.:
Wide Skyscraper (160×600)
Skyscraper (120×600)
Square Button (125×125)
Medium Square (200×200)
Large Square (250×250)
Rectangle (180×150)
Medium Rectangle (300×250)
Large Rectangle (360×280)
Vertical Banner (120×240)
Button 1 (120×90)
Button 2 (120×60)
Microbar (88×31)
Banner format = .jpg, .png, or .gif.
Additionally …
Video URLs and embed codes if you would like to add videos to page content.
Resource Links of any sites you would like to recommend to visitors (include your own links, affiliate links, etc).
RSS Feeds – If you would like to add industry or company-related news feeds to your blog. (Tip: include RSS feeds from other websites that you own, so visitors will continue clicking through to your own content). If you need help with RSS feeds, go here: WordPress User's Guide To RSS

You can download a printable version of the content checklist below:
As mentioned earlier, creating the above content will save you considerable time during the installation and configuration process, so the sooner you get this content ready, the sooner you will be ready to launch your new website.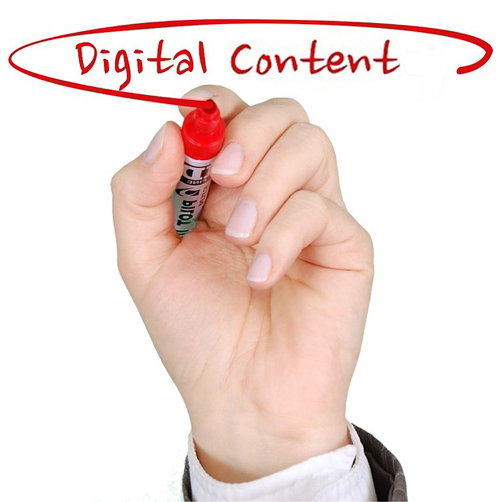 (Source: Pixabay)
Congratulations! You are now ready to install WordPress on your domain! Select one of the buttons below to continue …
Install WordPress Using cPanel
Install WordPress Manually Using FTP
Back To WordPress Installation Overview
***
"I have used the tutorials to teach all of my clients and it has probably never been so easy for everyone to learn WordPress ... Now I don't need to buy all these very expensive video courses that often don't deliver what they promise." - Stefan Wendt, Internet Marketing Success Group
Originally published as