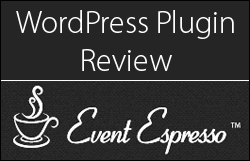 Does your business currently run or plan to run events that need managing bookings or registrations, such as seminars, training courses, charity fund raisers, social conferences, or even a large-scale event such as a community festival, a sporting or religious event, or any kind of event where people need to register to attend or participate?
Co-ordinating event bookings can be a time-consuming process. You will probably have to co-ordinate event schedules, date availability, participant numbers, data collection and storage, collecting payments and invoicing, confirmations and reservations, reminders and notifications, refunds and cancellations … perhaps even accommodating special requests and delivering tickets to participants.
There are lots of benefits to setting up a web-based event registration system. It can make your business more efficient, save time and reduce costs, help you easily reproduce previous events, give event managers more control, create a more enjoyable user experience and increase your sales.
The problem is that setting up an online event registration system can be expensive.
The good news is that if you run a WordPress-based website, you can easily install a very inexpensive and highly professional online event booking solution.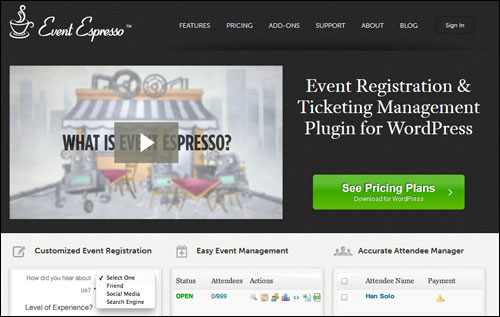 Presenting …
Event Espresso – WordPress Event Registration & Ticketing Manager Software

Plugin Description
The Event Espresso online event registration plugin for WP enables you to easily set up an event and start accepting online bookings in a few minutes.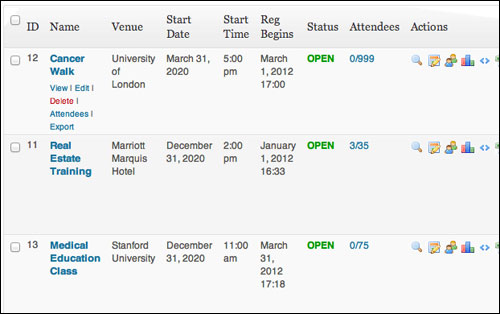 (Set up multiple events and process online event registrations with Event Espresso)
Event Espresso is a versatile and feature-rich application that gives you complete control of your event registration management process.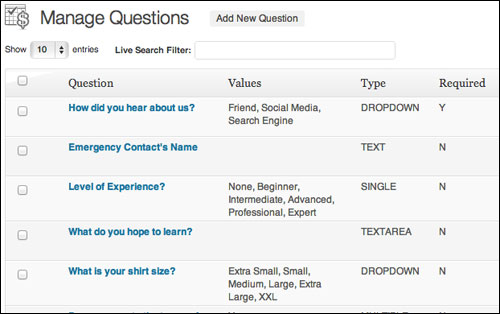 Event Espresso lets you customize registration forms
You can use multiple event registration strategies, from simple online bookings and straight up selling tickets, to setting up custom registration forms for collecting detailed information about your event participants, or integrating your event bookings with social media sites like Facebook.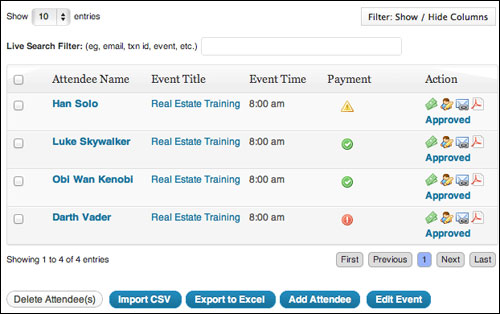 View detailed information about your event attendees
Note: At the time of writing this review, Event Espresso provides two different versions of their plugin: Event Espresso 3 and EE 4. The new EE 4 is completely different than the older EE 3, as the software is being redeveloped using a different structure to accommodate future growth and expansion. The Event Espresso 4 plugin platform has different features, user interface, data structure, coding method and price. The developers aim to eventually move completely to EE 4, so keep this in mind as you learn more about the benefits and features of this plugin.
For more details, visit the plugin site here:
Benefits Of Using Event Espresso
Here are just some of the benefits of using Event Espresso to manage event registrations on your site:
Automated Event Registration Management
Event Espresso provides you with everything you need to turn your current website into a feature-rich and professional event management website … from custom registration forms and automated emails, to maximum seating limits, multiple pricing levels and discount codes, to printable tickets and seating charts.
Better Business Productivity
By using an online event registration system like Event Espresso, you save time and increase your business productivity by practically doing away with the chore of processing registrations and bookings manually.
Basically, you are enabling event attendees to complete the sign-up process by themselves.
Allowing your attendees to do the data themselves frees up your time and lets you concentrate more energy on creating a memorable event.
Complete Control Over The User Experience
As you will discover in a moment, Event Espresso gives you full control over the event management and booking process that you want your clients to experience.
Additional benefits and advantages include:
Lower Costs: Event Espresso is an inexpensive online event registration management solution compared to building your own system or using a third-party provider. The cost is kept low through a model where Event Espresso users buy the core plugin (which suits the requirements of most users) and then purchase add ons when you need additional functionality.
Increased Sales: With Event Espresso you can accept online registrations any time of day or night. In addition, Event Espresso social features (see below) let people who are interested in attending your event share your information with others who may also be interested.
Paperless Event Booking Process: With Event Espresso, your event sign up process can be kept entirely in digital form, significantly reducing traditional paper consumption from tasks related to administration.
All Data Belongs To You. You control all the data you collect from your event participants.
Plugin Features
The Event Espresso software delivers functionality to its users through standard features (these are included with the plugin) and optional features that you can purchase, called add-ons.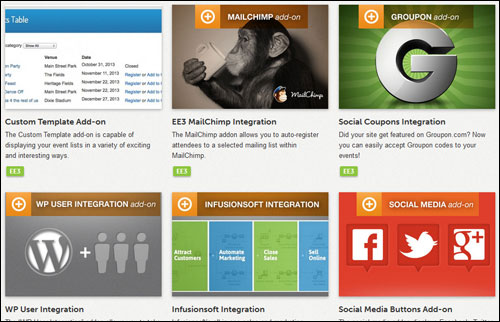 Event Espresso provides many great features to WP users. Here are just a few:
Fast and easy to install and configure. Be up and running in no time.
Multiple Dates and Times Per Event. In Event Espresso 4, events can have multiple dates and times (called datetimes), that these can be managed from one single event.
Custom Notification Emails. Easily set up custom automatic registration and payment confirmation email messages to communicate with your attendees.
Tax Administration Options. Event Espresso 4 provides several options to administer taxes for your event and provide reports of tax fees to customers who purchase tickets. Event managers can administer taxes globally or on a per-ticket basis.
Custom Post Types. You can Event Espresso into your theme and reuse registrant information throughout other areas of your site.
Default Price Types. Price types allow you to create new prices that adjust the base ticket pricing for the system-default ticket.
In-App Documentation Systems. Event Espresso 4 comes with three detailed in-app documentation systems: Help Tours, Help Tabs and Tool Tips.
Manual Registration Option. you have the option of booking event participants when they show up, or send in paper-based registration forms for manual inputting later.
No Ticket Events. You can list events without the requirement for attendees to get tickets. Event Espresso can be used for all types of events, not only those that accept tickets.
Private Notes On Contacts. Record notes about users on their profile. Private notes lets you keep a record of when event attendees contacted you, your internal notes, and how you've helped them.
Keyword Rich Event Page URLs. Keyword rich event page URLs leverage your WP Permalinks configuration settings. "Pretty" urls that use relevant keywords enhance the context of your content and is favored by search engines, helping you drive more visitors to your events.
Easy Event Management. Event Espresso puts you in full control of all aspects of your event's registration and ticketing, and lets you automate the process with event management tools that include staff and venue management, customizable event page designs, payment processing, wait lists, limits on attendees, print-ready ticketing and more.
Bulk Edit Event Data. Event Espresso 4 provides an advanced importing capability that enables you to easily upload bulk event data at once. You can export, edit and import information about events, datetimes, tickets, pricing, registration questions, venue info, terms, taxonomies, term relationships and more.
Event Venue Profiles. The venue manager in EE 4 allows details about a venue to appear throughout the Event Espresso admin and the public areas of your site to inform potential registrants of the location of your event. The venue record displays many standard WP settings such as tags, categories, discussion settings, comments, etc., but also displays venue details like venue seating capacity, venue website, venue phone number, venue location details, Google map, etc. You can also display venue profiles throughout various areas on your theme as well as on a venue archive page on your site where you can set up and display venue profiles for multiple events or display every event you have booked for a given venue.
Registrant Profiles. Manage your customer's profile information and payment history and keep all of their data organized and easily within reach.
Social Sharing. Event attendees and your site visitors can help increase exposure for your events using social media share buttons.
Accurate Participant Management. You have control of your customers' date; who has enrolled, for what event and how much they've paid. With the attendee manager, you can get an overview of registered attendees and their payment status, easily add/edit attendee records and payments, export a list of event attendees to an Excel spreadsheet for additional reports, send customizable payment reminders and receipts and communicate with your attendees on a person-by-person basis or collectively.
Additional features include:
Hooks, Actions & Filters. These features allow web-based software developers to implement safer and more reliable customizations and extensions to the Event Espresso software that are compatible with the WordPress development platform.
Maintenance Mode. You can pause registration capabilities for normal site visitors when website maintenance is needed. You can continue to work on your event pages during maintenance mode.
Autonomy, Flexibility And Value: According to the mission statement on their site, Event Espresso's objective is to "empower business and organization leaders with the event registration, ticketing and management tools that maximize the success of events." To achieve their mission, the software has been built using a model that provides users with great autonomy and flexibility and delivers value for money as a result.
The premium edition of Event Espresso also comes with 40+ added features, including:
Email shortcodes that includes participant data in emails and updates.
Default surcharge (the same as applying a service fee to all tickets).
Category titles and descriptions on event listing pages.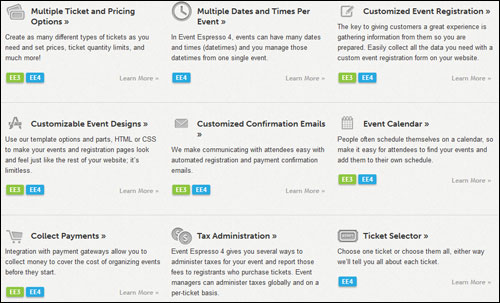 Event Espresso Add-Ons
As well as a comprehensive number of features, Event Espresso provides "addons", which allow software users to further enhance the capabilities of events.
Some of these addons include:
Events Vector Maps Template Addon: The Vector Maps custom events list template lets you display scheduled events by location. There are four maps available: USA, UK, Canada and Australia.
Recurring Events Drop-down Custom Template Addon: The Recurring Events Drop-down custom template organizes multiple datetime events into a drop-down list.
Events Calendar Table Template Add on: The Calendar Table template is a list template with a bold date and customizable "register now" button. The template can be customized to show the event thumbnail image instead of a date.
Social Coupons Integration Add on: If your site is featured on Groupon.com you can easily accept Groupon codes to your events. You can also specify whether events accept the social coupons or not.
Custom Files Addon: The Custom Files add on provides PHP files that allow you to override certain aspects of the Event Espresso plugin.
Roles And Permissions Basic & Pro Add-on Editions: This add on lets you involve other users in the event management process and give new users the capacity to create events or regional managers the ability to manage events. The Roles and Permissions Basic add-on allows you to manage & customize the WordPress users roles and assign them different permissions with different privileges, allowing others to help you manage your events or the events that other people create. You can customize roles so that users do not have access to certain areas of your WP dashboard and/or certain parts of your Event Espresso settings. If you'd like to create geographic regions for other people to manage events, use the Roles and Permissions Pro addon.
Multiple Event Registration Add-on: The Multi-Event registration addon gives your potential attendees the ability to register for multiple events at once. In each event listing registrants will be given the option to either register for a single event or add multiple events to their cart. With the Multi-Event Registration addon, attendees can register for several events at once and even add additional attendees to any of the same events in the same checkout process.
EE4 Events Calendar Add-on: This add on uses the WP calendar to display events and categories of events via a nice graphical calendar.
EE4 Infusionsoft Integration Add on: With the Event Espresso 4 Infusionsoft App and Merchant Account integration all-in-one sales and marketing plugin add-on, you can easily automate your customer relations and email marketing campaigns to seamlessly capture registrant data, track enrollments, and accept payments from your web site.
Note: Event Espresso regularly adds new features and improvements to its software, including new add-ons.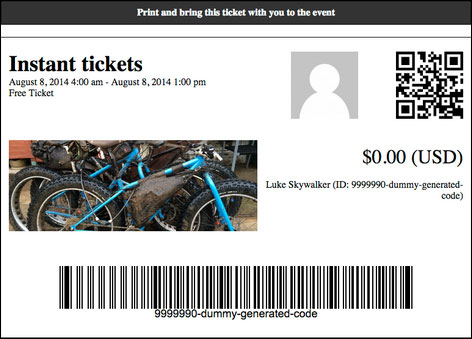 To learn more about the latest Event Espreso features and addons, visit the plugin website here:
User Testimonials
Here are a few of the many testimonials that users have posted about Event Espresso:
"Event Espresso rocks! I use it for my dance class registrations. Unlike most dance studios where people have to call or send an email in advance, Event Espresso puts a registration form right there in front of the user and allows me to collect valuable information from the user during the registration process with custom questions such as "Do you have previous dance experience?" or "How did you hear about us?". It also gives my site a professional look and feel." Ral, Ral'eau Salsa Dance Company

"This really is a hell of a plugin. For me, it's probably the final nail in the coffin for Joomla, as WP can now pretty much do EVERYTHING Joomla does, but better. Love the simplicity of this plugin!" Sam, Web Contempo

"Hello. I wanted to say that I've purchased Event Espresso twice now for two different organizations and have had great success with the purchases. Outside of photography, I also build small websites with WordPress as the CMS. I built two websites for two different martial arts organizations who host yearly seminars and tournaments. The plug in has provided a way for attendees to sign up online from both Canada and the United States with ease, and also allowed the organizations to easily manage payments, attendee lists, and many other aspects of the events. Thanks to Seth for creating such a great plug in, and for your constant support!" James Zedd, James Zedd Photography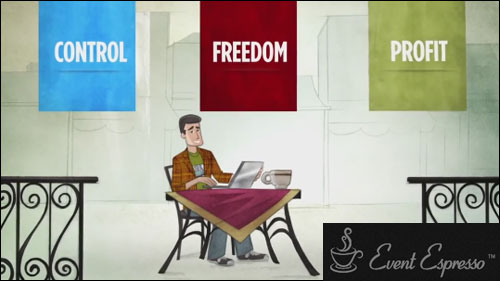 Plugin Tips
Whether you are a gym owner, trainer, concert promoter, or event management professional, there are just countless possibilities of what you can do with the Event Espresso software.
After purchasing the plugin and becoming a registered user, go through the support forum for inspiration and practical suggestions to streamline your event management workflow or enhance the experience of your event participants.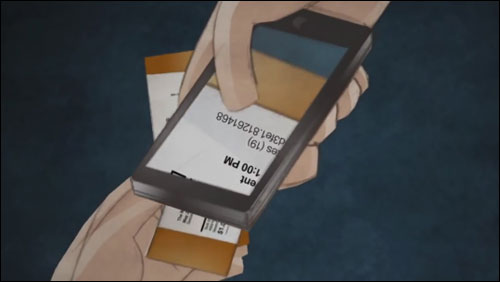 Support
Event Espresso is compatible with all WordPress plugins and themes that follow standard WordPress development rules. If you find that you need support with the plugin, however, you will find that Event Espresso provides highly responsive end-user support, as so many of its customers confirm:
"Your plugin saved our client nearly $9000 in development costs because it handled the majority of the functionality we were looking for at a much lower cost. EventEspresso's staff have been very responsive to our needs when we have them (which has been rare, because the plugin is so well coded). Great job on a great plugin!" Brandon P., Experience Farm
The Event Espresso software provides robust support including access to a support forum, in-depth online documentation with faqs, knowledgebase and how tos, email support and even a monthly VIP member pass giving you access to community of developers, designers, event managers, publishers and webmasters that use Event Espresso tools, plus faster support response times.
Additionally, Event Espresso boasts an established team of experienced WordPress web developers with a solid track record of support, so this is definitely software you can count on to run your events.
Plugin Price
Event Espresso is available in a range of plugin editions, including a FREE basic edition (named Event Espresso Decaf). For personal support and advanced software functionality, however, you may want to consider downloading one of the paid plugin editions below:
Personal License – This option enables you to configure Event Espresso on one site only. Cost includes 51+ Premium features, (add-ons sold separately) and one year of upgrades and support. Cost = $69.95.
Everything License – This license enables you to install Event Espresso on one domain only. Includes 51+ Premium features, 29 Premium addons and one year of upgrades and support. Cost = $279.95.
Developer Licensing – This lets you configure Event Espresso on five domains. Includes 51+ Premium features, (add ons sold separately) and 1 year of upgrades and support. Cost = $249.95.
Current pricing for the Event Espresso plugin can vary, depending on whether there are any promotions or limited-time special offers. When we last checked, the plugin is selling for the pricing shown above. Check the plugin's website for the current pricing: Event Espresso – Event Management & Ticket Registration Software For WordPress
Note: The pricing above was current when this article was written. This may or may not be the actual price charged by the plugin seller when you visit the site.
Additional Information
The Event Espresso development team is continually adding new features and improvements to the plugin. Make sure to register for their newsletter when you visit their site to receive the latest information and updates.
Look up the plugin's documentation tools to find answers to common questions about setting up and how to use Event Espresso, and the support forums for questions related to a specific situation, or to notify developers about issues and give feedback.
For all installation and support documentation, demos, downloads, videos, tutorials, FAQ and more, visit the Event Espresso web site.
The Bottom Line
Event Espresso is the leading WordPress event booking and ticketing manager plugin, used by thousands.
If you are a WordPress site owner and you currently run events that require scheduling dates and venues (offline and online), registering attendees, and/or booking seating, then you will probably not find a more suitable plugin for your needs than Event Espresso.
For more information, check out the plugin here: Event Espresso – WordPress Event Manager & Ticket Registration System
***