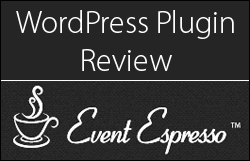 Does your organization currently run or plan to run events that need managing bookings or registrations, such as workshops, training classes, non-profit fundraisers, social functions, or even a big event like an art exhibition, a sporting or religious event, or any kind of event where people need to book to attend?
Co-ordinating event registrations can be a complex process. You will probably need to co-ordinate scheduling, availability, attendee numbers, data processing and storage, collecting payments and sending invoices, confirmations, reminders and notifications, cancellations … perhaps even accommodating special requests and delivering tickets to attendees.
There are lots of advantages to setting up an online event registration system. It can make your business more efficient, save time and reduce expenses, help you easily copy settings for repeat events, give you more control, create a more enjoyable customer experience and increase your sales.
The problem is that this can be very expensive.
The good news is that if you run a WordPress-based website, you can easily install a very inexpensive and professional online event booking solution.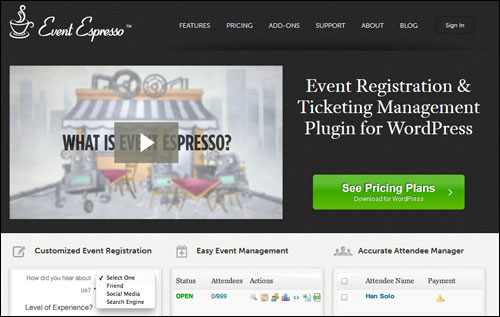 Announcing …
Event Espresso – WordPress Event Manager And Ticket Registration Software

Plugin Description
The Event Espresso online event registration software allows you to easily schedule multiple events and start receiving online registrations in a few minutes.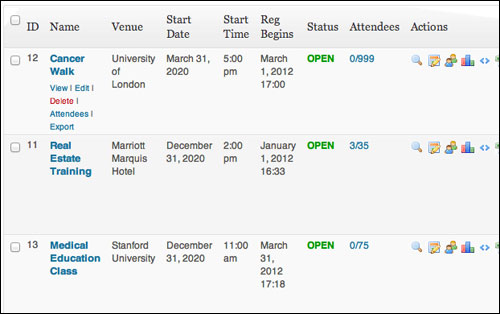 (Set up multiple events and process online event registrations with Event Espresso)
Event Espresso is a feature-packed application that gives you full control over your event registration management process.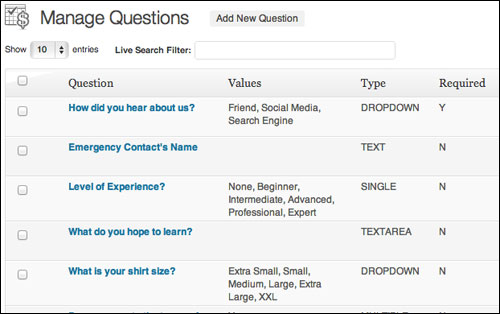 Customize event registration forms
You can employ a range of event registration strategies, from simple online bookings and straight up ticket-selling, to creating custom registration forms for collecting detailed information about your attendees, or integrating your event bookings with social media sites like Facebook.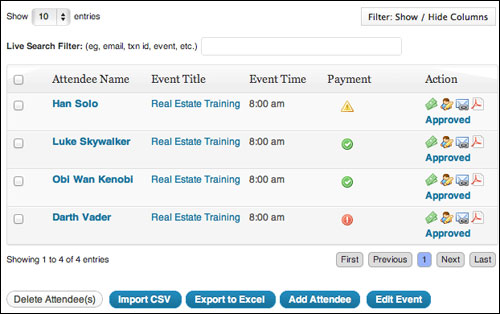 View detailed information about your event attendees
Note: At the time of writing this review, Event Espresso offers two different versions of their software: Event Espresso 3 and Event Espresso 4. The new Event Espresso 4 is significantly different than the older EE 3, as it is being revamped using a different structure to enable future growth. The Event Espresso 4 plugin platform has different features, user interface, data structure, coding method and pricing. The company plans to eventually transition completely to EE 4, so keep this in mind as you learn more about the benefits and advantages of using the plugin.
More info:
Plugin Benefits
Here are just some of the benefits of using Event Espresso to manage event registrations on your website:
Automated Event Registration Management And Ticketing System
Event Espresso provides you with everything you need to turn your current digital presence into a feature-rich and professional event management website … from custom registration forms and automated emails, to maximum seating limits, multiple pricing options and discount codes, to printable tickets and even seating charts.
Better Business Productivity
By using a web-based event registration solution like Event Espresso, you save time and improve your business productivity by literally eliminating the need to process registrations manually.
Essentially, you are facilitating event attendees to complete the sign-up process on their own.
Allowing your enrollees to do the data entry frees you up from doing admin work and lets you spend more resources on planning a more unique event.
Complete Control Over The User Experience
As you will discover in a moment, Event Espresso gives you more control over the event management process that you want your customers to experience.
Additional plugin benefits include the following:
Lower Costs: Event Espresso gives you a very low cost online event registration management solution compared to other options or using a third party service. This is made possible through a model where you buy the core plugin (which suits the needs of most users) and then purchase addons when you need added functionality.
Increased Sales: With Event Espresso you can accept online event bookings outside traditional business hours. Not only that, but, Event Espresso social add-ons (see below) let people who are interested in registering for your event share your information with friends who may be interested.
Green And Paperless Event Sign Up Process: With Event Espresso, the event registration process can be kept entirely in digital form, reducing typical paper waste from tasks associated with enrollment.
Own Your Data. You own all the information you collect from your event participants.
Plugin Features
The Event Espresso plugin provides functionality to end-users through built-in features (these are included with the plugin) and additional features that you can purchase, called add-ons.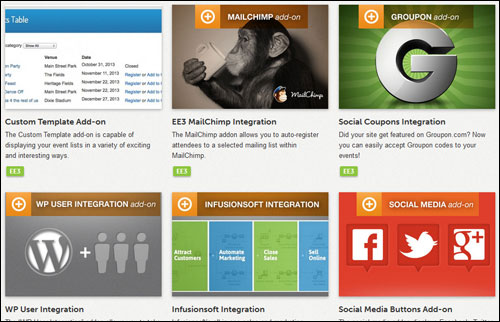 Event Espresso offers many great built-in to website owners. Here are just a few of these:
Quick and easy to install and set up. Be up and running in very little time.
Multiple Dates and Times Per Event. In EE 4, events can have multiple dates and times (datetimes), and these can be managed from a single event.
Custom Notification Email Message. Easily configure custom automated registration and payment notification emails to communicate with your clients.
Tax Admin & Reporting. Event Espresso 4 gives you a number of options to administer taxes for an event and provide reports of tax fees to customers who purchase tickets. You can administer taxes globally and on a per-ticket basis.
Google Maps. Google Maps integration allows event managers to configure the display of Google Maps on the event listing and event details pages.
Default Price Types. Price types allow event managers to create new prices that adjust the default ticket pricing of the system-default ticket.
In-App Documentation. Event Espresso 4 comes with 3 comprehensive in-app documentation systems: Help Tours, Help Tabs and Tool Tips.
Event Check-In List. Generate an exportable list of participants and confirm those who have attended.
Administrative Pre-approval. Be selective about who can and cannot participate in your events.
Event RSS Feeds. Provide automatic updates to customers, drive quality traffic and reach a wider number of prospects with the built-in XML RSS events feed.
Draft Events. Draft events enable you to develop your event over multiple sessions without publishing it to your website. You can work on your events until you are ready to take it live, or schedule your event pages to publish at a future time and date.
Your Organization Settings. Configure your organization's profile to be used throughout the software and your front-end templates. Organization information include: organization name, street address, city, state, country, zip/postal code, primary contact email address, telephone, VAT/tax number, business logo, Facebook profile URL, Twitter profile URL, LinkedIn profile URL, Pinterest URL, Google+ profile URL, Instagram profile URL.
Upload Event Information. EE 4 provides an advanced importing feature that allows you to upload a lot of event data all at one time. You can export, edit and import data for events, datetimes, ticketing details, pricing, registration questions, venues, terms, taxonomies, term relationships and more.
WP WYSIWYG Editor. Event Espresso uses the built-in WP Visual editor, allowing you to quickly and easily add images and stylize your event descriptions without knowing HTML or CSS, just like any WordPress post or page.
A Community Of Event Experts. Event Espresso gives you access to an expert community of experienced event managers and plugin users. You can network with other Event Espresso users through their community chat room, support forums, job board, and social media pages on Twitter, Facebook, Linkedin and Google+.
Invoice Payment Reminders. Follow-up potential registrants who have not made payment for their booking with a standard but personalized PDF invoice with one click. Your invoices will address registered participants who have not paid their registration yet by name, display the amount they owe, and include links to the event, a payment url and a link to download the invoice.
Accurate Attendee Manager. You have control of your customers' information; who has registered, which event they have booked and how much they paid. With the attendee manager, you can get a quick overview of registered participants and their payment status, easily add/edit attendee records and payments, export an event attendee list to an Excel spreadsheet for additional reports, send custom payment reminders and receipts and send messages to your attendees individually or collectively.
Additional features include:
Define Extra Meta Information. This feature allows you to have more control and options over the content of your events and how the information displays to your prospective customers.
Metabox Management & Reorganization. Event Espresso lets you leverage the WordPress user interface, which gives you the ability to reconfigure the user interface to suit your workflow processes. Each meta box can be collapsed, re-arranged or deleted from your page.
Autonomy, Flexibility & Value For Money: Event Espresso states on their website that their mission is to "empower business and organization leaders with the event registration, ticketing and management tools that maximize the success of events." To achieve their objectives, the software has been built using a modular that provides users with great autonomy and flexibility and delivers value for money as a result.
The premium version of Event Espresso also comes with over 40 additional features, including:
Email shortcodes that includes customer data in confirmation emails and newsletters.
Question groups that simplify the process of reusing commonly asked questions for similar events.
Option to skip the confirmation page in the registration process.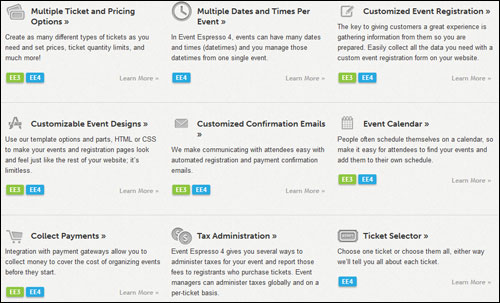 Event Espresso Add-Ons
In addition to an incredible number of features, Event Espresso provides "add ons", which allow customers to significantly enhance the capabilities of the event management system.
Some of these add ons include:
EE4 Events Grid Template Add on: Displays events in a pure CSS grid-like structure using the featured image. Hovering over the image will display further information. If the event does not have a featured image, it will use a default image.
Recurring Events Dropdown Custom Template Addon: The Recurring Events Drop-down custom template organizes many datetime events into a dropdown list.
Events Category Accordion Template Add-on: The Category Accordion template displays categories as a simple list. Clicking a category name displays the events associated with that category and closes previously open categories.
EE4 Events Social Sharing Add-on: Add social sharing features to the end of your Event Espresso "thank you" page that allows your registrants to share a message about their event registration on Twitter and Facebook after booking.
Custom Template Add-on: The Custom Template addon lets you display your event lists in a number of exciting and interesting ways.
Roles And Permissions Basic & Pro Addon Versions: This add on lets you include other staff in your organization to help manage your events and give new users permission to create events or regional managers the capacity to manage events. The Roles and Permissions Basic add-on allows you to manage & customize the WP users roles and assign them different permissions with different privileges, allowing others to help you manage your events or the events that others create. You can customize roles so that a user does not have access to certain areas of your WordPress dashboard and/or certain parts of your Event Espresso settings. If you'd like to allow users to have geographic responsibilities for events and users, use the Roles and Permissions Pro add on.
Event Ticketing Add-on: The Ticketing add on gives you the capacity to generate tickets with bar codes. The Bar Scanning add on gives you the ability to scan ticket barcodes. The ticketing add on includes the ability to customize event tickets. Multiple barcode types are included for managing check-in scans at venues. Customers can either print out their tickets or display them on their mobile devices. The barcode scanner can be used for checking in or checking out attendees and to validate tickets.
EE4 Events Calendar Add on: This WordPress events calendar displays events and categories of events using an attractive graphical calendar.
JSON API Add-on: The new Event Espresso JSON API add-on lets other applications, web sites, mobile apps, etc… to access your Event Espresso information through an Application Programming Interface (API).
Note: The Event Espresso development team is continually adding new features and improvements to its software, including new addons.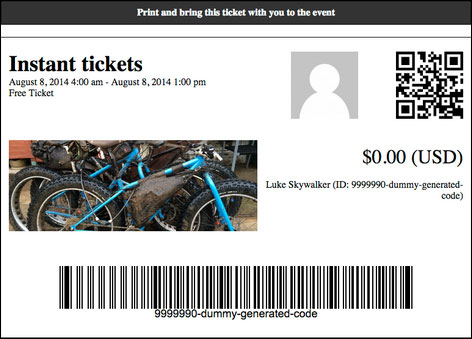 For more information about the newest Event Espreso features and addons, check out the plugin here:
User Feedback
Here are a few of the many testimonials that satisfied customers have written about Event Espresso:
"My clients have used Event Espresso for Transportation (Cadet Bus for leave), Parties (tailgates and brewery tours), and Horse-back riding lessons and camps. What a terrific plug-in and fantastic support from Seth!" Nina, Blue Iris Web Design

"You can tell that the Event Espresso team is really passionate about their work, and that they care and spend a lot of time helping people work with their plugin and use it with their events – it's something every WordPress service should aim for." Ryan Imel, WPCandy

"I can't even imagine what I would want the plugin to do that it doesn't already do. I'm really happy with the features." Jim Harmer, Improve Photography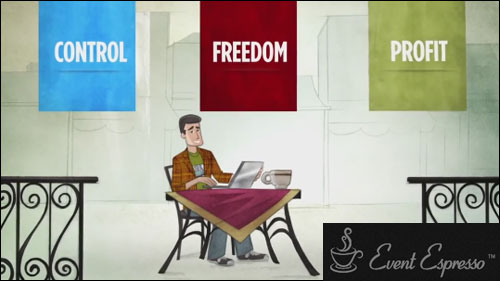 Useful Tips
Whether you are a gym owner, presenter, conference promoter, or event consultant, there are just endless possibilities of what you can do with the Event Espresso software.
After downloading your copy of the plugin and becoming a licensed user, spend a little time going through the support forum for inspiration and practical suggestions to improve your event management process or enhance the experience of your participants.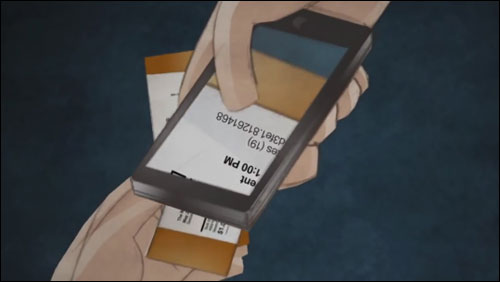 Support
Event Espresso works with with other WP plugins and WordPress themes that follow standard WordPress development rules. If you experience issues with the plugin, however, you will find that Event Espresso provides highly responsive support, as so many of its users attest:
"Your plugin saved our client nearly $9000 in development costs because it handled the majority of the functionality we were looking for at a much lower cost. EventEspresso's staff have been very responsive to our needs when we have them (which has been rare, because the plugin is so well coded). Great job on a great plugin!" Brandon P., Experience Farm
Event Espresso provides robust support with access to a support forum, in-depth online documentation with faqs, knowledge base and how tos, email support and even a monthly VIP member pass that gives you access to community of developers, designers, event managers, publishers and webmasters that use Event Espresso tools, plus faster support response times.
Additionally, Event Espresso boasts a well-staffed team of experienced WordPress developers with a proven track record of support, so this is definitely a solution you can count on to organize and manage your events.
Event Espresso Cost
Event Espresso is available in a range of editions, including a FREE basic edition (called Event Espresso Decaf). For personal support and advanced software features, however, you should consider downloading one of the "Pro" plugin versions below:
Personal License – This enables you to set up Event Espresso on 1 site only. Pricing includes 51+ Premium features, (addons sold separately) and 1 year of upgrades and support. Price = $69.95.
Everything License Edition – This license allows you to set up Event Espresso on 1 site only. It includes 51+ Premium features, 29 Premium add-ons and 1 year of upgrades and support. Cost = $279.95.
Developer Edition – This enables you to set up Event Espresso on 5 sites. Includes 51+ Premium features, (addons sold separately) and 1 year of upgrades and support. Cost = $249.95.
Current pricing for the Event Espresso plugin can vary, depending on whether there are any promotions or limited-time specials being offered. Presently, the plugin is selling for the amounts shown above. Check the plugin's website for current pricing details: Event Espresso – Event Espresso
Please Note: The above reflects the pricing when this article was written. This may or may not be the actual pricing charged by the plugin developer when you visit the website.
Additional Information
Event Espresso regularly adds new features and improvements to its plugin. Make sure to register for their newsletter when you visit their site to receive the latest information and updates.
Use the software's documentation tools for answers to common questions about setting up and how to use Event Espresso, and the support forums for questions related to your particular use-case, or to report issues and give feedback.
For all installation and support documentation, demos, downloads, videos, tutorials, FAQ and more, visit the Event Espresso website.
We Recommend
Event Espresso is the leading WP event registration and ticketing management software, used and trusted by thousands of WP website owners.
If you own a WordPress-powered website and you intend to run any event that requires scheduling dates, times and venues (offline and online), booking participants, or selling tickets or seating, then you will probably not find a better software for your needs than Event Espresso.
For full details, visit the plugin website here: Event Espresso – WordPress Event Management And Registration Software
***