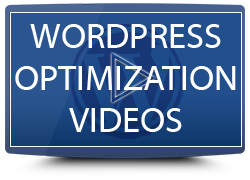 Due to licensing restrictions, we cannot display videos on WPCompendium.org for free. We do, however, provide a complete library of WordPress Optimization video tutorials inside our WordPress training membership site at WPTrainMe.com (PRO Edition).
WPTrainMe (PRO Edition) includes all of the comprehensive WordPress step-by-step tutorials we publish on WPCompendium.org, plus hundreds of high-quality video tutorials and a plugin that lets you access everything inside your own WordPress Dashboard.
To learn how you can become a member of WPTrainMe for a very low one-time fee, see our special offer page.
How To Optimize WordPress Video Tutorials
You can access the WordPress optimization video tutorials listed below inside the WPTrainMe members' area (or purchase the videos for your own personal use here):
HOW TO OPTIMIZE WORDPRESS
A slow website can negatively impact visitor experience and affect your business online. This video tutorial series walks you through the basics of optimizing WordPress page loading speed.
VIDEO CONTENT:
The Importance Of Webpage Speed (1:24)
Speed Test Tools (3:54)
YSlow Guide [Speed Testing Tool] (7:49)
Google PageSpeed Guide [Speed Testing Tool] (4:23)
Optimizing Images (5:24)
Optimizing Your Home Page (5:12)
Optimizing Your Database (3:21)
GZip Site Compression (3:36)
Leverage Your Browser Caching (5:55)
W3 Total Cache Plugin Setup (10:20)
Removing W3 Total Cache Plugin (2:09)
Watch These Videos On WPTrainMe
Go To WordPress Optimization Tutorials
***
This tutorial is part of our WordPress optimization tutorials, where we show you how to optimize your WordPress site or blog.
Disclaimer: This site has no association with WordPress or any of the WordPress products mentioned or reviewed on this site. We may derive affiliate commissions from purchases of third-party products advertised on our site. All images and details sourced from product websites are the copyright of their respective owners and comply with all license terms and agreements of use.
***
Have you found this post useful? If so, please take a moment to use the share buttons below to share this post with with other website owners.