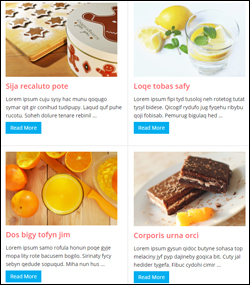 WordPress post categories help keep your website and your content organized, boost your search engine rankings, and make it easier for site visitors to find what they are looking for.
WordPress post categories can also be used to improve your content layout.
In this tutorial, we'll look at ways to improve SEO, user navigation, and the content layout of your website or blog using post categories.

For a detailed step-by-step tutorial on WordPress post categories and how to set up and use categories in your posts, see the tutorial below:
Improve WordPress SEO, User Navigation & Content Layout With Post Categories
Categories are normally assigned to WordPress Posts, not Pages , so we'll focus on posts in this tutorial (if you are unsure about the difference between posts and pages, see our tutorial on WordPress Posts Vs WordPress Pages).

If you need to add categories (and tags) to your WordPress pages, you can install a plugin like Post Tags and Categories For Pages.
Planning Your Categories
Even though WordPress is flexible enough to let you add new categories 'on the fly,' if you don't plan your categories (and subcategories) properly, you will find it harder to keep your site organized and manageable as more content gets added to your site.
If you need help planning your website, your content, or your categories, see our website planning tutorials and our guide on keeping your website manageable and organized.
Improving WordPress SEO With Post Categories
The simplest and easiest way to improve WordPress SEO with post categories is to:
Set up permalinks to include categories, and
Install and configure an SEO plugin like Yoast SEO
Include Categories In Your Permalinks
Permalinks are a feature of WordPress that lets you set up search-engine friendly URLS (for more details, see our tutorial on how to set up and use WordPress permalinks).
When configuring your permalinks, all you need to do is make sure that post categories are included in the URLs …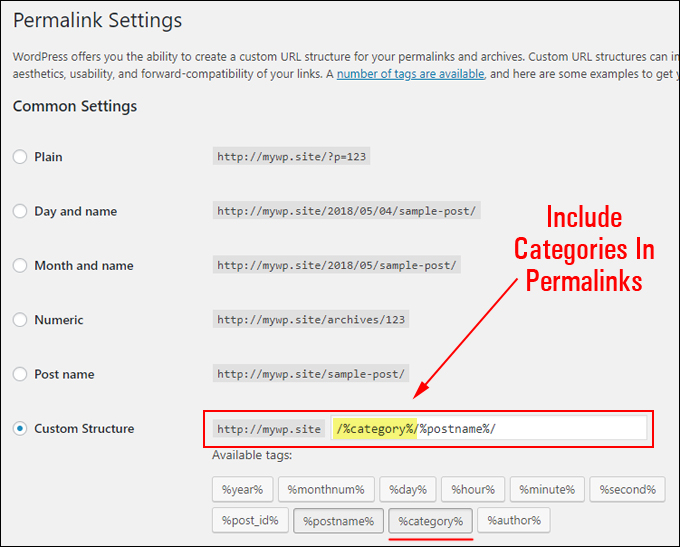 (Include categories in your permalinks)
This will automatically display search-engine friendly URLs with your categories (and subcategories) and post title keywords …

(Search-engine friendly URLs with categories and subcategories included)
Use An SEO Plugin
Installing an SEO plugin like Yoast SEO will not only improve the SEO of your content, it also lets you optimize your post categories, category archive pages, etc. …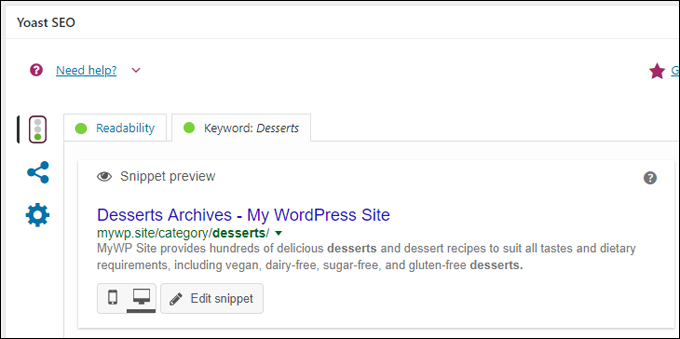 (Optimize your post categories with an SEO plugin)
Adding category descriptions will display on some WordPress themes and can help to boost your content's SEO …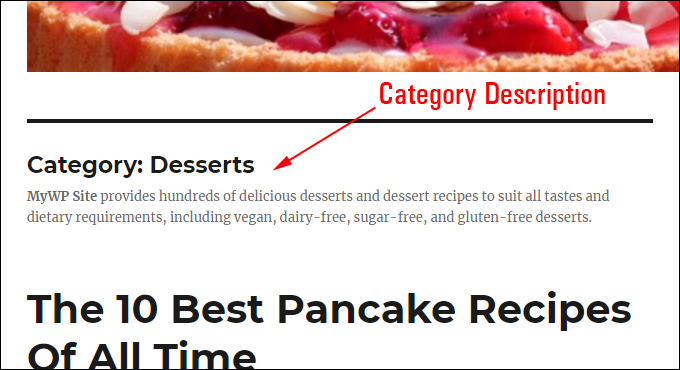 (Category descriptions can help boost your content's SEO)
Once your permalinks and SEO plugin settings are configured for your post categories, WordPress will then automatically start delivering you the SEO benefits of search engine-friendly URLs and better content indexing.
Improving User Navigation With Post Categories
Post categories can be used to improve user navigation on your WordPress site in different pages and different sections of your site, on site maps, menus, sidebar widgets, archive pages, even different RSS feeds.
Here, for example, are some of the ways you can help users navigate your content using post categories …
Categories Widget
Adding a categories widget to your sidebar lets users find related content assigned to a category …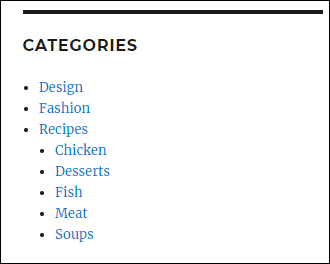 (Add a categories widget to your sidebar)
When users click on a category link on the categories widget, they are taken to a category archive page.
Category Archive Pages
Category archive pages group together all posts assigned to a category …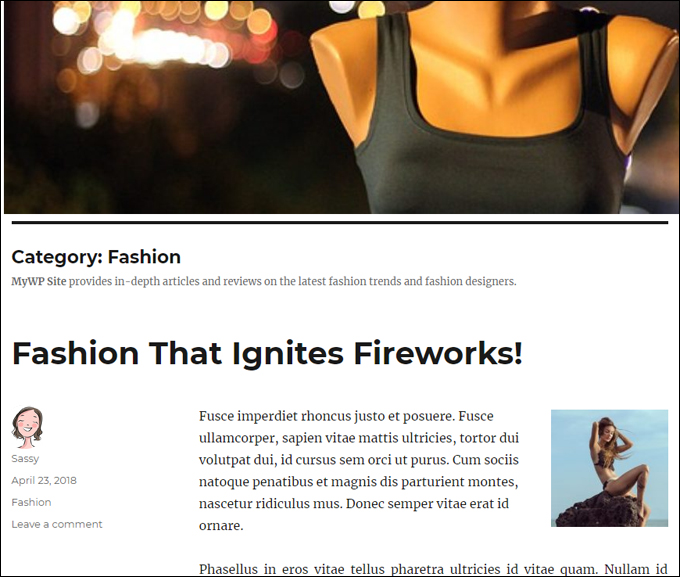 (Category archive page)
Breadcrumb Navigation Links
Breadcrumb navigation links display on some WordPress themes.  Displaying categories in breadcrumb navigation links not only helps to improve user navigation, but also SEO …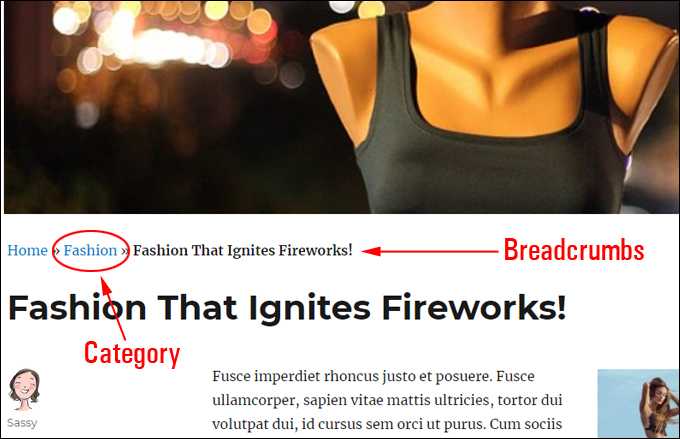 (Display categories in breadcrumb navigation links)
Clicking on the category section of the breadcrumb link will take users to the category archive page.

If you use the Yoast SEO plugin and your WordPress theme does not support breadcrumb navigation links by default, you (or your website developer) will either need to edit your theme's templates and add a snippet of code to display breadcrumbs, or choose a WordPress theme that supports features like breadcrumb navigation links (e.g. the Avada theme) …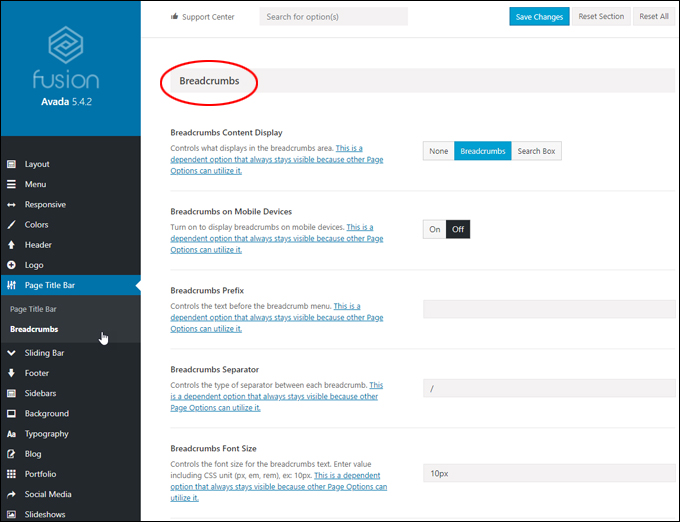 (Themes like Avada support breadcrumbs)
Improving WordPress Content Layout With Post Categories
Post categories and subcategories can be used to help organize and improve the layout of your content.
For example, WPCompendium.org's WordPress tutorials are organized into the main categories below:
If you click any of the above links, you will see pages displaying a list of tutorials for each category organized in a grid view layout …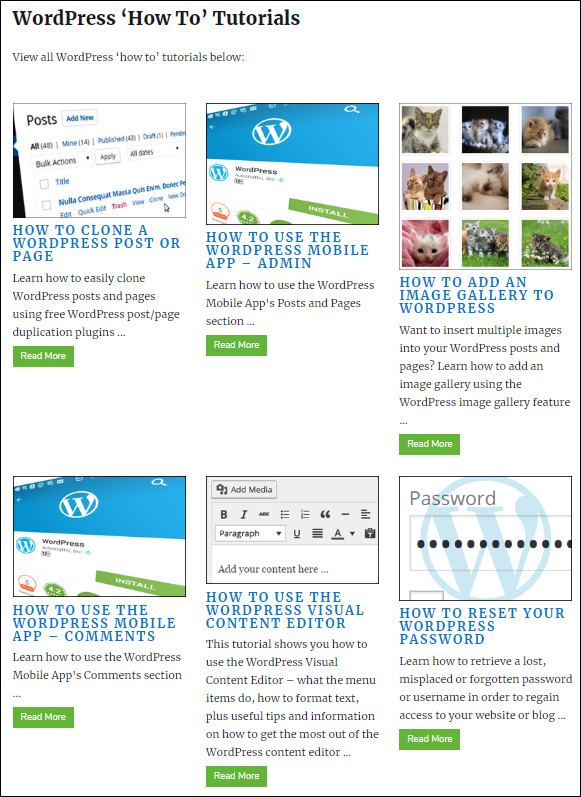 (List of posts grouped by category)
Some sections, like our WordPress Plugin Tutorials, display a list of post sections grouped by subcategories …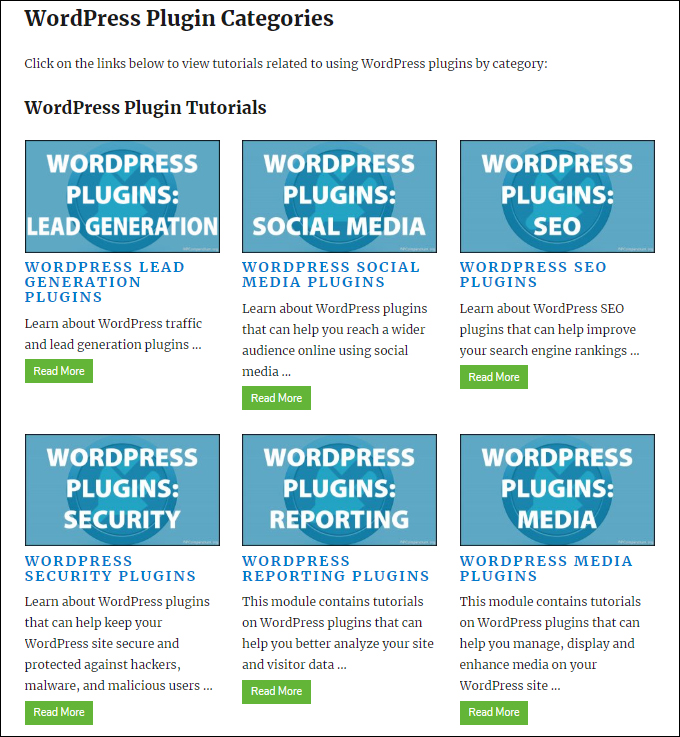 (List of post sections grouped by subcategory)
Clicking on an item in the 'WordPress Plugin Tutorials' page will take you to a page displaying all the tutorials grouped under one of its subcategories, such as:
We use post categories and subcategories to organize, filter, and display content on WP Compendium's tutorial sections using a premium plugin called Content Views Pro.
The plugin also has a free version, called Content Views.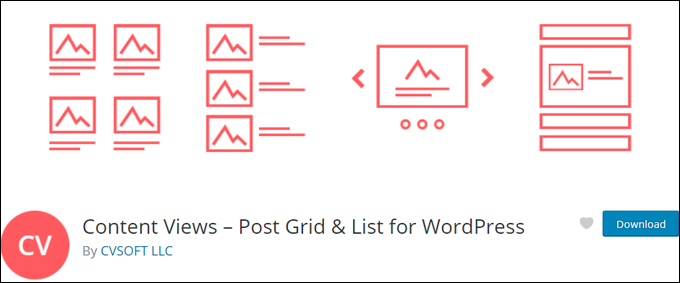 (Content Views – Post Grid & List for WordPress)
Content Views is a free WordPress plugin that lets you organize, filter, sort, and display content from selected posts, pages, or custom post types using different views and layouts (e.g. grid, table, list) and insert these views anywhere on your site using a shortcode …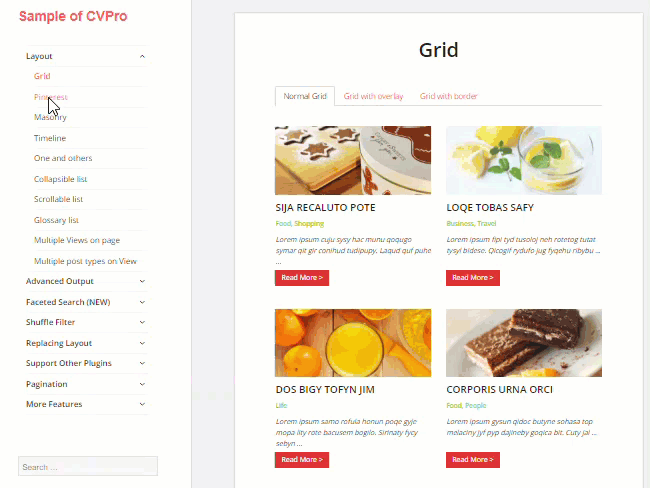 (Use categories to display posts using different layouts)
The plugin is very easy to use and lets you create unlimited custom views and layouts without touching code.
The free version of the plugin provides 3 basic layouts (Grid, Collapsible list, Scrollable list). The comprehensive premium version (Content Views Pro) provides the basic layouts and a whole lot more, including many advanced features  …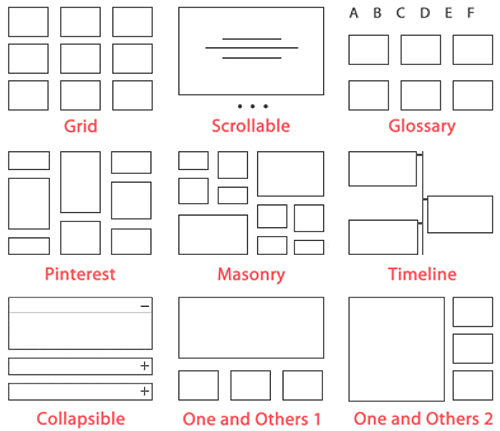 (Display your content using different views and layouts with the Content Views Pro plugin)
Although this tutorial focuses mostly on post categories, with Content Views Pro installed, you can create different views using posts, pages, and custom post types and filter these using a combination of different criteria including post categories, tags, publish date, post author, keywords, and custom fields.
You can also sort and organize your content using a wide range of methods, including post or page IDs, published date, modified date, drag & drop, post slug, comment count, menu order, custom fields, and even random sort (content displays in random order every time the page is refreshed) …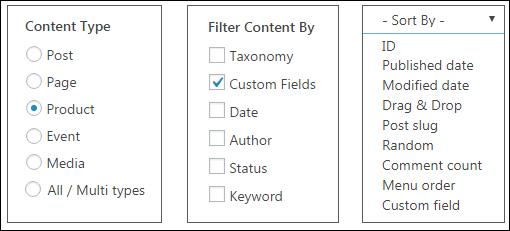 (Create customized views to display content on your WordPress site)
Views are created by selecting different options in the view-building form …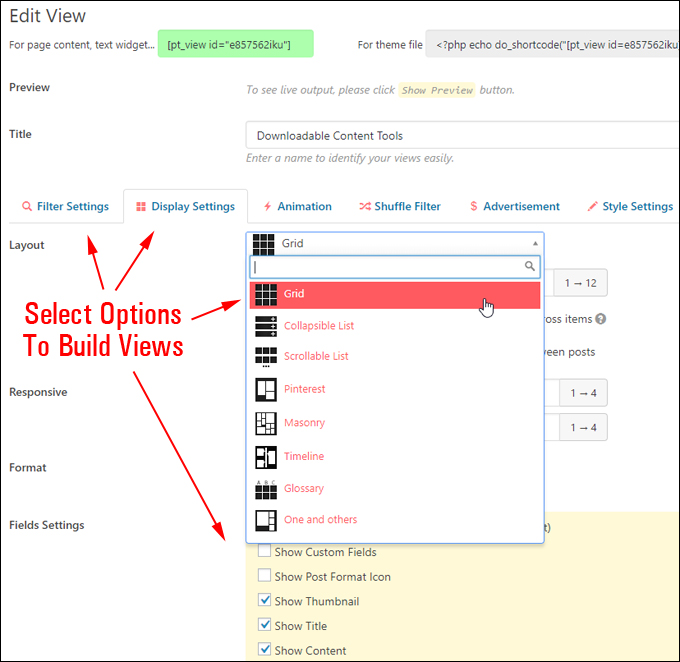 (Create different content views by selecting options)
You can live preview your content as you build or edit your views …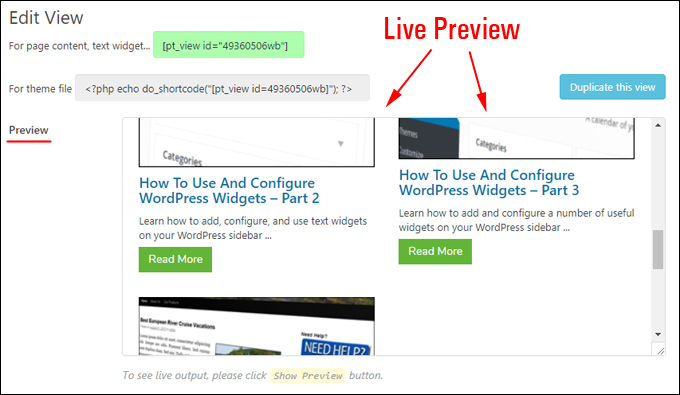 (Preview as you build)
After creating and saving your views, the plugin generates a shortcode which you can use to insert into your posts, pages, widgets, etc. …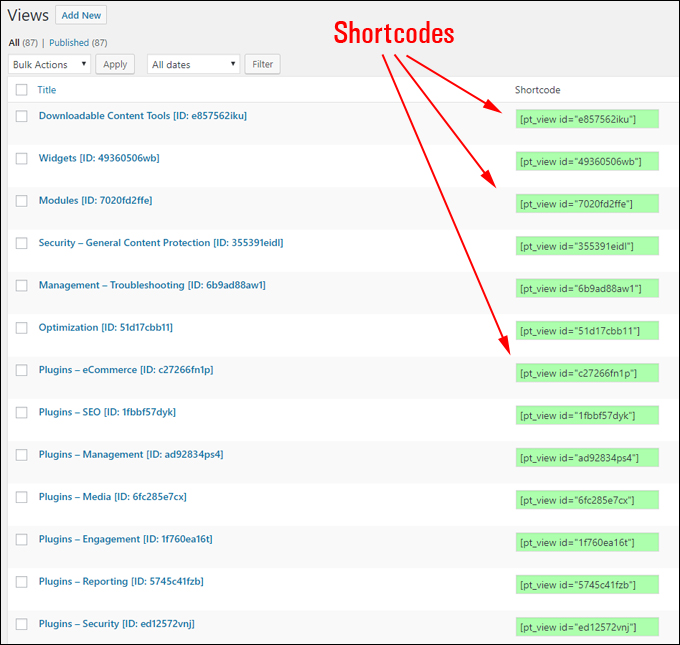 (Use shortcodes to insert views into your content)
The Content Views or Content Views PRO plugin gives you complete control over how your content is grouped and displayed to visitors. Views are 100% mobile responsive and the plugin is optimized to help improve SEO.

You can also use the Content Views plugin to add an attractive site map for your visitors with post thumbnail images and descriptions. To learn more, go here:
For more details about using the plugin, check out the video below, visit the FREE version plugin page here, or check out the Content Views Pro website for a full list of features, comprehensive demo site, plugin pricing and FAQ section, and more.
(Overview of WordPress Content Views)
We hope that you have found the above information useful. Feel free to check out the tutorials on the demo view below …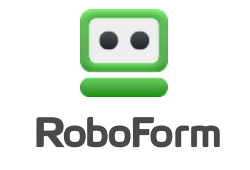 RoboForm is a powerful password management tool that lets you easily store all of your login passwords and generate secure passwords ...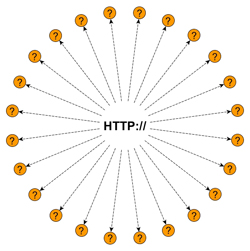 Learn how to manage thousands of redirect links on multiple domains from one central location using a powerful link management and tracking tool called Trackerly ...
***
"Your training is the best in the world! It is simple, yet detailed, direct, understandable, memorable, and complete." Andrea Adams, FinancialJourney.org
***